Pay on the go with Emirates NBD Cards and Google Pay™
Introducing Google Pay™! Make contactless payments with your Emirates NBD Debit & Credit Cards added on Android devices*.
Google Pay works everywhere contactless payments are accepted, making shopping or dining more convenient and secure.
Fast, easy and more secure: Add your Emirates NBD card to Google Pay™ and pay with your phone
High level of security: Pay with fingerprint or PIN authentication
Accepted at millions of places: Anywhere you see the Google Pay logo or the contactless symbol
Setting up Google Pay™ is so easy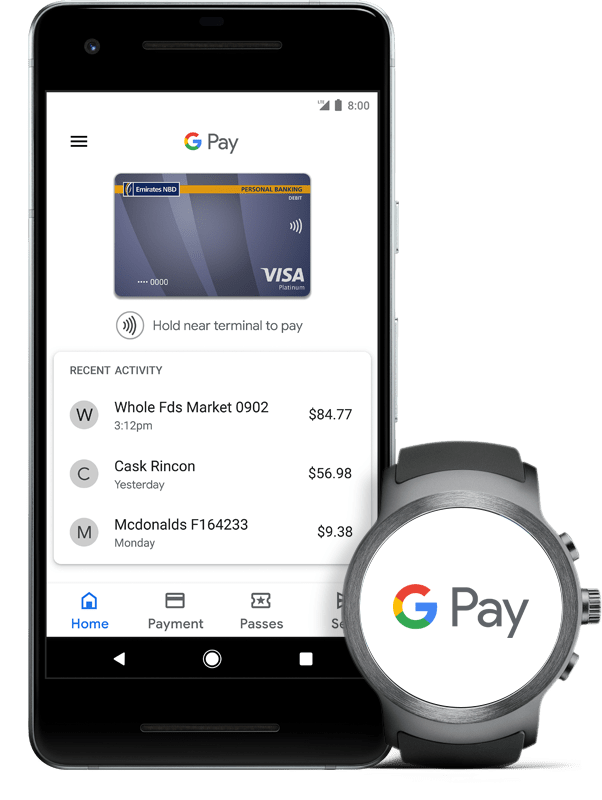 To set up Google Pay App, firstly
Update your device software
Download Google Pay™
Open the Google Pay™ and set up a screen lock
To make purchases in-stores, make sure your device has NFC and NFC is turned on.
Android Phones
Open Google Pay™ app and log in using your Google account
Take a picture of your card or enter the card details manually
Verify additional information and accept Terms and Conditions
Enter the Authentication Code and Submit
Your card is ready to use
Watch
If you add a card to your watch, you won't need your phone to pay.
On your watch, open the Google Pay™ app.
Tap Get started.
Set up screen lock (if you haven't already).
On your phone, follow the instructions to add a credit or debit card.*
Your card will show up on your watch.
*Note: This only adds a card to the Google Pay™ app on your watch (not your phone).
You are now ready to start paying with Google Pay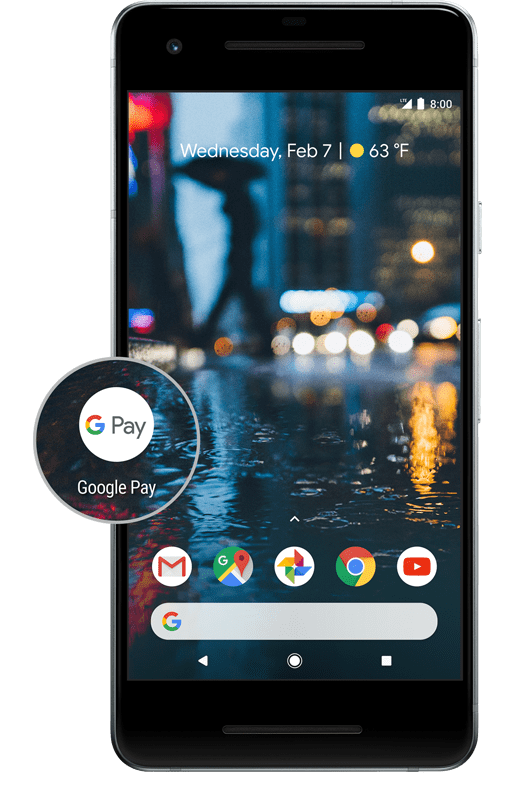 Paying in shops with your phones
To make a purchase, wake up the device and hold it near the contactless reader until your device beeps or vibrates and a checkmark appears on the screen indicating your purchase is complete. You may be prompted to unlock the device first by providing your PIN, passcode, pattern or fingerprint.
Paying in shops with your Watch
On your watch, open Google Pay™.
Hold your watch over the contactless payment terminal until you hear a sound or feel vibration from your watch.
If asked, choose 'Credit' regardless of your type of card.
For debit card transactions, you may have to enter a PIN. Use the PIN that you set up with your bank.
To make any payments with Google Pay, Google Pay should be set as default payment wallet through the steps below:
Settings -> Connections -> NFC and Payment -> Tap and Pay
Paying in apps and on the web
You can use Google Pay™ in apps like Uber and Airbnb or when you shop online if you see this button:

You can also use Google Pay™ on your favorite browser with participating merchants. At checkout, tap the Google Pay™ purchase button. You may be asked to select a payment method and enter your delivery address before confirming your order.
The more secure way to pay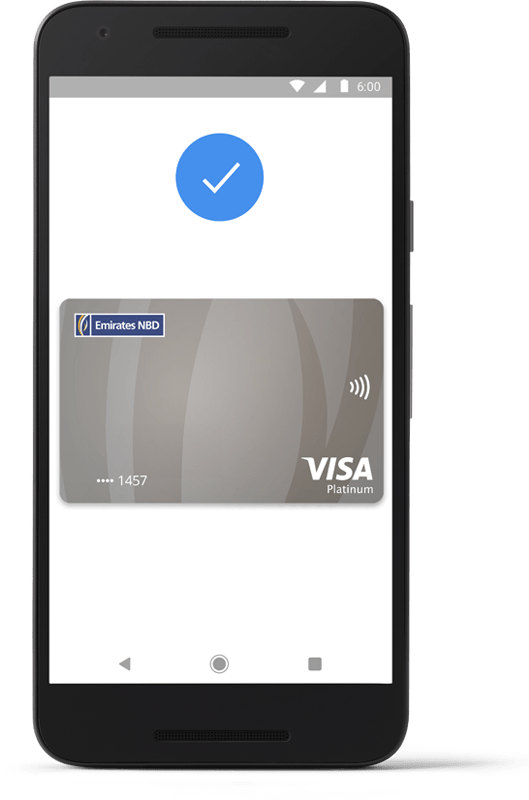 Your physical Card number is kept private and never stored in Google Pay™ or shared with merchants.
Every Google Pay™ transaction requires you to authenticate with Touch ID or your passcode.
Real-time purchase alerts keep you on top of your Card account. You can also view your last 10 transactions in the Wallet.
Enjoy peace of mind with sophisticated fraud protection from Emirates NBD.
*To use Google Pay™, customers must have an NFC-enabled Android device running Android Lollipop 5.0 or higher. The following devices running Lollipop 5.0 are not eligible for Google Pay because they lack an NFC antenna: Evo 4G LTE, Nexus 7 (2012), Samsung Galaxy Note III, Samsung Galaxy S3, Samsung Galaxy Lite.
*Google Pay is trademark of Google LLC.
Click here to learn more about our terms and conditions.