The benefits of your Debit and Credit Card
The convenience of your mobile phone
Fast, easy and convenient
Simply enroll your cards on Samsung Wallet and pay with your phone
High level of security
Pay with fingerprint or PIN authentication
Accepted anywhere**
You can use Samsung Wallet wherever you use your card
Click here for Samsung Wallet Terms and Conditions.
*Samsung Wallet is compatible only with Galaxy S8, Galaxy S8+, Galaxy S7, Galaxy S7 Edge, Galaxy S6 Edge+, Galaxy Note5 ,Galaxy A3 (2017), Galaxy A5 (2016/2017), Galaxy A7 (2016/2017), Samsung Gear S3.
** Accepted at all swipe or tap terminals. Not restricted to only NFC contactless terminals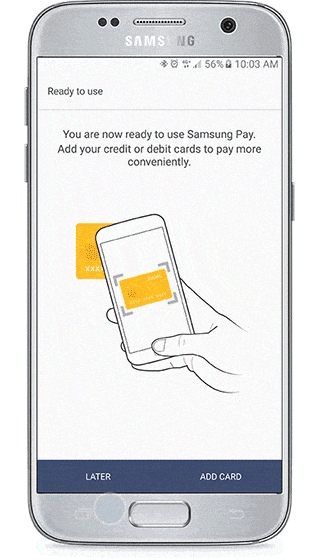 1. Update your Samsung software
Update the software on your device to Android 6.0.1 Marshmallow
2. Log into your Samsung Account
Log into your Samsung Account from the Samsung Wallet app to set your PIN and fingerprint
3. Adding Card
Tap on ADD CARD. Scan or manually enter card details
4. Verify
Verify card with SMS option and enter OTP
Tap Done!
You are now ready to start paying with Samsung Wallet!
Swipe, Authenticate, Tap
It's that simple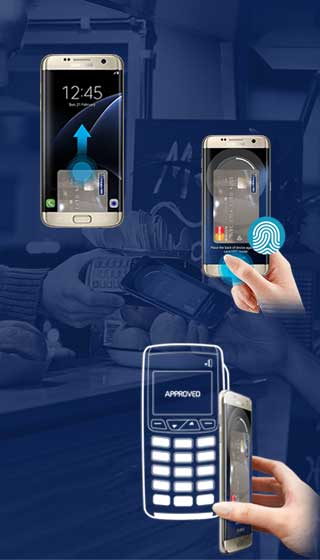 Swipe
Swipe up from the home button and scroll to select the card


Authenticate
Authorize payment by fingerprint or enter the Samsung Wallet PIN


Tap
Place the phone on the terminal
Your payment is complete!