The benefits of your Debit and Credit Card
Introducing Garmin Pay! Make contactless payments with your Emirates NBD Debit & Credit Cards linked to your Garmin watches*. Garmin Pay works everywhere contactless payments are accepted. With Garmin Pay, you can be out for a run, and pay for your favorite sport drinks from your wrist with your Garmin watch.
The convenience of your mobile phone
Fast, easy and secure
Add your Emirates NBD Card to Garmin Pay & pay with your watch
High level of security
Keep your transactions (Card number) private
Accepted anywhere
Use Garmin Pay at contactless payment terminals worldwide
Click here for Terms and Conditions.
*Garmin Pay is available on D2 Delta S, D2 Delta, D2 Delta PX, Fenix 5S Plus, Fenix 5 Plus, Fenix 5X Plus, Forerunner 645, Forerunner 645 Music, vivoactive 3, vivoactive 3 Music)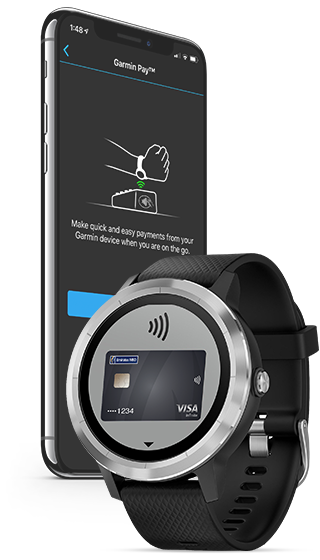 To get started, download the latest version of the Garmin Connect Mobile app on your Apple or Android smartphone or tablet and make sure your Garmin watch is charged and follow these steps.
Open the Garmin Connect Mobile app on your device, tap 'Garmin Devices', and select your Garmin watch
Select Garmin Pay and tap 'Create Your Wallet'
Create a four-digit passcode to keep the wallet on your watch secure
Enter your card details
Read and accept the Terms and Conditions
Enter the Authentication Code sent by SMS to your registered mobile number on our system
Once you are done, the card will be added to your wallet and you're ready to go
You can view and manage your Cards in the Garmin Connect Mobile app. Just tap 'Garmin Pay' and then 'Manage Your Wallet'.
That's it! You're ready to make payments with Garmin Pay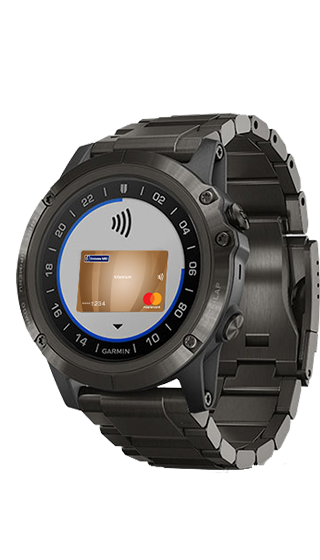 Press and hold the action button on your watch.
Tap the Wallet icon and enter your 4 digit passcode.
Select the card you want to use by swiping up and down.
Hold your wrist near the contactless terminal. A green tick will appear when the transaction is succesful.
Use Garmin Pay anywhere you see the contactless symbol

You will be prompted to enter your passcode every 24 hours or after every time you put your watch back on after taking it off
Benefits at a glance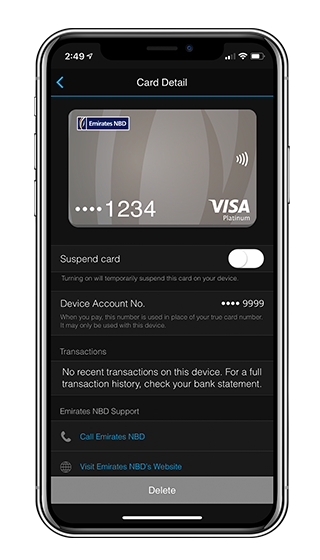 Make contactless purchases on the go without a wallet or smartphone.
Change the card you want to make purchases with at the checkout.
Temporarily block or delete a card at any time.
Compatible with Apple and Android smartphone or tablet.
The safer way to pay
Your physical Card number is kept private and never stored in Garmin Pay or shared with merchants.
For added safety, using Garmin watch requires authentication from your personal watch PIN.
Real-time purchase alerts keep you on top of your Card account. You can also view your last transactions in the Garmin Connect mobile app.
Enjoy peace of mind with sophisticated fraud protection from Emirates NBD.