Tail risk of sharper slowdown growing but recession not in the offing
AT A GLANCE
Tail risk of sharper slowdown growing but recession not in the offing
Markets still challenged by falling earnings and higher inflation
Headwinds manageable once ceasefire stage achieved in conflict
As the Russia-Ukraine war rages on, investors can only hope that eventually a middle ground is struck and a ceasefire is agreed alongside a serious round of negotiations. That might entail that Russia refocuses on the Eastern breakaway republics, rather than the whole of Ukraine. It might be the case that the West would keep softer sanctions working for some time, until it is ingrained in the Russian leadership that invasions of sovereign countries are not tolerated. The above scenario would represent a benign development of what otherwise could turn out to be a conflict with nasty repercussions for the global cycle.
Meantime, in spite of the forceful rally staged by global equities in the last two weeks, markets will have to deal both with the Fed's accelerated tightening and the slowing of earnings. We doubt Jay Powell's narrative that employment will remain steady in spite of the aggressive removal of stimulus. The bulk of the U.S. aggregate demand is consumption and last week's University of Michigan readings, plumbing new lows for the year, gave little room for comfort. Inflation is biting and the purchasing power of consumers is being eroded significantly. As the tail risk of a sharper slowdown is put into starker relief, investors are advised to fade equity rallies and buy renewed weakness we deem likely in Q2.
Although US yields have repriced dramatically following the Fed's first hawkish turn in January, we hold the view that there is not much upside left, barring negative surprises from a longer-lasting conflict fanning more inflationary pressures.
Amidst still heightened uncertainty, risk taking should be very targeted and diversification remains the keyword.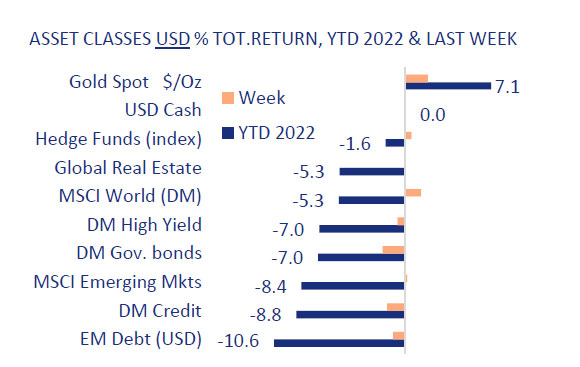 Cross-asset Update
All roads lead to inflation nowadays, it seems. BlackRock's Larry Fink said in his letter to investors that the Russia-Ukraine war is bringing the era of globalization to an end, which in turn has implications in terms of higher price pressures. Actually, the ratio of global trade to GDP peaked in 2008 according to World-Bank data, and at the end of 2020 that ratio plunged below levels last seen in 2004. Well before the current conflict both Donald Trump's trade wars and the Covid crisis were already challenging globalization. The recent shocks should convince CEOs to localize supply chains, prioritizing precaution versus efficiency, hence the prices of world traded goods should tend to increase. But other forces in the background will tend to work in this same direction, due to what is known as constrained growth and is also a global phenomenon. As the pool of available labor in an economy shrinks, a way to avoid inflationary pressures is to increase productivity. In the emerging economies this pool of labor, as people shifted from agriculture to manufacturing, seemed to be inexhaustible, propelling EM growth via exports. Now that the transition to the manufacturing sector in the major emerging economies is over, unless technological progress comes to the rescue, labor will not be able to spur growth any longer and price pressures will be the inevitable outcome. Since boosts to productivity are hard to come by requiring multi-year investments, we are most likely headed towards labor-constrained growth, implying a deteriorating growth-inflation trade-off globally. On top of this, commodity-intensive investments required for the building of greener economies and underinvestments in basic resources in the past decade will continue to put upward pressure on commodity prices, adding fuel to the inflationary fire.
The bottom line is that, although powerful structural deflationary trends remain well in place, mainly represented by ageing populations and technological progress, the above-mentioned secular forces operating in the opposite direction are gaining traction and going to shape a very different decade ahead. Repercussions will be felt across asset classes, and primarily in what is being labeled as the crisis of the equity-bond portfolio, whereby the future returns of traditional asset classes are deemed to be well-below historical averages as inflation compresses equity multiples and heightens government-bond volatility.
Investors are advised to make their portfolios more resilient to the new regime. Within equities, selecting companies with pricing power should be a priority. Cash-rich companies, hence also the high-dividend paying ones, should be outperforming in the longer term. Within fixed income, a preference for higher-yielding bonds should offer some cushion against rising price pressures. Outside of traditional assets, allocations to absolute-return strategies should be raised, making portfolios less volatile, hence less prone to large drawdowns coming with long times to recovery. As for commodity investments, only possible via futures, investors must be careful about the adverse effects of positively slanting futures curves eating into capital gains.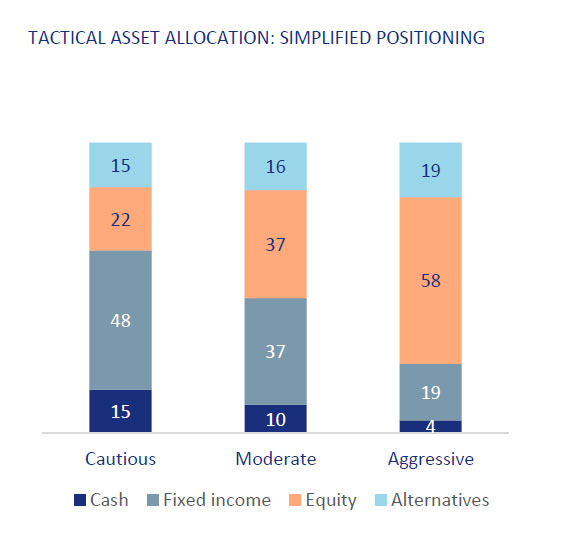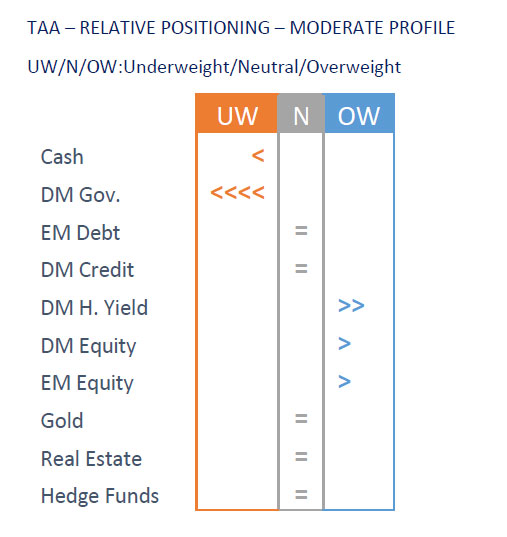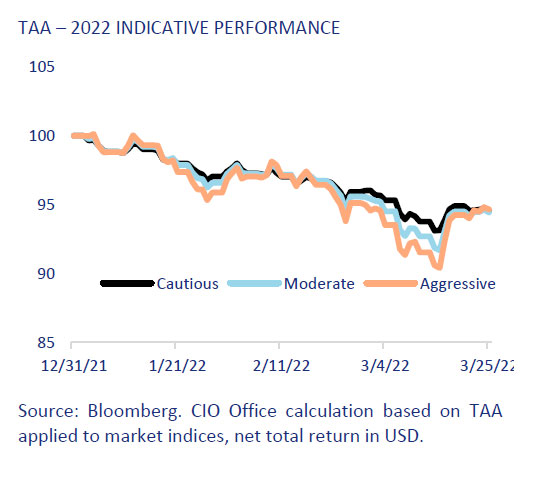 Fixed Income Update
It is that time of the year again. Everyone has started talking about the yield curve inversion after the blistering rise in the US Treasury yields last week. YTD 10-year treasury yields have risen by 99 bps. 2-, 5-, 10-, and 30-year yields rose 34bp, 43bp, 35bp, and 19bp, respectively, with most of this move occurring on Monday and Friday amid relatively hawkish Fed commentary. Markets are pricing in more than 85bp of rate hikes between now and the June FOMC meeting and a terminal rate at 2.95%. The current treasury market performance resembles Q1 21, where 10-year yields went up by 83 bps. According to JP Morgan Research, since the introduction of the US GBI in 1986, there have only been 11 instances of successive quarters of negative total returns, with the weakest performance of -5.6% over 4Q20/1Q21. In this strongly negative return backdrop, a similar move in 2Q22 seems somewhat unlikely. However, over the long run, the yields can continue going higher, especially as the Fed is falling behind the curve; they would need to move faster into the restrictive area, classified as overnight rates above 2.5%.
Credit indices were a sea of red in terms of last week's performance, mainly driven by the movement in the underlying yields. Most of the segments have retraced the post-Russia-Ukraine spread widening, and we expect spreads to be range-bound. According to a Goldman Sachs report, leverage and net profit margins have plateaued after analyzing the Q4 earnings reports. On the positive side, balance sheet liquidity positions and debt servicing capacity remain remarkably strong relative to historical standards. This gives us some comfort that though liquidity is receding, the credit defaults should remain range-bound.
The primary issuance market has remained lackluster in Q1 2022. There are two key drivers behind the muted volumes. First is the elevated market volatility, and secondly, the rotation from Fixed to floating rate products. The slowdown is evident in riskier segments such as High Yield, where YTD, only around $40bn of bonds have been issued, which is the slowest start to the year since 2018. In addition, the Q1 EM Debt issuance stands around $131bn compared to $237bn in Q1 2021.
GCC and broader MENA bonds performed well last week. The GCC bond index spread has tightened by 16 bps. Bahrain and Oman's bonds have given the highest YTD total return due to their high oil-beta. Egyptian bonds have rebounded post the currency depreciation last Monday and the surprising 100bp rate hike by the CBE. This is expected to stem the FX outflows from the country and bring it closer to a deal with IMF. As a result, we are comfortable adding Egypt bonds with 5-7 year duration to the portfolios with appropriate risk appetites.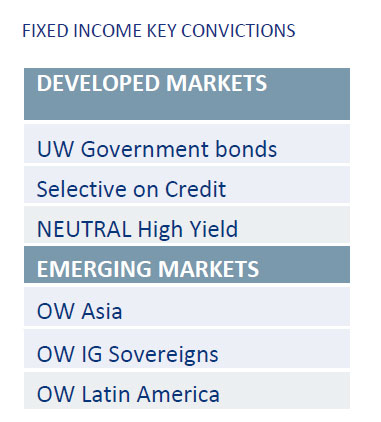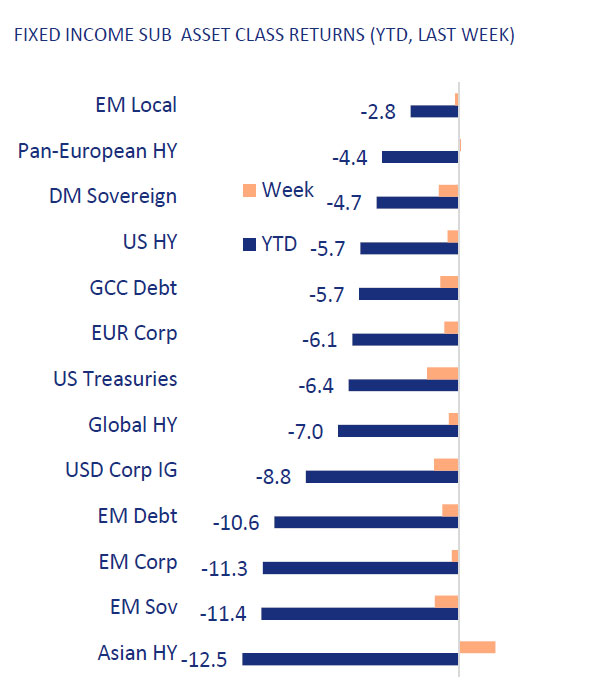 Equity Update
A second week of gains for global equities and the technology sector in spite of rising yields as the Fed has turned more hawkish with an accelerated tightening cycle. A flatter rate curve is now pricing in an increased risk of recession. Also worrying is how aggressive the Fed will be in combatting elevated inflation pressures. Global equities (-5.7% YTD) are back to levels before the Ukraine Russia war with U.S. stocks gaining close to 2% last week, following the week before gains of 6.1%. Tech, including unprofitable tech also rebounded in spite of rising yields. European equities are lagging US returns, after leading in the earlier part of 2022. The energy sector had a strong week as oil prices continued to rise alongside other commodities with Russia and Ukraine now in their 2nd month of conflict and sanctions increasing on Russia.
High inflation, rising rates and slowing growth are serious headwinds. Higher rates imply lower valuation multiples, while lower growth and rising costs impact margins and earnings. We have remained constructive on equity performance and the U.S. in preference to European equities. Whilst earnings downgrades are rife across the board, we see larger downgrades to European corporate earnings. Besides Russian market share European companies are also affected by the China zero Covid policy as many large automakers and food companies have considerable revenue generation from China. Shanghai is in lockdown awaiting results of a massive testing blitz joining other regions in the country.
Emerging market performance is being led by commodity exporters the GCC and LATAM. We are overweight both geographies. The UAE markets had another positive week and resumption of dividends in the Dubai real estate developers along with continued demand uptake are strong tailwinds.
The supportive announcements from policymakers in China the week before were not sufficient to turn the market around and the MSCI China is still down -16% year to date. Gains in China and Hong Kong markets were short lived as investors await certainty on the Government reassurances. The market is facing multiple headwinds from repercussions from the Russia/Ukraine conflict, ongoing weakness in the property market and an Omicron outbreak in Mainland China and Hong Kong. Delisting risk for US listed Chinese companies is not over. Earnings downgrades continue for China tech. The regulatory crackdown has affected gaming, ecommerce and digital payments. Alibaba and Meituan were two of the more prominent companies fined for monopolistic practices over the past year. Tencent followed Alibaba in reporting its slowest quarter of growth on record with revenue growing in the single digits as online advertising sales declined for the first time. Gaming (Tencent's biggest division) revenue is flat reflecting a months-long licensing halt. TenCent market cap is down by half a trillion dollars since its peak in 2021. WeChat messaging platform, saw monthly active users grow 3.5% to 1.27bn, but concerns on its payment services are in focus. For China's Internet industry to rally less regulatory scrutiny and faster resumption of game licensing are needed. Till then we stay neutral.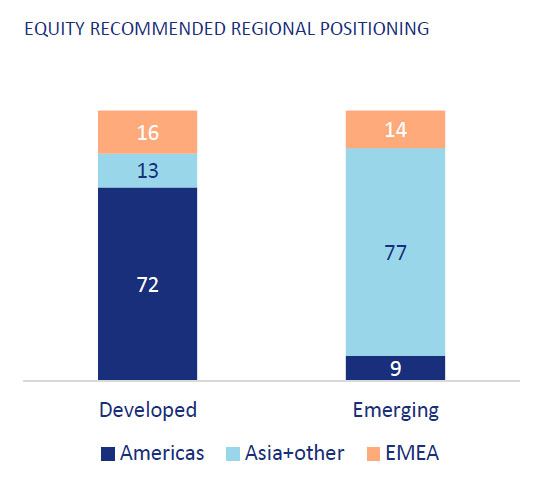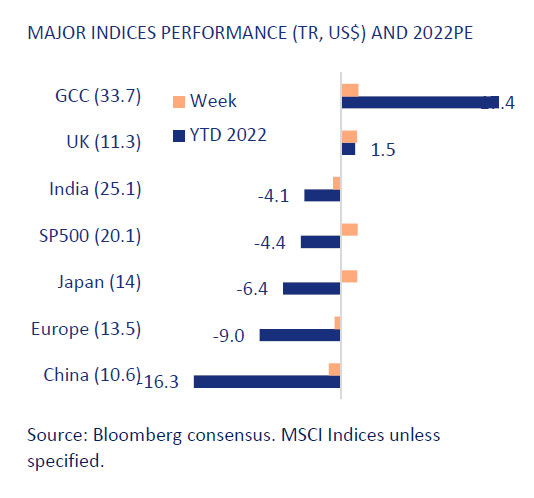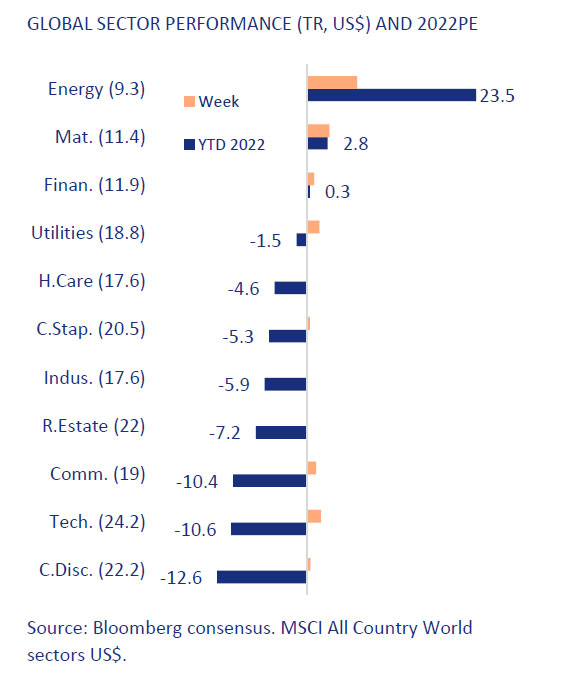 Disclaimer
Emirates NBD Bank PJSC ("Emirates NBD") is licensed and regulated by the UAE Central Bank and this website aims at providing Internet users with information concerning Emirates NBD Private Banking, its products and activities. Persons having access to information made available by Emirates NBD on this website accept the following rules:

Reliance:
Emirates NBD uses reasonable efforts to obtain information from sources which it believes to be reliable, however Emirates NBD makes no representation that the information or opinions contained in publications on this website are accurate, reliable or complete. Published information may include data/information from stock exchanges and other sources from around the world and Emirates NBD does not guarantee the sequence, accuracy, completeness, or timeliness of information contained on this website provided thereto by unaffiliated third parties. Anyone proposing to rely on or use the information contained on this website should independently verify and check the accuracy, completeness, reliability and suitability of the information and should obtain independent and specific advice from appropriate professionals or experts. Further, references to any financial instrument or investment product are not intended to imply that an actual trading market exists for such instrument or product. Emirates NBD is not acting in the capacity of a fiduciary or financial advisor. Any publications on this website are provided for informational purposes only and are not intended for trading purposes. Data/information provided herein is intended to serve for illustrative purposes and is not designed to initiate or conclude any transaction. The information available on this website is not intended for use by, or distribution to, any person or entity in any jurisdiction or country where such use or distribution would be contrary to law or regulation. This website and anything contained herein, is provided "as is" and "as available," and that Emirates NBD makes no warranty of any kind, express or implied, as to this website, including, but not limited to, merchantability, non-infringement, title, or fitness for a particular purpose or use.

Modifications:
The provision of certain data/information on this website is subject to the terms and conditions of other agreements to which Emirates NBD is a party. Emirates NBD reserves the right to make changes and additions to the information provided at any time without prior notice. The information may be modified or removed without prior notice. No buy or sell orders submitted via the internet or email will be accepted. In addition, the data/information contained on this website is prepared as of a particular date and time and will not reflect subsequent changes in the market or changes in any other factors relevant to the determination of whether a particular investment activity is advisable.

Liability:
Information contained on this website is believed by Emirates NBD to be accurate and true, in all material respects. Emirates NBD accepts no responsibility whatsoever for any loss or damage caused by any act or omission taken as a result of the information contained on this website. Further Emirates NBD accepts no liability for the information and opinions published on the website and is under no obligation to remove outdated information from its website or to mark it clearly as such. The information given on this website may not be distributed or forwarded in whole or in part. Accordingly, anything to the contrary herein set forth notwithstanding, Emirates NBD, its suppliers, agents, directors, officers, employees, representatives, successors, assigns, affiliates or subsidiaries shall not, directly or indirectly, be liable, in any way, to you or any other person for any: (a) inaccuracies or errors in or omissions from the information available on this website including, but not limited to, quotes and financial data; or (b) loss or damage arising from the use of this publication, including, but not limited to any investment decision occasioned thereby. or (c) under no circumstances, including but not limited to negligence, shall Emirates NBD, its suppliers, agents, directors, officers, employees, representatives, successors, assigns, affiliates or subsidiaries be liable to you for direct, indirect, incidental, consequential, special, punitive, or exemplary damages even if Emirates NBD has been advised specifically of the possibility of such damages, arising from the use of the information on this website, including but not limited to, loss of revenue, opportunity, or anticipated profits or lost business. Emirates NBD expressly accepts no liability for losses or damages of any kind arising from using or accessing this website or links to third-party websites or from viewing information on any of its web pages. Furthermore, Emirates NBD accepts no liability for any unauthorized manipulation of users IT systems. Emirates NBD expressly draws user's attention to the risk of viruses and the threat of hacker attacks

Third Party Website:
Users may be aware that Emirates NBD has no control whatsoever over third-party websites linked to or from this website and therefore accepts no liability for the content of such websites being correct, complete and legally valid for the products and services offered on such websites. Emirates NBD's express written permission must always be sought before including a link to this website on a third-party website.

Solicitation:
None of the information on this website in any way constitutes a solicitation, offer, opinion, or recommendation by Emirates NBD to buy or sell any security, or to provide legal, tax, accounting, or investment advice or services regarding the profitability or suitability of any security or investment.

Forward Looking:
The information contained on this website does not purport to contain all matters relevant to any particular investment or financial instrument and all statements as to future matters are not guaranteed to be accurate. Certain matters in this publication on the website are about the future performance of Emirates NBD or members of its group (the Group), including without limitation, future revenues, earnings, strategies, prospects and all other statements that are not purely historical, constitute "forward-looking statements". Such forward-looking statements are based on current expectations or beliefs, as well as assumptions about future events, made from information currently available. Forward-looking statements often use words such as "anticipate", "target", "expect", "estimate", "intend", "plan", "goal", "seek", "believe", "will", "may", "should", "would", "could" or other words of similar meaning. Undue reliance should not be placed on any such statements in making an investment decision, as forward-looking statements, by their nature, are subject to known and unknown risks and uncertainties that could cause actual results, as well as the Group's plans and objectives, to differ materially from those expressed or implied in the forward-looking statements. Past performance is not necessarily a guide to future performance. Estimates of future performance are based on assumptions that may not be realized.

Risk: In addition, before entering into any transaction, the risks should be fully understood and a determination made as to whether a transaction is appropriate given the person's investment objectives, financial and operational resources, experiences and other relevant circumstances. The obligations relating to a particular transaction (and contractual relationship) including, without limitation, the nature and extent of their exposure to risk should be known as well as any regulatory requirements and restrictions applicable thereto. Data included on this website may rely on models that do not reflect or take into account all potentially significant factors such as market risk, liquidity risk, and credit risk. Emirates NBD may use different models, make valuation adjustments, or use different methodologies when determining prices at which Emirates NBD is willing to trade financial instruments and/or when valuing its own inventory positions for its books and records.

Investment in financial instruments involves risks and returns may vary. Before making such an investment, investors should consult their advisers on the legal, regulatory, tax, business, investment, financial and accounting implications of the investment.

Intellectual property:
The information on this website has been developed, compiled, prepared, revised, selected, and arranged by Emirates NBD and others (including certain other information sources) through the application of methods and standards of judgment developed and applied through the expenditure of substantial time, effort, and money and constitutes valuable intellectual property of Emirates NBD and all present and future rights in and to trade secrets, patents, copyrights, trademarks, service marks, know-how, and other proprietary rights of any type under the laws of any governmental authority, domestic or foreign, shall at all times be and remain the sole and exclusive property of Emirates NBD and/or other lawful parties and you acknowledge that you have no ownership rights in and to any of such items. Except as specifically permitted in writing, the information provided in this website shall not be copied or make any use of any information on this website or any portion of the intellectual property rights connected with this website, or the names of any individual participant in, or contributor to, the content of this website, or any variations or derivatives thereof, for any purpose. Further you shall not use any of the trademarks, trade names, service marks, copyrights, or logos of Emirates NBD or its subsidiaries in any manner which creates the impression that such items belong to or are associated with you or, except as otherwise provided with Emirates NBD's prior written consent,

Confidentiality:
The information on this website solely for non-commercial use and benefit and the use of this information is not intended for resale or other transfer or disposition to, or use by or for the benefit of, any other person or entity. Information contained in this website shall not be used, transferred, distributed, reproduced, published, displayed, modified, create derivative works from any data contained on this website or disposed of in any manner that could compete with the business interests of Emirates NBD. Any part of this website may not be offered for sale or distribute it over any medium including but not limited to over-the-air television or radio broadcast, a computer network or hyperlink framing on the internet without the prior written consent of Emirates NBD. The information contained on this website may not be used to construct a database of any kind. The data on this website shall not be used in any way to improve the quality of any data sold or contributed by you to any third party.

Recipient Acknowledgements
In accessing this website, you acknowledge and agree that there are risks associated with investment activities. Moreover, you agree that your use of this publication is at your sole risk and acknowledge that the responsibility to obtain and carefully read and understand the content of documents relating to any investment activity described on this website and to seek separate, independent financial advice if required to assess whether a particular investment activity described herein is suitable, lies exclusively with you.

Emirates NBD Bank (P.J.S.C.) is licensed by the Securities & Commodities Authority and subject to regulation, supervision and control of the Authority.
Head Office : Baniyas Road, Deira, PO Box 777, Dubai, UAE