Emirates NBD Capital named Sukuk Lead Manager of the Year 2020 by GIFA
Investment bank recognised for excellence in shari'ah compliant financing solutions
23 September 2020: Emirates NBD Capital, the investment banking arm of Emirates NBD, one of the leading banking groups in the MENAT (Middle East, North Africa and Turkey), has been awarded Sukuk Lead Manager of the Year 2020 by the Global Islamic Finance Awards (GIFA) committee.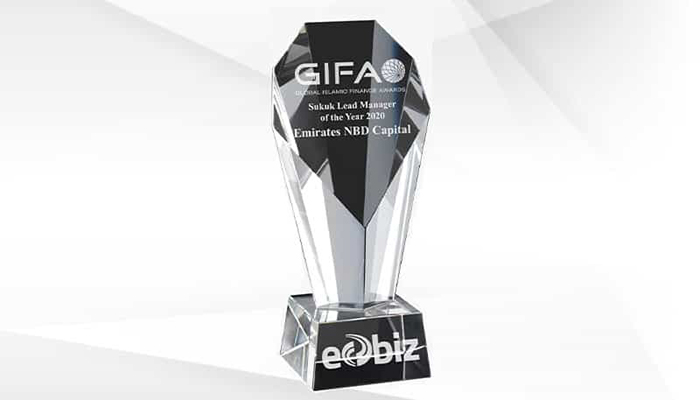 The award by a prominent international platform such as GIFA recognises the regional investment bank's market-leading fixed income platform and significant track record in arranging several landmark Sukuk transactions. Furthermore, the award demonstrates Emirates NBD Capital's growing leadership and capabilities in ESG (Environmental, Social, and Governance) financing solutions.
Emirates NBD Capital recently completed its sixth ESG financing transaction, acting as Joint Lead Manager and Bookrunner for the first ever USD Sustainability Sukuk on behalf of Islamic Development Bank (IsDB). The USD 1.5 billion deal rated Aaa/AAA/AAA by Moody's/S&P/Fitch (each with stable outlook) represented the lowest ever coupon for an IsDB Sukuk and was well subscribed by global investors.
Emirates NBD Capital currently holds a leading league table position in international Sukuk and MENA bonds with over 150 transactions successfully completed since 2015 across GCC, Turkey, India, China and Indonesia. The investment bank's expert team are well experienced in the origination and structuring of debt products, both conventional and Islamic.
GIFA is among the most highly coveted and respectable market-led awards in Islamic banking and finance. Now in its tenth year, the annual awards recognise governments, institutions and individuals, across the globe who have made outstanding achievements and contributed to the sustainability of Islamic banking and finance.
This year, the awards were announced at concurrent ceremonies held in Islamabad and online for those unable to travel. The ceremony took place in the presence of His Excellency Dr Arif Alvi, President of the Islamic Republic of Pakistan and Professor Humayon Dar, Chairman, GIFA, and was attended by several prominent Islamic bankers, regulators and government officials
Fahad Abdulqader Al Qassim, Chief Executive Officer, Emirates NBD Capital, said, "We are honoured to be named GIFA's Sukuk Lead Manager of the Year. Emirates NBD has consistently strived to promote and provide Shari'ah compliant financing solutions to our clients and we are proud to be recognised by a global platform for contributing towards excellence in Islamic financing. As the appetite for ethical and ESG-related financing rises globally, we aim to continue to enhance our market-leading debt capital markets platform and be an important contributor to this growing industry."