Emirates NBD celebrates 48th UAE National Day
Dubai, 27 November 2019: Emirates NBD, a leading banking group in the region, today marked the 48th UAE National Day with staff ceremonies at its offices in Meydan.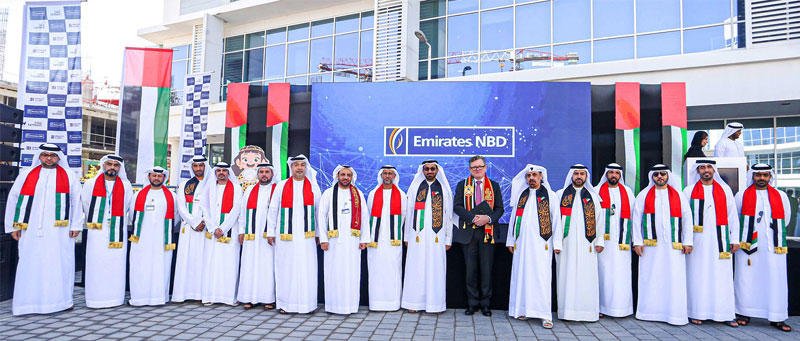 United by the occasion, the bank's staff and management gathered to renew their oath and pledge allegiance to the nation. Emirates NBD honoured employees who have served in the National Service and the celebrations included a number of activities to mark the occasion.
Commenting on the occasion, Hesham Abdulla Al Qassim, Vice Chairman and Managing Director, Emirates NBD, said: "As the nation marks the 48th UAE National Day in the Year of Tolerance, we are grateful for the progressive leadership and wise guidance of our founding fathers in building a diverse and inclusive society that welcomes people from all walks of life. As a global bank with local roots in the UAE, Emirates NBD has always aligned its business model and corporate values to those of the UAE government, growing side-by-side with the country to become a global leader and innovator in financial services. We take this opportunity to wish our customers, stakeholders, partners, and the entire community a happy National Day and we are pleased to celebrate the spirit of unity and harmony that binds us all together."
Leading up to National Day, the bank has launched a social campaign titled "The Nation's Account", a non-monetary account where participants can 'deposit' actions, intentions, and personal contributions – all of which make up the wealth of a nation. The Nation's Account aims to create a simple and user-friendly way for residents to demonstrate their love for the UAE by showcasing their past, present, and future contributions to the nation. Residents can participate in the campaign by sharing their 'deposits' on social media platforms tagging #TheNationsAccount
Bringing life to the campaign, is a powerful video featuring citizens and residents across different walks of life declaring their contributions to the nation's account. Emirati figure skater Zahra Lario joins the father of a soldier, a firefighter, a blue-collar worker, an Emirati mother, a doctor, teacher, entrepreneur and a paralympic weight lifter as they all demonstrate their commitment to the UAE through their 'deposits'.    
In keeping with its support for the UAE's Year of Tolerance, the bank hosted the Emirates NBD Unity Run earlier this month to promote diversity and the social inclusion of people with disabilities (people of determination), aligned with Dubai's vision of becoming a disability-friendly city by 2020. The 2019 edition of the run celebrated the spirit of tolerance with special events and activities, including a community fair that hosted cultural pavilions from around the world, representing the rich diversity of the residents of the UAE.