Emirates NBD Asset Management Wins Asset Manager of the Year and Gold MENA Equity Award
2018 Global Investor MENA Awards name house as 'Asset Manager of the Year'
Emirates NBD Asset Management takes 'Gold MENA Equity Fund' at 2018 Fund Selector Middle East Awards
Dubai, United Arab Emirates; 29 November 2018: Emirates NBD Asset Management has won 'Asset Manager of the Year' at the 2018 Global Investor Middle East Awards and 'Gold MENA Equity Fund' at the 2018 Fund Selector Middle East Awards. The awards were presented in recognition of the company's position as a leading regional Asset Management house, combining both local and international expertise while delivering highly competitive returns for investors. Emirates NBD Asset Management, the wholly-owned subsidiary of Emirates NBD Bank, offers a diverse range of Shari'a-compliant and conventional funds, domiciled in both Luxembourg and Jersey, to a wide and stable investor base across the retail and wholesale spectrum.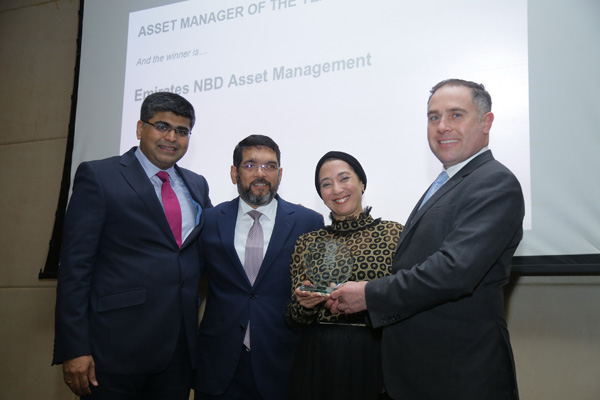 Salman Bajwa, Senior Executive Officer at Emirates NBD Asset Management, commented:
"Our fund management team is experienced, trusted and highly specialized, employing a sophisticated research and investment philosophy to drive performance and control risk. Both the Fund Selector Middle East Awards and the Global Investor MENA Awards have shown recognition of the way we conduct our business, and we have reason to be proud of our achievements. We have continued to build on our role as a leader in the Middle East's Asset Management industry and have worked hard to develop innovative new products that give investors access to a wide range of regional and international opportunities."
This year, the Fund Selector Middle East Awards recognized SCA-approved funds by asking a panel of industry experts to assess which funds would perform best during the next three years. In partnership with Morningstar, historic fund performance was evaluated to select the top performing funds.
Global Investor Group provides access to news, analysis and data across the Asset Management, Securities Finance, Custody, Fund Services and Derivatives markets. The Group brings together three market-leading publications (Global Investor, ISF and FOW) to provide subscribers with an extensive reach across both the buy- and sell-side. Global Investor's MENA Awards recognise industry excellence across the region.