Emirates NBD declared 'Best Bank in the Middle East' by Euromoney
Retains 'Best Bank in the UAE' title for fourth year running
Dubai, 15 May 2018: Emirates NBD, one of the leading banks in the region, was named 'Best Bank in the Middle East' as well as 'Best Bank in the United Arab Emirates' for the fourth consecutive year at the Euromoney Awards for Excellence in 2018.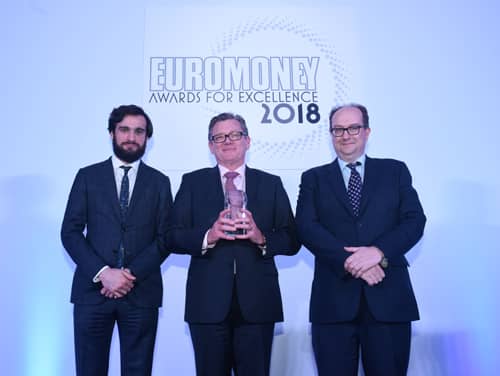 Emirates NBD was recognised for its outstanding financial performance in 2017, delivering a record year-end net profit of AED 8.35 billion, and a strengthened balance sheet with further improvements in capital and liquidity and stable credit quality. Additionally, the bank was lauded for its commitment to the digitisation of banking services within the UAE and wider region, having introduced several first-to-market digital banking solutions which offer customers a seamless tech-first banking experience combined with the human touch.
Commenting on the win, Shayne Nelson, Group CEO of Emirates NBD said: "We are deeply honoured yet again to receive the two most prestigious titles at this year's Euromoney Awards. In the past year, the bank has delivered not just a record financial performance, but also a significant milestone list of first-to-market innovations within the region. Our core customer-centric philosophy has enabled us to become a digital banking leader and as we focus on strategic expansion within the Middle East, we will continue to strengthen our proposition to be the bank of choice for customers, employees and shareholders."
Driven by the Emirates NBD Future Lab™, the bank has introduced several significant innovations to the UAE banking sector. In 2017, the bank launched Liv., the UAE's first digital lifestyle bank for millennials; Skyshopper, the Middle East's first e-commerce portal from a financial services institution; announced Cheque Chain, a technology integrating blockchain into Emirates NBD-issued cheques, and pioneered a modern-styled digital branch concept at the Dubai World Trade Centre, combining a paperless self and assisted-service banking experience complemented by a strong human element.
As the region's premier smart bank, Emirates NBD is inspired by the forward-looking vision of HH Sheikh Khalifa bin Zayed Al Nahyan, President of the UAE, and HH Sheikh Mohammed bin Rashid Al Maktoum, Vice President and Prime Minister of the UAE and Ruler of Dubai, and its Chairman, HH Sheikh Ahmed Bin Saeed Al Maktoum.
The recognition from Euromoney follows a series of global and regional accolades for Emirates NBD for its performance over the past year. The bank was declared the Most Innovative Financial Services Organization of the Year at the BAI Global Innovation Awards. The bank was also recently awarded at the UAE Innovation Award for its best-in-class innovative products; named 'Best Retail Bank in the Middle East' by The Asian Banker; and was recognised by The Banker as the UAE's most valuable banking brand with a USD 3.534 billion brand valuation.