Emirates NBD successfully completes CSR milestones in Year of Giving
Bank's Exchanger programme exceeds target by 73.3% with 26,000 volunteering hours
26 disability-friendly branches transformed to date
Dubai, UAE 19 December, 2017: Emirates NBD, a leading bank in the region and a pioneer in private sector CSR volunteering in the UAE, today announced the milestones it has achieved under the three pillars of the UAE's Year of Giving initiative: 'Strengthening social responsibility in the private sector,' 'Promoting a spirit of volunteering,' and 'Strengthening the concept of serving the nation in new generations of Emiratis and expatriates.'
As the end of the year approaches, Emirates NBD's award-winning Exchanger programme has completed over 26,000 hours of volunteering service with over 4000 employees and partners participating, massively overtaking its initial target of 15,000 volunteer hours for the year, and being recognised for its work at The Gulf Sustainability and CSR Awards under the auspices of the Mohammed bin Rashid Al Maktoum Global Initiatives foundation.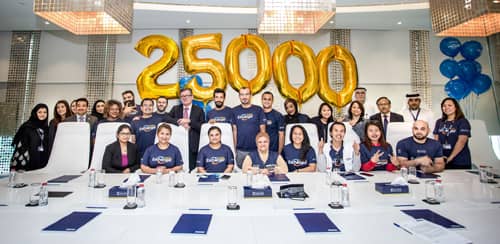 Under the pillar of strengthening CSR in the private sector, the bank's flagship advocacy #TogetherLimitless has undertaken several initiatives throughout the year to further the inclusion of people of determination in the UAE including; expanding Emirates NBD's disability-friendly branch network to twenty-six locations; successfully finding employment for 35 people of determination through The Careers Network; organising the Emirates NBD Unity Run for people of all abilities; and convening a panel discussion on transforming Dubai into a disability-friendly city by 2020, bringing together leaders from the private and public sector including The Executive Council of Dubai, Road and Transport Authority and Expo 2020 Dubai.
At a celebration held at the bank's headquarters, Shayne Nelson, Group CEO of Emirates NBD said: "While Emirates NBD has always championed giving back to the community, the Year of Giving has truly seen us outdo our own expectations and bring about significant positive change across various developmental areas. From the major initiatives of #TogetherLimitless in furthering the financial, career and social inclusion of people of determination in the UAE to the tireless efforts of all our volunteers, our employees across the bank have come together and embodied the spirit of the Year of Giving initiative launched by HH Sheikh Khalifa Bin Zayed Al Nahyan, the President of the UAE."
Going forward in 2018, Emirates NBD will continue to implement its strategic sustainable social investment model in the private sector by identifying and creating shared values into actual measurable programmes and KPIs, with a special focus on the recently announced Year of Zayed initiative. 
"As a homegrown bank, we will continue to align our CSR objectives and strategy with those of our leaders and look forward to launching impactful community programmes under the Year of Zayed initiative," added Nelson.
In 2016, Emirates NBD became one of 11 financial institutions in the country to have signed the 'Dubai Declaration of Financial Institutions in the United Arab Emirates on Sustainable Finance,' as part of the Group's commitment to align its CSR activities with the UAE Vision 2021, the UAE Government's commitment to the Paris Climate Agreement, United Nations Convention on the Rights of Persons with Disabilities, the United Nations' Sustainable Development Goals and the UAE Green Agenda 2015-2030. During 2015 and 2016, the Group contributed over AED 59 million across its social investment programmes.