Emirates NBD Donates AED2 Million to Provide 200,000 Books as Part of 'Reading Nation' Campaign
Dubai-UAE: 19 June, 2016 – As part of the 'Reading Nation' Ramadan campaign that was launched by His Highness Sheikh Mohammed bin Rashid Al Maktoum, Vice President and Prime Minister of the UAE and Ruler of Dubai, Emirates NBD has announced a contribution of AED2 million to provide 200,000 books to establish libraries in 200 schools in Egypt, benefiting thousands of students.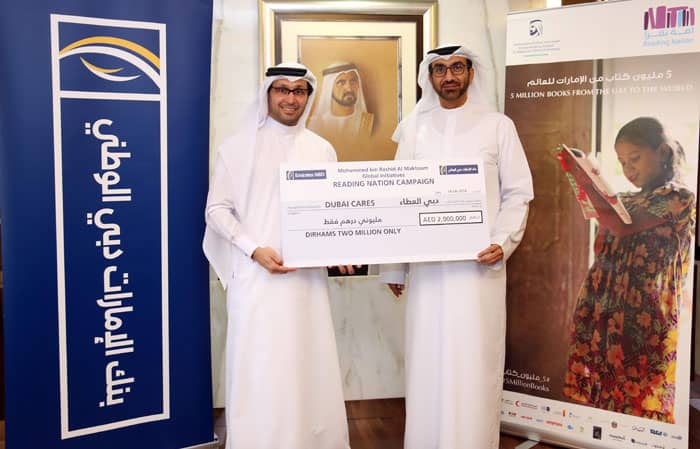 Hesham Abdulla Al-Qassim, Vice Chairman and Managing Director, Emirates NBD, said:  "Our bank's contribution to supporting education for underprivileged people comes from our understanding of the relation between education and knowledge on the one hand, and between social and economic development on the other. We are confident that the revival of the global economy and its development will only become a reality when people are properly educated. We also believe that the more dominant development is, the better the world will be on all levels. Human beings have the right to education, knowledge and equal opportunities for all." 
Al-Qassim added: "The initiatives that are launched by His Highness Sheikh Mohammed bin Rashid Al Maktoum, combined with his unique vision for humanitarian and charity work, aim to meet people's material, intellectual and psychological demands. Investing in minds is a long-term investment that produces sustainable outcomes. These outcomes include job qualifications, a cohesive community, and a real sense of belonging to one's nation. This project and others like it are a testament to the UAE's approach that was started by its founding fathers to help brothers in Arab countries in building a better future for their people."
Al-Qassim concluded: "Our support to this campaign is a reflection of our belief in the significance of social action and our aspiration to enhance the bank's role in the society as part of its corporate social responsibility. This humble gesture perfectly aligns with the UAE leadership's directives to achieve sustainable development and excel in all sectors."
HE Tareq Al Gurg, Chief Executive Officer, Dubai Cares said: "We thank Emirates NBD for its support that will benefit generations of students in Egypt. The bank is one of the prominent national institutions whose social responsibility strategy is a main pillar for its work. It also supports various initiatives launched in the UAE, not to mention its constant participation in humanitarian and relief projects."
Al Gurg added: "We see today the heritage that our founding father late Sheikh Zayed bin Sultan Al Nahyan embodied in the extraordinary and bold initiatives taken by the UAE leadership. These endeavors reflect a responsible position towards issues that matter to all people of the world, including development, capacity-building, and preserving humans' right in receiving education and gaining knowledge.
"The healthy competition that we see today in the Emirati society among all enterprises, banks and individuals, to implement the 'Reading Nation' campaign is a perfect example of a unified and cohesive nation that indicates a responsible approach towards global issues. I hope that this role model will be implemented in other countries in order to expand the area of responsible action, enhance human relations, and overcome conflicts in the Arab region." 
Launched on day one of the Holy Month of Ramadan, the 'Reading Nation' campaign continues until the 19th day of Ramadan that coincides with the Zayed Humanitarian Day. The campaign aims to provide five million books to children in refugee camps and underprivileged students in schools across the world through granting two million books to refugee children and a further two million books to establish more than 2,000 schools libraries around the world. In addition, Reading Nation is also mandated to support the educational programs implemented by the UAE's humanitarian organizations worldwide - with one million books. 
For more information about the Reading Nation Ramadan campaign or for contact numbers, please visit www.readingnation.ae