Next Generation of Female Leaders in the UAE Inspired to Make a Positive Impact in our Community
Emirates NBD and Promise of a Generation convene Emirates NBD e7 Girls Summit to encourage women's participation in socially-driven initiatives
Dubai, UAE –April 13, 2015: "The Emirates NBD e7 Girls Summit, a first in the Middle East, is an excellent initiative which I could not be more supportive of. The 35 selected participants give me a lot of confidence and inspiration for the next line of female leaders," says Lubna Qassim, Executive Vice President, Group General Counsel and Group Secretary Emirates NBD, as she addressed an audience of over 200 attendees, encompassing prominent government officials and community leaders, at the inaugural session for the Emirates NBD e7 Girls Summit (9 – 11 April, 2015).
The Emirates NBD e7 Girls Summit brought together 35 female participants - five from each of the seven Emirates, both Emiratis and expatriates, endowing them with the tools to support their commitment to long-term community initiatives. Each participant was matched with a prominent female leader or mentor to develop their projects over the course of the next year. The three-day event incorporated training workshops, including financial literacy, design-thinking, health and wellness as well as one-on-one meetings with mentors.
At the panel session on the first day of the Summit, the UAE Vision Dialogue, prominent speakers included Aisha Abdulla Miran, Assistant Secretary General, The Executive Council, Government of Dubai; Najla Al Midfa, Founder of Khayarat; and Caroline Faraj, CNN Arabic Digital Services Director and CNN Dubai Chief Operations Director who shed light on the important role women should play in the UAE. They also urged the participants to think about how they can make a positive impact in their communities through social entrepreneurship and innovation, in line with the UAE's long-term vision and strategic objectives.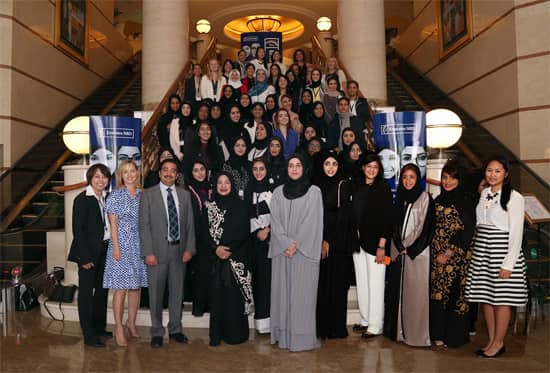 Najla Al Midfa, Founder of Khayarat, a career development platform inspiring Emirati graduates to develop their full potential said, "It is our responsibility to give back to the community which has given us so much. I want the e7 participants to never underestimate their capabilities. I am so proud to be affiliated with this wonderful initiative. I only wish this would have existed when I was their age."