Emirates NBD Securities end-to-end digital onboarding platform accelerates DFM investor access
Emirates NBD Securities is first in the region to offer end-to-end digital investor onboarding on its new platform
New platform complements end-to-end IPO subscription facility and instant DFM NIN generation service launched by the Group in March
Emirates NBD digital transformation strategy supports the UAE's goal of enhancing capital market liquidity and bolstering digital economy
Dubai, 08 September 2022: Emirates NBD Securities, one of the leading brokerages in the UAE, has become the first securities brokerage to launch an end-to-end digital onboarding process. The newly launched platform enables more than 1 million Emirates NBD customers to start trading instantly amid increased demand for stocks and a robust pipeline of initial public offerings on the Dubai Financial Market (DFM).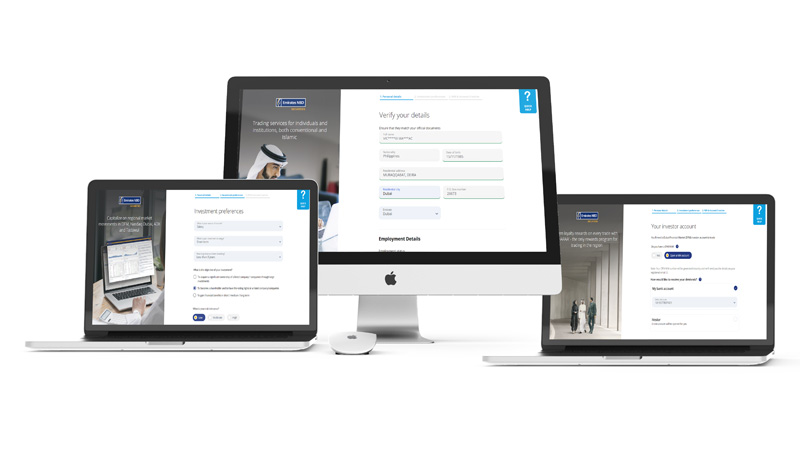 The end-to-end digital process offered by the platform allows Emirates NBD customers to instantly acquire a DFM investor number (NIN) and Emirates NBD Securities brokerage account. In three simple steps, users can now begin their trading journey and receive their trading account details and DFM NIN within minutes, eliminating the need to print, sign, scan and e-mail documents. The upgraded platform replaces paper-based processes with a fully digitized brokerage account opening experience, providing investors with rapid access to the DFM, whose benchmark equity gauge ranks among the best performing stock benchmarks in the world this year.
In March, Emirates NBD Group launched an end-to-end IPO subscription website for individual investors with real time subscription payment capabilities for UAE investors and wire transfer capabilities for non-UAE investors. The new seamless onboarding process complements this initiative by providing instant access to IPO subscriptions and is part of a strategic collaboration with DFM to enhance investor base.
The improved onboarding process also provides access to other regional exchanges, advanced trading platforms and app. Investors can also maximize their returns with THARAA', an innovative Emirates NBD loyalty program that rewards every executed trade. As members of the Emirates NBD banking Group, Emirates NBD Securities customers enjoy additional benefits such as the ability to manage the proceeds of their trades in real-time through their personal Emirates NBD bank account, a multi-purpose settlement account with an Emirates NBD debit card, and the ability to invest in Shari'ah-compliant shares through the bank's Investment Murabaha platform.
Commenting on the announcement, Ahmed Al Qassim, Senior Executive Vice President and Group Head, Corporate & Institutional Banking at Emirates NBD Group, said: "Emirates NBD Securities has harnessed the latest technology to give investors the quick and easy access they need to benefit from trading opportunities in the UAE. For the first time, investors can take advantage of a seamless and fully digitized account opening process, allowing them to start trading instantaneously and track the performance of their portfolio in real-time. We are confident that efforts by our fast-growing securities brokerage arm to remove the barriers to trading will increase the flow of capital into regional markets, enhancing market liquidity and reinforcing the Emirate's position as the region's leading financial center and hub for technological innovation."
Hamed Ali, CEO of DFM and Nasdaq Dubai, said: "We are delighted with the accelerating pace of innovative solutions' offering from our leading members, with Emirates NBD Securities at the forefront. Digital transformation is integral part within DFM's efforts to investors' on-boarding experience and market accessibility. We look forward for further cooperation with Emirates NBD Securities to reinforce DFM's digital transformation strategy and to further enhance our investor base of local and international investors."
Emirates NBD Securities digital onboarding website is live and accessible on: [https://application.emiratesnbdsecurities.com/]