Unlike ordinary loans, a FlexiLoan from Emirates NBD comes with a flexible interest rate that adjusts every one or six months to the UAE's EIBOR. This makes the loan pricing more transparent and offers you an opportunity to take advantage of changing interest rates when planning your finances.
Frequently asked questions:
What does EIBOR stand for?
EIBOR is "Emirates Interbank Offered Rate"
How often does my interest rate change?
Emirates NBD flexi loan has one or 6 months review frequency. This means that your base rate will get reviewed and refreshed to reflect the selected frequency EIBOR.
Why is it preferable going for variable pricing?
Variable rate is lower compared to the fixed rate. Since this is charged on the reducing balance, you pay less amount of interest for the first 6 months, when your principal loan amount is high, thus saving more.
To find out more about EIBOR please click here.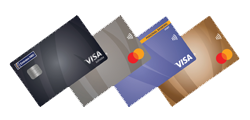 That's not all, you will get to avail a 1st year free Premium Credit Card* of your choice and enjoy its exclusive benefits. Existing Cardholders will gain the advantage of a free renewal.
Rates starting from 2.79% Flat** (5.24% reducing)
Interest rate varies every 6 months as it is linked to 6 months EIBOR plus fixed margin.
Click here for information on the loans processes and schedule
Terms and conditions
Promotion is not valid in conjunction with any other offers or rate discounts
*Applicable on loan amounts of AED 150,000 and above only
**Interest rate varies every 6 months and is linked to 6 months EIBOR plus fixed margin