Emirates NBD launches new "Ruwad" graduate program in response to "NAFIS" to propel talented, young Emiratis into leadership roles
Supports NAFIS by attracting and developing high-potential talent for key leadership positions
Builds strong Emirati leadership pipeline and digital skill base for the bank
Represents the start of Emirates NBD's commitment to attracting more Emiratis from the public sector through talent acquisition, skill development and flexible work initiatives
Dubai, UAE, 20 September 2021: Emirates NBD Group, a leading banking group in the MENAT (Middle East, North Africa and Turkey) region has launched a new and exclusive graduate program called "Ruwad." It is the largest investment the bank has ever made in a single talent management program. It is also the first of many initiatives to be introduced in response to the government's federal NAFIS program, announced as part of the UAE's "Projects of the 50".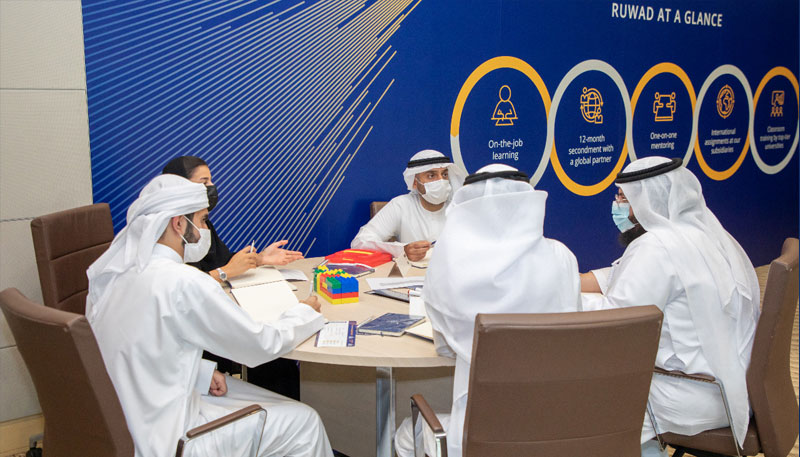 Ruwad aims to attract and develop the UAE's best and brightest. The 24-month program includes on-the-job learning and skill development through participation in high-profile projects especially in emerging areas like big data, digital channels and agile management. Ruwad participants will complete secondments in major partner organizations and across Emirates NBD's international subsidiaries. Classroom training will be provided by the world's best universities too.
After completing the program, each Ruwad graduate will be accelerated into a leadership position, based on their career ambitions to directly build the bank's leadership pipeline. It also means Emirates NBD is searching for a broad range of graduates to participate in Ruwad and it is not limited to traditional banking and finance graduates. Opportunities are available for digital marketers, technology and data enthusiasts, and creative thinkers.
Ruwad is targeting 50 percent female participation, in line with its gender diversity targets. Emirates NBD already has strong female Emirati representation with Emirati women currently making up 77 percent of its UAE national workforce and 35 percent of its senior leadership.
"We are extremely pleased to support the UAE government's NAFIS initiative by launching our exclusive Ruwad program. Every Ruwad graduate will be prepared for senior roles in the bank and equipped with critical skills and knowledge, especially in emerging areas like artificial intelligence and agile as two examples. In doing so, this will further strengthen our leadership pipeline and competitive digital edge. This is just the start of our new, invigorated Emirati training, talent and retention strategy," said Eman Abdulrazzaq, Group Chief Human Resources Officer, Emirates NBD.
"Our ambition is for every Emirati graduate and experienced professional to see us as an employer of choice and attract more UAE Nationals from the public sector. To also achieve this, we will shortly launch "Bedaya" as our second graduate program for hundreds more Emiratis each year. We are investing heavily in upskilling and reskilling, especially with a new School of Data Sciences to equip our workforce with the digital capabilities reshaping our industry. Aligned with what millennials want from work and as a market-differentiator, we will also shortly offer new flexible and remote work opportunities too."
The first Ruwad graduates will join Emirates NBD in October with a second group commencing in January 2022. Any Emirati who is interested in joining Ruwad or Emirates NBD's other graduate opportunities can do so via the bank's careers website: https://www.emiratesnbd.com/en/careers/emiratisation-programmes/ or via email: [email protected].