Emirates NBD wins 'Bank of the Year' at Gulf Business Industry Awards 2016
Dubai, 7 September, 2016: Emirates NBD, a leading bank in the region, won the prestigious title of 'Bank of the Year', at the Gulf Business Awards for its outstanding financial performance and its commitment toward the digitisation of banking in the past year.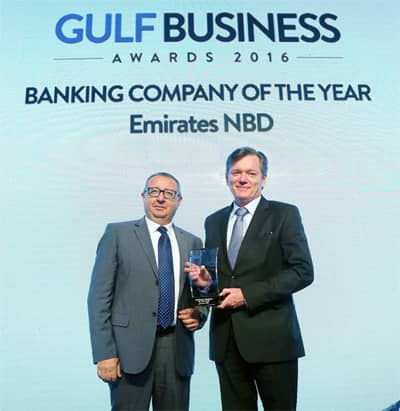 The fifth annual Gulf Business Industry Awards were presented at a distinguished ceremony held yesterday, 6th September, 2016, in the Taj Dubai, attended by senior business leaders from both public and private sectors in the GCC. Hosted by Gulf Business, the Gulf Business Industry Awards are judged by an independent panel consisting of industry leaders and specialist experts along with the magazine's editorial team.
Emirates NBD won 'Banking Company of the Year' award in recognition of the solid financial and operational performance that the bank has showcased in the past year. The achievement is also a testimony to Emirates NBD's leaps in digital innovation and a multichannel transformation of all its products and services to provide Emirates NBD's customers with an unparalleled experience in the region.
The Banking Company of the Year award was received by Shayne Nelson Group Chief Executive Officer. On receiving the award, Nelson commented, "Emirates NBD's financial performance has remained strong in a challenging economic environment due to our solid foothold in the UAE and sound growth strategy. We are honoured to be recognised as the Bank of the Year in the UAE for our commitment in the past year to building a truly innovation focused and digitally led bank that values customer experience.
"With our continuous strides toward catering to a new age of customers with next generation products and services, Emirates NBD aims to accelerate a 'smart' shift in banking to support the vision of His Highness Sheikh Mohammed bin Rashid Al Maktoum, Vice President and Prime Minister of the United Arab Emirates and Ruler of Dubai for transforming Dubai into a benchmark modern city," added Shayne Nelson.
The prestigious recognition at the Gulf Business Industry awards is the latest in a series of accolades received by the bank. Emirates NBD was named Bank of the Year – Middle East 2015' by The Banker; and Best Consumer Digital Bank in Middle East and Africa' in the UAE and 'Best Mobile Banking App' Middle East and Africa, for the second year running, in addition to being named 'Best in Mobile Banking' for Middle East and Africa at Global Finance's Best Digital Bank Awards.