Emirates NBD elevates banking experience with new- generation 'Interactive Teller Machine'
Video teller offers extended banking hours, enhanced services with a human touch
Customers can use Emirates ID to conduct transactions or enquiries
Services include larger withdrawal limit, multiple cheque encashment/deposit and interactive account enquiries
Dubai, 4 January, 2016: Emirates NBD, a leading bank in the region, has introduced a new generation Interactive Teller Machine (ITM), a first to market innovation that offers customers in the UAE a never-before personalised banking experience via a video personal teller.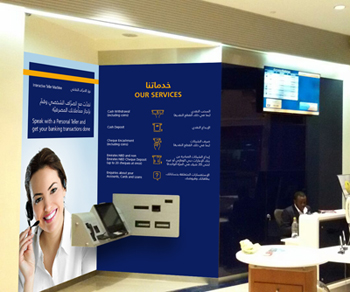 The ITM, developed by US-based NCR, the global leader in consumer transaction technologies, will be offering banking services at extended hours at the bank's Ibn Battuta mall branch, with four additional locations planned over the next few months. The new ITM is an evolution of the bank's previous ITM installed at the Dubai Mall branch in 2013, another first-to-market at the time.
The ITM elevates the traditional ATM experience by incorporating a real time video connection that enables customer to interact with a teller, similar to a branch experience, without timing limitations or queuing. In addition, the ITM offers significantly enhanced services with a human touch, including the option to use Emirates ID to conduct transactions such as encashment or deposit of multiple cheques and enquiries about accounts, cards and loans, in addition to cash deposit and withdrawal.
"With the Interactive Teller Machine, we have redefined convenience banking," commented Suvo Sarkar, Senior Executive Vice President & Group Head – Retail Banking and Wealth Management, Emirates NBD.
"For the first time, customers banking at a terminal can interact with a teller via video and conduct transactions never-before offered via terminal by a bank in the UAE. Emirates NBD has always taken the lead in creating innovative banking solutions that offer convenience and match customers' busy lifestyles. With our new ITM, we are offering Emirates NBD customers access to a virtual teller that can provide responsive, intuitive feedback and perform transactions comparable to an in- branch experience, without the limitations of branch timings or queuing," added Sarkar.
Emirates NBD's next-generation ITM offers:
Extended banking hours: From 9:00am to 8:00pm, Saturday to Thursday and 1:00pmto 8:00pm on Friday. Option to use Emirates ID to conduct transactions
Enquiries about bank accounts, cards and loans through personalised and interactive video teller service
Coin dispensation for cheque encashment and cash withdrawal transactions
Deposit of up to 20 cheques at a single time including non-Emirates NBD cheques
Cash withdrawal at higher limits similar to branch teller counters upon customer authentication
Cash deposit