Emirates NBD Group announces commitment to people with disabilities: 'Together Limitless'
UAE banking group announces four key initiatives as part of strategic, long-term commitment
Supports HH Sheikh Hamdan's 'My Community' initiative to transform Dubai to a disability-friendly city by 2020
Group convenes discussion with practitioners on high costs of special needs education
Dubai, 6 October, 2015: Emirates NBD Group, a leading financial services institution in the region, today announced a strategic and long-term commitment to people with disabilities, under the theme: 'Together Limitless'. Emirates NBD's commitment supports the 'My Community' initiative launched by His Highness Sheikh Hamdan bin Mohammed Al Maktoum, Crown Prince of Dubai and Chairman of Dubai Executive Council that aims to transform Dubai to a disability-friendly city by 2020.
As part of 'Together Limitless', Emirates NBD will implement four key initiatives aimed at creating an inclusive and empowered community in the UAE. The initiatives include: Benefits for Sanad Card holders (privilege access card developed by Community Development Authority, UAE); Adaption of branches to be more accessible to people with disabilities; Workplace Inclusion – an initiative to recognise talent, hire and train more people with disabilities; and a long-term partnership with Manzil's PRIDE (People Receiving Independence and Dignity through Empowerment).
To raise awareness on the issues faced by people with disabilities, Emirates NBD convened a panel discussion among government policy makers, practitioners and parents on 6 October, 2015 titled 'The high cost of educating people with disabilities – barriers, challenges and solutions'.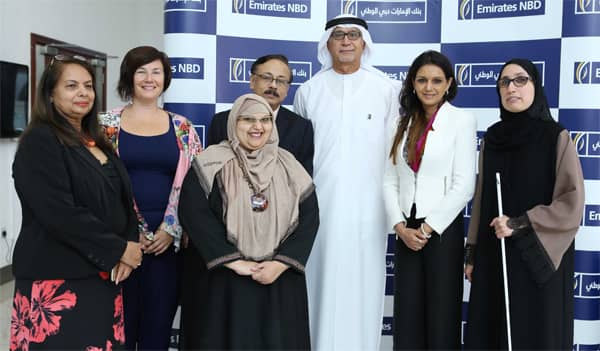 Outlining the Group's commitment, Shayne Nelson, Group CEO, Emirates NBD stated: "A business cannot consider itself truly successful unless it is able to support and empower the disadvantaged. As a long-standing player in the UAE, Emirates NBD is deeply committed to the local community. We are at the start of this important journey and strongly believe that our long term commitment to supporting people with disabilities is a duty and privilege."
Speaking ahead of the panel discussion, Husam Al Sayed, General Manager Group Human Resources at Emirates NBD said, "Emirates NBD is committed to raising awareness to the challenges faced by people with disabilities in the UAE. We are initiating a nation-wide dialogue, and seek to collaborate with the public and private sector to build momentum in our campaign to create a more inclusive environment in the UAE.
"Simultaneously, we are also working on integrating an inclusive workforce within our own organisation. Giving individuals with disabilities opportunities to express, learn and develop will help us develop a stronger and more balanced workforce," added Al Sayed.
The panel discussion is the first in a series of initiatives planned by Emirates NBD to raise awareness on the issues surrounding disabilities in the UAE. The bank has also launched emiratesnbd.com/limitlesstogether (#TogetherLimitless), a communications platform that celebrates achievements by policy makers, therapists, teachers, parents and other individuals working to integrate disabled individuals. The microsite aims to be a resource for community activities and events convened by Emirates NBD and its partners.