Emirates NBD revolutionises digital banking with the launch of mobile cheque deposit facility
Bank also introduces queue busting feature to allow customers to get queuing tickets for branch transactions via smartphone
Dubai, 03 June, 2015: Emirates NBD, a leading bank in the region, today announced the introduction of another set of first-to-market digital banking services in the region through its new mobile banking app.
Emirates NBD becomes the first bank in the Middle East, Asia and Africa to offer a Mobile Cheque Deposit facility, allowing its Private Banking and Priority Banking customers to deposit a cheque (issued by Emirates NBD) via its mobile banking app. Customers can capture the image of the cheque and then upload it via the bank's mobile app, saving them the hassle of a visiting a branch or a Cheque Deposit Machine (CDM).
In addition, the bank has introduced the 'Mobile Queuing Ticket' service, a functionality that enables all our customers to obtain a queuing ticket for their branch transactions via the mobile app, even before reaching a branch, thus reducing the waiting time at the branch.
The launch of the new mobile banking app is in line with Emirates NBD's Multichannel Transformation programme, designed to maximise efficiency and improve service delivery by optimising the bank's distribution mix.
Speaking at a press briefing, Suvo Sarkar, General Manager – Retail Banking and Wealth Management, Emirates NBD said: "Emirates NBD was among the first in the UAE to recognise the value customers place on convenience, speed and security when it comes to banking, and this insight has shaped our retail banking strategy. We have undertaken a Multichannel Transformation programme with a large emphasis on digital channels to offer products and services never seen before in the region.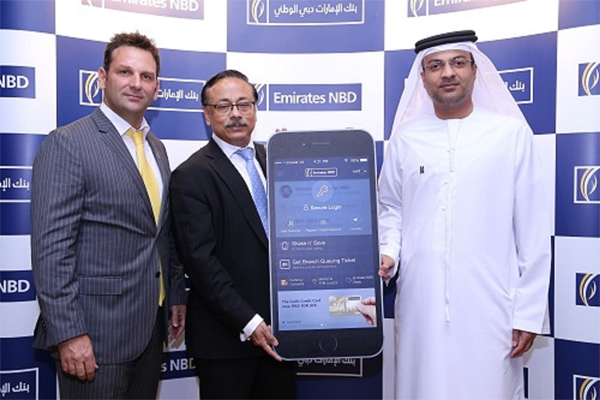 "The introduction of our new mobile banking app featuring Mobile Cheque Deposit technology and Mobile Queue Ticket testify Emirates NBD's commitment to making our customers lives simpler and more convenient. We want to continue with our strategy of extending leading and innovative solutions to our customers that further simplify everyday banking," Sarkar added.
While innovative solutions add significant value to customers by providing increased convenience, Emirates NBD expects Mobile Banking to assume a central role in the Smart City initiative envisioned by His Highness Sheikh Mohammed bin Rashid Al Maktoum, Vice President and Prime Minister of UAE, and Ruler of Dubai. In this context, the increased adoption of Mobile Banking among customers is a firm step in the right direction.
With more than 36 per cent of its customer base now actively using digital channels to interact with the bank, the bank anticipates that the additional functionality will significantly improve operational efficiency within the bank, while offering customers an enriched banking experience. The new Emirates NBD mobile banking app is available for free on Apple's App Store and Google Play.
Commenting on the new-to-market features, Ali Sajwani, Chief Information Officer, Emirates NBD, said: "Technology innovation and adoption remain a key priority for Emirates NBD Group. In the recent past, we have made significant investments in new technologies and launched an array of self-service digital-only products, resulting in significant adoption of the bank's digital banking services among our customers. Some of our innovative products and services include an Interactive Teller Machine, electronic subscription platform for IPOs, and enhanced touch-screen interface for our ATM's, among others.
"Going forward, we will continue to invest in technology that will facilitate Retail Banking's Multichannel Transformation, thus adding significant value to our customers by providing convenience while at the same time generating increased efficiency gains within the bank," added Sajwani.
Pedro Desousa Cardoso, Head of Multichannel and CRM, Emirates NBD, said: "In addition to the Mobile Cheque Deposit facility and Mobile Queue Ticket technology, the updated version of the Emirates NBD mobile banking app expands the services customers can access on-the-go, offering more than 100 transactions. We have also enhanced to the mobile banking app include easy access to a Relationship Manager for Priority Banking customers. It also features widgets that can be personalised using smart shortcuts."
The bank's relentless efforts to drive Multichannel Transformation continue to be recognised by the industry - Emirates NBD was recently named one of the most innovative banks in the region by EMEA Finance. The bank's Mobile Banking App is consistently ranked #1 in the Finance category in UAE App Store, with an average of 4/5 stars in customer satisfaction and over 500,000 downloads.