Emirates NBD wins Princess Haya Award for Special Education
Award in recognition of bank's engagement with people with special needs
Dubai, May 14, 2015: Emirates NBD, a leading bank in the region, today announced that it has been awarded the Princess Haya Award for Special Education (PHASE) for Corporate Social Responsibility in the Outstanding Institutional Supporter (Private Sector) category.
On behalf of the Executive Committee of The Princess Haya Award for Special Education, Certificate of Excellence presented to the bank's Vice Chairman, Hesham Abdulla Al Qassim, by Mohammad Al Emadi, Head of Executive Committee of the award.
The Princess Haya Award for Special Education honours excellence in special needs practices to enhance the overall services and performance in the area of special needs provision, encourage creativity, and acknowledge the role of special needs educators, therapists, management, caregivers, organisations, and companies.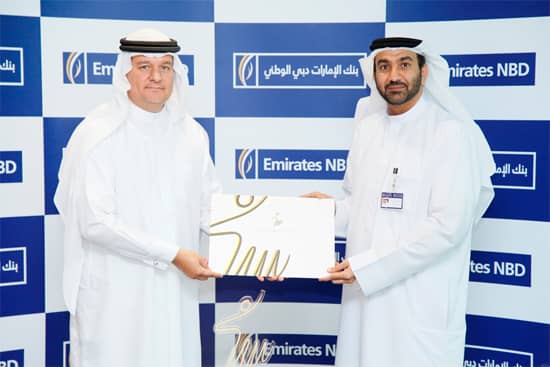 Emirates NBD won the award in recognition of the bank's continued commitment in improving the lives of people with special needs. Through Emirates NBD's flagship program and social investment, PRIDE (People Receiving Independence and Dignity through Empowerment), the bank organises a range of initiatives, including the Smiles N Stuff Bazaar in partnership with Al Noor; Perspectives, an empowerment though art initiative; Online Donation Banking Channel; and a host of fun-filled activities with children during Autism Awareness Month in partnership with Autism Centers in Dubai, Abu Dhabi, and Sharjah.