Emirates NBD's Shayne Nelson awarded 'CEO of the Year' for Asset Management business
Emirates NBD Asset Management recognised for building well-diversified product range with strong fund performance
Firm also won 'Fixed Income Manager of the Year' at Global Investor/ISF Investment Excellence Awards
Dubai, November 16, 2014: Emirates NBD, a leading bank in the region, today announced that its Group CEO, Shayne Nelson, was awarded 'CEO of the Year' for the company's Asset Management business at the Global Investor/ ISF Investment Excellence Awards held recently in Dubai.
The awards, which celebrate the greatest achievements in asset management, recognised Emirates NBD Asset Management Ltd's (Emirates NBD AM) success in building a world-class asset management business in the Middle East.
Accepting the award at a distinguished ceremony attended by thought leaders from some of the world's most admired investment firms, Shayne Nelson, Group CEO of Emirates NBD, commented: "It is a real honour to receive this award, which I accept on behalf of the entire team at Emirates NBD Asset Management. This recognition is an excellent way to cap the outstanding financial performance that Emirates NBD has showcased for the first nine months of this year. Our balance sheet continues to strengthen as all our businesses, including Asset Management, continue to deliver healthy operating profits.
"I firmly believe that we have built an asset management platform that sets the regional benchmark and leaves Emirates NBD AM well placed to meet the sophisticated requirements of investors, in the UAE and beyond. Built on the solid foundation of the Emirates NBD brand, our strong in-house investment expertise driven by a disciplined research-centered approach to fund management uniquely positions Emirates NBD AM to capitalise on opportunities in the region. I would like to take this opportunity to recognise the efforts of our Asset Management team led by David Marshall – Senior Executive Officer, and thank them for their valuable contributions towards achieving this success," added Nelson.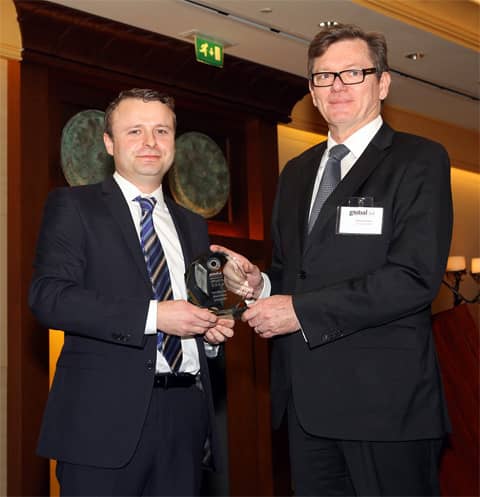 In addition to the CEO awards, Usman Ahmed, who heads the Fixed Income division was awarded 'Fixed Income Manager of the year'. The award recognises his continued strong track record in managing fixed income funds and portfolios, both on the conventional and Shari'a compliant side. Emirates NBD AM runs a MENA fixed income fund, a Global Sukuk fund, an emerging market corporate bond fund as well as an Islamic money market product.
The awards come shortly after Emirates NBD AM reported last week that its Assets under Management (AuM) crossed the AED 10 billion mark. As at September 30, 2014, Emirates NBD Asset Management's AuM stood at AED 10.2 billion which represents an impressive growth of 100 per cent in little more than two years. The company has posted an impressive track record of managing a range of asset classes, both in the region as well as in global markets.
The prestigious recognition by Global Investor/ ISF is the latest in a series of industry accolades received by Emirates NBD AM. Some of the recent awards include: 'Best Investment Management Company 2014, UAE' at the World Finance Investment Management Awards 2014 held recently in London, as well as 'Best Regional Fund Manager' at the Banker Middle East Industry Awards. The firm also received a number of regional awards at the MENA Fund Manager Performance Awards 2014, including: UAE Asset Manager of the Year; MENA Equity Fund of the Year and Balanced Fund of the Year.
Emirates NBD Asset Management, regulated by the Dubai Financial Services Authority (DFSA), is a leading asset manager in the Middle East region, and manages a range of products including MENA equity and fixed income funds and portfolios, UAE real estate, global risk profiled funds and a complete range of Shari'a compliant instruments.