Emirates NBD's new mobile banking App has been engineered according to the latest technology, security and user experience trends

The App offers access to more than 150 everyday banking services through intuitive, user-friendly journeys

It features an embedded digital wealth platform on which users can invest in and trade over 11,000 global and local ETFs and Equities
Dubai, UAE, 21 September 2023: Emirates NBD, a leading banking group in MENAT (Middle East, North Africa and Türkiye), has successfully completed the roll-out of its enhanced mobile banking app, ENBD X. Engineered from the ground up as per the latest technology, security and user experience trends, the cloud-native app offers an unrivalled combination of lightning-fast performance, user-friendly journeys, top-level security, and the largest array of products and services in the market.
Initially rolled-out in a phased manner, ENBD X is now available to all Emirates NBD customers with new customers having the option to instantly open a digital account with the bank in less than three-minutes through a mobile paperless journey. The App's global dashboard gives customers a 360-degree view of their entire financial portfolio as well as keeps them on top of all critical updates, such as upcoming payments or status of pending requests.
In all, users can avail of more than 150 services on ENBD X, including updating Emirates ID and Passport details, opening a fixed deposit, obtaining account balance certificates and reference letters, and applying for a loan on card in real time.
Transferring funds on ENBD X is just like sending a text, offering a wide array of free global transfer and payment options and recommendations on the best transfer method based on the selected beneficiary. Users can view all transactions across their accounts and cards, instantly download authenticated account statements, and even view images of cheques deposited in their account - an innovative, region-first feature, particularly useful in the UAE.
The App puts customers right in the driver's seat, offering them unrivalled freedom to control and manage their preferences, such as security settings and spend limits. It also helps them maximize day-to-day savings through more than 1000 personalized Emirates NBD-exclusive deals across travel, shopping, dining and e-commerce.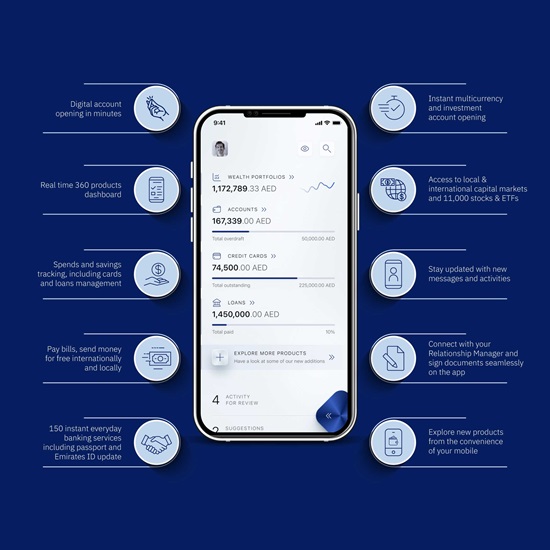 A distinctive feature of the App is its embedded digital wealth platform, which enables customers to invest and grow their wealth from the same App they use for all their everyday banking needs, making ENBD X unique in the market. The platform allows new investors to instantly open an investment account and choose from over 11,000 securities and ETFs from 21 global and local markets to invest in. With the platform's one-of-its-kind Secure Sign feature, customers can view, update and sign investment documents to complete any trade irrespective of its complexity or value, with no need to visit the branch or their Relationship Manager. Not just this, customers can also create personalized watchlists and subscribe to IPOs on the same platform.
Within a short period of time since launch, ENBD X has become the preferred way of banking for a majority of customers in the bank, enabling 50% more activity than the previous App, both in terms of logins and transactions. It has also quickly earned a number of awards and conquered industry recognition, including the Excellence in Mobile Banking Award by Finnovex Magazine, Best Mobile Banking Application – UAE Award by Global Business Outlook, Most Innovative Retail Banking App – UAE Award by Global Banking and Finance Review, and Best Mobile Banking App in UAE Award by the International Finance Magazine.
Marwan Hadi, Group Head, Retail Banking and Wealth Management at Emirates NBD, said: "Over the years, Emirates NBD's digital banking has consistently and globally been recognised for its superior user experience. With ENBD X, we have taken our mobile banking experience to a whole new level, adding a wide array of next-generation instant banking services, with many more to be released over the next few months."
Pedro Sousa Cardoso, Chief Digital Officer, Retail Banking and Wealth Management, Emirates NBD, said: "ENBD X sets a new standard of excellence for mobile banking in the region and beyond and is designed to provide customers with a truly enriching banking experience. As a front-runner in digital banking innovation in the MENAT region, Emirates NBD strives to provide its customers with all the information, tools and access they need to fulfil all their everyday banking needs on their fingertips. ENBD X delivers on this promise on being the only financial services App customers need in the UAE and much more."