Bank's Keep the Creek Clean initiative clears more than 5,400kgs of waste from the ocean
Bank's Keep the Creek Clean initiative clears more than 5,400kgs of waste from the ocean
Dubai, 08 June 2019: Emirates NBD, a leading financial institution in the region, is celebrating World Ocean Day this year by highlighting its commitment to preserving marine biodiversity, under the bank's Keep the Creek Clean marine conservation programme.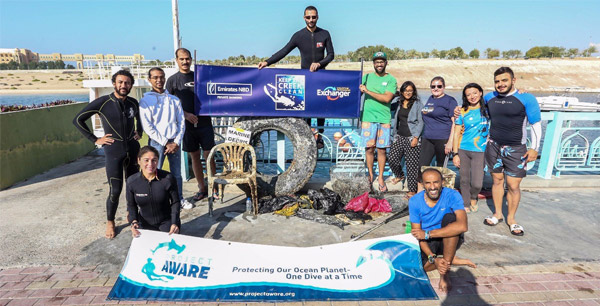 The Keep the Creek Clean initiative was introduced by Emirates NBD Private Banking in 2018, with the goal of helping preserve and clean up the UAE's waterways, specifically the Dubai Creek and its extended channels. The initiative has successfully trained 33 Emirates NBD Group employees in the PADI Open Water/Advanced Open Dive course, giving them the ability to dive down to 18 metres to help clean up and protect the UAE's underwater ecosystems. The first dive clean-up under the programme was held in collaboration with the Dubai Police and Divers Down at Al Hamriya Port in October 2018, resulting in the removal of more than 3 tonnes of waste from the Creek to be recycled or disposed responsibly.
Saod Obaidalla, Executive Vice President and Head of Private Banking, at Emirates NBD said, "Sustainability is a top priority for Emirates NBD Private Banking, and we are committed to inspiring a cleaner future and helping preserve the UAE's environment for generations to come. The Private Banking division is pleased to lend support to valuable initiatives such as Keep the Creek Clean, which has been instrumental in making a difference to the UAE's marine ecosystems. I am particularly proud to note that the Bank's efforts have successfully resulted in the removal of 5,471 kilograms from our ocean through dive, kayak and beach clean ups since the initiative's inception," Obaidalla added.
World Ocean Day is observed every year as a reminder of the critical role oceans play in everyday life, aiming to raise awareness about the impact of human actions on oceans and mobilise and unite the world's population to sustainably manage oceans.
Keep the Creek Clean, with support from Emirates NBD Private Banking, helps clear various types of refuse from the water – including ship parts, cars, tyres, household items, fishing nets and plastic waste – to create a cleaner environment for present and future generations, while encouraging marine biodiversity.
The programme is managed under Emirates NBD Group's Social Investment Strategy Framework which includes various initiatives to support the environment. As a community-focused bank, Emirates NBD is a pioneer in private sector CSR volunteering and a member of IMPACT 2030, the corporate volunteering arm of the United Nations. The bank's award-winning Exchanger programme, which enables staff to exchange their time for social good, has completed 10,673 hours of volunteering so far this year.
To find out more about Emirates NBD's environmental and CSR initiatives, the Exchanger programme, or the Private Banking division, visit www.emiratesnbd.com.