First parking facility outside the United States and seventh worldwide to receive this certification
Prestigious certification underscores bank's commitment to sustainability and environmental responsibility
Achievement further cements bank's positions as an industry leader in sustainability
Emirates NBD has secured six LEED certifications for offices and branches in UAE, KSA and India over the past year
Dubai, UAE, 08 November 2023: Marking another important milestone in its sustainability journey, Emirates NBD, a leading banking group in the MENAT (Middle East, North Africa and Türkiye) region, has secured the Parksmart Gold Certification for its parking facility in Emirates NBD Meydan Buildings Facility at Nad Al Sheba, Dubai. This is the first parking facility outside of the United States to achieve this prestigious certification, and the seventh globally.
Parksmart, formerly Green Garage Certification, is the world's only certification program that defines, measures and recognizes high-performing, sustainable garages. Developed by industry experts, Parksmart offers a roadmap for new and existing parking facilities to use innovative, solutions-oriented strategies, advancing sustainable mobility and positive impact through smarter, best practice parking structure design and operation.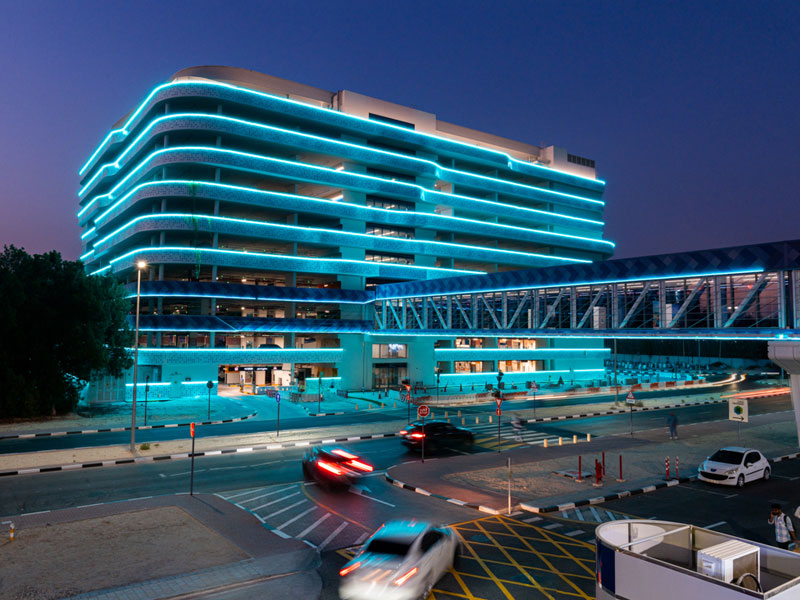 The sustainable parking facility which is designed to be energy-efficient and environmentally friendly, features sustainable design strategies such as better lighting and HVAC systems, rooftop solar PV, and electric vehicle chargers. The facility also features smart parking guidance systems that help customers find parking spaces quickly and easily, offering added convenience. The facility is conveniently located and offers a variety of parking options, including reserved parking for people with disabilities.
Vijay Bains, Group Chief Sustainability Officer and Group Head of ESG at Emirates NBD, commented, "We take great pride to be the pioneering organisation in the region to attain the Parksmart Gold Certification for our Nad Al Sheba parking facility. The improved parking facility not only offers an enhanced user experience, convenience and accessibility for customers, but also aligns with our commitment to fostering a greener and more sustainable future."
He added, "As we support the UAE's year of Sustainability as Principal Banking Partner of COP28, we are steadfast in our commitment to take meaningful steps towards reducing our environmental footprint by implementing eco-friendly features across our offices and branches."
Over the past year, six of Emirates NBD's offices and branches in UAE, KSA and India have achieved LEED Platinum and LEED Gold certifications. These include its MOE branch which was the first Arab bank branch to secure the LEED Platinum certification and three premises in KSA had achieved LEED Gold Certificates. Emirates NBD India's Chennai branch at Prestige Zackria Metropolitan Building also obtained a LEED Platinum certification, along with the bank's Corporate and Institutional Banking office located at the International Tower in Abu Dhabi.
Emirates NBD Group is the Principal Banking Partner for the 28th edition of the United Nations Climate Change Conference (COP28), being held in November this year in Dubai, UAE and a key contributor to the UAE's Sustainability agenda. The Group was among the latest cohort to sign the UAE Climate-Responsible Companies Pledge initiated by the UAE Ministry of Climate Change and Environment, in support of the UAE's Net Zero 2050 Initiative.