Trade war looms again
Chief Investment Officer's team, 05.05.2019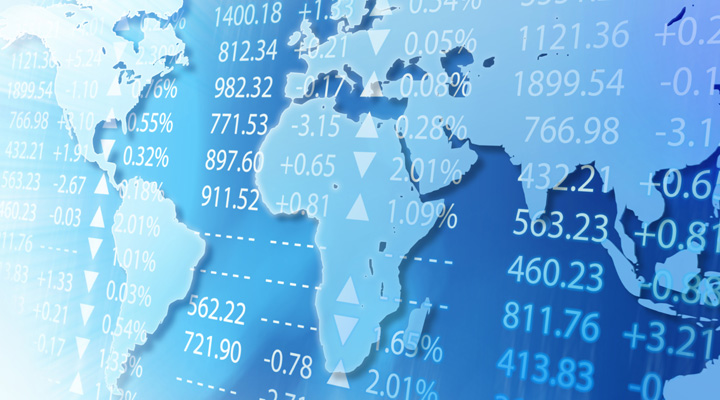 AT A GLANCE
Last night on Twitter, Mr Trump announced an increase on tariffs on imports from China
Re-escalation of trade war risk is not priced in by global markets, volatility ahead
Last week was more of the same: a patient Fed, good quarterly earnings, vibrant US job creations
We were about to publish our weekly document, talking about the patient Fed, quarterly earnings and vibrant US job markets, and considering the legendary strategy of "Sell in May and go away". Then, Mr Trump sent 2 tweets, announcing that the 10% tariffs rate on USD 200bn of Chinese imports will be raised to 25% from Friday, and that tariffs on all Chinese imports will be applied "shortly" at the same rate. He added: "the Trade Deal with China continues but too slowly as they attempt to renegotiate."
Let us be clear: that was not expected, and the relief in US/China trade war was part of the rally, and at least partially priced-in. As we write, Chinese equities are sharply down, as is the currency, and US S&P futures indicate a 1 to 2% fall.
We will closely monitor the short-term developments: will the Chinese delegation still travel to DC on Wednesday, and will the hike in tariffs rate be implemented on Friday? What is certain is that the face-off between the two super powers is here to stay, but also that China doesn't accept to lose face and has a longer horizon that 2020 US presidential elections. We are currently overweight in Emerging Market assets, but within a reasonable positioning as we underweight DM riskiest assets (for their valuation) and hold cash and gold on the side. This will help us navigate the volatility ahead.
Following pages were redacted before, on May 4th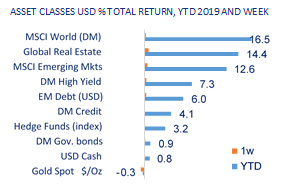 Cross-asset considerations
Central banks in the developed countries are becoming increasingly concerned about persistently low inflation, which threatens to depress expectations about the levels of future inflation and make subdued price pressures further entrenched, in a vicious circle which undermines the economy. Expected inflation has been consistently overestimated for years by the consensus, be it under the form of the Consumer Price Index or wage increases. The Japanese Central Bank has been grappling with the issue for decades and Japan represents a case, so far unique in the world, of stubborn deflation to be avoided at all costs. The US Federal Reserve has consistently undershot its 2% target since 2013, while the ECB is confronted with even worse deflationary risks.
Yet, insofar as low inflation comes alongside moderate growth, a duo called 'Goldilocks', both bond and equity markets remain supported and investors have reason to cheer. Following the so called Fed pivot, the shift from a potentially restrictive to outright accommodative policy made by the Fed early this year, a global balanced portfolio of government bonds and equities recorded through March, in dollar terms, its best quarter since the end of the financial crisis. Investors do not see price pressures building anytime soon, so much so that they are currently discounting a full Fed cut by mid-2020.
For how long could 'Goldilocks' persist? Although very hard to tell, the current state of the economy does not seem to be conducive to an inflationary regime anytime soon. Take for instance US productivity, which has been rebounding cyclically since mid-2016 from very depressed levels and surprised to the upside in the Q1 release. Higher output per hour will boost corporate profit margins and contain at the same time price pressures, since more can be produced with the same resources. Hence, in spite of wages gradually creeping higher, the cycle will be extended for longer and the Fed be able to afford to be patient as long as productivity normalizes.
Although Jerome Powell at the latest policy meeting expressed the view that subdued inflation is temporary, the real concern is that prices will remain low for too long. US growth is slowing down and the Fed pivot came purposefully to the rescue with a most welcome easing of the financial conditions. Above-trend Q1 growth won't carry over in Q2. Temporary factors boosted GDP in the first quarter of the year and US manufacturing confidence for the month of April was below consensus forecasts, while in Europe business confidence pointed to no momentum in underlying activity.
The expectation is that the combined stimulus efforts of the Fed and the People's Bank of China, alongside strong labor markets, will boost growth in the second half of the year. It that is enough to breathe some life into the price of goods and services, though, is still a moot point. Sustainable growth does not come without some inflationary pressures.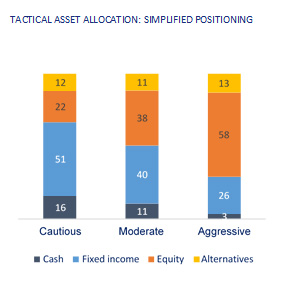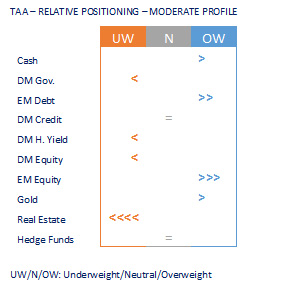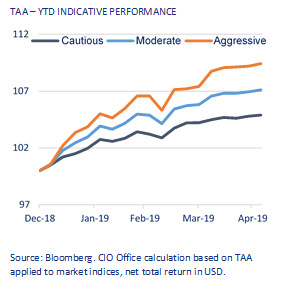 Fixed Income Update
US macroeconomic data supports the rich valuations on corporate spreads. US payrolls growth surged in April with non-farm payrolls increasing by 263,000 jobs. The unemployment rate dropped to a multi-decade low of 3.6%. The average hourly earnings growth held at 3.2% annually and the monthly gains missed expectations to 0.2% from 0.3% increase. US ISM headline declined to 52.8 from 55.3, lower than expected. Manufacturing activity continues to be depressed as production managers struggle to alleviate a substantial inventory overhang which developed over the past few quarters. Meanwhile, the survey comments point to a steady business outlook for the rest of the year. Corporate credit spreads across investment-grade and high-yield have been well supported at 112bp and 354bp respectively.
Last week, the Federal Reserve maintained the fed funds rate unchanged characterizing economic growth as solid even as inflation remains tepid. Fed Chairman Powell said current indications point to a prolonged period of holding pat on increases or decreases in rates despite President Donald Trump has said he wants the Fed to cut rates by a full percentage point. Benchmark US Treasury yields remained unchanged over the week at 2.52% while the US yield curve (30Y minus 5Y) flattened from 67bp to 59bp. Eurozone yields rose with the support of stronger-than-expected GDP growth (+0.4% QoQ) and a 10-year low in unemployment (7.7%). UK Gilts and German Bund yields rose to 1.21% and 0.023% respectively.
The maiden Sukuk issuance by Saudi Telecom earned a steady primary demand of $4.5 billion from global investors. Saudi Telecom issued $1.25 billion of senior unsecured US-Dollar denominated Sukuk with a ten-year tenor maturing in May 2029. Rated A1/A- by Moody's and S&P, the Murabhaba structure was priced at MS+135bp which translates to a rate of 3.89%.
Eurobonds from India – holding well. India's Eurobond issuance has already surpassed last year's total in just the first four months of 2019, helped by easier global liquidity and the Reserve Bank of India's stance to allow non-banking finance companies (NBFCs) to borrow from the international capital markets. So far YTD, Indian companies have issued $9.4 billion of dollar bonds led by diverse issuers such as State Bank of India ($1.25 billion), Shriram Transport Finance ($900 million), Vedanta ($1 billion), Indian Oil ($900 million), Bank of Baroda ($800 million) and JSW Steel ($500 million).
LIBOR, a radical transformation. The global benchmark is set to be phased out by 2022, to shift from being submission-based to transaction-based, an evolution triggered by the UK FCA back in 2017. The key alternative overnight (O/N) benchmark rates have already been selected across the five largest currency areas: 1) Secured overnight financing rate (SOFR) in the U.S.; 2) Sterling O/N index average (SONIA) in the UK; 3) euro short-term rate (ESTER); 4) Swiss average O/N rate (SARON); 5) Tokyo average O/N rate (TONA). Presently, there are close to $400 trillion of transactions linked to LIBOR.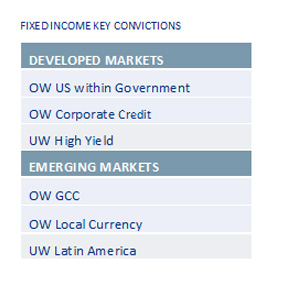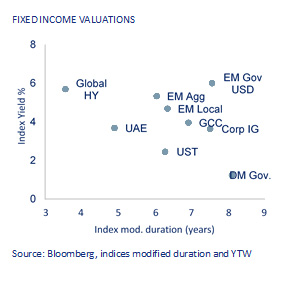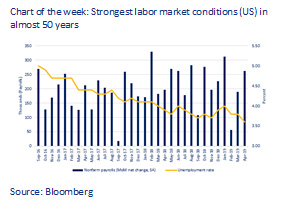 Equity Update
Global equities had a volatile week. However, better than expected earnings contributed to a largely positive sentiment, also helped in the US by the Fed and job report. U.S. equities finished the week marginally higher (+0.2% for major indices), boosted by Friday session. There is no change in the outlook on trade talks and a deal seems to be priced-in so any disappointment would be negatively received. On the earnings front, 72% of S&P 500 companies have reported for the Q1 season and c. 78% of them have beaten estimates. Q1-2019 should now be at the same level as Q1-2018.
The Technology sector is still leading returns globally, but healthcare is recovering from the sharp sell-off seen last month. Merck boosted its forecasts for the year and approved a new restructuring program while Pfizer topped earnings estimates. Barring Alphabet, most mega-cap tech companies have also exceeded expectations. Google's ad sales rose 15% in Q1, the slowest pace since 2015. Amazon is being blamed for taking away market share. Apple had a good quarter with its continued focus on services revenue and a pickup in iPhone sales. There are now 2 companies flirting around the USD trillion dollar market cap Microsoft and Apple. Warren Buffett's Berkshire Hathaway Inc. is buying shares of the e-commerce giant Amazon, an usual exception to their usual "value" principles given the current multiples.
Facebook CEO Mark Zuckerberg said the company was committed to building a "privacy-focused" social platform to ensure that conversations stay private and user data is secure across its products like Messenger, WhatsApp and Instagram. He acknowledged that there are privacy concerns related to its platforms, but committed to bringing in changes and "starting a new chapter". He outlined that the vision is based on six principles - private interactions, encryption, reducing permanence, safety, interoperability and secure data storage -across features like private messaging, groups, payments, and even location sharing.
Commodity and energy companies had mixed results. Glencore lowered its full-year copper output goal and trimmed production targets for other commodities from nickel to oil. BP matched expectations, avoiding the refining trap that snagged Exxon. In the aerospace sector, Boeing continues to be plagued by woes in contrast to Airbus whose earnings jumped as it churned out more A320s to plug the gap left by Boeing's 737 Max. In Asia, noteworthy results include China insurer Ping An which grew profits exponentially.
In an effort to achieve Vision 2030, The Saudi Arabian General Investment Authority (SAGIA) has reached nearly half of the 500 proposed regulatory changes proposed to boost Saudi's business environment. The government has introduced 100% foreign ownership rights, enhanced legal infrastructure and offered greater protection for shareholders. The KSA market continues to do well. The Saudi Stock Exchange, Tadawul's market capitalization reached SAR 2.2tn and total foreign investor ownership accounting for 5.7%. Tactically, we think it's time to book partial profits as market valuations are getting stretched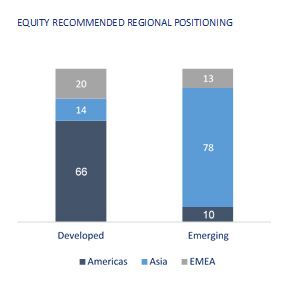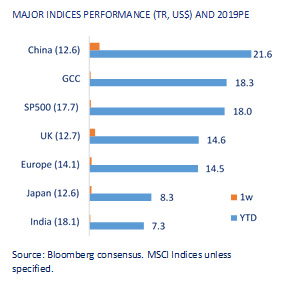 Written By:
Maurice Gravier
Chief Investment Officer,
MauriceG@EmiratesNBD.com
Anita Gupta
Head of Equity Strategy,
Anitag@EmiratesNBD.com
Yahya Sultan
Head of Fixed Income Strategy,
YahyaS@EmiratesNBD.com
Giorgio Borelli
Head of Asset Allocation,
GiorgioB@EmiratesNBD.com
Disclaimer

Emirates NBD Bank PJSC ("Emirates NBD") is licensed and regulated by the UAE Central Bank and this website aims at providing Internet users with information concerning Emirates NBD Private Banking, its products and activities. Persons having access to information made available by Emirates NBD on this website accept the following rules:

Reliance:
Emirates NBD uses reasonable efforts to obtain information from sources which it believes to be reliable, however Emirates NBD makes no representation that the information or opinions contained in publications on this website are accurate, reliable or complete. Published information may include data/information from stock exchanges and other sources from around the world and Emirates NBD does not guarantee the sequence, accuracy, completeness, or timeliness of information contained on this website provided thereto by unaffiliated third parties. Anyone proposing to rely on or use the information contained on this website should independently verify and check the accuracy, completeness, reliability and suitability of the information and should obtain independent and specific advice from appropriate professionals or experts. Further, references to any financial instrument or investment product are not intended to imply that an actual trading market exists for such instrument or product. Emirates NBD is not acting in the capacity of a fiduciary or financial advisor. Any publications on this website are provided for informational purposes only and are not intended for trading purposes. Data/information provided herein is intended to serve for illustrative purposes and is not designed to initiate or conclude any transaction. The information available on this website is not intended for use by, or distribution to, any person or entity in any jurisdiction or country where such use or distribution would be contrary to law or regulation. This website and anything contained herein, is provided "as is" and "as available," and that Emirates NBD makes no warranty of any kind, express or implied, as to this website, including, but not limited to, merchantability, non-infringement, title, or fitness for a particular purpose or use.

Modifications:
The provision of certain data/information on this website is subject to the terms and conditions of other agreements to which Emirates NBD is a party. Emirates NBD reserves the right to make changes and additions to the information provided at any time without prior notice. The information may be modified or removed without prior notice. No buy or sell orders submitted via the internet or email will be accepted. In addition, the data/information contained on this website is prepared as of a particular date and time and will not reflect subsequent changes in the market or changes in any other factors relevant to the determination of whether a particular investment activity is advisable.

Liability:
Information contained on this website is believed by Emirates NBD to be accurate and true, in all material respects. Emirates NBD accepts no responsibility whatsoever for any loss or damage caused by any act or omission taken as a result of the information contained on this website. Further Emirates NBD accepts no liability for the information and opinions published on the website and is under no obligation to remove outdated information from its website or to mark it clearly as such. The information given on this website may not be distributed or forwarded in whole or in part. Accordingly, anything to the contrary herein set forth notwithstanding, Emirates NBD, its suppliers, agents, directors, officers, employees, representatives, successors, assigns, affiliates or subsidiaries shall not, directly or indirectly, be liable, in any way, to you or any other person for any: (a) inaccuracies or errors in or omissions from the information available on this website including, but not limited to, quotes and financial data; or (b) loss or damage arising from the use of this publication, including, but not limited to any investment decision occasioned thereby. or (c) under no circumstances, including but not limited to negligence, shall Emirates NBD, its suppliers, agents, directors, officers, employees, representatives, successors, assigns, affiliates or subsidiaries be liable to you for direct, indirect, incidental, consequential, special, punitive, or exemplary damages even if Emirates NBD has been advised specifically of the possibility of such damages, arising from the use of the information on this website, including but not limited to, loss of revenue, opportunity, or anticipated profits or lost business. Emirates NBD expressly accepts no liability for losses or damages of any kind arising from using or accessing this website or links to third-party websites or from viewing information on any of its web pages. Furthermore, Emirates NBD accepts no liability for any unauthorized manipulation of users IT systems. Emirates NBD expressly draws user's attention to the risk of viruses and the threat of hacker attacks

Third Party Website:
Users may be aware that Emirates NBD has no control whatsoever over third-party websites linked to or from this website and therefore accepts no liability for the content of such websites being correct, complete and legally valid for the products and services offered on such websites. Emirates NBD's express written permission must always be sought before including a link to this website on a third-party website.

Solicitation:
None of the information on this website in any way constitutes a solicitation, offer, opinion, or recommendation by Emirates NBD to buy or sell any security, or to provide legal, tax, accounting, or investment advice or services regarding the profitability or suitability of any security or investment.

Forward Looking:
The information contained on this website does not purport to contain all matters relevant to any particular investment or financial instrument and all statements as to future matters are not guaranteed to be accurate. Certain matters in this publication on the website are about the future performance of Emirates NBD or members of its group (the Group), including without limitation, future revenues, earnings, strategies, prospects and all other statements that are not purely historical, constitute "forward-looking statements". Such forward-looking statements are based on current expectations or beliefs, as well as assumptions about future events, made from information currently available. Forward-looking statements often use words such as "anticipate", "target", "expect", "estimate", "intend", "plan", "goal", "seek", "believe", "will", "may", "should", "would", "could" or other words of similar meaning. Undue reliance should not be placed on any such statements in making an investment decision, as forward-looking statements, by their nature, are subject to known and unknown risks and uncertainties that could cause actual results, as well as the Group's plans and objectives, to differ materially from those expressed or implied in the forward-looking statements. Past performance is not necessarily a guide to future performance. Estimates of future performance are based on assumptions that may not be realized.

Risk: In addition, before entering into any transaction, the risks should be fully understood and a determination made as to whether a transaction is appropriate given the person's investment objectives, financial and operational resources, experiences and other relevant circumstances. The obligations relating to a particular transaction (and contractual relationship) including, without limitation, the nature and extent of their exposure to risk should be known as well as any regulatory requirements and restrictions applicable thereto. Data included on this website may rely on models that do not reflect or take into account all potentially significant factors such as market risk, liquidity risk, and credit risk. Emirates NBD may use different models, make valuation adjustments, or use different methodologies when determining prices at which Emirates NBD is willing to trade financial instruments and/or when valuing its own inventory positions for its books and records.

Investment in financial instruments involves risks and returns may vary. Before making such an investment, investors should consult their advisers on the legal, regulatory, tax, business, investment, financial and accounting implications of the investment.

Intellectual property:
The information on this website has been developed, compiled, prepared, revised, selected, and arranged by Emirates NBD and others (including certain other information sources) through the application of methods and standards of judgment developed and applied through the expenditure of substantial time, effort, and money and constitutes valuable intellectual property of Emirates NBD and all present and future rights in and to trade secrets, patents, copyrights, trademarks, service marks, know-how, and other proprietary rights of any type under the laws of any governmental authority, domestic or foreign, shall at all times be and remain the sole and exclusive property of Emirates NBD and/or other lawful parties and you acknowledge that you have no ownership rights in and to any of such items. Except as specifically permitted in writing, the information provided in this website shall not be copied or make any use of any information on this website or any portion of the intellectual property rights connected with this website, or the names of any individual participant in, or contributor to, the content of this website, or any variations or derivatives thereof, for any purpose. Further you shall not use any of the trademarks, trade names, service marks, copyrights, or logos of Emirates NBD or its subsidiaries in any manner which creates the impression that such items belong to or are associated with you or, except as otherwise provided with Emirates NBD's prior written consent,

Confidentiality:
The information on this website solely for non-commercial use and benefit and the use of this information is not intended for resale or other transfer or disposition to, or use by or for the benefit of, any other person or entity. Information contained in this website shall not be used, transferred, distributed, reproduced, published, displayed, modified, create derivative works from any data contained on this website or disposed of in any manner that could compete with the business interests of Emirates NBD. Any part of this website may not be offered for sale or distribute it over any medium including but not limited to over-the-air television or radio broadcast, a computer network or hyperlink framing on the internet without the prior written consent of Emirates NBD. The information contained on this website may not be used to construct a database of any kind. The data on this website shall not be used in any way to improve the quality of any data sold or contributed by you to any third party.

Recipient Acknowledgements
In accessing this website, you acknowledge and agree that there are risks associated with investment activities. Moreover, you agree that your use of this publication is at your sole risk and acknowledge that the responsibility to obtain and carefully read and understand the content of documents relating to any investment activity described on this website and to seek separate, independent financial advice if required to assess whether a particular investment activity described herein is suitable, lies exclusively with you.