A strong start to Q4
Chief Investment Officer's team, 27.10.2019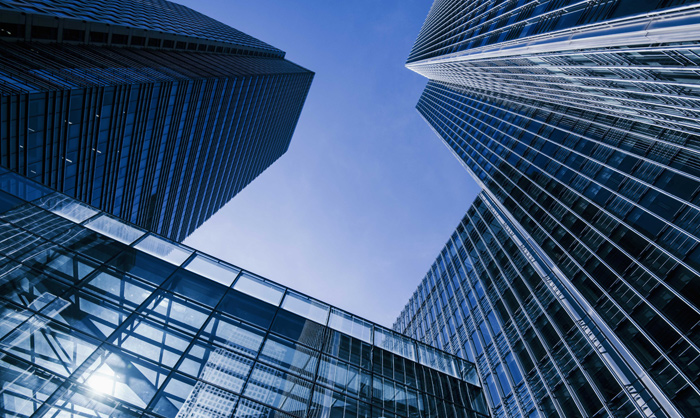 AT A GLANCE
Benign economic and geopolitical news supported risk appetite last week
The start of the Q3 earnings season is beating modest expectations, lifting US equities to all-time highs
The Fed is widely expected to cut rates this week, which could be followed by a pause
Last week was another positive one. Global equities gained around 1% across regions, and long-term rates grinded slightly higher, with the US 10y closing at 1.8%.
We write it for long, the starting point as regards investors' sentiment and positioning was, and still is, scepticism, which amplifies the market impact of good news. Economic data indicated some stabilization, should it be the US flash (preliminary) PMI numbers for October, or German IFO business climate, both slightly better than expected. Geopolitical issues are not solved at all, but at least the risk of a "no deal Brexit" is arguably low, and the odds for the US and China to agree on the "phase 1" of a trade deal in the next APEC Summit in Mid-November are reasonable. As regards bottom-up data, the beginning of the Q3 earnings season is also encouraging: expectations were not high, but they are exceeded across the board.
Our positioning is of course benefitting, with our 3 profiles printing their highest YTD return of 2019.
Looking forward, there is obviously one single imminent crucial event: the US Federal Reserve will hold its October meeting on Wednesday. The consensus expects the Fed to issue a "hawkish cut": cutting short-term rates by 25 basis points but giving indications for a pause in the coming months. Market-implied probability is so high that it is difficult to forecast anything else. The ideal scenario would be to combine this "hawkish cut" with positive monthly macro data in the following days.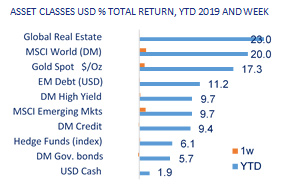 Cross-asset considerations
As far as US monetary policy is concerned, it would seem to be a matter of course to assume that the Fed is ahead of the game and markets just follow policy direction, which after all is a variable dictated from outside of the investment realm. Yet, financial market logic is never this straightforward and mutual expectations, on the investors' as well as the Fed's side, play an outsized role. Thus, at times the Fed leads and investors follow suit, while some other times investors discount scenarios way different that the one implied by the Fed's long term equilibrium rate and it is the Fed officials coming round to that.
For an example of the latter one should go back to what happened at the end of 2018, when equity market losses were in the low double digits in Q4 as the Fed tightening cycle was running into its third year. Although the Fed seemed committed to delivering two more hikes in 2019, markets were discounting almost no policy action, in complete disbelief that Fed officials would be able to deliver on their plan. Indeed, Mr Powell came round to the market's view that the excessive tightening of financial conditions could not be sustained by the economy and reversed policy course during 2019 in what has come to be known as the 'Fed pivot'.
Today the exact opposite is happening. Chair Powell has been saying for a while that the current cuts must be interpreted as a mid-cycle adjustment, implying that 'three and done' would be the most likely scenario. No sooner than April this year the probability of a December cut was almost a certainty, while now investors are falling in line with the Fed's view that in October the last one is going to be administered, with the probability of a December move currently extremely low.
In the process the US yield curve has steepened significantly, signaling that investors believe that the three cuts will manage to steer the US economy back close to trend growth. At the same time, global equity markets have come within a whiff of their all-time highs, another testimony to the trust investors have in the effectiveness of US monetary policy. No doubt that the increased possibility of a US-China trade truce and the potential for avoiding a no-deal Brexit have played quite a role in driving such a turnaround in investor sentiment.
It seems that any slight improvement in the macroeconomic outlook is what investors would be clutching at to push equities into a new bull-swing, given the degree to which tail risks have been receding of late. Although by and large the latest data releases confirm that the global slowdown is ongoing, looking into the folds of the data one may find reason to purchase EM equities, which we have advised clients for some time now, the latest being in September. The 'flash' estimate of the Global PMI New Orders, a leading indicator of global business confidence, has increased for a second month in a row, even as inventories reached a new low. This suggests that some restocking must lie ahead, which would be giving the global cycle a much needed nudge higher.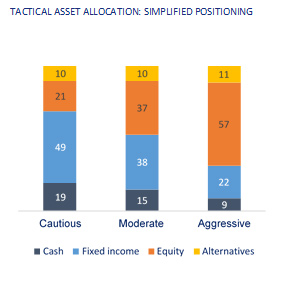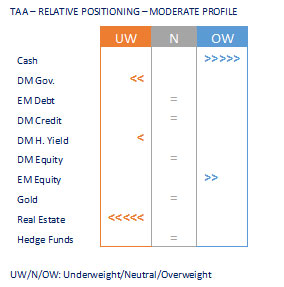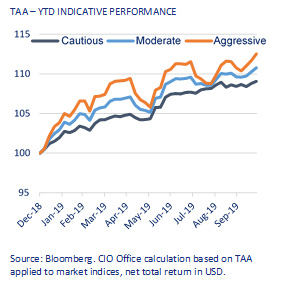 Fixed Income Update
All eyes will be on the Federal Reserve this Wednesday, together with the Bank of Canada and the Bank of Japan scheduled to make announcements. On the US monetary front, the markets are pricing-in 90% probability for a 25bp cut on the Fed Funds rate to the 1.50%-1.75% range, bringing it to three cuts so far, this year. The benchmark US Treasuries are at 1.8% while the gap between the 2 and 10-year yields has widened from 4 basis points at the start of October to 17 basis points, as the longer-dated benchmark has climbed from a low of 1.5% to 1.8% as of Friday.
The US budget deficit swelled by 26% to $984bn, according to data released by the Treasury Department on Friday, the biggest gap since 2012. Interest on the debt is the fastest growing category of the budget. In the three years since fiscal 2016, yearly interest has grown by 57%, or $136 billion, despite the low interest rates. This week (October 30) The Treasury Department will announce the fourth-Quarter refunding program.
Central Bankers have switched on the liquidity tap showing the willingness to ease further and aggressively if the economic conditions warrant. The New York Fed planned to increase its overnight repo offering to USD 120bn to ensure adequate liquidity when liabilities sharply increase and help mitigate any pressure on the money-market. The repo activity on Oct 24 and Oct 29 have been upsized to USD 45 Bn. There is mounting concern that the Federal Reserve's Treasury bill purchases will result in a scarcity of short-term investments and force money-market funds into the reverse repo facility.
Across Emerging Markets, many central banks have embarked on a series of easing measures. In an effort to stem any liquidity crunch in the banking system, the Peoples Bank of China has infused USD 79bn via reverse repo agreements. The injection has been the largest since January, and exceeded the amount the central bank granted this time last year. The coming week (Thursday) is a tax deadline for companies. PBOC has weighted on its cautious stance and we believe that during times of macro uncertainty it always remains prudent to err on the side of caution.
Indonesia central bank cut its policy rate for the fourth straight time while flagging deteriorating global outlook on US-China trade war. Markets interpret the guidance from the central bank to remain broadly dovish and expect further policy rate cuts. Indonesia's two-year yield, the most sensitive to the policy outlook, has dropped to the lowest since April 2018, signaling that markets may be pricing a lot of easing by the authorities. At 6%, the yield remains well above the benchmark rate but the gap has narrowed this year.
The Central Bank of Russia cut its benchmark interest rate by 50bp to 6.50%. Policymakers have also revised down their inflation forecasts which provides further evidence that another similar rate cut is highly likely in December this year. One of the driving forces for such a policy response is that inflation has continued to surprise on the downside. The CBR revised down its inflation projections, for the second month in a row, and now expects the headline rate at 3.2-3.7% y/y by year-end, down from September's forecast of 4.0-4.5% y/y. This is well below the Bank's 4% target.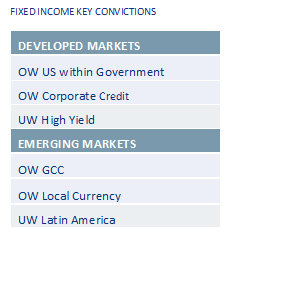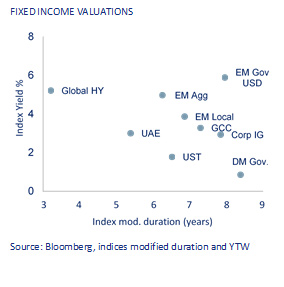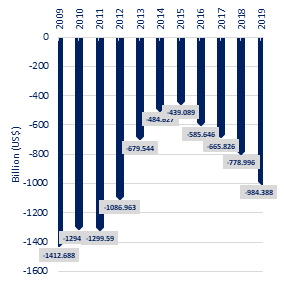 Equity Update
It was a good week for the main GCC markets and for global markets overall. The year to date rally (+19% for global equities) has extended into October. Emerging markets are now almost at double digit returns (+9.7%) and Developed markets have gained 20% year to date (in USD). Growth may have disappointed, and recession fears have abounded with deteriorating leading economic indicators (including manufacturing data). However, equity investors have in the past few months received plenty of good news with the Fed cutting interest rates and expanding the balance sheet, the ECB restarting QE in November, progress on the US China trade talks and a no deal Brexit almost ruled out. The US consumer too remains resilient.
A discernible shift to quality (profitability and strong balance sheets) pervades global markets and investors will not pay for unprofitable businesses as illustrated by WeWork's failed IPO. We continue to recommend a more defensively oriented equity portfolio and whilst we stay convinced on the technology sector attractiveness and dominant weight in global equity indices, be wary of any elevated valuations in the equity asset class.
The main U.S. equity indices ended the second week of the quarterly earnings season with gains of +1%. Approximately 40% of S&P 500 companies have reported earnings with an average of -1.6% EPS growth and +3.5% sales growth. The deteriorating manufacturing outlook is having little impact on expected S&P 500 revenue growth. Positive surprises from the payment processors (Mastercard and Paypal), oil services companies (Schlumberger) and Semiconductors led to rallies for these stocks. A very cyclical bias is pervading October with defensive sectors underperforming. Amazon, however disappointed with its first earnings drop in more than a year. Year to date, Amazon is underperforming the S&P 500 but has returned more than 500% over the last 5 years, as its continued investment in new businesses has paid back. It is the undisputed leader of ecommerce in the US and cloud services globally and has recently begun making serious inroads into video streaming. Profits were affected by ramped up spending on its next-day delivery service. Cloud services growth continues with Microsoft announcing strong numbers on the back of large deals for its Azure service.
Earnings in the GCC have been a mixed bag. Banks continue to post flat to single digit growth, however KSA petrochemical companies have disappointed. Also worrisome is that feedstock prices (methane, ethane and propane) as per Saudi budget guidance were to be reviewed at the end of 2019, with an applied price ceiling.
Indian markets disappointed last week. Differentiation remains essential. For banks this is driven by asset quality. For Non-Banking Financial Corporations, after years of outgrowing banks on credit growth and profitability, defaults have risen. Our preferred consumer durables sector valuations is at all-time highs. Auto sector sales are facing a cyclical downturn. The long term secular story seems to be interspersed with volatility.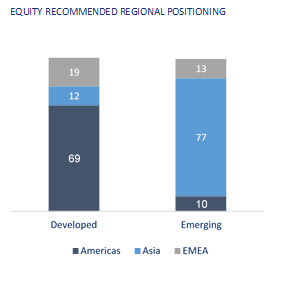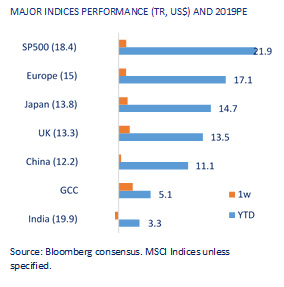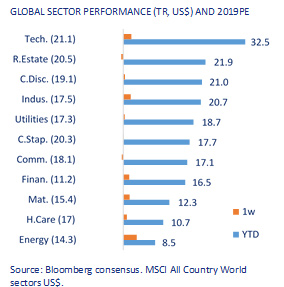 Written By:
Maurice Gravier
Chief Investment Officer,
MauriceG@EmiratesNBD.com
Anita Gupta
Head of Equity Strategy,
Anitag@EmiratesNBD.com
Yahya Sultan
Head of Fixed Income Strategy,
YahyaS@EmiratesNBD.com
Giorgio Borelli
Head of Asset Allocation,
GiorgioB@EmiratesNBD.com
Disclaimer

Emirates NBD Bank PJSC ("Emirates NBD") is licensed and regulated by the UAE Central Bank and this website aims at providing Internet users with information concerning Emirates NBD Private Banking, its products and activities. Persons having access to information made available by Emirates NBD on this website accept the following rules:

Reliance:
Emirates NBD uses reasonable efforts to obtain information from sources which it believes to be reliable, however Emirates NBD makes no representation that the information or opinions contained in publications on this website are accurate, reliable or complete. Published information may include data/information from stock exchanges and other sources from around the world and Emirates NBD does not guarantee the sequence, accuracy, completeness, or timeliness of information contained on this website provided thereto by unaffiliated third parties. Anyone proposing to rely on or use the information contained on this website should independently verify and check the accuracy, completeness, reliability and suitability of the information and should obtain independent and specific advice from appropriate professionals or experts. Further, references to any financial instrument or investment product are not intended to imply that an actual trading market exists for such instrument or product. Emirates NBD is not acting in the capacity of a fiduciary or financial advisor. Any publications on this website are provided for informational purposes only and are not intended for trading purposes. Data/information provided herein is intended to serve for illustrative purposes and is not designed to initiate or conclude any transaction. The information available on this website is not intended for use by, or distribution to, any person or entity in any jurisdiction or country where such use or distribution would be contrary to law or regulation. This website and anything contained herein, is provided "as is" and "as available," and that Emirates NBD makes no warranty of any kind, express or implied, as to this website, including, but not limited to, merchantability, non-infringement, title, or fitness for a particular purpose or use.

Modifications:
The provision of certain data/information on this website is subject to the terms and conditions of other agreements to which Emirates NBD is a party. Emirates NBD reserves the right to make changes and additions to the information provided at any time without prior notice. The information may be modified or removed without prior notice. No buy or sell orders submitted via the internet or email will be accepted. In addition, the data/information contained on this website is prepared as of a particular date and time and will not reflect subsequent changes in the market or changes in any other factors relevant to the determination of whether a particular investment activity is advisable.

Liability:
Information contained on this website is believed by Emirates NBD to be accurate and true, in all material respects. Emirates NBD accepts no responsibility whatsoever for any loss or damage caused by any act or omission taken as a result of the information contained on this website. Further Emirates NBD accepts no liability for the information and opinions published on the website and is under no obligation to remove outdated information from its website or to mark it clearly as such. The information given on this website may not be distributed or forwarded in whole or in part. Accordingly, anything to the contrary herein set forth notwithstanding, Emirates NBD, its suppliers, agents, directors, officers, employees, representatives, successors, assigns, affiliates or subsidiaries shall not, directly or indirectly, be liable, in any way, to you or any other person for any: (a) inaccuracies or errors in or omissions from the information available on this website including, but not limited to, quotes and financial data; or (b) loss or damage arising from the use of this publication, including, but not limited to any investment decision occasioned thereby. or (c) under no circumstances, including but not limited to negligence, shall Emirates NBD, its suppliers, agents, directors, officers, employees, representatives, successors, assigns, affiliates or subsidiaries be liable to you for direct, indirect, incidental, consequential, special, punitive, or exemplary damages even if Emirates NBD has been advised specifically of the possibility of such damages, arising from the use of the information on this website, including but not limited to, loss of revenue, opportunity, or anticipated profits or lost business. Emirates NBD expressly accepts no liability for losses or damages of any kind arising from using or accessing this website or links to third-party websites or from viewing information on any of its web pages. Furthermore, Emirates NBD accepts no liability for any unauthorized manipulation of users IT systems. Emirates NBD expressly draws user's attention to the risk of viruses and the threat of hacker attacks

Third Party Website:
Users may be aware that Emirates NBD has no control whatsoever over third-party websites linked to or from this website and therefore accepts no liability for the content of such websites being correct, complete and legally valid for the products and services offered on such websites. Emirates NBD's express written permission must always be sought before including a link to this website on a third-party website.

Solicitation:
None of the information on this website in any way constitutes a solicitation, offer, opinion, or recommendation by Emirates NBD to buy or sell any security, or to provide legal, tax, accounting, or investment advice or services regarding the profitability or suitability of any security or investment.

Forward Looking:
The information contained on this website does not purport to contain all matters relevant to any particular investment or financial instrument and all statements as to future matters are not guaranteed to be accurate. Certain matters in this publication on the website are about the future performance of Emirates NBD or members of its group (the Group), including without limitation, future revenues, earnings, strategies, prospects and all other statements that are not purely historical, constitute "forward-looking statements". Such forward-looking statements are based on current expectations or beliefs, as well as assumptions about future events, made from information currently available. Forward-looking statements often use words such as "anticipate", "target", "expect", "estimate", "intend", "plan", "goal", "seek", "believe", "will", "may", "should", "would", "could" or other words of similar meaning. Undue reliance should not be placed on any such statements in making an investment decision, as forward-looking statements, by their nature, are subject to known and unknown risks and uncertainties that could cause actual results, as well as the Group's plans and objectives, to differ materially from those expressed or implied in the forward-looking statements. Past performance is not necessarily a guide to future performance. Estimates of future performance are based on assumptions that may not be realized.

Risk: In addition, before entering into any transaction, the risks should be fully understood and a determination made as to whether a transaction is appropriate given the person's investment objectives, financial and operational resources, experiences and other relevant circumstances. The obligations relating to a particular transaction (and contractual relationship) including, without limitation, the nature and extent of their exposure to risk should be known as well as any regulatory requirements and restrictions applicable thereto. Data included on this website may rely on models that do not reflect or take into account all potentially significant factors such as market risk, liquidity risk, and credit risk. Emirates NBD may use different models, make valuation adjustments, or use different methodologies when determining prices at which Emirates NBD is willing to trade financial instruments and/or when valuing its own inventory positions for its books and records.

Investment in financial instruments involves risks and returns may vary. Before making such an investment, investors should consult their advisers on the legal, regulatory, tax, business, investment, financial and accounting implications of the investment.

Intellectual property:
The information on this website has been developed, compiled, prepared, revised, selected, and arranged by Emirates NBD and others (including certain other information sources) through the application of methods and standards of judgment developed and applied through the expenditure of substantial time, effort, and money and constitutes valuable intellectual property of Emirates NBD and all present and future rights in and to trade secrets, patents, copyrights, trademarks, service marks, know-how, and other proprietary rights of any type under the laws of any governmental authority, domestic or foreign, shall at all times be and remain the sole and exclusive property of Emirates NBD and/or other lawful parties and you acknowledge that you have no ownership rights in and to any of such items. Except as specifically permitted in writing, the information provided in this website shall not be copied or make any use of any information on this website or any portion of the intellectual property rights connected with this website, or the names of any individual participant in, or contributor to, the content of this website, or any variations or derivatives thereof, for any purpose. Further you shall not use any of the trademarks, trade names, service marks, copyrights, or logos of Emirates NBD or its subsidiaries in any manner which creates the impression that such items belong to or are associated with you or, except as otherwise provided with Emirates NBD's prior written consent,

Confidentiality:
The information on this website solely for non-commercial use and benefit and the use of this information is not intended for resale or other transfer or disposition to, or use by or for the benefit of, any other person or entity. Information contained in this website shall not be used, transferred, distributed, reproduced, published, displayed, modified, create derivative works from any data contained on this website or disposed of in any manner that could compete with the business interests of Emirates NBD. Any part of this website may not be offered for sale or distribute it over any medium including but not limited to over-the-air television or radio broadcast, a computer network or hyperlink framing on the internet without the prior written consent of Emirates NBD. The information contained on this website may not be used to construct a database of any kind. The data on this website shall not be used in any way to improve the quality of any data sold or contributed by you to any third party.

Recipient Acknowledgements
In accessing this website, you acknowledge and agree that there are risks associated with investment activities. Moreover, you agree that your use of this publication is at your sole risk and acknowledge that the responsibility to obtain and carefully read and understand the content of documents relating to any investment activity described on this website and to seek separate, independent financial advice if required to assess whether a particular investment activity described herein is suitable, lies exclusively with you.