Small retracement, key data ahead
Chief Investment Officer's team, 21.07.2019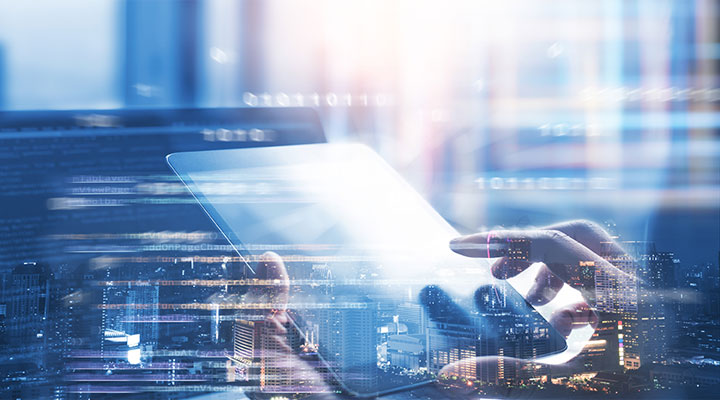 AT A GLANCE
Last week saw some moderate profit taking in DM Equities, but also an all-time high on the S&P500
Markets expect rate cuts from the Fed (July 31st) and potentially the ECB (July 25th)
Earnings season has started on a positive tone, big tech to release their numbers next week
Last week was rich in news-flow, from both Central Banks and companies releasing their Q2 results, but reasonably quiet on markets. Some profit taking took place on the best performing asset classes of the year, with DM equities down 0.8% and global listed real estate down 1.3%. Fixed income continues to be supported by dovish comments from Fed officials, which also helped Emerging Market equities. As a result, so far 2019 is still a fantastic year for financial returns.
We have just released the Mid-Year update to our Global Investment Outlook, and at a time when key data is expected, we have more questions than certainties. For US equities for example, we need both earnings growth, and dovish central banks, to justify the current valuation. To find fundamental upside potential, more stars have to be aligned: an improvement in the growth outlook, which would be strong enough to sustain earnings, but not inflationary enough to threaten rate cuts.
When level of confidence is not high, it is wise not to take strong active positions. This is why our positioning is not radical. It is however explicit: with cash our largest overweight, and Emerging Markets our preferred region across asset classes, we are slightly defensive and favour fundamental valuation over market momentum. We preserve flexibility and intend to use it, probably in a contrarian way, should the markets deviate again from their fair values.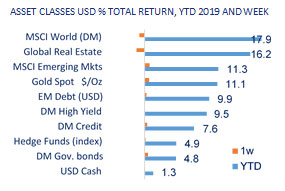 Cross-asset considerations
When it comes to tactical asset allocation, having an estimation of the fair value of an asset on a relatively short-term horizon is equally important, and difficult. For equities, a short-term metric of market value is the Price-To-Earnings ratio, or PE. Our own approach estimates the level of earnings growth first, then the multiple that we think should apply at the end of the year. This fair-value is a necessary tool, but it's of course not perfect. The actual PE of the market can undershoot or overshoot our measure, based on analysts' projections, but also the rates environment and of course risk appetite.
Robert Shiller came up with a different gauge, whereby earnings are smoothed across ten years, to avoid shorter-term fluctuations, and then divided into an equity price index. The so-called 'Shiller PE' has sparked controversy, since it has consistently pointed to overvaluation of US equities for quite a while, having recorded higher levels than the current ones only in 1929 and 2000, respectively the pre-depression and the dot-com bubble peaks.
We have successfully made the Shiller PE, also called Cycle-Adjusted-Price-to-Earnings, or CAPE, the bedrock of our analysis framework for estimating long-term equity returns. The detractors of this metric are trivially associating high or low values of the index with equity over- or under-valuation. That is simplistic, and, we agree, it does not work that much. What about going a bit deeper, rather than throwing the water with the baby? Levels of the CAPE for US equities correlate well with the 10-year average future total returns of the asset class, hence today's CAPE between 29 and 30, as of June 2019, would justify average yearly returns below 5% for the next 10 years. That is pretty bleak, considering that this includes a dividend yield of, say, 2%.
CAPE detractors have a point, though. Why are longer term metrics consistently in the high-end of their historical range? Is there some factor boosting cyclically-adjusted equity multiples? In our view it is the ever-rising tide of monetary policy. The Shiller PE skyrocketed higher after 1990, with Fed policy rates stable or on net falling until 1998. And it has been rising quickly following the Great Financial Crisis, with Fed Funds basically stuck at zero and repeated rounds of Quantitative Easing supporting markets.
Equities are supposed to deliver returns which reflect a premium over risk-free assets paying for the uncertainty related to economic growth. Why should that risk premium not be historically low if the so-called Fed put, the tendency of the Fed to avoid tumbles in equities by feeding loose enough financial conditions to the system, is always operative? A world made safer by constant monetary stimulus defies the notion of market risk and aligns valuations across all asset classes to the lofty levels reflecting lower uncertainty than warranted under no stimulus. The monetary trick will continue to work, insofar as markets do not hit the recession snag. We are not there yet, so investors can still enjoy lofty PEs.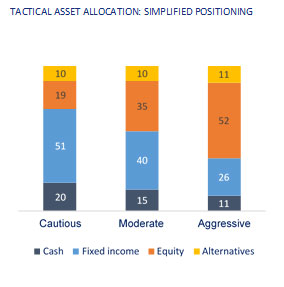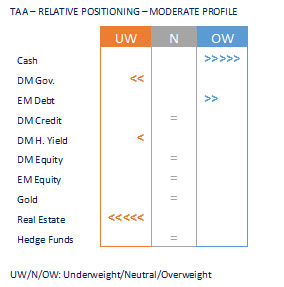 Fixed Income Update
The ongoing rally across the bond markets is all about headlines. On one side, President Trump's trade policy keeps on threatening business sentiment, and thus global growth. On the other, FED policymakers debate over the case for deeper policy rate cuts for next week. The recent comments by New York's Fed President John Williams and Fed Vice Chair Richard Clarida suggested that a higher cuts (50bps) was not off the table: "it's better to take preventative measures than to wait for disaster to unfold" and "You don't have to wait until things get so bad to have a dramatic series of rate cuts. You don't want to wait until data turns decisively if you can afford to." After initial euphoria however, there was a sharp pullback in the probability of 50 bps cut as NY Fed clarified that Williams was not talking about potential policy action but about academic research.
US benchmarks have been oscillating around our year-end fair value estimates of 2% at 2.05%, with most of the other DM sovereign bonds equally stable at high valuations. High-beta EM sovereign bonds are benefitting from the overall search of yield while domestic bonds are supported by the perspective of rate cuts, fueled by low inflation. South Korea's central bank lowered its benchmark interest rate by 25 basis points to 1.75%, while Indonesia cut its rate to 5.75% followed by South Africa. Turkey Central bank is widely expected to cut rates this week. Markets anticipates a 200 bps cut with the policy rate coming down to 22% which could have an impact on the currency.
The debate on the debt ceiling in the US has once again resurfaced. The short-term securities (Treasury bills) are reflecting some concerns with small pricing dislocations appearing around securities maturing close to the months of September and October. Treasury Secretary Steven Mnuchin has said that under one of the department's most conservative estimates, there will be a risk of default on payment obligations in early September before lawmakers are scheduled to return (Sept. 9th). This week, $205 billion of bills and bonds would be auctioned by the US Treasury Department.
Outgoing ECB chief Mario Draghi will lead an ECB policy meeting this week which is widely anticipated to lay out the plans for a September rate cut and a possible resumption of quantitative easing through CSPP II. Market anticipates that ECB will focus on corporate bonds rather than financial sector bonds. Draghi was the only ECB Chief to not have a single rate hike during his 8 year tenure.
Greek Prime Minister Kyriako Mitsotakis seeks to cut taxes and initiate privatization of public sector undertakings in an effort to spur the economy. Corporate tax rate is expected to be cut from the current 28% to 20% by 2020 in two steps.
We are expecting a maiden Sukuk issuance from Emirates Strategic Investments Company. This multi sector investment holding company owns a diversified portfolio in the UAE, and is controlled by H.H. Sheikh Mansour Bin Zayed Al Nahyan, Deputy Prime Minister and Minister of Presidential Affairs of the UAE.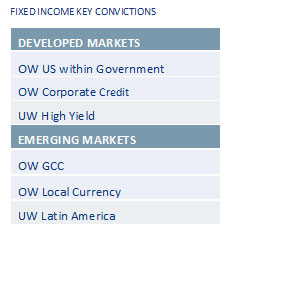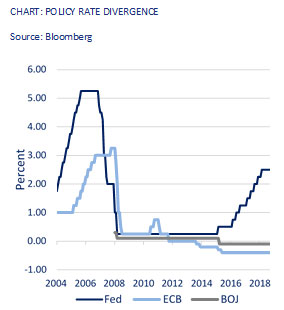 Equity Update
In markets that are trading close to or above fair value, outperformance rests on selectivity and quality (sustainable businesses, high ROE, low leverage). As communicated last week we have revised upwards our fair values for the US, Europe and China equity indices, with dovish Central bank policy justifying higher valuations in the former two, and a combination of higher EPS and multiple for the latter. Both US and Europe are currently trading above our revised fair values but Emerging Markets still show some upside. Most Asian markets ended the week up, but U.S. equities finished the week lower (a percent below their all-time high).
The last leg of the US rally was aided by more certainty on rate cuts by the Fed. The focus is now on earnings growth. We had expected Q2 earnings to beat estimates by 3 to 4% and this seems to happen so far. In the first week of the Q2 season, 16% of the S&P 500 Companies have reported an average EPS growth of 4.01% (estimates are for a decline of -2.6%) with 2.8% sales growth (estimates are for growth of 3.8%) according to FactSet. The earnings-growth rate in Q2 will not reach 2018's 20%-plus growth, but should be positive. Also, higher wages, rising input costs and strength in the US dollar should pressure margins, expected to contract to 10.8% down from 11.5% a year ago. Material companies with the most sensitivity to China, are expected to be the most impacted. While showing signs of slowing, U.S. economic data is still supportive of markets, with unemployment close to a half-century low (positive for consumption).
Whilst trade tariff issues have been temporarily soothed for the US and China, Europe and Japan companies await clarity. In Europe Daimler has already warned of a sharp drop in profits, hit by the trade war, because it ships vehicles from the US to China. China Exports and Imports Y/Y for June missed expectations. The Nikkei cited SEMI data showing global chip sales for 2019 were revised down to an 18% fall, the first decline in four years.
The UAE saw a rally last week (+3%) with improved liquidity. Plans to increase Foreign Ownership Limits (FOLs), with First Abu Dhabi Bank planning to remove the cap and other companies considering doing so, would boost their weight within EM indices. The banking sector has so far had better than expected earnings.
Amazon's revenue growth may be slowing (17% in Q1) but Prime members top 100 mn globally with India and the UAE the latest to be added. Whilst the service costs $119 in the US, it costs only $2 in India where Amazon hopes to gain market share.
India's car sales may have slowed but consumption and digital growth is exponential with Reliance Jio reaching 330 mn telecom subscribers, and the Reliance retail arm rapidly expanding stores and increasing online sales.
For the first time in a decade Netflix lost U.S. subscribers and only grew half the estimated number in Emerging markets. Competition is ramping up from unexpected fronts: hardware company Apple, ecommerce giant Amazon and traditional box office content maker Disney.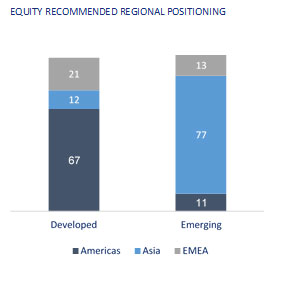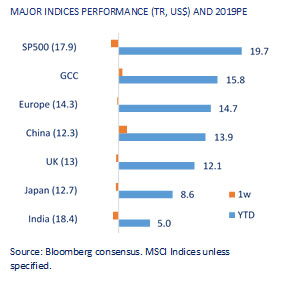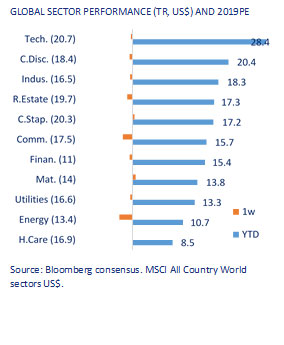 Written By:
Maurice Gravier
Chief Investment Officer,
MauriceG@EmiratesNBD.com
Anita Gupta
Head of Equity Strategy,
Anitag@EmiratesNBD.com
Yahya Sultan
Head of Fixed Income Strategy,
YahyaS@EmiratesNBD.com
Giorgio Borelli
Head of Asset Allocation,
GiorgioB@EmiratesNBD.com
Disclaimer

Emirates NBD Bank PJSC ("Emirates NBD") is licensed and regulated by the UAE Central Bank and this website aims at providing Internet users with information concerning Emirates NBD Private Banking, its products and activities. Persons having access to information made available by Emirates NBD on this website accept the following rules:

Reliance:
Emirates NBD uses reasonable efforts to obtain information from sources which it believes to be reliable, however Emirates NBD makes no representation that the information or opinions contained in publications on this website are accurate, reliable or complete. Published information may include data/information from stock exchanges and other sources from around the world and Emirates NBD does not guarantee the sequence, accuracy, completeness, or timeliness of information contained on this website provided thereto by unaffiliated third parties. Anyone proposing to rely on or use the information contained on this website should independently verify and check the accuracy, completeness, reliability and suitability of the information and should obtain independent and specific advice from appropriate professionals or experts. Further, references to any financial instrument or investment product are not intended to imply that an actual trading market exists for such instrument or product. Emirates NBD is not acting in the capacity of a fiduciary or financial advisor. Any publications on this website are provided for informational purposes only and are not intended for trading purposes. Data/information provided herein is intended to serve for illustrative purposes and is not designed to initiate or conclude any transaction. The information available on this website is not intended for use by, or distribution to, any person or entity in any jurisdiction or country where such use or distribution would be contrary to law or regulation. This website and anything contained herein, is provided "as is" and "as available," and that Emirates NBD makes no warranty of any kind, express or implied, as to this website, including, but not limited to, merchantability, non-infringement, title, or fitness for a particular purpose or use.

Modifications:
The provision of certain data/information on this website is subject to the terms and conditions of other agreements to which Emirates NBD is a party. Emirates NBD reserves the right to make changes and additions to the information provided at any time without prior notice. The information may be modified or removed without prior notice. No buy or sell orders submitted via the internet or email will be accepted. In addition, the data/information contained on this website is prepared as of a particular date and time and will not reflect subsequent changes in the market or changes in any other factors relevant to the determination of whether a particular investment activity is advisable.

Liability:
Information contained on this website is believed by Emirates NBD to be accurate and true, in all material respects. Emirates NBD accepts no responsibility whatsoever for any loss or damage caused by any act or omission taken as a result of the information contained on this website. Further Emirates NBD accepts no liability for the information and opinions published on the website and is under no obligation to remove outdated information from its website or to mark it clearly as such. The information given on this website may not be distributed or forwarded in whole or in part. Accordingly, anything to the contrary herein set forth notwithstanding, Emirates NBD, its suppliers, agents, directors, officers, employees, representatives, successors, assigns, affiliates or subsidiaries shall not, directly or indirectly, be liable, in any way, to you or any other person for any: (a) inaccuracies or errors in or omissions from the information available on this website including, but not limited to, quotes and financial data; or (b) loss or damage arising from the use of this publication, including, but not limited to any investment decision occasioned thereby. or (c) under no circumstances, including but not limited to negligence, shall Emirates NBD, its suppliers, agents, directors, officers, employees, representatives, successors, assigns, affiliates or subsidiaries be liable to you for direct, indirect, incidental, consequential, special, punitive, or exemplary damages even if Emirates NBD has been advised specifically of the possibility of such damages, arising from the use of the information on this website, including but not limited to, loss of revenue, opportunity, or anticipated profits or lost business. Emirates NBD expressly accepts no liability for losses or damages of any kind arising from using or accessing this website or links to third-party websites or from viewing information on any of its web pages. Furthermore, Emirates NBD accepts no liability for any unauthorized manipulation of users IT systems. Emirates NBD expressly draws user's attention to the risk of viruses and the threat of hacker attacks

Third Party Website:
Users may be aware that Emirates NBD has no control whatsoever over third-party websites linked to or from this website and therefore accepts no liability for the content of such websites being correct, complete and legally valid for the products and services offered on such websites. Emirates NBD's express written permission must always be sought before including a link to this website on a third-party website.

Solicitation:
None of the information on this website in any way constitutes a solicitation, offer, opinion, or recommendation by Emirates NBD to buy or sell any security, or to provide legal, tax, accounting, or investment advice or services regarding the profitability or suitability of any security or investment.

Forward Looking:
The information contained on this website does not purport to contain all matters relevant to any particular investment or financial instrument and all statements as to future matters are not guaranteed to be accurate. Certain matters in this publication on the website are about the future performance of Emirates NBD or members of its group (the Group), including without limitation, future revenues, earnings, strategies, prospects and all other statements that are not purely historical, constitute "forward-looking statements". Such forward-looking statements are based on current expectations or beliefs, as well as assumptions about future events, made from information currently available. Forward-looking statements often use words such as "anticipate", "target", "expect", "estimate", "intend", "plan", "goal", "seek", "believe", "will", "may", "should", "would", "could" or other words of similar meaning. Undue reliance should not be placed on any such statements in making an investment decision, as forward-looking statements, by their nature, are subject to known and unknown risks and uncertainties that could cause actual results, as well as the Group's plans and objectives, to differ materially from those expressed or implied in the forward-looking statements. Past performance is not necessarily a guide to future performance. Estimates of future performance are based on assumptions that may not be realized.

Risk: In addition, before entering into any transaction, the risks should be fully understood and a determination made as to whether a transaction is appropriate given the person's investment objectives, financial and operational resources, experiences and other relevant circumstances. The obligations relating to a particular transaction (and contractual relationship) including, without limitation, the nature and extent of their exposure to risk should be known as well as any regulatory requirements and restrictions applicable thereto. Data included on this website may rely on models that do not reflect or take into account all potentially significant factors such as market risk, liquidity risk, and credit risk. Emirates NBD may use different models, make valuation adjustments, or use different methodologies when determining prices at which Emirates NBD is willing to trade financial instruments and/or when valuing its own inventory positions for its books and records.

Investment in financial instruments involves risks and returns may vary. Before making such an investment, investors should consult their advisers on the legal, regulatory, tax, business, investment, financial and accounting implications of the investment.

Intellectual property:
The information on this website has been developed, compiled, prepared, revised, selected, and arranged by Emirates NBD and others (including certain other information sources) through the application of methods and standards of judgment developed and applied through the expenditure of substantial time, effort, and money and constitutes valuable intellectual property of Emirates NBD and all present and future rights in and to trade secrets, patents, copyrights, trademarks, service marks, know-how, and other proprietary rights of any type under the laws of any governmental authority, domestic or foreign, shall at all times be and remain the sole and exclusive property of Emirates NBD and/or other lawful parties and you acknowledge that you have no ownership rights in and to any of such items. Except as specifically permitted in writing, the information provided in this website shall not be copied or make any use of any information on this website or any portion of the intellectual property rights connected with this website, or the names of any individual participant in, or contributor to, the content of this website, or any variations or derivatives thereof, for any purpose. Further you shall not use any of the trademarks, trade names, service marks, copyrights, or logos of Emirates NBD or its subsidiaries in any manner which creates the impression that such items belong to or are associated with you or, except as otherwise provided with Emirates NBD's prior written consent,

Confidentiality:
The information on this website solely for non-commercial use and benefit and the use of this information is not intended for resale or other transfer or disposition to, or use by or for the benefit of, any other person or entity. Information contained in this website shall not be used, transferred, distributed, reproduced, published, displayed, modified, create derivative works from any data contained on this website or disposed of in any manner that could compete with the business interests of Emirates NBD. Any part of this website may not be offered for sale or distribute it over any medium including but not limited to over-the-air television or radio broadcast, a computer network or hyperlink framing on the internet without the prior written consent of Emirates NBD. The information contained on this website may not be used to construct a database of any kind. The data on this website shall not be used in any way to improve the quality of any data sold or contributed by you to any third party.

Recipient Acknowledgements
In accessing this website, you acknowledge and agree that there are risks associated with investment activities. Moreover, you agree that your use of this publication is at your sole risk and acknowledge that the responsibility to obtain and carefully read and understand the content of documents relating to any investment activity described on this website and to seek separate, independent financial advice if required to assess whether a particular investment activity described herein is suitable, lies exclusively with you.