More questions than certainties
Chief Investment Officer's team, 14.07.2019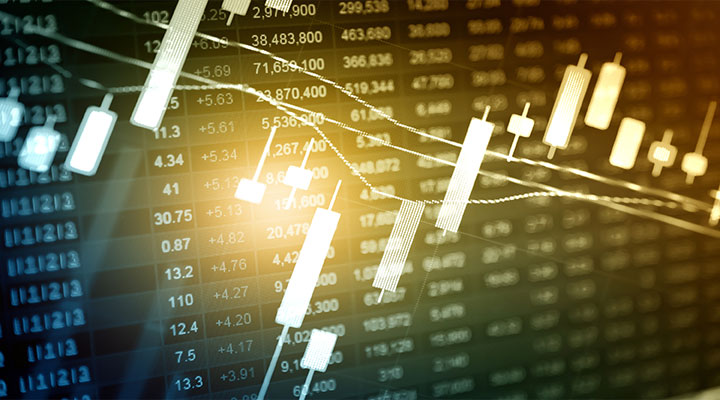 AT A GLANCE
2019 is an exceptional year for investors so far, with record performances
The Fed reinforces expectations for a rate cut in July, which markets have fully priced in
After being constructive at the beginning of the year, we are gradually moving more defensive
For decades, "Don't fight the Fed" has been an adage for investors. Last week gave the impression that symmetrically, the US Central Bank has no intention to "fight the market". A tariff truce between the US and China, strong job creations in June, and a slightly higher than expected inflation were not enough to moderate the Fed's dovish tone. One possible explanation is that given market expectations, not cutting rates would create a shock that could only be fixed by… cutting rates.
Wisdom or pragmatism? The beginning of a cycle, or a one-off? Supporting the economy, or inflating dangerous valuation bubbles? Only the future will tell, but we have to account for the very high probability that the Fed will imminently cut rates.
We had a fresh look at our year-end fair values for key markets, and adjusted some of them. We've screened for valuation opportunities, and didn't find much conviction. Adjusting for risk, cash is probably the best defensive asset, better than gold after its recent rally. We have thus decided to cut our – successful – gold Overweight to Neutral and added to cash. Following our more aggressive stance at the beginning of the year, we are, gradually, turning more defensive. We do not see much upside potential, and our 3 profiles, Cautious, Moderate and Aggressive have done well this year delivering +7.5, +9.4 and +11.3 respectively. However, we are not outright defensive, as we trust our long-term allocation and monetary stimulus remains a powerful support.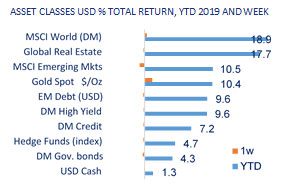 Cross-asset considerations
Central banks have been concerned about muted inflation dynamics for a while, and rightly so. In a normally functioning economy, the general level of prices tends to increase alongside the amount of goods and services produced, a sign that healthy demand is supporting rising supply. The Japanese experience, which saw the country plagued by deflation for decades, has brought home the point that, once deflation sets in, it is very difficult to eradicate as expectations of lower prices drive even demand lower.
Core inflation has failed to stabilize above 2% annualized in the United States, has been stuck around 1% in Europe and has hovered just in positive territory in Japan since the financial crisis. Major central banks, in particular the Fed and the ECB, have often invoked disappointing inflation dynamics to justify persistently accommodative policies, and this time is no exception.
There might be a chance that inflation in 2020 could surprise to the upside. The latest reports show price pressures stabilizing at around 2% in the US and 1% in Europe, indicating little spill-over effects from the contracting manufacturing sectors. Hence, due to sheer base effects, price pressures in early 2020 could be higher, contrary to consensus projections. Also, asset markets are giving hints in this direction. Market-implied inflation measures seem to be bottoming in the lower end of their ranges. And gold is about to tell us that inflation next year will move higher.
Since 1968, as far back as our data history on US core prices goes for the US, core inflation has been higher 48% of the times. Yet, when conditioning on whether gold is at least 10% higher versus the previous year, the number rises to almost 60%. In this sense, gold is a good inflation gauge. Year-to-date gold is returning slightly more than 10%; should it manage to consolidate above current levels, it would be signaling higher price pressures to come with 60% probability.
We have decided to take profit on our gold overweight positioning, which we entered late last year. Although central bank dovishness should have us think twice before booking profit, we think that eventually easier credit conditions will lift the economy, and gold bulls will be temporarily disappointed. Gold swings have closely followed Fed policy, US real rates and the US yield curve quite closely in the last decade. Gold should have already discounted the greatest degree of policy accommodation, yield curve flattening and collapsing US real yields.
Of course, there is room for gold to be up less than 10% this year, and inflation to surprise to the upside in 2020. For now, we sit in this camp. It is also our view that, in the longer term, gold bulls will anyway have reason to be happy, since central bank monetary largesse won't be able to support the economy forever and ever, and gold will most likely start a new bull market in the wake of most creative central banks and most stagnant economic growth. This justifies our neutral stance.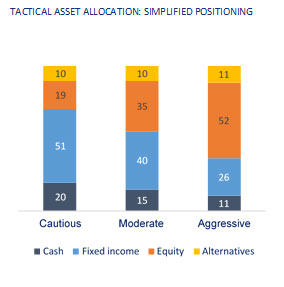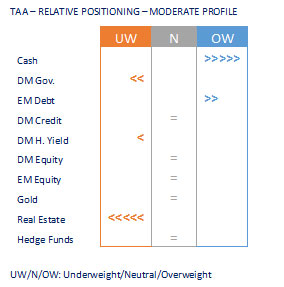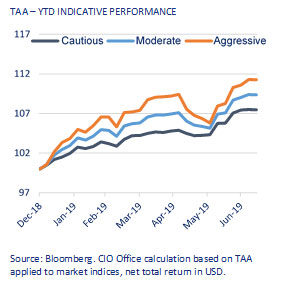 Fixed Income Update
The recent robust economic data out of the US supported corporate credit spreads particularly on the high yield sector while pushing benchmark yields higher from their recent lows. The big question remains how much it does take the FED to change their dovish stance based on a few data points. The FED in their last testimony has cited that slowing economic growth is one of the main concerns. Looking at some of the YTD returns, it seems that bond markets are at the cusp of some correction, particularly when valuations across the riskiest parts of the bond markets are assessed. The abundant and cheap cost of capital has been one of the main drivers for this year's total returns.
We have revised our fair value estimates on the US benchmark Treasuries to 2.00%. The US Treasuries look attractive to us when compared to the rest of the DM Sovereign bond yields. While the FED prepares for policy responses, our views for a bull flattening of the yield curve remain intact. With global Sovereign yields now hitting the zero bound, the long-term trend for US bonds should move symmetrically lower in our view. For yield hunters, we reiterate our preferences on duration risk over credit risk in this late-cycle juncture.
On corporate bonds, we prefer investment-grade over high-yield with a strong bias towards defensive. Emerging Markets are our unchanged long-standing conviction, with overweight in local currency-denominated bonds. Our EM local currency bond conviction stems from the outlook on the US-dollar and the broader growth/consumption story. While idiosyncratic risks remain on the horizon driven by some geopolitics – in the case for Turkey and select LATAM sovereigns, we remain cognizant on credit selection and believe plenty of opportunities still exist for the discerning investors.
European benchmark sovereign bond yields rose last week due to the unwinding of some of the bets made on the possibility of ECB restarting the Quantitative easing sooner. Yield chasing by investors had led the peripheral sovereign bonds to record lows the previous week. Since Germany and France benchmark yields had gone below zero, investors had been focusing on the higher-yielding assets of Spain, Greece and Italy. In the coming week, Germany, France, U.K. and Spain are scheduled to sell bonds. Greece might also tap the market to take advantage of the market interest and positive post-election sentiment. On macro calendar front, the coming week is light with the market keeping track of UK CPI/ Jobless claims (Tuesday), UK retail sales (Thursday) and German ZEW Survey (Tuesday). UK CPI is broadly expected to track the BOE inflation target of 2% according to Bloomberg estimates.
Turkey's credit rating was lowered further to sub-investment grade by Fitch reducing from BB to BB- (long-term foreign currency debt). TRY bonds widened by 41bp to 16.68% while Eurobond yields widened by 12bp to 7.43%. The cost of insuring against default rose to 410bp. Turkey's real rates have reached the highest point in the last five years due to the easing of inflation. With new appointments in the central bank, the markets anticipate a rate cut sooner.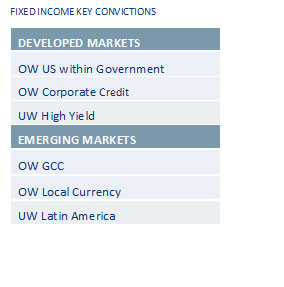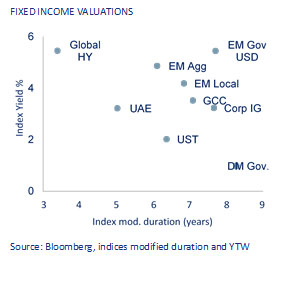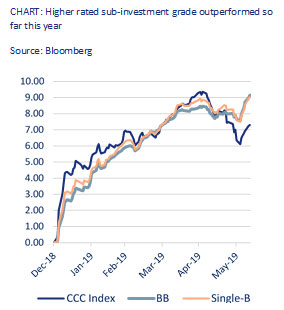 Equity Update
Equity-market downside is limited by the hope of easier monetary policy, but the upside is constrained by downward revisions to economic and earnings growth and we expect range bound trading in the near term.
We are neutral all Developed Market regions and maintain our neutral positioning for the US but have revised upwards our fair value for the S&P 500 for end 2019 from 2825 to 2900 (+2.6%). 2018 ended with a sharp sell down as trade tariff escalation created doubts about global growth and the impact on margins from higher input costs. Thus, at the beginning of 2019, a 15% total return for the S&P 500 for 2019 looked reasonable, on an estimated 5% 2019 EPS growth and a forward P/E of 16.5X. Last week, the 3 major US indices hit new all-time highs with the S&P 500 trading at 3013 (+21.5% TR YTD). With the Fed turning dovish and rates lower across the board, we have adjusted our PE for the S&P 500 (our estimate is 17X). We retain the 5% earnings growth target for 2019. Q1 saw flat earnings and estimates for Q2 growth are a decline of -2.6%. We expect Q2 earnings to beat estimates by 3 to 4%. Share buybacks are expected to contribute 2% to EPS growth in Q2. Last year saw a record USD 1tn buybacks, driven by the tax overhaul. Forward guidance from companies' remains key for sentiment, with a focus on the trade war, with China being both a market and a critical part of supply chains.
We revise our underweight on the Eurozone to neutral and also revise the EuroStoxx Fair value for end '19 from 340 to 360 (+5.8%) as the accommodative ECB policy justifies a higher valuation. European markets have performed strongly in 2019. Though the global backdrop was challenging, the relative merits of European equities were attractive with emerging markets bearing the brunt of the selloff.
For Japan we take our Overweight position to Neutral as the implementation of Phase 2 of the consumption tax in October could impact economic growth and corporate revenues and as trade tariff escalation has shifted to Japan automakers.
In Emerging Markets we remain neutral Asia, retain our India overweight with a corresponding underweight in the LATAM and EMEA regions. We have revised up our year-end fair-value for the MSCI China (US$) from 80 to 84 (+5%). China companies' profitability could improve as the trade tariff increases are currently on hold. We feel our estimates of a higher PE multiple from 11.5X to 12X and a higher 2019 EPS growth from 11% to 12% are reasonable. We remain overweight India as we see the government deliver the promised infra spend, though headwinds persist with banking woes and downgrades to corporate earnings.
GCC markets had a positive week, with oil rallying. We had recommended taking profits on our long KSA position, once the first phase of EM implementation in May was complete. In the UAE, we would add to the banking and logistics sectors as valuations remain attractive.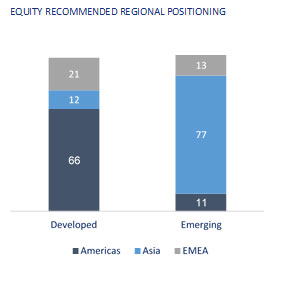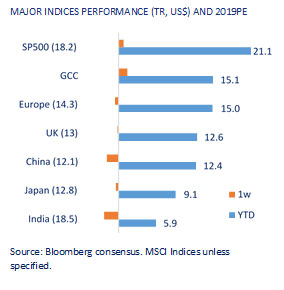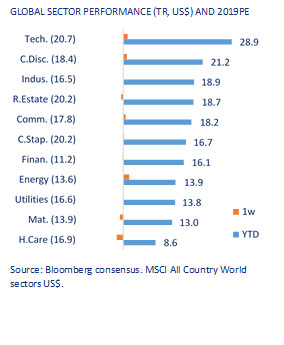 Written By:
Maurice Gravier
Chief Investment Officer,
MauriceG@EmiratesNBD.com
Anita Gupta
Head of Equity Strategy,
Anitag@EmiratesNBD.com
Yahya Sultan
Head of Fixed Income Strategy,
YahyaS@EmiratesNBD.com
Giorgio Borelli
Head of Asset Allocation,
GiorgioB@EmiratesNBD.com
Disclaimer

Emirates NBD Bank PJSC ("Emirates NBD") is licensed and regulated by the UAE Central Bank and this website aims at providing Internet users with information concerning Emirates NBD Private Banking, its products and activities. Persons having access to information made available by Emirates NBD on this website accept the following rules:

Reliance:
Emirates NBD uses reasonable efforts to obtain information from sources which it believes to be reliable, however Emirates NBD makes no representation that the information or opinions contained in publications on this website are accurate, reliable or complete. Published information may include data/information from stock exchanges and other sources from around the world and Emirates NBD does not guarantee the sequence, accuracy, completeness, or timeliness of information contained on this website provided thereto by unaffiliated third parties. Anyone proposing to rely on or use the information contained on this website should independently verify and check the accuracy, completeness, reliability and suitability of the information and should obtain independent and specific advice from appropriate professionals or experts. Further, references to any financial instrument or investment product are not intended to imply that an actual trading market exists for such instrument or product. Emirates NBD is not acting in the capacity of a fiduciary or financial advisor. Any publications on this website are provided for informational purposes only and are not intended for trading purposes. Data/information provided herein is intended to serve for illustrative purposes and is not designed to initiate or conclude any transaction. The information available on this website is not intended for use by, or distribution to, any person or entity in any jurisdiction or country where such use or distribution would be contrary to law or regulation. This website and anything contained herein, is provided "as is" and "as available," and that Emirates NBD makes no warranty of any kind, express or implied, as to this website, including, but not limited to, merchantability, non-infringement, title, or fitness for a particular purpose or use.

Modifications:
The provision of certain data/information on this website is subject to the terms and conditions of other agreements to which Emirates NBD is a party. Emirates NBD reserves the right to make changes and additions to the information provided at any time without prior notice. The information may be modified or removed without prior notice. No buy or sell orders submitted via the internet or email will be accepted. In addition, the data/information contained on this website is prepared as of a particular date and time and will not reflect subsequent changes in the market or changes in any other factors relevant to the determination of whether a particular investment activity is advisable.

Liability:
Information contained on this website is believed by Emirates NBD to be accurate and true, in all material respects. Emirates NBD accepts no responsibility whatsoever for any loss or damage caused by any act or omission taken as a result of the information contained on this website. Further Emirates NBD accepts no liability for the information and opinions published on the website and is under no obligation to remove outdated information from its website or to mark it clearly as such. The information given on this website may not be distributed or forwarded in whole or in part. Accordingly, anything to the contrary herein set forth notwithstanding, Emirates NBD, its suppliers, agents, directors, officers, employees, representatives, successors, assigns, affiliates or subsidiaries shall not, directly or indirectly, be liable, in any way, to you or any other person for any: (a) inaccuracies or errors in or omissions from the information available on this website including, but not limited to, quotes and financial data; or (b) loss or damage arising from the use of this publication, including, but not limited to any investment decision occasioned thereby. or (c) under no circumstances, including but not limited to negligence, shall Emirates NBD, its suppliers, agents, directors, officers, employees, representatives, successors, assigns, affiliates or subsidiaries be liable to you for direct, indirect, incidental, consequential, special, punitive, or exemplary damages even if Emirates NBD has been advised specifically of the possibility of such damages, arising from the use of the information on this website, including but not limited to, loss of revenue, opportunity, or anticipated profits or lost business. Emirates NBD expressly accepts no liability for losses or damages of any kind arising from using or accessing this website or links to third-party websites or from viewing information on any of its web pages. Furthermore, Emirates NBD accepts no liability for any unauthorized manipulation of users IT systems. Emirates NBD expressly draws user's attention to the risk of viruses and the threat of hacker attacks

Third Party Website:
Users may be aware that Emirates NBD has no control whatsoever over third-party websites linked to or from this website and therefore accepts no liability for the content of such websites being correct, complete and legally valid for the products and services offered on such websites. Emirates NBD's express written permission must always be sought before including a link to this website on a third-party website.

Solicitation:
None of the information on this website in any way constitutes a solicitation, offer, opinion, or recommendation by Emirates NBD to buy or sell any security, or to provide legal, tax, accounting, or investment advice or services regarding the profitability or suitability of any security or investment.

Forward Looking:
The information contained on this website does not purport to contain all matters relevant to any particular investment or financial instrument and all statements as to future matters are not guaranteed to be accurate. Certain matters in this publication on the website are about the future performance of Emirates NBD or members of its group (the Group), including without limitation, future revenues, earnings, strategies, prospects and all other statements that are not purely historical, constitute "forward-looking statements". Such forward-looking statements are based on current expectations or beliefs, as well as assumptions about future events, made from information currently available. Forward-looking statements often use words such as "anticipate", "target", "expect", "estimate", "intend", "plan", "goal", "seek", "believe", "will", "may", "should", "would", "could" or other words of similar meaning. Undue reliance should not be placed on any such statements in making an investment decision, as forward-looking statements, by their nature, are subject to known and unknown risks and uncertainties that could cause actual results, as well as the Group's plans and objectives, to differ materially from those expressed or implied in the forward-looking statements. Past performance is not necessarily a guide to future performance. Estimates of future performance are based on assumptions that may not be realized.

Risk: In addition, before entering into any transaction, the risks should be fully understood and a determination made as to whether a transaction is appropriate given the person's investment objectives, financial and operational resources, experiences and other relevant circumstances. The obligations relating to a particular transaction (and contractual relationship) including, without limitation, the nature and extent of their exposure to risk should be known as well as any regulatory requirements and restrictions applicable thereto. Data included on this website may rely on models that do not reflect or take into account all potentially significant factors such as market risk, liquidity risk, and credit risk. Emirates NBD may use different models, make valuation adjustments, or use different methodologies when determining prices at which Emirates NBD is willing to trade financial instruments and/or when valuing its own inventory positions for its books and records.

Investment in financial instruments involves risks and returns may vary. Before making such an investment, investors should consult their advisers on the legal, regulatory, tax, business, investment, financial and accounting implications of the investment.

Intellectual property:
The information on this website has been developed, compiled, prepared, revised, selected, and arranged by Emirates NBD and others (including certain other information sources) through the application of methods and standards of judgment developed and applied through the expenditure of substantial time, effort, and money and constitutes valuable intellectual property of Emirates NBD and all present and future rights in and to trade secrets, patents, copyrights, trademarks, service marks, know-how, and other proprietary rights of any type under the laws of any governmental authority, domestic or foreign, shall at all times be and remain the sole and exclusive property of Emirates NBD and/or other lawful parties and you acknowledge that you have no ownership rights in and to any of such items. Except as specifically permitted in writing, the information provided in this website shall not be copied or make any use of any information on this website or any portion of the intellectual property rights connected with this website, or the names of any individual participant in, or contributor to, the content of this website, or any variations or derivatives thereof, for any purpose. Further you shall not use any of the trademarks, trade names, service marks, copyrights, or logos of Emirates NBD or its subsidiaries in any manner which creates the impression that such items belong to or are associated with you or, except as otherwise provided with Emirates NBD's prior written consent,

Confidentiality:
The information on this website solely for non-commercial use and benefit and the use of this information is not intended for resale or other transfer or disposition to, or use by or for the benefit of, any other person or entity. Information contained in this website shall not be used, transferred, distributed, reproduced, published, displayed, modified, create derivative works from any data contained on this website or disposed of in any manner that could compete with the business interests of Emirates NBD. Any part of this website may not be offered for sale or distribute it over any medium including but not limited to over-the-air television or radio broadcast, a computer network or hyperlink framing on the internet without the prior written consent of Emirates NBD. The information contained on this website may not be used to construct a database of any kind. The data on this website shall not be used in any way to improve the quality of any data sold or contributed by you to any third party.

Recipient Acknowledgements
In accessing this website, you acknowledge and agree that there are risks associated with investment activities. Moreover, you agree that your use of this publication is at your sole risk and acknowledge that the responsibility to obtain and carefully read and understand the content of documents relating to any investment activity described on this website and to seek separate, independent financial advice if required to assess whether a particular investment activity described herein is suitable, lies exclusively with you.