Markets hold their breath
Chief Investment Officer's team, 17.11.2019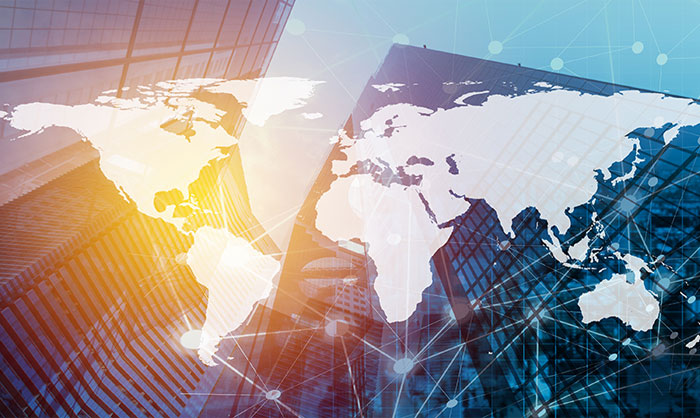 AT A GLANCE
Last week was overall positive for markets, with equities remaining close to record highs
Some economic data however disappointed, including US retail sales
Near-term is binary, with all eyes on the "Phase 1" trade deal between US and China
Last week was quite rich in terms of economic data and speeches from Central Banks officials. The numbers were overall not bright, with soft manufacturing indicators, but also some deceleration in the so far resilient consumer spending in the US. Consumer prices were also slightly higher, supporting the Fed's stance to stay on hold on rates, which was confirmed by Mr Powell's remarks before the congress, and should be more detailed in the minutes of the FOMC, to be released on Wednesday.
In a nutshell, there was nothing new, and if markets were overall positive last week, it was mostly due to the fear of missing out, from very defensive investors, as the end of the year is approaching. During our own tactical asset allocation meeting, we also decided to reduce our underweight on Global Listed Real Estate, which was a drag on our performance. 2019 remains excellent in terms of returns, with our three profiles delivering respectively +9, +12 and +14% as of last Friday.
We are working on our perspectives for 2020, and it's not a simple exercise. The near term however looks quite binary, around the chances of US and China to reach a material "Phase 1" deal. This is why our current tactical asset allocation is not drastically divergent from our strategic asset allocation, with selected active positions: a slight overweight in cash, a long term conviction in Emerging Equities, funded by a slight underweight in fixed income and listed real estate.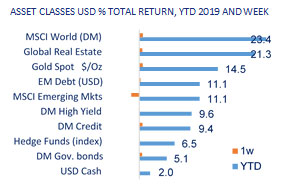 Cross-asset considerations
Global markets have taken notice that economic conditions overall are stabilizing, especially in the manufacturing sector so far hardest hit by the loss of confidence driven by trade-war uncertainty. Sentiment indices and newsletter surveys, the latter yet another means of measuring investor sentiment, have not only turned undoubtedly positive, but are also pointing to a bit of ebullience, usually associated with a less favorable risk-return trade-off for risk assets in the short-term. This should not come as a surprise, considering that year-to-date equity returns are on average in the high teens, nor should this be a source of concern for the longer-run, provided that trade war headwinds continue to abate.
The medium-term outlook for markets seems to be more than ever predicated on successful US-China trade negotiations. Exacerbating trade conflicts would have dire consequences indeed, as per studies released by major investment houses. The details of the analysis conducted change, but the prognosis remains the same, that tariff escalation rather than roll-back would eventually weigh significantly on economic growth, hence cause risk assets to reverse course. Given sentiment and valuations levels, and that trade tariffs ranked amongst the top concerns in the last reporting season, investors will most likely sharpen their focus on the next slightest bit of US-China news-flow.
While the proposed Trump-Xi meeting seems to have been postponed to December this year, DM equities have in the meantime made new all-time highs also under the expectation that the latest round of import taxes would be lifted, and EM currencies have run ahead of the valuations justified by current Global PMI levels partly on the same premise. It seems that risk assets are to an extent already discounting a favorable outcome, making any disappointment in the ongoing negotiations all the more relevant. One would expect that the risk premium attached to the outcome of trade talks would be highest shortly before the event, and with that market volatility. Yet, this becomes indeed difficult to gauge, due to Mr Trump's notorious unpredictability.
Barring any trade-war setbacks, under a recovery scenario one usually upgrades the outlook for risk assets, that we have done being overweight equities, and downgrades that for the dollar. As growth upgrades spread to more countries and the recovery gains breadth, the flow of funds tends to leave US assets to be directed towards higher-growth countries, more sensitive to the improving business cycle. This time around we would be more cautious before turning outright negative on the US currency, considering that growth upgrades outside of the US still lack sufficient impulse, the US services PMI surprised to the upside and as mentioned above Trump's unpredictability can still play quite a role. If indeed, as we forecast, in 2020 the global economy heals and trade tensions abate, then a temporary but significant dollar setback should be expected.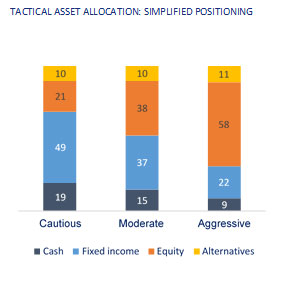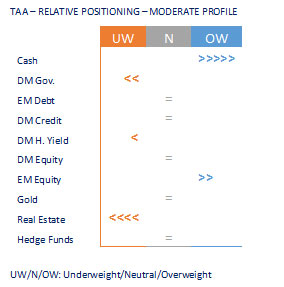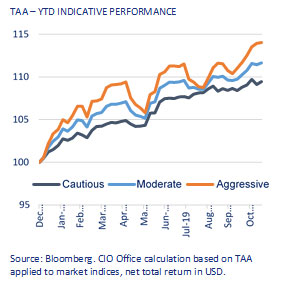 Fixed Income Update
In a reversal of the last couple of weeks' trends, the broader Developed Market bond indices staged a minor recovery this week. The Global HY index gave up some of the gains with European HY bonds being affected the most due to soft macro headline data. The reassurance by the Federal Reserve to maintain rates on hold kept US Treasury yields elevated. US benchmark Treasuries are now at 1.83% after briefly touching the 1.94% level. The US yield curve saw some modest flattening across the curve. The most-watched part, the 10-Year minus the 3-months, has edged higher to 26bp from the minus 51bp witnessed in summer this year. A Reuter's poll of economists indicates the Fed will wait until Q3 2020 to make its next interest rate cut. The probability for the US economy to move into a recession has decreased to under 25% from 35% a month ago.
The Federal Reserve Bank of New York has released the schedule of repo operations for the monthly period from November 15, 2019, through December 12, 2019. Following the most recent FOMC directive, the FED will continue to offer at least $35 billion in two-week term repo operations twice per week and at least $120 billion in daily overnight repo operations.
Economic activity in China missed estimates broadly across some of the critical indicators. The downside surprises in investment and retail sales, together with weakness in official manufacturing PMI and credit growth, point to lackluster domestic demand. That said, liquidity in the domestic banking remains awash and has provided strong support for corporates. The average credit spreads on Asian high-grade USD bonds have compressed from 175bp to 131bp YTD, while sub-investment grade bond spreads have also tightened dramatically from 654bp to current 509bp.
Lower inflation driven by a sharp deceleration in food costs allowed the Egyptian Central Bank to reduce its policy rate by 100 bps last week. The deposit rate currently is 12.25%, and the lending rate is at 13.25%. The latest inflation measure is at 3.1% resulting in a real yield of 9.15%, which is one of the highest among the major emerging market economies. Resilient Egyptian pound, coupled with a high real rate, continues to make Egypt the most lucrative carry trade opportunity for fixed income investors. Egypt issued USD 2 Bn of 4-year/ long 12-year/ 40-Year bonds at 4.55%, 7.053%, and 8.150%, respectively, last Tuesday.
On the other hand, Indian CPI ticked up to 4.62% against the consensus estimate of 4.35%. The inflation is still within the RBI's target range. The slowdown in economic growth continues with Industrial Production plunging to -4.3%, which is the lowest level since 2011. Similarly, Indian imports decreased sharply last month, highlighting the weakness in demand. The sluggishness in the economy would force RBI to continue easing the monetary policy. We expect Indian Rupee to come under downward pressure, especially since the FED has confirmed a pause to the rate cuts. The short duration Indian Govt and local currency corporate bonds should benefit from these anticipated rate cuts.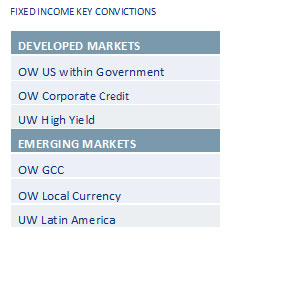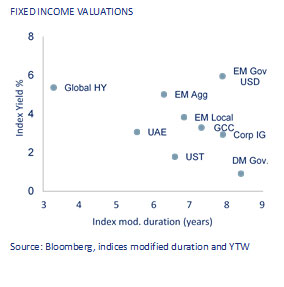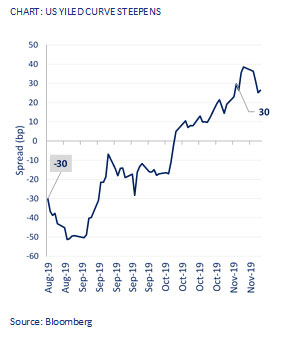 Equity Update
A good week and a good year (so far) for equity markets. Saudi Aramco has announced its pricing and will join the ranks of other trillion dollar companies – Apple and Microsoft. US equities continue to make new highs with several consecutive weeks of gains, with the S&P 500 at 3120, the Dow at 28004 and the Nasdaq at 8540. In trade, sentiment improved after economic advisor Larry Kudlow said that "both sides are close to an agreement". Buybacks are at record highs in the US, the 6th highest week of buybacks on record. Earnings deceleration does not seem to be impacting the market, but 2020 revisions will be watched carefully. We have not revised our year end fair value for the S&P 500 upwards from 2900, though we expect supportive monetary policy and earnings stabilization to hold the Index steady.
At the global sector level, healthcare continues its breakout, +1.8% for the week and +17% year to date. Technology is now +40% year to date, almost double that of any other sector. The FAANG's are making new records, backed by stellar earnings. Google announced a foray into financial services, following Apple's foray into cards. Netflix is seeing strong competition from Apple TV+ and Disney+.
We confirm our overweight stance on emerging Asia, as we see signs of the trade tariff deescalating. Economic growth whilst slowing is still the highest contributor to world growth, with India and China the major contributors. The US Dollar should stabilize and the week ending 13 Nov saw EM equity funds (ex-China A) reporting inflows of US$2.88bn, driven by inflows into ETF funds of US$2.61bn. EM Asia valuations are attractive at 14.6 X Forward price/ Earnings compared to the US at 19.1X, historically almost the highest differential on record. Consumer growth remains strong – Alibaba's China's singles day recorded US$38 bn of sales +26% y/y. We see an emergence of strong regional Asian tech companies (Samsung and TSMC). Alibaba is scheduled for an IPO in Hong Kong in November, to reduce dependence on the US.
We move from an overweight stance on India to Neutral. This has been one of our favored geographies since PM Modi came to power in May 2014 and Indian equities have returned +44% (in USD) since then, double that of emerging markets. We are worried about Non-Banking Financial Corporations, after years of outgrowing banks on credit growth and profitability, defaults have risen. Our preferred consumer durables sector valuations is at all-time highs. Auto sector sales are facing a cyclical downturn. The long term secular story seems to be interspersed with volatility.
We shift from an Overweight position on the UAE to Neutral. Whilst UAE markets remain undervalued and are trading at 7.4 X Forward price/ Earnings compared to EM at 13.7x and GCC at 12X, the low volumes do not indicate a near term pick up.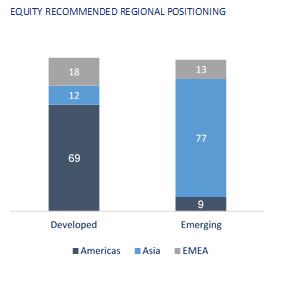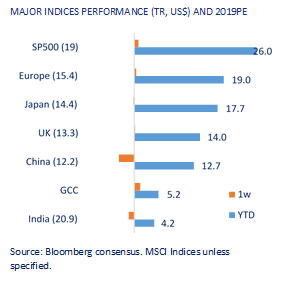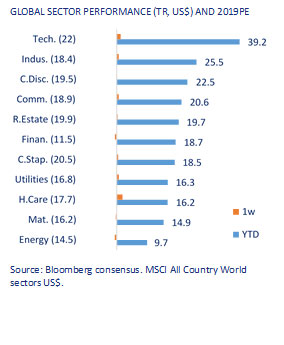 Written By:
Maurice Gravier
Chief Investment Officer,
MauriceG@EmiratesNBD.com
Anita Gupta
Head of Equity Strategy,
Anitag@EmiratesNBD.com
Yahya Sultan
Head of Fixed Income Strategy,
YahyaS@EmiratesNBD.com
Giorgio Borelli
Head of Asset Allocation,
GiorgioB@EmiratesNBD.com
Disclaimer

Emirates NBD Bank PJSC ("Emirates NBD") is licensed and regulated by the UAE Central Bank and this website aims at providing Internet users with information concerning Emirates NBD Private Banking, its products and activities. Persons having access to information made available by Emirates NBD on this website accept the following rules:

Reliance:
Emirates NBD uses reasonable efforts to obtain information from sources which it believes to be reliable, however Emirates NBD makes no representation that the information or opinions contained in publications on this website are accurate, reliable or complete. Published information may include data/information from stock exchanges and other sources from around the world and Emirates NBD does not guarantee the sequence, accuracy, completeness, or timeliness of information contained on this website provided thereto by unaffiliated third parties. Anyone proposing to rely on or use the information contained on this website should independently verify and check the accuracy, completeness, reliability and suitability of the information and should obtain independent and specific advice from appropriate professionals or experts. Further, references to any financial instrument or investment product are not intended to imply that an actual trading market exists for such instrument or product. Emirates NBD is not acting in the capacity of a fiduciary or financial advisor. Any publications on this website are provided for informational purposes only and are not intended for trading purposes. Data/information provided herein is intended to serve for illustrative purposes and is not designed to initiate or conclude any transaction. The information available on this website is not intended for use by, or distribution to, any person or entity in any jurisdiction or country where such use or distribution would be contrary to law or regulation. This website and anything contained herein, is provided "as is" and "as available," and that Emirates NBD makes no warranty of any kind, express or implied, as to this website, including, but not limited to, merchantability, non-infringement, title, or fitness for a particular purpose or use.

Modifications:
The provision of certain data/information on this website is subject to the terms and conditions of other agreements to which Emirates NBD is a party. Emirates NBD reserves the right to make changes and additions to the information provided at any time without prior notice. The information may be modified or removed without prior notice. No buy or sell orders submitted via the internet or email will be accepted. In addition, the data/information contained on this website is prepared as of a particular date and time and will not reflect subsequent changes in the market or changes in any other factors relevant to the determination of whether a particular investment activity is advisable.

Liability:
Information contained on this website is believed by Emirates NBD to be accurate and true, in all material respects. Emirates NBD accepts no responsibility whatsoever for any loss or damage caused by any act or omission taken as a result of the information contained on this website. Further Emirates NBD accepts no liability for the information and opinions published on the website and is under no obligation to remove outdated information from its website or to mark it clearly as such. The information given on this website may not be distributed or forwarded in whole or in part. Accordingly, anything to the contrary herein set forth notwithstanding, Emirates NBD, its suppliers, agents, directors, officers, employees, representatives, successors, assigns, affiliates or subsidiaries shall not, directly or indirectly, be liable, in any way, to you or any other person for any: (a) inaccuracies or errors in or omissions from the information available on this website including, but not limited to, quotes and financial data; or (b) loss or damage arising from the use of this publication, including, but not limited to any investment decision occasioned thereby. or (c) under no circumstances, including but not limited to negligence, shall Emirates NBD, its suppliers, agents, directors, officers, employees, representatives, successors, assigns, affiliates or subsidiaries be liable to you for direct, indirect, incidental, consequential, special, punitive, or exemplary damages even if Emirates NBD has been advised specifically of the possibility of such damages, arising from the use of the information on this website, including but not limited to, loss of revenue, opportunity, or anticipated profits or lost business. Emirates NBD expressly accepts no liability for losses or damages of any kind arising from using or accessing this website or links to third-party websites or from viewing information on any of its web pages. Furthermore, Emirates NBD accepts no liability for any unauthorized manipulation of users IT systems. Emirates NBD expressly draws user's attention to the risk of viruses and the threat of hacker attacks

Third Party Website:
Users may be aware that Emirates NBD has no control whatsoever over third-party websites linked to or from this website and therefore accepts no liability for the content of such websites being correct, complete and legally valid for the products and services offered on such websites. Emirates NBD's express written permission must always be sought before including a link to this website on a third-party website.

Solicitation:
None of the information on this website in any way constitutes a solicitation, offer, opinion, or recommendation by Emirates NBD to buy or sell any security, or to provide legal, tax, accounting, or investment advice or services regarding the profitability or suitability of any security or investment.

Forward Looking:
The information contained on this website does not purport to contain all matters relevant to any particular investment or financial instrument and all statements as to future matters are not guaranteed to be accurate. Certain matters in this publication on the website are about the future performance of Emirates NBD or members of its group (the Group), including without limitation, future revenues, earnings, strategies, prospects and all other statements that are not purely historical, constitute "forward-looking statements". Such forward-looking statements are based on current expectations or beliefs, as well as assumptions about future events, made from information currently available. Forward-looking statements often use words such as "anticipate", "target", "expect", "estimate", "intend", "plan", "goal", "seek", "believe", "will", "may", "should", "would", "could" or other words of similar meaning. Undue reliance should not be placed on any such statements in making an investment decision, as forward-looking statements, by their nature, are subject to known and unknown risks and uncertainties that could cause actual results, as well as the Group's plans and objectives, to differ materially from those expressed or implied in the forward-looking statements. Past performance is not necessarily a guide to future performance. Estimates of future performance are based on assumptions that may not be realized.

Risk: In addition, before entering into any transaction, the risks should be fully understood and a determination made as to whether a transaction is appropriate given the person's investment objectives, financial and operational resources, experiences and other relevant circumstances. The obligations relating to a particular transaction (and contractual relationship) including, without limitation, the nature and extent of their exposure to risk should be known as well as any regulatory requirements and restrictions applicable thereto. Data included on this website may rely on models that do not reflect or take into account all potentially significant factors such as market risk, liquidity risk, and credit risk. Emirates NBD may use different models, make valuation adjustments, or use different methodologies when determining prices at which Emirates NBD is willing to trade financial instruments and/or when valuing its own inventory positions for its books and records.

Investment in financial instruments involves risks and returns may vary. Before making such an investment, investors should consult their advisers on the legal, regulatory, tax, business, investment, financial and accounting implications of the investment.

Intellectual property:
The information on this website has been developed, compiled, prepared, revised, selected, and arranged by Emirates NBD and others (including certain other information sources) through the application of methods and standards of judgment developed and applied through the expenditure of substantial time, effort, and money and constitutes valuable intellectual property of Emirates NBD and all present and future rights in and to trade secrets, patents, copyrights, trademarks, service marks, know-how, and other proprietary rights of any type under the laws of any governmental authority, domestic or foreign, shall at all times be and remain the sole and exclusive property of Emirates NBD and/or other lawful parties and you acknowledge that you have no ownership rights in and to any of such items. Except as specifically permitted in writing, the information provided in this website shall not be copied or make any use of any information on this website or any portion of the intellectual property rights connected with this website, or the names of any individual participant in, or contributor to, the content of this website, or any variations or derivatives thereof, for any purpose. Further you shall not use any of the trademarks, trade names, service marks, copyrights, or logos of Emirates NBD or its subsidiaries in any manner which creates the impression that such items belong to or are associated with you or, except as otherwise provided with Emirates NBD's prior written consent,

Confidentiality:
The information on this website solely for non-commercial use and benefit and the use of this information is not intended for resale or other transfer or disposition to, or use by or for the benefit of, any other person or entity. Information contained in this website shall not be used, transferred, distributed, reproduced, published, displayed, modified, create derivative works from any data contained on this website or disposed of in any manner that could compete with the business interests of Emirates NBD. Any part of this website may not be offered for sale or distribute it over any medium including but not limited to over-the-air television or radio broadcast, a computer network or hyperlink framing on the internet without the prior written consent of Emirates NBD. The information contained on this website may not be used to construct a database of any kind. The data on this website shall not be used in any way to improve the quality of any data sold or contributed by you to any third party.

Recipient Acknowledgements
In accessing this website, you acknowledge and agree that there are risks associated with investment activities. Moreover, you agree that your use of this publication is at your sole risk and acknowledge that the responsibility to obtain and carefully read and understand the content of documents relating to any investment activity described on this website and to seek separate, independent financial advice if required to assess whether a particular investment activity described herein is suitable, lies exclusively with you.