Goldilocks again?
Chief Investment Officer's team, 28.04.2019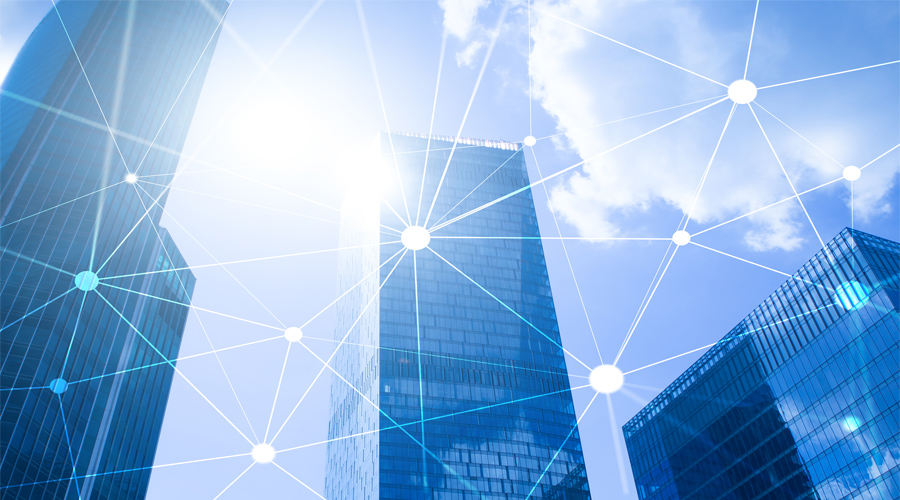 AT A GLANCE
Global economy is healthy, driven by the US and China
Inflation remains contained, supporting the case for extended patience from Central Banks
As investors sentiment is still far from euphoria, we remain invested, looking for valuation bargains
Last week, the superheroes from "Avengers: Endgame" broke all previous box office records, and so did their financial equivalents, the S&P500 and the Nasdaq, printing fresh all-time highs. The weekly performance numbers were not that epic, but the Year-to-date numbers are impressive: +12 to 16% for equities and real estate, +4 to 7% for the riskiest segments of fixed income, and every single major asset class in the green.
There have been three phases in the rally. The first one was a normalization of excessive pessimism. The second one was an immediate reaction to the US Fed turning explicitly dovish. The third one, which we currently enjoy, is the combination of an overall light positioning from investors, with a stream of converging facts and hopes. Facts: the US and China are doing well, lifting the global economy, and there is no pick-up in core inflation globally. Hopes: the same US and China will reach a deal on trade, and the rest of the world might recover from the recent economic soft patch.
This context would support other weeks of low volatility and gentle positive returns. The only issue is valuation. It is fundamentally a very serious one, but the near term consequence appears to be a cap on potential upside rather than an outright risk of imminent correction. We solve the dilemma between momentum and valuation by staying invested, but favoring more than ever Emerging Markets and keeping cash and gold on the side.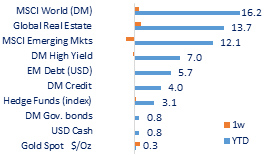 Cross-asset considerations
'Stable, or somewhat higher', this could be a quick but effective way to put across how we feel about the upside left in some asset classes in the short term. It applies in particular to the US dollar, crude oil and gold prices for very different reasons.
The US dollar has continued to defy gravity and traded close to its highs for the year on a broad trade-weighted basis. Our expectations that stabilizing growth in Europe would help the common area currency strengthen at least modestly were disappointed after the release of a below-consensus IFO in Germany and weaker consumer confidence. EM currencies have also made new lows for the year against the dollar, in general due to a dovish feedback to global central banks from the recent Fed pivot, which saw EM policy rates trend lower.
Yet, upside for the dollar should be modest, as the combined effect of China stimulus and supportive policy rates across developing countries drive the EM-DM growth differential wider. Also, in the second half of the year the bounce in the European economy should gain some momentum and breathe a bit of life in the euro. For the time being, Q1 growth rates in Europe forecast at above 1.5% appear unsustainable, as the latest business surveys point to a more modest 1% for the current quarter. Concerns about a pause in the stimulus drive in China are also constraining EM Forex upside. So, the dollar has still room to move somewhat higher before pulling back as non-US growth consolidates.
Crude prices traded close to 6-month highs to retreat and close around $72/bbl for the week. Geopolitical tensions in Venezuela, Libya and Iran played a role, alongside OPEC's determination to limit production and possibly lock prices in the $70-80/bbl range. This could represent 'Goldilocks' levels, both globally and for the major GCC producers. According to some studies, crude prices up to $80/bbl should not be stoking inflation in the US above consensus forecasts, causing little reason for concern about consumer demand disruption. At the same time, the lifting of US waivers on crude imports from Iran on May 2nd would bring about tighter market conditions, leaving room for Saudi Arabia to increase output and stave off excessive price pressures. 'Stable, or somewhat higher', seems to apply to the crude market too.
The next Fed meeting is slated for May 1st and, although no interest rate decision is expected, Mr Powell is likely to be questioned about a possible rate cut following Friday's disappointing inflation release. Real rates are close to this years' lows and could grind even lower as investors discount a market-friendlier Fed. Gold should react positively, continuing the rebound which started late last week. Yet, upside seems to be capped, since one full rate cut in the next 12 months cut is priced-in by futures. We think that Mr Powell will rather stay on hold to keep some powder dry for rainy days.
Tactical Asset Allocation: simplified positioning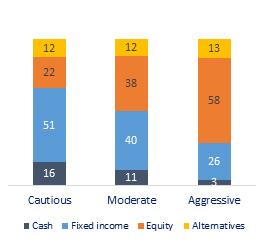 TAA – relative positioning – moderate profile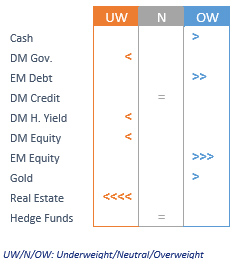 TAA – YTD indicative performance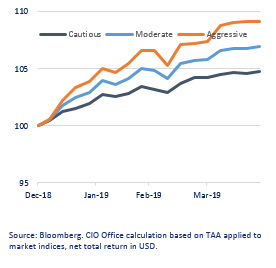 Fixed Income Update
Growth momentum is supportive. The US GDP came in stronger than expected with a 3.2% annualized growth rate in Q1. The strong reading supports the continuity of one of the longest economic expansions on record. Dissecting the report, one key inflation measure (PCE) dropped to 1.30% in the quarter, from 1.80% which prompted a sharp rally on the US Treasuries. This week would remain key for financial markets as the Fed's policy decision and press conference is due on Wednesday. Moreover, investors would also pay a close watch to the Treasury's refunding announcement as well as payrolls report which is due on Friday.
EM worries resurfaces. Deja vu…
Emerging markets debt performance was mixed on the back of concerns surrounding Argentina and Turkey. The five-year credit default swaps on Argentina and Turkey soared to new YTD highs of 1214bp and 460bp respectively. On the broader EM index, the longer-dated and lower rated credits performed well, but underperformance in Argentina and volatility in Turkey capped overall return. Broadly EM high-yielding corporates and Sovereigns outperformed those on the investment-grade sector. EM credit indices have also widened to 194bp (CDX EM).
The higher the S&P, the tighter credit spreads. The S&P 500 is at all times high, which has supported a strong spread compression on the US corporate bond markets. Both IG and HY have staged a strong comeback with spreads now at 110bp and 359bp respectively. We keep a close watch on the volatility front (VIX) given the nudge higher in the last few trading sessions to 13.25 for any early signs towards investor risk appetite. The Fed funds futures are now pointing that the central bank's benchmark will fall to 2.18% by the end of 2019, more than a quarter point below the current fed effective rate. The US 10-year Treasuries has rallied pushing yields below the 2.50% - a strong reflection from the recent quarterly change in the price of Personal Consumption Expenditures (PCE).
Russian policymakers hold their dovish stance – policy rate cut imminent. The Central Bank of Russia kept its key interest rate on hold at 7.75% at its April MPC meeting, with a dovish message, backed by inflation numbers consistently surprising on the downside and driving expectations lower. Policymakers state that "short-term pro-inflationary risks have abated" but also acknowledges the risks stemming from unanchored inflation expectations and geopolitical factors. CBR now "admits the possibility of turning to cutting the key rate in Q2-Q3 2019".
The Bank of Japan cut bond purchases for the first time in two months. Last Friday, the BOJ offered to buy 160 billion yen ($1.4 billion) of 10-25 years duration bonds, versus 180 billion yen previously. It also lowered purchases of longer duration bonds to 40 billion yen, from 50 billion yen at the last operation. The BOJ's board is scheduled to meet April 24-25 for their MPC.
Fixed Income key convictions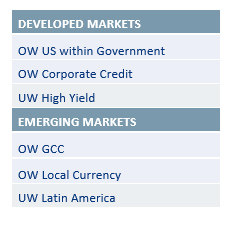 Fixed Income valuations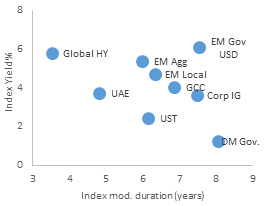 Chart of the week: Five-year credit default swaps of Argentina and Turkey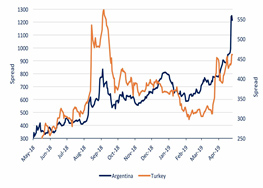 Equity Update
UAE markets are catching up with global performance, with the Dubai Index (total return) up 13.7% and the Abu Dhabi Index up 14.5% year to date. Banking consolidation has boosted the UAE financial sector, as have the high dividend yields of 5-6%. The recent move to 100% freehold in some Abu Dhabi developments have given a fillip to the real estate companies there. The Tadawul (Saudi) index is +20.4% year to date. MSCI will add Saudi stocks to its Emerging Markets Index at the end of May, and in August. Other indices have already started, but MSCI is the most important with c. $14 trillion of assets tracking it. Saudi stocks will be bought by passive funds but also potentially by the 115 actively managed mutual funds that use the index as a benchmark. This should boost foreign participation in the KSA. MSCI will add 69 stocks with a total market capitalization of $84 billion—roughly 15% of the $530 billion Saudi market. The KSA will make up almost 3% of the MSCI EM Index, on par with Malaysia and Indonesia. The KSA market is heavily skewed towards two sectors— banks and petrochemicals. New listings in the retail and consumer sector will help diversify it.
The S&P500 and NASDAQ made new all-time highs this week, with the US markets marginally outperforming other key global markets. This week's record levels leave the S&P up 18% for the year, and the NASDAQ up nearly 23% (total return). Earnings are strong, buybacks are growing, economic growth is improving, auto tariffs are not on the cards right now and a China US trade deal seems imminent. The Q1 US GDP printed strong on growth but soft on inflation. Within sectors, tech and healthcare were the key outperformers in the US while semis, cap goods, energy and transport under performed. Healthcare was helped in part by Mr Biden's entry into the US presidential race, alleviating to some part the concerns around increased regulation. The major Eurozone indices ended unchanged with underperformance in the cyclical sectors while defensive sectors fared better. Mainland China markets had negative returns last week on worries the government will begin dialing back stimulus in light of improved growth. However, there is clear improvement in Chinese activity momentum reflected in the strong PMI prints and better credit data.
Positioning levels aren't elevated. The Q1 season in aggregate can be classified as strong and is unfolding better than expected though 2019 consensus hasn't been rerated upwards. Initial results point to a positive earnings surprise in both the US and in Europe, to the tune of 5% and 2%, respectively. Almost 50% (230) of the companies in the SPX have reported earnings and 77% are beating EPS expectations by an average of 5%. Stellar results included Facebook, which grew users and advertising revenue, Microsoft, which grew its Azure cloud services and hit the $ 1 trillion mark on market cap and Amazon which doubled profits. The qualitative tone from the banks has also generally been encouraging. Our year-end fair values are admittedly tame relative to current levels given this year's extraordinary moves.
Equity recommended regional positioning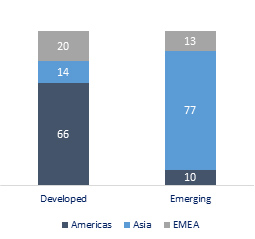 Major indices performance (TR, US$) and 2019PE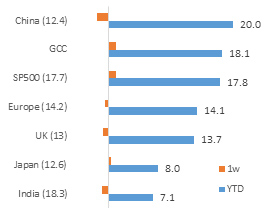 Global sector performance (TR, US$) and 2019PE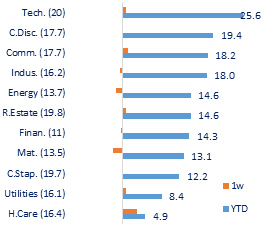 Written By:
Maurice Gravier
Chief Investment Officer,
MauriceG@EmiratesNBD.com
Anita Gupta
Head of Equity Strategy,
Anitag@EmiratesNBD.com
Yahya Sultan
Head of Fixed Income Strategy,
YahyaS@EmiratesNBD.com
Giorgio Borelli
Head of Asset Allocation,
GiorgioB@EmiratesNBD.com
Disclaimer

Emirates NBD Bank PJSC ("Emirates NBD") is licensed and regulated by the UAE Central Bank and this website aims at providing Internet users with information concerning Emirates NBD Private Banking, its products and activities. Persons having access to information made available by Emirates NBD on this website accept the following rules:

Reliance:
Emirates NBD uses reasonable efforts to obtain information from sources which it believes to be reliable, however Emirates NBD makes no representation that the information or opinions contained in publications on this website are accurate, reliable or complete. Published information may include data/information from stock exchanges and other sources from around the world and Emirates NBD does not guarantee the sequence, accuracy, completeness, or timeliness of information contained on this website provided thereto by unaffiliated third parties. Anyone proposing to rely on or use the information contained on this website should independently verify and check the accuracy, completeness, reliability and suitability of the information and should obtain independent and specific advice from appropriate professionals or experts. Further, references to any financial instrument or investment product are not intended to imply that an actual trading market exists for such instrument or product. Emirates NBD is not acting in the capacity of a fiduciary or financial advisor. Any publications on this website are provided for informational purposes only and are not intended for trading purposes. Data/information provided herein is intended to serve for illustrative purposes and is not designed to initiate or conclude any transaction. The information available on this website is not intended for use by, or distribution to, any person or entity in any jurisdiction or country where such use or distribution would be contrary to law or regulation. This website and anything contained herein, is provided "as is" and "as available," and that Emirates NBD makes no warranty of any kind, express or implied, as to this website, including, but not limited to, merchantability, non-infringement, title, or fitness for a particular purpose or use.

Modifications:
The provision of certain data/information on this website is subject to the terms and conditions of other agreements to which Emirates NBD is a party. Emirates NBD reserves the right to make changes and additions to the information provided at any time without prior notice. The information may be modified or removed without prior notice. No buy or sell orders submitted via the internet or email will be accepted. In addition, the data/information contained on this website is prepared as of a particular date and time and will not reflect subsequent changes in the market or changes in any other factors relevant to the determination of whether a particular investment activity is advisable.

Liability:
Information contained on this website is believed by Emirates NBD to be accurate and true, in all material respects. Emirates NBD accepts no responsibility whatsoever for any loss or damage caused by any act or omission taken as a result of the information contained on this website. Further Emirates NBD accepts no liability for the information and opinions published on the website and is under no obligation to remove outdated information from its website or to mark it clearly as such. The information given on this website may not be distributed or forwarded in whole or in part. Accordingly, anything to the contrary herein set forth notwithstanding, Emirates NBD, its suppliers, agents, directors, officers, employees, representatives, successors, assigns, affiliates or subsidiaries shall not, directly or indirectly, be liable, in any way, to you or any other person for any: (a) inaccuracies or errors in or omissions from the information available on this website including, but not limited to, quotes and financial data; or (b) loss or damage arising from the use of this publication, including, but not limited to any investment decision occasioned thereby. or (c) under no circumstances, including but not limited to negligence, shall Emirates NBD, its suppliers, agents, directors, officers, employees, representatives, successors, assigns, affiliates or subsidiaries be liable to you for direct, indirect, incidental, consequential, special, punitive, or exemplary damages even if Emirates NBD has been advised specifically of the possibility of such damages, arising from the use of the information on this website, including but not limited to, loss of revenue, opportunity, or anticipated profits or lost business. Emirates NBD expressly accepts no liability for losses or damages of any kind arising from using or accessing this website or links to third-party websites or from viewing information on any of its web pages. Furthermore, Emirates NBD accepts no liability for any unauthorized manipulation of users IT systems. Emirates NBD expressly draws user's attention to the risk of viruses and the threat of hacker attacks

Third Party Website:
Users may be aware that Emirates NBD has no control whatsoever over third-party websites linked to or from this website and therefore accepts no liability for the content of such websites being correct, complete and legally valid for the products and services offered on such websites. Emirates NBD's express written permission must always be sought before including a link to this website on a third-party website.

Solicitation:
None of the information on this website in any way constitutes a solicitation, offer, opinion, or recommendation by Emirates NBD to buy or sell any security, or to provide legal, tax, accounting, or investment advice or services regarding the profitability or suitability of any security or investment.

Forward Looking:
The information contained on this website does not purport to contain all matters relevant to any particular investment or financial instrument and all statements as to future matters are not guaranteed to be accurate. Certain matters in this publication on the website are about the future performance of Emirates NBD or members of its group (the Group), including without limitation, future revenues, earnings, strategies, prospects and all other statements that are not purely historical, constitute "forward-looking statements". Such forward-looking statements are based on current expectations or beliefs, as well as assumptions about future events, made from information currently available. Forward-looking statements often use words such as "anticipate", "target", "expect", "estimate", "intend", "plan", "goal", "seek", "believe", "will", "may", "should", "would", "could" or other words of similar meaning. Undue reliance should not be placed on any such statements in making an investment decision, as forward-looking statements, by their nature, are subject to known and unknown risks and uncertainties that could cause actual results, as well as the Group's plans and objectives, to differ materially from those expressed or implied in the forward-looking statements. Past performance is not necessarily a guide to future performance. Estimates of future performance are based on assumptions that may not be realized.

Risk: In addition, before entering into any transaction, the risks should be fully understood and a determination made as to whether a transaction is appropriate given the person's investment objectives, financial and operational resources, experiences and other relevant circumstances. The obligations relating to a particular transaction (and contractual relationship) including, without limitation, the nature and extent of their exposure to risk should be known as well as any regulatory requirements and restrictions applicable thereto. Data included on this website may rely on models that do not reflect or take into account all potentially significant factors such as market risk, liquidity risk, and credit risk. Emirates NBD may use different models, make valuation adjustments, or use different methodologies when determining prices at which Emirates NBD is willing to trade financial instruments and/or when valuing its own inventory positions for its books and records.

Investment in financial instruments involves risks and returns may vary. Before making such an investment, investors should consult their advisers on the legal, regulatory, tax, business, investment, financial and accounting implications of the investment.

Intellectual property:
The information on this website has been developed, compiled, prepared, revised, selected, and arranged by Emirates NBD and others (including certain other information sources) through the application of methods and standards of judgment developed and applied through the expenditure of substantial time, effort, and money and constitutes valuable intellectual property of Emirates NBD and all present and future rights in and to trade secrets, patents, copyrights, trademarks, service marks, know-how, and other proprietary rights of any type under the laws of any governmental authority, domestic or foreign, shall at all times be and remain the sole and exclusive property of Emirates NBD and/or other lawful parties and you acknowledge that you have no ownership rights in and to any of such items. Except as specifically permitted in writing, the information provided in this website shall not be copied or make any use of any information on this website or any portion of the intellectual property rights connected with this website, or the names of any individual participant in, or contributor to, the content of this website, or any variations or derivatives thereof, for any purpose. Further you shall not use any of the trademarks, trade names, service marks, copyrights, or logos of Emirates NBD or its subsidiaries in any manner which creates the impression that such items belong to or are associated with you or, except as otherwise provided with Emirates NBD's prior written consent,

Confidentiality:
The information on this website solely for non-commercial use and benefit and the use of this information is not intended for resale or other transfer or disposition to, or use by or for the benefit of, any other person or entity. Information contained in this website shall not be used, transferred, distributed, reproduced, published, displayed, modified, create derivative works from any data contained on this website or disposed of in any manner that could compete with the business interests of Emirates NBD. Any part of this website may not be offered for sale or distribute it over any medium including but not limited to over-the-air television or radio broadcast, a computer network or hyperlink framing on the internet without the prior written consent of Emirates NBD. The information contained on this website may not be used to construct a database of any kind. The data on this website shall not be used in any way to improve the quality of any data sold or contributed by you to any third party.

Recipient Acknowledgements
In accessing this website, you acknowledge and agree that there are risks associated with investment activities. Moreover, you agree that your use of this publication is at your sole risk and acknowledge that the responsibility to obtain and carefully read and understand the content of documents relating to any investment activity described on this website and to seek separate, independent financial advice if required to assess whether a particular investment activity described herein is suitable, lies exclusively with you.