Facing the wall of worry
Chief Investment Officer's team, 08.09.2019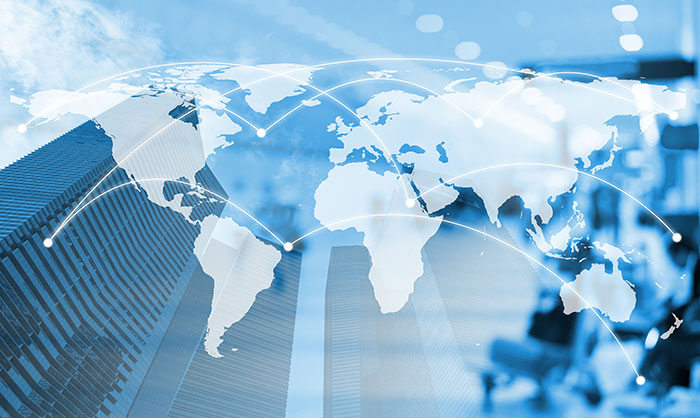 AT A GLANCE
Markets were slightly positive last week, with risk assets showing some optimism
The Brexit saga intensified, data confirmed a global slowdown, but US and China are set to talk again
China is stimulating its economy, and the ECB is expected to ease later this week
Financial markets are currently driven by three deeply interlinked factors: political risk, leading to lower growth expectations, leading to hopes for policy response.
If anything, political risk has very modestly improved last week. The UK is far from having solved its Brexit headache, but should at least avoid the imminent chaos of exiting the EU without a deal at the end of October. On the trade front, the US and China have set-up another round of negotiations. We don't expect any material improvement from the meetings in Washington but a dialogue is obviously better than a tweetstorm. As regards the economy, the latest data in the US confirmed a weak manufacturing sector, but also resilient services. Wage progression in America was steady enough to support consumption, the bedrock of its GDP, but job creation was below expectations, justifying another rate cut from the Fed. The rest of the world follows: China is cutting its Reserve Requirement Ratio and increasing government spending, and the ECB should announce a package or monetary easing on Wednesday.
Let us be clear: there is nothing to be excited about, but the 2% gain in global equities last week only demonstrates that investors are not positioned for any good news. Under a scenario of tepid but resilient growth with reasonable monetary easing, there might be downside risk in some of the most over-owned and over-priced defensive assets, and maybe some opportunities in carefully selected cyclical assets.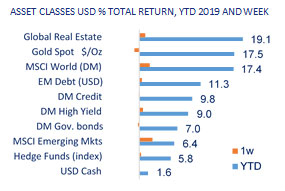 Cross-asset considerations
Jerome Powell delivered a remarkable speech Friday in Zurich. He stated both the expected, by saying that the Fed is ready to "act as appropriate to sustain this expansion", and the unexpected, by touching upon a topic Fed chairs are usually keen to avoid and expressing the view that a recession is not in the offing.
We have already mentioned in this publication that policy stimulus and a strong US labor market still contain the damage inflicted by the manufacturing slump and while the current slowdown could spill over into a recession, business is unlikely to overreact given favorable credit conditions. The implicit assumption here is that the trade war won't blow out of proportion, although trade is not the only transmission channel which could tip the global economy in contraction territory.
Excessive US corporate leverage is another notable vulnerability in this regard, which has been growing steadily since the end of the Great Financial Crisis in keeping with expanding monetary support. Since what is important is the ability of companies to service their debt, the current ratio of financial interest expenses to profits, at about 30% as per Bloomberg data, is not worrying for US corporates, as compared to past peaks of above 50% which preceded some of the last recessions. Bloomberg economists reckon, by linearly extrapolating current indebtedness trends of US business, that a tipping point could be reached in 2022, thus identifying that year as a possible candidate for hosting a recession.
Economies and especially imbalances do not tend to operate in a linear fashion, hence it might as well be that worse comes to worst sometime earlier. Another leading indicator of such crunch times is the yield curve, which in the US tends to lead equity market volatility by roughly two years. The reasoning behind this is that the flattening of the curve, when longer-dated yields drop faster than shorter-dated ones, points to slowdown phases and historically it has taken more or less two years of flattening for the cumulative slowdown to trigger a recession-like spike in US equity volatility. This would leave us with the year 2021 as a potential US recession time.
If, as far as we can tell, we would tend to rule out major trouble in the next 12 months, what about the shorter term? Markets seem to be in risk-on mood again, celebrating the defusing of trade tensions represented by the expected meeting of President Trump and President Xi in Washington early in October. This, alongside the widely anticipated rate cut to be delivered by the Fed at the 18 September meeting, is good news and enough to keep the rebound going against the backdrop of lower summer liquidity and extremely defensive positioning. Upside should anyway be capped until the global economy turns and trade negotiations produce more than vague verbal commitments.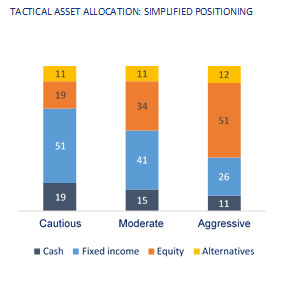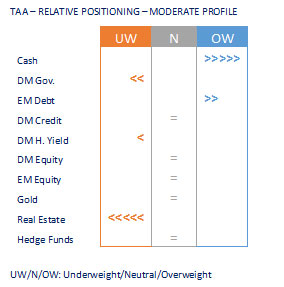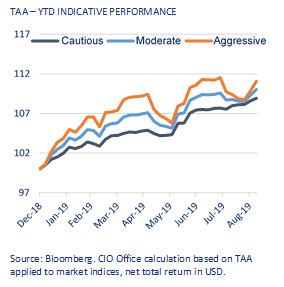 Fixed Income Update
September started with a better tone, with bond yields backing up to the upper-bound of the trading range to 1.59% supported by a risk-on sentiment backdrop. That said, economic data out of the US remains a worry with manufacturing confirming weakness, compared to a robust services sector.
The People's Bank of China lowered the reserve requirement ratio (RRR) by 50 basis points with effect from 16 September for all financial institutions (excluding financial leasing companies). An additional targeted reduction of 100 bps to support lending to small and micro-sized enterprises and private-sector firms is targeted for city commercial banks (CCBs) operating within their provincial-level administrative regions. This additional boost for CCBs will be accomplished in two steps; (1) 50bp on October 15th and another 50bp one month later. The cumulative effect of the cuts is expected to inject about RMB900bn in long-term funds as efforts to stimulate economic activity. The recent move is the third response by PBOC in a move to ensure liquidity ease as the economy slows.
The Institute for Supply Management's manufacturing PMI index fell to 49.1 in August, below all major forecasts contracting and raising anxiety concerns on the underlying economy. Although manufacturing only makes up about 11% of the US economy, the macro backdrop remains on the helm of the ongoing trade spat with China, which could result in broader ramifications for the economy. That said, its equivalent for services, the ISM non-manufacturing index, printed an impressive 56.4 number in August, better than both the 53.7 of July and the consensus expectation of 54.
The Central Bank of Russia cut its benchmark interest rate by 25bp to 7.00%, as widely expected. The Bank also hinted that there could be more to come. The CBR noted that the downtrend in inflation remains well in place, despite high expectations, and lowered its forecast to 4.0%-4.5% (from 4.2%-4.7%). This compares with a policy target of 4.0%. The CBR also acknowledged that the economic activity is running below expectations and that uncertainty over global growth has increased. Against this backdrop, the CBR now sees the economy expanding 0.8%-1.3% in 2019 (from 1.0%-1.5%), and it did not rule out extra rate cuts in the upcoming meetings. Local currency 10Y bonds have enjoyed a good run YTD with yields losing 150bps to around 7% currently, while Eurobonds have strengthened by 168bp to yield 3.27% on the ten-year maturity.
On the primary issuance front, the borrowing binge continues globally. The US corporate bond market is expected to price over $74bn of new debt this week led by Apple. Asian bond markets had a busy start for September with several new transactions being priced successfully. Corporates now are by and large refinancing their debt due for redemption rather than using sale proceeds for new projects. In the GCC, Bank of Sharjah and Emaar Properties are expected to raise benchmark US-Dollar debt across five and 10-year maturities.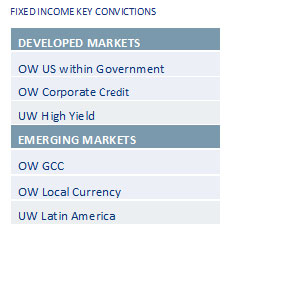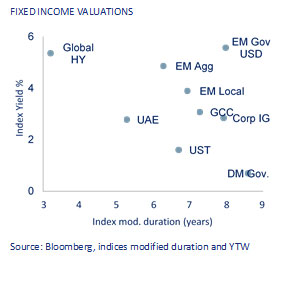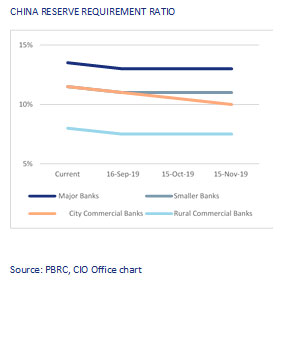 Equity Update
Global equities performed strongly last week with an average 2% gain in US Dollar for global indices. Emerging Markets outperformed their Developed peers with a 2.4% return in USD, led by China at +3.3%. Chinese equities benefitted from the combination of another round of stimulus measure, with an attractive valuation at 12.4 times forward 12 months PE. Developed Markets were up 1.9% in USD. Cyclicals led the rally in all regions. In Europe, Autos and Banks were interestingly the best performing sectors, from extreme oversold levels.
In the US, the S&P 500 ended the week within 2% of its all-time high. Defensive sectors lagged, reversing so far the trend of August, whilst weekly gains for Information Technology and Consumer Discretionary were strong at respectively +2.4% and +2.6%. In our sector model portfolio, we have started to reduce cyclical sectors to add to consumer and healthcare.
Within GCC, based on valuation, we prefer the UAE to Saudi Arabia where we are getting increasingly selective. By comparison, the 12 months forward P/E of the KSA market is at 16, while the Dubai DFM index is at 7.7. The Dubai Index rallied 5% last week, lifting its 2019 total return to +19%. Real Estate companies rebounded from oversold levels, and more recently, the decision from Emirates NBD to increase its Foreign Ownership Limit benefitted its stock price. In the UAE we continue to like the logistics, banks and healthcare sectors.
We currently await catalysts In Saudi Arabia to rethink positioning, as oil prices have fallen and the consumer sector has been under pressure on weak spending. As per media reports, Saudi Aramco has revived plans to sell 5% of its stock, aimed at funding Saudi Arabia's efforts to diversify its economy beyond oil. Both domestic and international investors would have access to the stock in a domestic listing. Saudi Aramco is considering splitting its IPO into two stages, debuting a portion of its shares on the Saudi stock exchange (Tadawul) later this year and following up with an international offering in 2020 or 2021, and is even considering Tokyo as the venue for the second phase of its proposed plan. A number of options are being considered, and no final decisions have been made on the structure of the deal.
We have not been advocators of investing in the "gig" or shared economy companies as they have gone public at lofty valuations. Whist they hold value as they have large consumer bases and data on the spending patterns, which allows them to cross sell, they are years away from turning profitable. The exponential growth which was visible at the time of their IPOs, cannot continue forever as new regional incumbents pop up. Ride sharing companies Lyft and Uber are trading well below the levels they listed at IPO. They have been unable to penetrate the China market with Didi Chuxing, the leader and in India, Ola holds a large market share. In the shared hospitality space, an Indian company Oyo Rooms, a fast-growing hotel franchise, has raised more than $100 mn from Airbnb, and earlier from Softbank, Grab and Didi. Oyo has become the world's most rapidly expanding hotel chain, adding more than 700 properties each month and is valued close to $10 bn.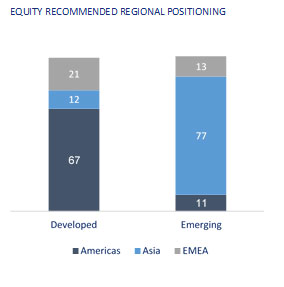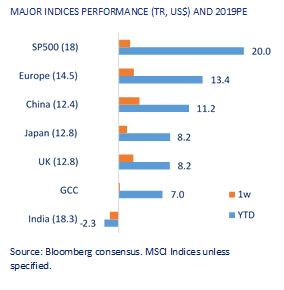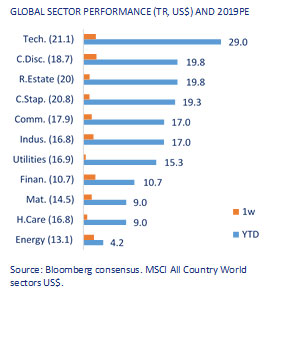 Written By:
Maurice Gravier
Chief Investment Officer,
MauriceG@EmiratesNBD.com
Anita Gupta
Head of Equity Strategy,
Anitag@EmiratesNBD.com
Yahya Sultan
Head of Fixed Income Strategy,
YahyaS@EmiratesNBD.com
Giorgio Borelli
Head of Asset Allocation,
GiorgioB@EmiratesNBD.com
Disclaimer

Emirates NBD Bank PJSC ("Emirates NBD") is licensed and regulated by the UAE Central Bank and this website aims at providing Internet users with information concerning Emirates NBD Private Banking, its products and activities. Persons having access to information made available by Emirates NBD on this website accept the following rules:

Reliance:
Emirates NBD uses reasonable efforts to obtain information from sources which it believes to be reliable, however Emirates NBD makes no representation that the information or opinions contained in publications on this website are accurate, reliable or complete. Published information may include data/information from stock exchanges and other sources from around the world and Emirates NBD does not guarantee the sequence, accuracy, completeness, or timeliness of information contained on this website provided thereto by unaffiliated third parties. Anyone proposing to rely on or use the information contained on this website should independently verify and check the accuracy, completeness, reliability and suitability of the information and should obtain independent and specific advice from appropriate professionals or experts. Further, references to any financial instrument or investment product are not intended to imply that an actual trading market exists for such instrument or product. Emirates NBD is not acting in the capacity of a fiduciary or financial advisor. Any publications on this website are provided for informational purposes only and are not intended for trading purposes. Data/information provided herein is intended to serve for illustrative purposes and is not designed to initiate or conclude any transaction. The information available on this website is not intended for use by, or distribution to, any person or entity in any jurisdiction or country where such use or distribution would be contrary to law or regulation. This website and anything contained herein, is provided "as is" and "as available," and that Emirates NBD makes no warranty of any kind, express or implied, as to this website, including, but not limited to, merchantability, non-infringement, title, or fitness for a particular purpose or use.

Modifications:
The provision of certain data/information on this website is subject to the terms and conditions of other agreements to which Emirates NBD is a party. Emirates NBD reserves the right to make changes and additions to the information provided at any time without prior notice. The information may be modified or removed without prior notice. No buy or sell orders submitted via the internet or email will be accepted. In addition, the data/information contained on this website is prepared as of a particular date and time and will not reflect subsequent changes in the market or changes in any other factors relevant to the determination of whether a particular investment activity is advisable.

Liability:
Information contained on this website is believed by Emirates NBD to be accurate and true, in all material respects. Emirates NBD accepts no responsibility whatsoever for any loss or damage caused by any act or omission taken as a result of the information contained on this website. Further Emirates NBD accepts no liability for the information and opinions published on the website and is under no obligation to remove outdated information from its website or to mark it clearly as such. The information given on this website may not be distributed or forwarded in whole or in part. Accordingly, anything to the contrary herein set forth notwithstanding, Emirates NBD, its suppliers, agents, directors, officers, employees, representatives, successors, assigns, affiliates or subsidiaries shall not, directly or indirectly, be liable, in any way, to you or any other person for any: (a) inaccuracies or errors in or omissions from the information available on this website including, but not limited to, quotes and financial data; or (b) loss or damage arising from the use of this publication, including, but not limited to any investment decision occasioned thereby. or (c) under no circumstances, including but not limited to negligence, shall Emirates NBD, its suppliers, agents, directors, officers, employees, representatives, successors, assigns, affiliates or subsidiaries be liable to you for direct, indirect, incidental, consequential, special, punitive, or exemplary damages even if Emirates NBD has been advised specifically of the possibility of such damages, arising from the use of the information on this website, including but not limited to, loss of revenue, opportunity, or anticipated profits or lost business. Emirates NBD expressly accepts no liability for losses or damages of any kind arising from using or accessing this website or links to third-party websites or from viewing information on any of its web pages. Furthermore, Emirates NBD accepts no liability for any unauthorized manipulation of users IT systems. Emirates NBD expressly draws user's attention to the risk of viruses and the threat of hacker attacks

Third Party Website:
Users may be aware that Emirates NBD has no control whatsoever over third-party websites linked to or from this website and therefore accepts no liability for the content of such websites being correct, complete and legally valid for the products and services offered on such websites. Emirates NBD's express written permission must always be sought before including a link to this website on a third-party website.

Solicitation:
None of the information on this website in any way constitutes a solicitation, offer, opinion, or recommendation by Emirates NBD to buy or sell any security, or to provide legal, tax, accounting, or investment advice or services regarding the profitability or suitability of any security or investment.

Forward Looking:
The information contained on this website does not purport to contain all matters relevant to any particular investment or financial instrument and all statements as to future matters are not guaranteed to be accurate. Certain matters in this publication on the website are about the future performance of Emirates NBD or members of its group (the Group), including without limitation, future revenues, earnings, strategies, prospects and all other statements that are not purely historical, constitute "forward-looking statements". Such forward-looking statements are based on current expectations or beliefs, as well as assumptions about future events, made from information currently available. Forward-looking statements often use words such as "anticipate", "target", "expect", "estimate", "intend", "plan", "goal", "seek", "believe", "will", "may", "should", "would", "could" or other words of similar meaning. Undue reliance should not be placed on any such statements in making an investment decision, as forward-looking statements, by their nature, are subject to known and unknown risks and uncertainties that could cause actual results, as well as the Group's plans and objectives, to differ materially from those expressed or implied in the forward-looking statements. Past performance is not necessarily a guide to future performance. Estimates of future performance are based on assumptions that may not be realized.

Risk: In addition, before entering into any transaction, the risks should be fully understood and a determination made as to whether a transaction is appropriate given the person's investment objectives, financial and operational resources, experiences and other relevant circumstances. The obligations relating to a particular transaction (and contractual relationship) including, without limitation, the nature and extent of their exposure to risk should be known as well as any regulatory requirements and restrictions applicable thereto. Data included on this website may rely on models that do not reflect or take into account all potentially significant factors such as market risk, liquidity risk, and credit risk. Emirates NBD may use different models, make valuation adjustments, or use different methodologies when determining prices at which Emirates NBD is willing to trade financial instruments and/or when valuing its own inventory positions for its books and records.

Investment in financial instruments involves risks and returns may vary. Before making such an investment, investors should consult their advisers on the legal, regulatory, tax, business, investment, financial and accounting implications of the investment.

Intellectual property:
The information on this website has been developed, compiled, prepared, revised, selected, and arranged by Emirates NBD and others (including certain other information sources) through the application of methods and standards of judgment developed and applied through the expenditure of substantial time, effort, and money and constitutes valuable intellectual property of Emirates NBD and all present and future rights in and to trade secrets, patents, copyrights, trademarks, service marks, know-how, and other proprietary rights of any type under the laws of any governmental authority, domestic or foreign, shall at all times be and remain the sole and exclusive property of Emirates NBD and/or other lawful parties and you acknowledge that you have no ownership rights in and to any of such items. Except as specifically permitted in writing, the information provided in this website shall not be copied or make any use of any information on this website or any portion of the intellectual property rights connected with this website, or the names of any individual participant in, or contributor to, the content of this website, or any variations or derivatives thereof, for any purpose. Further you shall not use any of the trademarks, trade names, service marks, copyrights, or logos of Emirates NBD or its subsidiaries in any manner which creates the impression that such items belong to or are associated with you or, except as otherwise provided with Emirates NBD's prior written consent,

Confidentiality:
The information on this website solely for non-commercial use and benefit and the use of this information is not intended for resale or other transfer or disposition to, or use by or for the benefit of, any other person or entity. Information contained in this website shall not be used, transferred, distributed, reproduced, published, displayed, modified, create derivative works from any data contained on this website or disposed of in any manner that could compete with the business interests of Emirates NBD. Any part of this website may not be offered for sale or distribute it over any medium including but not limited to over-the-air television or radio broadcast, a computer network or hyperlink framing on the internet without the prior written consent of Emirates NBD. The information contained on this website may not be used to construct a database of any kind. The data on this website shall not be used in any way to improve the quality of any data sold or contributed by you to any third party.

Recipient Acknowledgements
In accessing this website, you acknowledge and agree that there are risks associated with investment activities. Moreover, you agree that your use of this publication is at your sole risk and acknowledge that the responsibility to obtain and carefully read and understand the content of documents relating to any investment activity described on this website and to seek separate, independent financial advice if required to assess whether a particular investment activity described herein is suitable, lies exclusively with you.