Time to add to Emerging Market Equities
Chief Investment Officer's team, 17.09.2018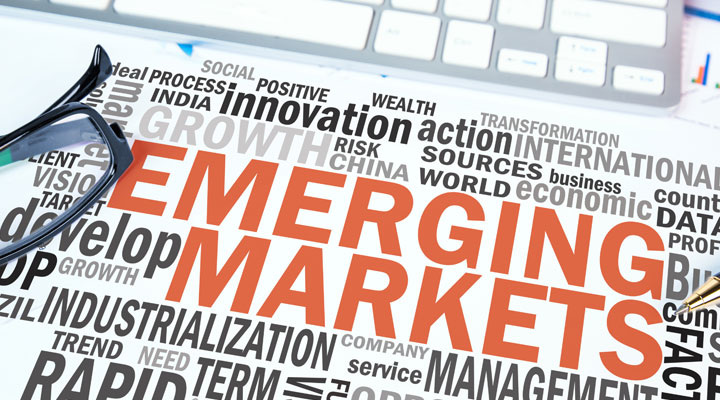 AT A GLANCE
We are increasing our allocation to Emerging Market Equities
China and Europe should provide some impetus to the global economic cycle
Fixed income update: US, EM, GCC
Equity update: The US reigns while EMs start a turnaround
Last week was all about the 10th anniversary of Lehman's collapse (we made no exception in our weekly) and a post-mortem analysis of the financial crisis. All financial media have been crowded with experts of which many explained 1. Why it happened, 2. Why it was meant to happen and hence predictable for smart people and 3. How similar and thus scary is the current situation ten years later.
Let's take a step-back: as Nobel Prize winner Niels Bohr once said, "it is difficult to make predictions, especially about the future". It doesn't matter how smart the retrospective analysis is; the crisis was devastating precisely because almost nobody saw it coming. And among the very few who brilliantly predicted it, a significant proportion had missed the previous 2002-2007 rally or would miss the subsequent recovery, sometimes both. Every honest professional investor who was active at this time would recall that the backdrop was an EM-driven "super cycle" of sustained global growth without inflation and that asset prices looked very reasonable on many metrics. The problem was not in fundamentals, but in a collective overconfidence which prevented us from seeing that pockets of deadly systemic risks were quietly building.
So yes, predicting the future is difficult, and investing is even more so as there are at least three dimensions to take into account. An investment decision is not only about what is going to happen (the prediction element: growth, inflation, policy, rates, earnings…), but also about what is currently priced-in (the valuation dimension, to identify pricing inefficiencies which are the essence of fundamental investing). Then, after these two fundamental items, there is a third set of behavioral factors: as listed market prices are made of supply and demand, you have to understand what drives the flows, i.e. positioning and risk-appetite, "greed and fear". There are many tools for the first two fundamental pillars, but the third one includes emotions. It is precisely why even smart people make mistakes because emotions introduce biases even within our analysis of the fundamentals. Behavioral analysis is also what reinforces our confidence in the short term: yes, the next decade will be tough, but big crashes don't happen when everyone is worried.
In essence, mistakes are part of the investment game. Taking the right decisions only 60% of the time can lead to outstanding performances as long as the damages from losing positions are controlled. This is why mistakes have to be owned, as a basis for continuous improvement, and positions have to be calibrated and managed with some degree of paranoia.
We went overweight on US Equities back in June, considering that the valuation didn't reflect the strong near-term earnings growth (the fundamental case) and that there was at least one considerable marginal buyer (the US companies themselves through share buy-backs). The decision has been right, even if calibration was modest (around +1.5% across profiles).
With the same discipline, we decided last Wednesday to increase our allocation to Emerging Market Equities. The long-term backdrop is of a robust growth led by secular factors (especially middle-class consumption and technology), and the recent sell-off has brought valuations in attractive territory for the long-run. On the behavioral side, there is for sure no euphoria, and we see the very mild market reaction to the latest escalation in the US/China trade war as an encouraging indication. Finally, timing is difficult for all contrarian decisions by nature: we increase positions by a modest 1% across profiles, considering it as the first step.
Last week was positive across equities globally, both developed and emerging, with US dollar slightly down, and overall flat for fixed income segments.
China and Europe to help global economy?
Year-to-date only three major risky assets have outperformed cash: US equities, US high-yielding bonds and crude oil. Changes to this US-centric narrative can only be brought about by cyclical improvements outside of the US economy. We suspect that both Europe and China should provide some impetus to the business cycle by next quarter.
Stimulus in China is ramping up, partly to cushion any negative consequence of higher US tariffs, partly to offset the sharp curbing of credit that the authorities had implemented to tackle bad loans. China's Total Social Financing for August was higher than expected and corporate bond issuance picked up as well, supported by liquidity injected by the PBoC. The government is bolstering infrastructure Fixed Asset Investments via fiscal support, although this has yet to show in the data, as highlighted by the disappointing August release. Indices tracking China financial conditions are showing some signs of easing in its monetary conditions, and this should be followed in turn by a credit impulse and eventually a pick-up in economic growth rates. The 9.1% depreciation of the Renminbi against the dollar since April provides some cushion against the threat of tariff increases on $200bn of exports to the US. Last but not least, the US net trade position is expected to turn from positive in H1 to negative in H2 this year, providing some additional demand for Chinese products despite the ongoing trade conflict.
In Europe, the gap between hard and soft data has recently widened. Industrial production for July disappointed both in Germany and in Italy. Yet, soft data continues to point to potential upside in the European economy, in particular, the business and the household surveys. Barring some unforeseen shocks, it is hard to envisage what could drive further deterioration, given exceptionally easy policy, high confidence levels, robust credit expansion, tight labor markets and rising wages in the area. We remain confident that fundaments support will reassert itself and be conducive to recovery, both in the business cycle and in Q4 this year.
Fixed income update: US, EM, GCC
The U.S. budget deficit widened to $898 billion in the 11 months through August, exceeding the Congressional Budget Office's forecast for the first full fiscal year under the Trump presidency. Spending rose by 7 percent to $3.88 trillion, outpacing revenue gains of 1 percent to $2.99 trillion. Revenue from corporations fell to $163 billion, down by $71 billion from a year ago. The fiscal gap has continued to grow and raise concerns of US debt load which currently stands at $21.5 trillion. The IMF has warned the fiscal stimulus adds pressure to the nation's debt on an unsustainable path and could cause the economy to overheat. The US deficit is expected to exceed $1 trillion by 2022.
Finally, the Central Bank of Turkey raised interest rates by 625bps to 24 percent, above market expectations and defying critics on the independence on policy setting that had sparked investor concerns. President Erdogan in a statement said that the Turkish government would put new investments on hold as his country grapples with double-digit inflation and a plummeting currency. Moreover, Berat Albayrak, the country's finance minister, has said he will deliver a medium-term economic plan next week. The lira retraced its previous weakness and settled at 6.17 against the US dollar while Sovereign bonds and corporate bond yields fell sharply across the board.
The Central Bank of Russia raised the key rate by 0.25 pp to 7.50% in an unexpected move. The changes in external conditions observed since the previous meeting of CBR have significantly increased risks. The CBR forecasts annual inflation to be 5-5.5%in 2019 and return to 4% in 2020. This forecast considers the decisions taken about the key rate and to the suspension of foreign currency purchases in the domestic market under the fiscal rule.
The kingdom of Saudi Arabia completed 2018 external funding requirements with a $2 billion Sukuk sale. The primary investor demand for the shariah-compliant instruments was considerable with order books over $10 billion. The long ten-year maturities were offered at a yield of 4.3 percent (MS+127bp). The structure of the Sukuk is the same as the last issuance in 2017, comprising a mudaraba agreement, a form of Islamic investment management partnership plus a murabaha facility that would trade commodities with a special purpose vehicle. The Kingdom has raised a total of $52bn in international notes, both Islamic and conventional, since it started tapping the international debt markets in 2016 as part of its efforts to diversify its oil-reliant economy. Moreover, Saudi Electricity Co, 81.2% indirectly government owned are also preparing for a dual-tranche Sukuk offering this week subject to favorable market conditions. Abu Dhabi Islamic Bank's new $750 million of perpetual Sukuk was priced at 7.125% and currently trades at a premium to yield at 6.76 percent to the next call date while Al Hilal Bank also successfully priced $500 million of senior unsecured Sukuk at 4.375 percent.
Equity update: The US reigns while EMs turnaround
We see three key interlinked drivers governing global equity markets: trade tariffs, emerging market defiance and the strengthening US Dollar. The US Dollar is now showing signs of stabilization and EMs should, therefore, see inflows. The growth differential in favour of EMs and their low valuation make a valid investment case. We prefer EM countries with strong FX reserves and low US Dollar debt. A marked differential in performance between the US and EMs continues. Over five years the MSCI EM Index is up only 2.7% compared to 70.5% for the MSCI US. In 2017 both EMs and DMs had stellar performances, however, their paths have diverged once again from end Jan 2018, leading to a YTD 20% difference in favor of the US vs EMs.
The US industrial sector is up 4.9% in the past month as investors focus on US growth and set aside trade tariff talks. We think US equities will continue to perform on strong buybacks and upward rating revisions, however, EM performance should start to catch up.
Technology is still strong. The Trillion Dollar Equity Club with Apple and Amazon as members could soon see other entrants such as Microsoft and Google. Apple, up 32% in 2018 had a closely watched event and showed promise in the wearable market with its healthcare connectivity. Waymo, Googles autonomous vehicle venture reinforces our belief in Googles spend on innovation. At the end of September, the S&P completes a tech sector reclassification with Facebook, Netflix and Alphabet moving to communication services. A team of analysts from a global investment bank have put together a basket of tech names that they call TECH+. Since the 2009 lows, TECH+ has advanced 595% versus the remainder of the market at 253%. Revenue growth has been attributed as the driver of this success. Internet retail, online advertising, and cloud computing point to further upside.
Written By:
Maurice Gravier
Chief Investment Officer,
Maurice G@EmiratesNBD.com
Anita Gupta
Head of Equity Strategy,
Anitag@EmitatesNBD.com
Yahya Sultan
Head of Fixed Income Strategy,
YahyaS@EmiratesNBD.com
Giorgio Borelli
Head of Asset Allocation,
GiorgioB@EmiratesNBD.com
Disclaimer

Emirates NBD Bank PJSC ("Emirates NBD") is licensed and regulated by the UAE Central Bank and this website aims at providing Internet users with information concerning Emirates NBD Private Banking, its products and activities. Persons having access to information made available by Emirates NBD on this website accept the following rules:

Reliance:
Emirates NBD uses reasonable efforts to obtain information from sources which it believes to be reliable, however Emirates NBD makes no representation that the information or opinions contained in publications on this website are accurate, reliable or complete. Published information may include data/information from stock exchanges and other sources from around the world and Emirates NBD does not guarantee the sequence, accuracy, completeness, or timeliness of information contained on this website provided thereto by unaffiliated third parties. Anyone proposing to rely on or use the information contained on this website should independently verify and check the accuracy, completeness, reliability and suitability of the information and should obtain independent and specific advice from appropriate professionals or experts. Further, references to any financial instrument or investment product are not intended to imply that an actual trading market exists for such instrument or product. Emirates NBD is not acting in the capacity of a fiduciary or financial advisor. Any publications on this website are provided for informational purposes only and are not intended for trading purposes. Data/information provided herein is intended to serve for illustrative purposes and is not designed to initiate or conclude any transaction. The information available on this website is not intended for use by, or distribution to, any person or entity in any jurisdiction or country where such use or distribution would be contrary to law or regulation. This website and anything contained herein, is provided "as is" and "as available," and that Emirates NBD makes no warranty of any kind, express or implied, as to this website, including, but not limited to, merchantability, non-infringement, title, or fitness for a particular purpose or use.

Modifications:
The provision of certain data/information on this website is subject to the terms and conditions of other agreements to which Emirates NBD is a party. Emirates NBD reserves the right to make changes and additions to the information provided at any time without prior notice. The information may be modified or removed without prior notice. No buy or sell orders submitted via the internet or email will be accepted. In addition, the data/information contained on this website is prepared as of a particular date and time and will not reflect subsequent changes in the market or changes in any other factors relevant to the determination of whether a particular investment activity is advisable.

Liability:
Information contained on this website is believed by Emirates NBD to be accurate and true, in all material respects. Emirates NBD accepts no responsibility whatsoever for any loss or damage caused by any act or omission taken as a result of the information contained on this website. Further Emirates NBD accepts no liability for the information and opinions published on the website and is under no obligation to remove outdated information from its website or to mark it clearly as such. The information given on this website may not be distributed or forwarded in whole or in part. Accordingly, anything to the contrary herein set forth notwithstanding, Emirates NBD, its suppliers, agents, directors, officers, employees, representatives, successors, assigns, affiliates or subsidiaries shall not, directly or indirectly, be liable, in any way, to you or any other person for any: (a) inaccuracies or errors in or omissions from the information available on this website including, but not limited to, quotes and financial data; or (b) loss or damage arising from the use of this publication, including, but not limited to any investment decision occasioned thereby. or (c) under no circumstances, including but not limited to negligence, shall Emirates NBD, its suppliers, agents, directors, officers, employees, representatives, successors, assigns, affiliates or subsidiaries be liable to you for direct, indirect, incidental, consequential, special, punitive, or exemplary damages even if Emirates NBD has been advised specifically of the possibility of such damages, arising from the use of the information on this website, including but not limited to, loss of revenue, opportunity, or anticipated profits or lost business. Emirates NBD expressly accepts no liability for losses or damages of any kind arising from using or accessing this website or links to third-party websites or from viewing information on any of its web pages. Furthermore, Emirates NBD accepts no liability for any unauthorized manipulation of users IT systems. Emirates NBD expressly draws user's attention to the risk of viruses and the threat of hacker attacks

Third Party Website:
Users may be aware that Emirates NBD has no control whatsoever over third-party websites linked to or from this website and therefore accepts no liability for the content of such websites being correct, complete and legally valid for the products and services offered on such websites. Emirates NBD's express written permission must always be sought before including a link to this website on a third-party website.

Solicitation:
None of the information on this website in any way constitutes a solicitation, offer, opinion, or recommendation by Emirates NBD to buy or sell any security, or to provide legal, tax, accounting, or investment advice or services regarding the profitability or suitability of any security or investment.

Forward Looking:
The information contained on this website does not purport to contain all matters relevant to any particular investment or financial instrument and all statements as to future matters are not guaranteed to be accurate. Certain matters in this publication on the website are about the future performance of Emirates NBD or members of its group (the Group), including without limitation, future revenues, earnings, strategies, prospects and all other statements that are not purely historical, constitute "forward-looking statements". Such forward-looking statements are based on current expectations or beliefs, as well as assumptions about future events, made from information currently available. Forward-looking statements often use words such as "anticipate", "target", "expect", "estimate", "intend", "plan", "goal", "seek", "believe", "will", "may", "should", "would", "could" or other words of similar meaning. Undue reliance should not be placed on any such statements in making an investment decision, as forward-looking statements, by their nature, are subject to known and unknown risks and uncertainties that could cause actual results, as well as the Group's plans and objectives, to differ materially from those expressed or implied in the forward-looking statements. Past performance is not necessarily a guide to future performance. Estimates of future performance are based on assumptions that may not be realized.

Risk: In addition, before entering into any transaction, the risks should be fully understood and a determination made as to whether a transaction is appropriate given the person's investment objectives, financial and operational resources, experiences and other relevant circumstances. The obligations relating to a particular transaction (and contractual relationship) including, without limitation, the nature and extent of their exposure to risk should be known as well as any regulatory requirements and restrictions applicable thereto. Data included on this website may rely on models that do not reflect or take into account all potentially significant factors such as market risk, liquidity risk, and credit risk. Emirates NBD may use different models, make valuation adjustments, or use different methodologies when determining prices at which Emirates NBD is willing to trade financial instruments and/or when valuing its own inventory positions for its books and records.

Investment in financial instruments involves risks and returns may vary. Before making such an investment, investors should consult their advisers on the legal, regulatory, tax, business, investment, financial and accounting implications of the investment.

Intellectual property:
The information on this website has been developed, compiled, prepared, revised, selected, and arranged by Emirates NBD and others (including certain other information sources) through the application of methods and standards of judgment developed and applied through the expenditure of substantial time, effort, and money and constitutes valuable intellectual property of Emirates NBD and all present and future rights in and to trade secrets, patents, copyrights, trademarks, service marks, know-how, and other proprietary rights of any type under the laws of any governmental authority, domestic or foreign, shall at all times be and remain the sole and exclusive property of Emirates NBD and/or other lawful parties and you acknowledge that you have no ownership rights in and to any of such items. Except as specifically permitted in writing, the information provided in this website shall not be copied or make any use of any information on this website or any portion of the intellectual property rights connected with this website, or the names of any individual participant in, or contributor to, the content of this website, or any variations or derivatives thereof, for any purpose. Further you shall not use any of the trademarks, trade names, service marks, copyrights, or logos of Emirates NBD or its subsidiaries in any manner which creates the impression that such items belong to or are associated with you or, except as otherwise provided with Emirates NBD's prior written consent,

Confidentiality:
The information on this website solely for non-commercial use and benefit and the use of this information is not intended for resale or other transfer or disposition to, or use by or for the benefit of, any other person or entity. Information contained in this website shall not be used, transferred, distributed, reproduced, published, displayed, modified, create derivative works from any data contained on this website or disposed of in any manner that could compete with the business interests of Emirates NBD. Any part of this website may not be offered for sale or distribute it over any medium including but not limited to over-the-air television or radio broadcast, a computer network or hyperlink framing on the internet without the prior written consent of Emirates NBD. The information contained on this website may not be used to construct a database of any kind. The data on this website shall not be used in any way to improve the quality of any data sold or contributed by you to any third party.

Recipient Acknowledgements
In accessing this website, you acknowledge and agree that there are risks associated with investment activities. Moreover, you agree that your use of this publication is at your sole risk and acknowledge that the responsibility to obtain and carefully read and understand the content of documents relating to any investment activity described on this website and to seek separate, independent financial advice if required to assess whether a particular investment activity described herein is suitable, lies exclusively with you.