More stimulus, more tariffs, more volatility
Chief Investment Officer's team, 04.08.2019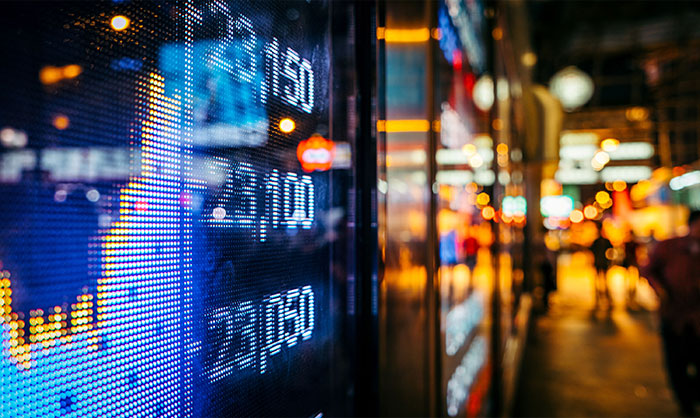 AT A GLANCE
Fed chair Powell fails to live up to market expectations of a long easing cycle
President Trump breaks summer lull threatening tariffs on all of Chinese imports
Soft patch in global economy keeps financial markets on shaky ground
Asset markets reacted sharply to president Trump's threat of new tariffs on all Chinese imports, with S&P500 volatility fleetingly rising over the 20 mark, Brent crude tumbling 8% in one day and US 10-year Treasury yields recording a weekly close below 2% for the first time since November 2016.
It is not clear what is driving this new negative tariff surprise. The president might want to force the Chinese back to the negotiation table, even though it seems that so far the dragging of the conflict has had the opposite effect of hardening Mr Xi's stance too.
As the tension between the resilient but softening global economy and the increasing burden it can take continues to grow, markets are unlikely to remain unscathed. Although recession risks still appear to be moderate, following the tariff tweet the US yield curve quickly reversed course into flattening mode.
The EM outlook is now exposed to increasing headwinds, with the US dollar stronger and trade conflicts once more in the foreground. Europe is not faring better either, stuck in its stagnant rut and equally exposed to the vagaries of the global economic cycle.
It seems that under these conditions US assets should continue to outperform until global activity takes a turn for the better. Meanwhile, investors will have to wield patience and be aware that Fed monetary support won't be of any help against rising summer volatility.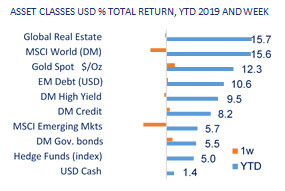 Cross-asset considerations
Last week is a case in point that all that could go wrong sometimes indeed goes wrong. The first rate cut administered in a decade by the Fed, closely followed by President Trump's announcement of more tariffs on Chinese imports and by the US job report release, saw stocks drop, the dollar rise and Treasury yields tumble alongside Brent crude. Investor reaction looks typical of a growth scare, considering the sharp losses across risk assets. And rightly so, as the longest US recovery on record comes with rich equity and credit markets and muted business activity outside of the US.
Although the Fed resuming an easing cycle is in and of itself an event of paramount relevance which in the past has been proven able of lifting growth and financial assets, investor expectations had run too high. Consensus was projecting four cuts before the FOMC in the subsequent 12 months, while Fed chair Powell made clear at the July meeting that this easing cycle would not be a long one, which should translate into one more cut by year-end with further Fed support remaining highly data-dependent. The dollar promptly reacted to this slightly hawkish delivery by recording new highs for the year.
Equity investors initially looked at the glass half full of Fed stimulus lying ahead, only to dump stocks when Mr Trump made the shock announcement of more tariffs on Chinese goods. While Powell's message is a bit less benign than forecast, the words of the US president sound unequivocally troublesome for the outlook. Tariffs on all of Chinese goods will mean higher imported inflation and a further blow to business confidence. Once more facts have failed to live up to expectations, as the common assumption was that the trade truce would last into year-end.
With the earnings season 70% through in the US and Europe and monetary and trade policy surprises behind us, investor focus will turn back to the global economy, unlikely to come out of its soft patch before year-end. So, it seems that markets will be hostage to the thinner summer liquidity and the macroeconomic newflow, still dominated by the slump in manufacturing activity. This paints a somber picture for the short term, where volatility can rise quickly driven by investor emotions following the ups and downs traced by the noise accompanying economic data.
The renewed escalation of tariff risk does not appear to be priced in at current valuations levels, hence in the absence of positive catalysts at the shorter time horizons we maintain our underweight stance on equities and wait for better opportunities to add risk back to portfolios.
Fed support alongside ECB stimulus expected to kick in by the end of the year, as well as renewed Chinese fiscal measures should eventually gift investors with new highs in global equity markets. The path to those new highs still seems to be a long and winding one, though.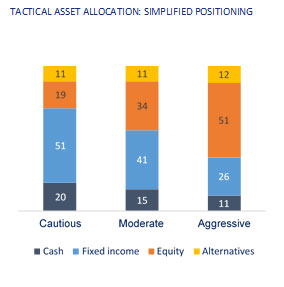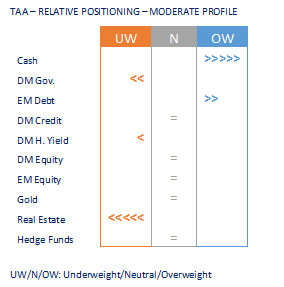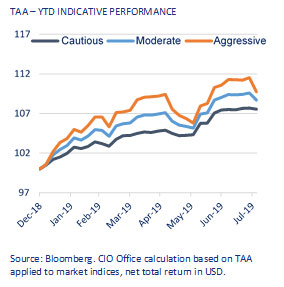 Fixed Income Update
The unexpected tariff shock administered by president Trump sent investors scrambling for safe-haven assets. A significant drop in US benchmark yields triggered similar moves across the major Sovereign markets, with the pool of negative-yielding bonds in the euro-area growing larger. Ten-year US Treasury bond yields are currently trading at 1.78%, while similar-maturity German Bunds are at the new record lows of -0.499%, below the European central bank's key deposit rate of -0.40%. Germany's entire yield-curve is sitting in negative territory.
The payrolls report for July showed a solid but slowing labor market with positive month-over-month earnings, slowing non-farm payrolls, and an unchanged 3.7% unemployment rate, while wage growth edged higher by one-tenths of a percentage to 3.2%. However, inflation expectations have continued to fall on demand concerns following tariff threats and mixed economic data. The 10-year breakeven rate, a market-implied inflation measure, is currently at 1.70%, as against the Fed's 2% target. The persistent rally in global government bonds has seen investors venturing into riskier fixed income assets in their search for yield. Increased risk-taking in the late stages of the cycle is not boding well for future financial stability, should the outlook continue to worsen.
Investor sentiment towards primary bond sales is still resilient, in our view, in spite of the dragging trade-war and unabated geopolitical tensions. A testimony to this is the strong year-to-date primary bond sales of over $425bn. During July, central banks across Russia, South Africa and Turkey reduced their benchmark rates citing slowing global growth. India, Brazil and Vietnam's central banks also commented that they would look to lower their rates in the upcoming monetary policy meetings. We expect India to cut its policy rate by 25 bps to 5.50% on Wednesday.
Central banks in Saudi Arabia, the United Arab Emirates, Qatar and Bahrain cut their benchmark interest rates by 25 basis points, following the Fed. However, Kuwait, bucked the trend and held its policy rate at 3%, still offering attractive real rate for investors.
Emerging market primary bond issuance has continued its strong streak in spite of growing concerns surrounding global trade wars. The volume of new issuance for last month was the third largest of 2019 at over USD68 bn and behind March and April volumes of USD75bn each. The July total EM volume was also the fifth highest since January 2018. Across the global EM, Asia led the issuance by almost half of the total EM volume printing $34.1bn of new bonds. Upcoming issuance in Asia this week includes ICBC Financials Leasing Co Ltd, Exim Bank of India and Renew power.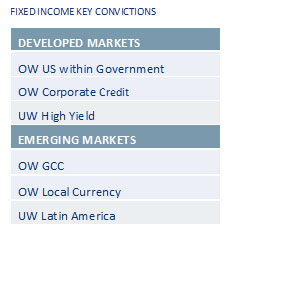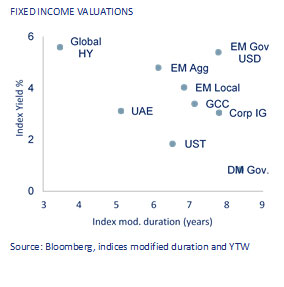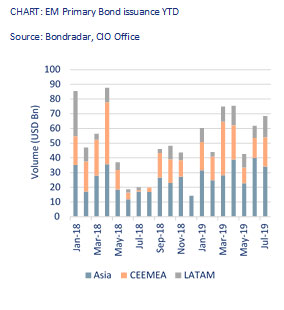 Equity Update
Last week equity-markets, after breaking records through July, gave back some of their gains following president Trump's threats on new tariffs on Chinese imports. The developed market indices were trading 3-5% above our fair values, hence we see the current drop realigning market values with our models. Uncertainty will continue to run high as investors await China's response to Mr Trump's threats.
We remain neutral across the developed markets, including the US. Our fair value for the S&P 500 for end 2019 is 2900. Last week was an eventful one, with investors digesting newsflow related to the Fed, earnings, trade conflicts and economic releases. All major global indexes saw significant declines. US equities suffered the worst week of losses in 2019. After hitting an all-time high, the S&P 500 (+18.3% YTD) declined by around 3% in the past week. The Tech sector was a notable decliner led by losses in hardware and networking. Defensives fared better, supported by lower rates and the rotation out of growth and cyclicals. Energy was another notable decliner, following tumbling crude prices. Consumer discretionary saw some weakness in auto parts, travel and leisure stocks. REITs stood out as the best performer.
Over 75% of the S&P 500 companies have now reported earnings with 76% surpassing the consensus earnings expectations, in line with the one-year average. Companies reported earnings 6.0% above expectations, ahead of the 5.4% 1-year average. In aggregate, the Energy sector reported the largest difference between actual and estimated earnings, followed by the Information Tech sector. Notable surprises came from Intel (+5.0 YTD), Micron Technology (+38.9% YTD) and PayPal (+27.4% YTD). Companies strived to implement cost savings across sectors, guiding 2H estimates lower with negative revisions. Rising trade tariffs emerged as a recurrent concern. The full implementation of higher tariffs on all Chinese products would hurt consumers and dampen hiring. Buyback growth is losing momentum and is expected to decelerate from 2017-2018 levels as companies have to deal with a more difficult earnings backdrop and elevated trade concerns. Last year saw a record USD 1tn buybacks, driven by the tax overhaul.
GCC markets had a negative week as oil fell around 7%, the sharpest one-day decline in more than three years last Thursday. Central banks cut rates in the GCC in order to stimulate non-oil growth to reduce the risk of declines in the real estate sector and attract foreign investors. In July, the DFM Index climbed around 8%, the best monthly performance in more than four years and outperforming both the Tadawul index and the Abu Dhabi Index for the year. We expect market activity to remain subdued as the region celebrates Eid Holidays in the coming week. In the UAE, we would add to the banking and logistics sectors as valuations remain attractive.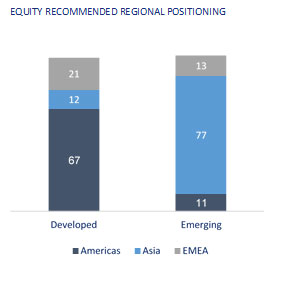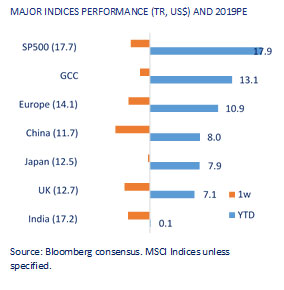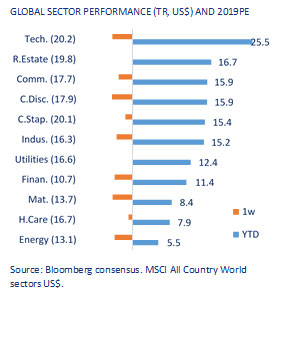 Written By:
Maurice Gravier
Chief Investment Officer,
MauriceG@EmiratesNBD.com
Anita Gupta
Head of Equity Strategy,
Anitag@EmiratesNBD.com
Yahya Sultan
Head of Fixed Income Strategy,
YahyaS@EmiratesNBD.com
Giorgio Borelli
Head of Asset Allocation,
GiorgioB@EmiratesNBD.com
Disclaimer

Emirates NBD Bank PJSC ("Emirates NBD") is licensed and regulated by the UAE Central Bank and this website aims at providing Internet users with information concerning Emirates NBD Private Banking, its products and activities. Persons having access to information made available by Emirates NBD on this website accept the following rules:

Reliance:
Emirates NBD uses reasonable efforts to obtain information from sources which it believes to be reliable, however Emirates NBD makes no representation that the information or opinions contained in publications on this website are accurate, reliable or complete. Published information may include data/information from stock exchanges and other sources from around the world and Emirates NBD does not guarantee the sequence, accuracy, completeness, or timeliness of information contained on this website provided thereto by unaffiliated third parties. Anyone proposing to rely on or use the information contained on this website should independently verify and check the accuracy, completeness, reliability and suitability of the information and should obtain independent and specific advice from appropriate professionals or experts. Further, references to any financial instrument or investment product are not intended to imply that an actual trading market exists for such instrument or product. Emirates NBD is not acting in the capacity of a fiduciary or financial advisor. Any publications on this website are provided for informational purposes only and are not intended for trading purposes. Data/information provided herein is intended to serve for illustrative purposes and is not designed to initiate or conclude any transaction. The information available on this website is not intended for use by, or distribution to, any person or entity in any jurisdiction or country where such use or distribution would be contrary to law or regulation. This website and anything contained herein, is provided "as is" and "as available," and that Emirates NBD makes no warranty of any kind, express or implied, as to this website, including, but not limited to, merchantability, non-infringement, title, or fitness for a particular purpose or use.

Modifications:
The provision of certain data/information on this website is subject to the terms and conditions of other agreements to which Emirates NBD is a party. Emirates NBD reserves the right to make changes and additions to the information provided at any time without prior notice. The information may be modified or removed without prior notice. No buy or sell orders submitted via the internet or email will be accepted. In addition, the data/information contained on this website is prepared as of a particular date and time and will not reflect subsequent changes in the market or changes in any other factors relevant to the determination of whether a particular investment activity is advisable.

Liability:
Information contained on this website is believed by Emirates NBD to be accurate and true, in all material respects. Emirates NBD accepts no responsibility whatsoever for any loss or damage caused by any act or omission taken as a result of the information contained on this website. Further Emirates NBD accepts no liability for the information and opinions published on the website and is under no obligation to remove outdated information from its website or to mark it clearly as such. The information given on this website may not be distributed or forwarded in whole or in part. Accordingly, anything to the contrary herein set forth notwithstanding, Emirates NBD, its suppliers, agents, directors, officers, employees, representatives, successors, assigns, affiliates or subsidiaries shall not, directly or indirectly, be liable, in any way, to you or any other person for any: (a) inaccuracies or errors in or omissions from the information available on this website including, but not limited to, quotes and financial data; or (b) loss or damage arising from the use of this publication, including, but not limited to any investment decision occasioned thereby. or (c) under no circumstances, including but not limited to negligence, shall Emirates NBD, its suppliers, agents, directors, officers, employees, representatives, successors, assigns, affiliates or subsidiaries be liable to you for direct, indirect, incidental, consequential, special, punitive, or exemplary damages even if Emirates NBD has been advised specifically of the possibility of such damages, arising from the use of the information on this website, including but not limited to, loss of revenue, opportunity, or anticipated profits or lost business. Emirates NBD expressly accepts no liability for losses or damages of any kind arising from using or accessing this website or links to third-party websites or from viewing information on any of its web pages. Furthermore, Emirates NBD accepts no liability for any unauthorized manipulation of users IT systems. Emirates NBD expressly draws user's attention to the risk of viruses and the threat of hacker attacks

Third Party Website:
Users may be aware that Emirates NBD has no control whatsoever over third-party websites linked to or from this website and therefore accepts no liability for the content of such websites being correct, complete and legally valid for the products and services offered on such websites. Emirates NBD's express written permission must always be sought before including a link to this website on a third-party website.

Solicitation:
None of the information on this website in any way constitutes a solicitation, offer, opinion, or recommendation by Emirates NBD to buy or sell any security, or to provide legal, tax, accounting, or investment advice or services regarding the profitability or suitability of any security or investment.

Forward Looking:
The information contained on this website does not purport to contain all matters relevant to any particular investment or financial instrument and all statements as to future matters are not guaranteed to be accurate. Certain matters in this publication on the website are about the future performance of Emirates NBD or members of its group (the Group), including without limitation, future revenues, earnings, strategies, prospects and all other statements that are not purely historical, constitute "forward-looking statements". Such forward-looking statements are based on current expectations or beliefs, as well as assumptions about future events, made from information currently available. Forward-looking statements often use words such as "anticipate", "target", "expect", "estimate", "intend", "plan", "goal", "seek", "believe", "will", "may", "should", "would", "could" or other words of similar meaning. Undue reliance should not be placed on any such statements in making an investment decision, as forward-looking statements, by their nature, are subject to known and unknown risks and uncertainties that could cause actual results, as well as the Group's plans and objectives, to differ materially from those expressed or implied in the forward-looking statements. Past performance is not necessarily a guide to future performance. Estimates of future performance are based on assumptions that may not be realized.

Risk: In addition, before entering into any transaction, the risks should be fully understood and a determination made as to whether a transaction is appropriate given the person's investment objectives, financial and operational resources, experiences and other relevant circumstances. The obligations relating to a particular transaction (and contractual relationship) including, without limitation, the nature and extent of their exposure to risk should be known as well as any regulatory requirements and restrictions applicable thereto. Data included on this website may rely on models that do not reflect or take into account all potentially significant factors such as market risk, liquidity risk, and credit risk. Emirates NBD may use different models, make valuation adjustments, or use different methodologies when determining prices at which Emirates NBD is willing to trade financial instruments and/or when valuing its own inventory positions for its books and records.

Investment in financial instruments involves risks and returns may vary. Before making such an investment, investors should consult their advisers on the legal, regulatory, tax, business, investment, financial and accounting implications of the investment.

Intellectual property:
The information on this website has been developed, compiled, prepared, revised, selected, and arranged by Emirates NBD and others (including certain other information sources) through the application of methods and standards of judgment developed and applied through the expenditure of substantial time, effort, and money and constitutes valuable intellectual property of Emirates NBD and all present and future rights in and to trade secrets, patents, copyrights, trademarks, service marks, know-how, and other proprietary rights of any type under the laws of any governmental authority, domestic or foreign, shall at all times be and remain the sole and exclusive property of Emirates NBD and/or other lawful parties and you acknowledge that you have no ownership rights in and to any of such items. Except as specifically permitted in writing, the information provided in this website shall not be copied or make any use of any information on this website or any portion of the intellectual property rights connected with this website, or the names of any individual participant in, or contributor to, the content of this website, or any variations or derivatives thereof, for any purpose. Further you shall not use any of the trademarks, trade names, service marks, copyrights, or logos of Emirates NBD or its subsidiaries in any manner which creates the impression that such items belong to or are associated with you or, except as otherwise provided with Emirates NBD's prior written consent,

Confidentiality:
The information on this website solely for non-commercial use and benefit and the use of this information is not intended for resale or other transfer or disposition to, or use by or for the benefit of, any other person or entity. Information contained in this website shall not be used, transferred, distributed, reproduced, published, displayed, modified, create derivative works from any data contained on this website or disposed of in any manner that could compete with the business interests of Emirates NBD. Any part of this website may not be offered for sale or distribute it over any medium including but not limited to over-the-air television or radio broadcast, a computer network or hyperlink framing on the internet without the prior written consent of Emirates NBD. The information contained on this website may not be used to construct a database of any kind. The data on this website shall not be used in any way to improve the quality of any data sold or contributed by you to any third party.

Recipient Acknowledgements
In accessing this website, you acknowledge and agree that there are risks associated with investment activities. Moreover, you agree that your use of this publication is at your sole risk and acknowledge that the responsibility to obtain and carefully read and understand the content of documents relating to any investment activity described on this website and to seek separate, independent financial advice if required to assess whether a particular investment activity described herein is suitable, lies exclusively with you.