India: Strong Growth tempered by INR weakness and high oil prices
CIO team, 30.09.2018
Strong economic growth appears sustainable
Legitimate concerns around NBFC's defaults (IL&FS), oil and the weakening Rupee
Corporate profit growth is expected to grow by more than 20% p.a., next 3 years
Our fundamental conviction on the debt market is intact – focus on valuations across various sectors
Concerns around the banking sector, INR weakness, impact of stronger oil prices, along with elections less than a year away are raising questions around the trajectory of Indian capital markets. Having said that, real rates are positive, the current account deficit is range-bound, the fiscal deficit is reasonable and inflation remains under control. As a result, our long term investment thesis for Indian equity and fixed income markets remains unchanged. We are, however, cautious for the short-term and would tactically reduce exposure to generate flexibility, to be able to seize the opportunities once we see stability in the INR and oil prices.
Strong growth to continue: The IMF predicts that Indian growth should reach 7.3 percent in FY2018/19 and accelerate to 7.5 percent in FY2019/20, on strengthening investment and robust private consumption. India and China now account for around half of global growth in Purchasing Power Parity terms.
Chart: India – the fastest growing major economy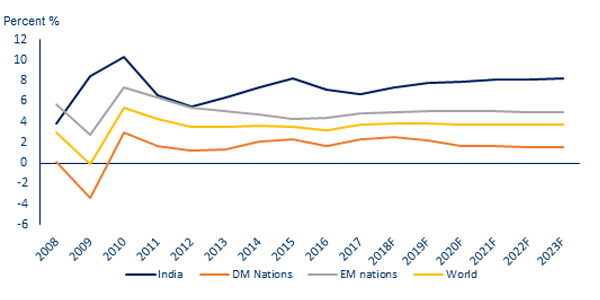 Source: IMF Sept 2018
Over the last five years India has been the fastest growing major economy, with GDP increasing by an average 7.2 percent, ahead of China's 7.1 percent. However, India's economy is currently far smaller than China (GDP is $2.6tn and its GDP per capita is $2,000, compared to respectively $12.0tn and $8,600 for China). However, when activity is weighted by market exchange rates, India is the third largest contributor to global GDP over the past 5 years, behind only China and the US.
Headwinds to growth have emerged with rising oil prices, tighter global financial conditions, spillover risks from a global trade conflict and rising regional geopolitical tensions. India's current account deficit "CAD" widened to $15.8bn (2.4 per cent of GDP), in the quarter ending June as compared with $15bn, a year before. The weakening of the Indian Rupee (INR) against the US dollar and the rise in crude-oil prices have swelled the CAD during Q1. The INR has been Asia's worst performing currency this year, touching a record 72 against the US Dollar last week. The currency, which was around INR 63.4 at the start of the year, has depreciated by 13.6% since then.
The trade shortfall of 2.5 per cent of the GDP in fiscal Q1 is more than the Jan-March quarter's 1.9 per cent. The widening trade gap on a year-on-year basis was primarily because of a higher trade deficit at $45.7 bn compared to $41.9 bn a year ago. Benchmark domestic yields have also followed EM peers, posting losses across the curve. The ten-year maturities currently yield 8.02 percent. However, this segment should recoup its recent losses and head towards the median consensus of around 7.8 percent.
Fundamentally, India's macroeconomics are relatively more robust than their EM counterparts.
Chart: EM - Current account balances % of GDP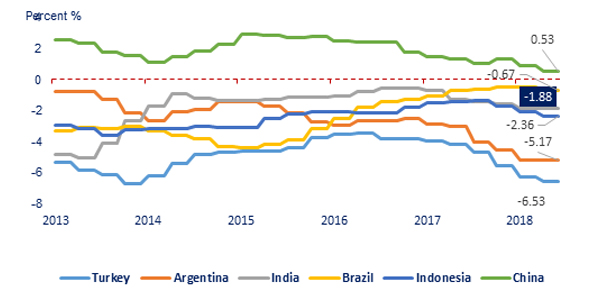 Source: Bloomberg as of September 2018
While real yields in India appear attractive, the latest forecasts for inflation from the Reserve Bank of India ("RBI", August) are respectively 4.6 percent for 2Q FY 2019 and 4.8 percent for the second half. Inflation looks to be stable with base effects on food, housing and gasoline and a tight fiscal and monetary policy. Reduced indirect tax rates on goods and services are partially countering the pressure of rising oil prices.
The recent economic review convened by Prime Minister Modi to address the depreciation in the INR has largely focused on the capital regulations. The government has also promised to undertake measures to address the growing CAD by curbing non-essential imports and boosting exports.
India's foreign exchange reserves are healthy and should provide adequate buffers during times of financial stress. There has been some depletion of reserves year to date due to the macro headwinds. The INR has been the worst-performing currency in Asia year to date.
Chart: Indian Rupee at Record Lows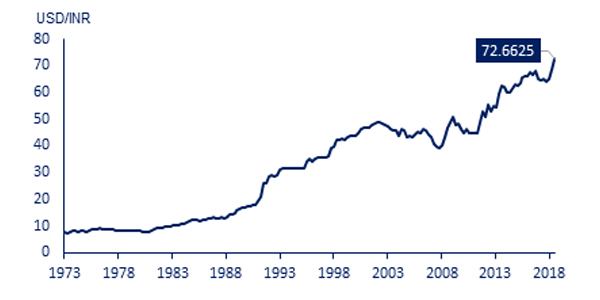 Source: Bloomberg
Post sizeable intervention, the RBI's foreign exchange reserves fell c.$24 bn during the first five months of FY 18-19, but still stand at a robust c.$400 bn. Moreover, India's external ratios are healthy. Import cover is high, at almost 10 months, and up from a recent low of 6.7 months in August 2013.
Chart: India's foreign exchange reserves dipping, but still strong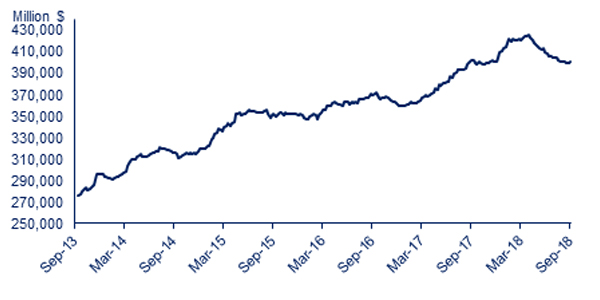 Concerns surrounding the non-banking financial corporations (NBFC) resurfaced early this month. Since August, Infrastructure Leasing & Financial Services Ltd., "IL&FS", an Indian conglomerate has missed payments on several of its debt obligations. IL&FS has been facing liquidity issues for some time and has defaulted on INR 10bn debt from Sidbi, INR 1050mn Commercial Papers and INR 800mn inter-corporate deposits (ICDs). The company announced it needed to raise more than INR 300bn ($4.2bn) by selling assets to reduce debt. The company has been categorized as a "systemically important" NBFC by the RBI. Investors are concerned that defaults by IL&FS, which has total debt of $12.6bn, 61% in the form of loans from financial institutions, could spread to other parts of the Indian shadow banking system. IL&FS lost its domestic AA rating in August 2017 on their non-convertible debentures (NCD) and loans. That said, State-owned insurer LIC did comment that it will not allow IL&FS to collapse and would explore all options to revive it. LIC has the largest shareholding in IL&FS. As many NBFCs depend on short term borrowing, the recent developments have created reluctance in lending to them and there has been a further cascading effect in the debt markets causing yields to soar. RBI, SEBI and SBI have swiftly announced that they will intervene to ensure market and financial stability.
Implication for Equity Markets
We recommend some caution in the short term, and would suggest to take profits on the best performing names, and reinvest into broader Emerging Market equities or China. The volatility between the current FX tensions and the 2019 elections should provide opportunities to add, at a better entry price, to benefit from the secular positive outlook.
Indian equity markets have had a bull run since 2009 as the Nifty Index is up 208% (in US$) and 345% in INR, without a sustained drawdown of 20%. Indian midcap companies have outperformed large caps over a 5 year period as domestic demand and consumption have led to an exponential growth within this segment. This trend reversed in 2018 as the large caps continued the 2017 rally, however midcaps have not kept up. In Rupee terms, year to date total returns (net dividends reinvested) for the MSCI India Index are 5.2 percent whilst the MSCI India Midcap Index has fallen 13%. The devaluation of the INR has however taken its toll on foreign institutions and in US$ the MSCI India Index is down 7.6 percent year to date i.e. total returns (net dividends reinvested).
Chart: Indian midcap companies have outperformed the large caps over a 5 year Horizon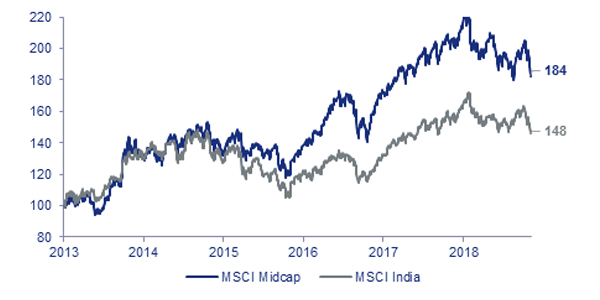 Source: Bloomberg data as of 24th Sept 2018, normalized to 100 as of 27th Sept 2013
Indian equity markets have been supported by strong domestic inflows which have helped balance outflows from international investors. Mutual funds have stepped up their buying in September.
Chart: PI / FII Investments - Net Equity flows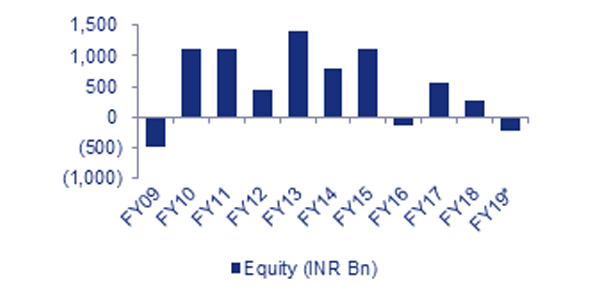 Source: National Securities Depository Ltd. 25 Sep 18 (INR bn)
Chart: Net DII Investments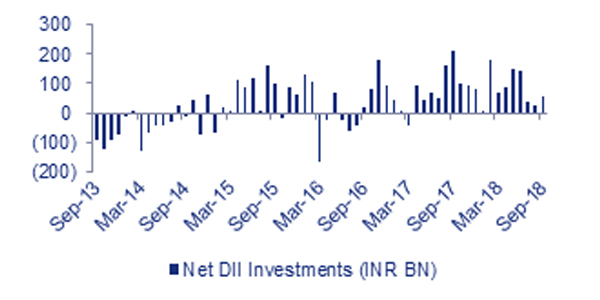 Source: Moneycontrol.com (INR bn)
Corporates are confident on business growth over the next 12 months – the upcoming earnings season could show further acceleration in revenue and earnings growth. CAGR in earnings for the broader market is at 25%. Apart from the fears of a currency and trade driven financial crisis, the key risk for markets remains the election outcome in May 2019.
MSCI India is trading at a Price/ Earnings of 22.4X which is close to its average over the past two years. Growth remains an important factor for market performance. Though the Indian market has historically always traded at a premium to emerging markets it is currently almost double that of the MSCI EM Index which trades at a Price/ Earnings of 12.2X.
Sector view: Whist we are cautious in the short term, for the longer term we would position portfolios towards the stronger consumption plays as the 1.34bn population and increasing middle class will continue to reshape the economy. Hindustan Unilever (consumer staples sector) as well as Mahindra and Mahindra (auto sector) are examples of consumer companies that have outperformed the market and will remain leaders as they are in two of the highest growth sectors in India. We would also focus on consumer companies where valuations are not excessive and who are focused on India's digitization and would benefit from the under penetration of ecommerce and digitization. . Some of the private banks who have suffered from the tension in the financial sector offer attractive entry points. We would book profits on the Technology Services sector as the weaker INR has helped IT companies achieve gains of 50 to 60% year to date.
Implication for Bond Markets
Our conviction on Indian debt remains intact and our fundamental viewpoint has not materially changed on our investment horizon. That said, we urge investors to be selective with a valuation focus within the hard-currency corporate debt. Pragmatically, we believe that in this environment, investors need to be adequately compensated for the risk. For IG with a duration of 5 to 7 years, credit spreads should be around 175bps to 200bps and sub-IG or high yield should offer credit spreads of close to 300 bps.
Chart: Indian bond yields under pressure and at levels seen in 2014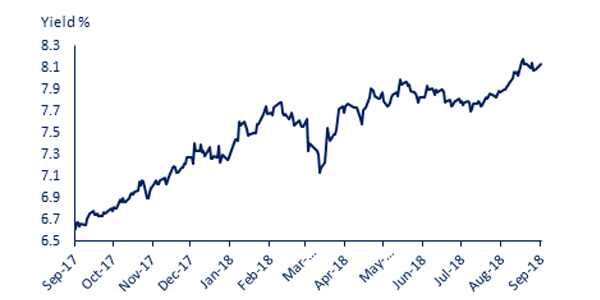 Source: Bloomberg as of September 25 2018
The banking sector has always enjoyed a strong technical backdrop, particularly amongst the international community and credit spreads remained relatively rich when compared to broader EM credit on a risk adjusted basis. We prefer the lower IG and sub-IG non-banking corporate bonds in the 5 to 7-year bucket. Oil India, Adani Transmission and Adani special economic zones, Bharti Airtel, Tata Steel, JSW Steel, Vedanta, Jain irrigation and Delhi Airport services, to name a few. However, selectivity on strong fundamentals will not protect investors from sentiment driven tensions on spreads.
Some of the measures announced by Finance Minister Arun Jaitley;
The easing of some of the regulatory requirements on Masala bonds. Indian banks can now be market makers for issuance of such bonds. In addition, the government announced a temporary removal of the 5% withholding tax on such instruments, until March 2019.
Target on the Government's fiscal deficit; The Finance Minister expressed confidence in sticking to the government's fiscal deficit target of 3.3% of GDP during FY 18-19. The minister also said that the progress of tax collection so far, has been ahead of schedule and that strong consumption driving GDP growth bodes well for future collection.
The government announced relaxation for availing short term external commercial borrowings by manufacturing companies. Companies will now be allowed to avail ECB for up to $50 mn with a residual maturity of one year, as opposed to the prevailing rule of three years.
Minutes of the Reserve Bank of India's August policy meeting point to its latest rate hike as being pre-emptive. Policy makers underscored the central bank's emphasis on containing the recent increase in inflation at the cost of growth. Given that inflation has already started to surprise to the downside since the last meeting, we maintain the view that the trend should persist. The key highlight of the minutes was made by committee member Ravindra Dholakia, who noted inconsistencies in the RBI's assessment on growth and inflation. He argued that the central bank's baseline inflation projections are outsized as they account for certain upside risks and not for recent downside surprises.
Chart: Proactive policy setting by the RBI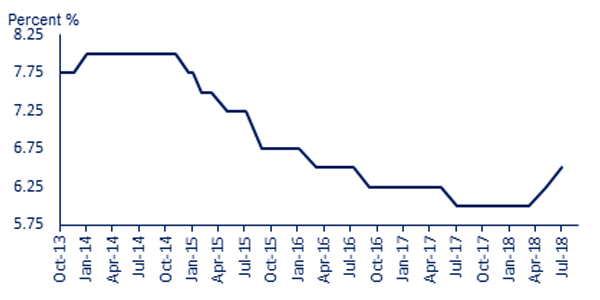 Source: Bloomberg as of 24 September 2018
The shift in domestic bond yields has been across all EM nations driven by a combination of external factors (US tightening of monetary policies, USD-strength, global trade concerns) as well as macro and micro economic challenges (current account imbalances, fiscal and monetary policy setting etc.)
Chart: Sovereign yield curve shift
Source: Bloomberg as of 24 September 2018
Wealth Management – CIO Office. Contact: +971 (0)4 609 3564
Anita Gupta – Head of Equity Strategy
Syed Yahya Sultan – Head of Fixed Income Strategy
Disclaimer

Reliance

Emirates NBD Bank PJSC ("Emirates NBD") uses reasonable efforts to obtain information from sources which it believes to be reliable, however, Emirates NBD makes no representation that the information or opinions contained in this publication are accurate, reliable or complete and should not be relied on as such or acted upon without further verification. Opinions, estimates and expressions of judgment are those of the writer and are subject to change without notice. Emirates NBD accepts no responsibility whatsoever for any loss or damage caused by any act or omission taken as a result of the information contained in this publication. Data/information provided herein are intended to serve for illustrative purposes and are not designed to initiate or conclude any transaction. In addition this publication is prepared as of a particular date and time and will not reflect subsequent changes in the market or changes in any other factors relevant to the determination of whether a particular investment activity is advisable. This publication may include data/information taken from stock exchanges and other sources from around the world and Emirates NBD does not guarantee the sequence, accuracy, completeness, or timeliness provided thereto by unaffiliated third parties. Moreover, the provision of certain data/information in this publication is subject to the terms and conditions of other agreements to which Emirates NBD is a party. Anyone proposing to rely on or use the information contained in this publication should independently verify and check the accuracy, completeness, reliability and suitability of the information and should obtain independent and specific advice from appropriate professionals or experts. Further, references to any financial instrument or investment product are not intended to imply that an actual trading market exists for such instrument or product. The information and opinions contained in Emirates NBD publications are provided for personal use and informational purposes only and are subject to change without notice. The material and information found in this publication are for general circulation only and have not been prepared with any regard to the objectives, financial situation and particular needs of any specific person, wherever situated

Confidentiality

This publication is provided to you upon request on a confidential basis for informational purposes only and is not intended for trading purposes or to be passed on or disclosed to any other person and/or to any jurisdiction that would render the distribution illegal. The investor may not offer any part of this publication for sale or distribute it over any medium including but not limited to over-the-air television or radio broadcast, a computer network or hyperlink framing on the internet without the prior written consent of Emirates NBD or construct a database of any kind.

Solicitation

None of the content in this publication constitutes a solicitation, offer, opinion, or recommendation by Emirates NBD to buy or sell any security, or to provide legal, tax, accounting, or investment advice or services regarding the profitability or suitability of any security or investment and further does not provide any fiduciary or financial advice.

Third party

The security or investment described in this publication may not be eligible for sale or subscription to certain categories of investors. This publication is not intended for use by, or distribution to, any person or entity in any jurisdiction or country where such use or distribution would be contrary to law or regulation. It is the responsibility of any person in possession of this publication to investigate and observe all applicable laws and regulations of the relevant jurisdiction. This publication may not be conveyed to or used by a third party without the express consent of Emirates NBD. The investor may not use the data in this publication in any way to improve the quality of any data sold or contributed to by the investor to any third party.

Liability

Anything to the contrary herein set forth notwithstanding, Emirates NBD, its suppliers, agents, directors, officers, employees, representatives, successors, assigns, affiliates or subsidiaries shall not, directly or indirectly, be liable, in any way, to you or any other person for any: (a) inaccuracies or errors in or omissions from the this publication including, but not limited to, quotes and financial data; or (b) loss or damage arising from the use of this publication, including, but not limited to any investment decision occasioned thereby. Under no circumstances, including but not limited to negligence, shall Emirates NBD, its suppliers, agents, directors, officers, employees, representatives, successors, assigns, affiliates or subsidiaries be liable to you for direct, indirect, incidental, consequential, special, punitive, or exemplary damages even if Emirates NBD has been advised specifically of the possibility of such damages, arising from the use of this publication, including but not limited to, loss of revenue, opportunity, or anticipated profits or lost business.

This publication does not provide individually tailored investment advice and is prepared without regard to the individual financial circumstances and objectives of person who receive it. The appropriateness of an investment activity or strategy will depend on the person's individual circumstances and objectives and these activities may not be suitable for all persons. In addition, before entering into any transaction, the risks should be fully understood and a determination made as to whether a transaction is appropriate given the person's investment objectives, financial and operational resources, experiences and other relevant circumstances. The obligations relating to a particular transaction (and contractual relationship) including, without limitation, the nature and extent of their exposure to risk should be known as well as any regulatory requirements and restrictions applicable thereto.

Forward looking

Past performance is not necessarily a guide to future performance and should not be seen as an indication of future performance of any investment activity. The information contained in this publication does not purport to contain all matters relevant to any particular investment or financial instrument and all statements as to future matters are not guaranteed to be accurate. Certain matters in this publication about the future performance of Emirates NBD or members of its group (the Group), including without limitation, future revenues, earnings, strategies, prospects and all other statements that are not purely historical, constitute "forward-looking statements". Such forward-looking statements are based on current expectations or beliefs, as well as assumptions about future events, made from information currently available. Forward-looking statements often use words such as "anticipate", "target", "expect", "estimate", "intend", "plan", "goal", "seek", "believe", "will", "may", "should", "would", "could" or other words of similar meaning. Undue reliance should not be placed on any such statements in making an investment decision, as forward-looking statements, by their nature, are subject to known and unknown risks and uncertainties that could cause actual results, as well as the Group's plans and objectives, to differ materially from those expressed or implied in the forward-looking statements. Estimates of future performance are based on assumptions that may not be realized.

Risk

Data included in this publication may rely on models that do not reflect or take into account all potentially significant factors such as market risk, liquidity risk, and credit risk. Emirates NBD may use different models, make valuation adjustments, or use different methodologies when determining prices at which Emirates NBD is willing to trade financial instruments and/or when valuing its own inventory positions for its books and records.

The use of this publication is at the sole risk of the investor and this publication and anything contained herein, is provided "as is" and "as available." Emirates NBD makes no warranty of any kind, express or implied, as to this publication, including, but not limited to, merchantability, non-infringement, title, or fitness for a particular purpose or use.

Investment in financial instruments involves risks and returns may vary. The value of and income from your investments may vary because of changes in interest rates, foreign exchange rates, prices and other factors and there is the possibility that you may lose the principle amount invested.. Before making an investment, investors should consult their advisers on the legal, regulatory, tax, business, investment, financial and accounting implications of the investment.

In receiving this publication, the investor acknowledges it is fully aware that there are risks associated with investment activities. Moreover, the responsibility to obtain and carefully read and understand the content of documents relating to any investment activity described in this publication and to seek separate, independent financial advice if required to assess whether a particular investment activity described herein is suitable, lies exclusively with the investor.

Intellectual property

This publication has been developed, compiled, prepared, revised, selected, and arranged by Emirates NBD and others (including certain other information sources) through the application of methods and standards of judgment developed and applied through the expenditure of substantial time, effort, and money and constitutes valuable intellectual property of Emirates NBD and such others.

All present and future rights in and to trade secrets, patents, copyrights, trademarks, service marks, know-how, and other proprietary rights of any type under the laws of any governmental authority, domestic or foreign, shall, as between the investor and Emirates NBD, at all times be and remain the sole and exclusive property of Emirates NBD and/or other lawful parties. Except as specifically permitted in writing, the investor may not copy or make any use of the content of this publication or any portion thereof. Except as specifically permitted in writing, the investor shall not use the intellectual property rights connected with this publication, or the names of any individual participant in, or contributor to, the content of this publication, or any variations or derivatives thereof, for any purpose.

This publication is intended solely for non-commercial use and benefit, and not for resale or other transfer or disposition to, or use by or for the benefit of, any other person or entity. By accepting this publication, the investor agrees not to use, transfer, distribute, copy, reproduce, publish, display, modify, create, or dispose of any information contained in this publication in any manner that could compete with the business interests of Emirates NBD. Furthermore, the investor may not use any of the trademarks, trade names, service marks, copyrights, or logos of Emirates NBD or its subsidiaries in any manner which creates the impression that such items belong to or are associated with the investor or, except as otherwise provided with Emirates NBD, prior written consent. The investor has no ownership rights in and to any of such items.

Emirates NBD is licensed and regulated by the UAE Central Bank.

United Kingdom

This publication was prepared by Emirates NBD Bank PJSC in the United Arab Emirates. It has been issued and approved for distribution to clients by the London branch of Emirates NBD Bank PJSC which is authorized by the Prudential Regulation Authority and regulated by the Financial Conduct Authority (FCA) and the Prudential Regulation Authority in the UK. Some investments and services are not available to clients of the London Branch. Any services provided by Emirates NBD Bank PJSC outside the UK will not be regulated by the FCA and you will not receive all the protections afforded to retail customers under the FCA regime, such as the Financial Ombudsman Service and the Financial Services Compensation Scheme. Changes in foreign exchange rates may affect any of the returns or income set out within this publication.

Singapore

This publication was prepared by Emirates NBD Bank PJSC in the United Arab Emirates. It has been issued and approved for distribution to clients by the Singapore branch of Emirates NBD Bank PJSC which is licensed by the Monetary Authority of Singapore (MAS) and subject to applicable laws (including the Financial Advisers Act (FAA) and the Securities and Futures Act (SFA). Any services provided by Emirates NBD Bank PJSC outside Singapore will not be regulated by the MAS or subject to the provisions of the FAA and/or SFA, and you will not receive all the protections afforded to retail customers under the FAA and/or SFA. Changes in foreign exchange rates may affect any of the returns or income set out within this publication.

Please contact your Relationship Manager for further details or for clarification of the contents, where appropriate.

To find out more on ENBD, please visit www.emiratesnbd.com