Emirates NBD and Facebook Global Success Story
The Emirates NBD and Facebook Global Success Story case study explores how we leveraged Facebook to build and implement a comprehensive Digital Engagement Strategy towards launching the Emirates NBD LuLu 247 Mastercard Credit Card to raise product awareness and acquire New-to-Bank customers across the UAE. The case study is a perfect testament of how setting the right campaign strategy along with data, analytics, smart targeting and measurement protocols can help businesses grow while reducing cost of acquisition. This becomes even more special since we are the only Bank in MENA region to be covered in the Facebook Global Success Story section.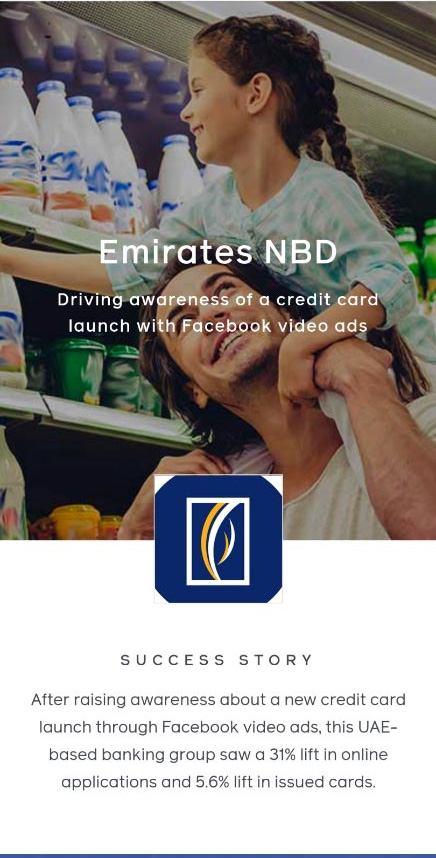 A compelling full funnel approach was defined, tracking the impact of creative communication on customers along with studying the influence on customer preferences through a Brand Lift Study. At the same time, the team closely monitored user engagement on Facebook and Instagram, using this audience for remarketing through acquisition-led creatives along with leveraging Facebook's propensity and lookalike modelling capabilities to enhance targeting potential and ultimately driving higher acquisitions. Through the Brand Lift Study, the team understood how Facebook and Instagram helped us to reach out to a statistically significant wider base of prospects which was measured through metrics such as ad recall and message recall. The study polled a randomized control group, those who did not view the ads versus a group of people who did. The improvement in results among the group who were served the ads was attributed to the campaign. The team closed the loop between online and offline conversions through Facebook's offline conversion tool to track offline events that were influenced by online impressions. This assisted us to see how many customers viewed or clicked our ads before applying for a card. Key Results include a 31% lift in incremental credit card applications, 5.6% lift in issued cards offline, a 7.6-point lift in ad recall and a 4.6-point lift in message recall.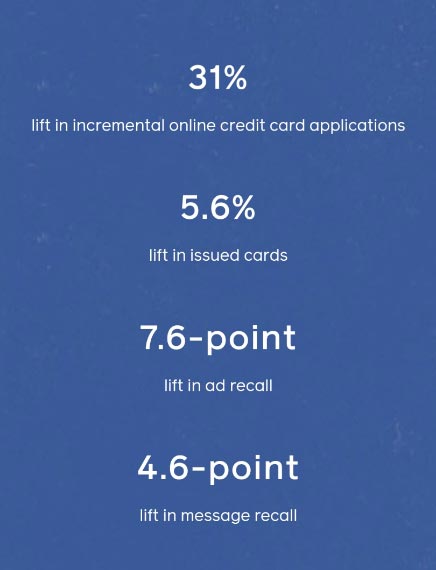 Please click here to view the complete case study online.