Volatility spikes – patience is paramount
Chief Investment Officer's team, 15.10.2018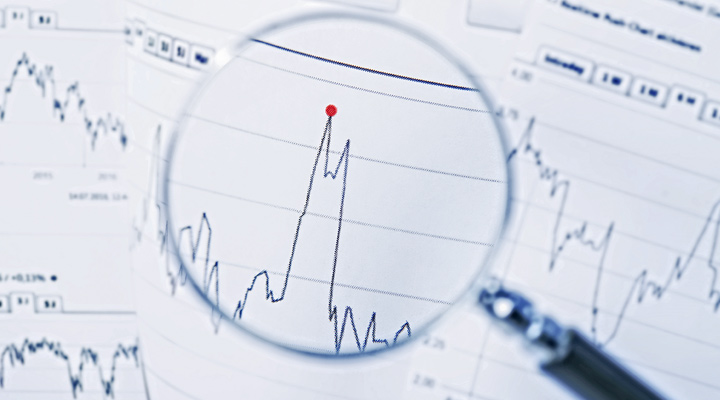 AT A GLANCE
Risky assets sold-off aggressively last week…
On a combination of higher rates and trade tariffs
Which questioned the sustainability of current earnings
We expected volatility to spike into US Mid Term Elections
And remain confident in the medium term
Global equity markets, led by the US, sold off aggressively last week, reminding us of the "flash crash" episode of last February. Volatility should never come as a surprise in 2018 (and beyond) as the investment backdrop combines late cycle features (elevated valuations and rising rates) with multiple political uncertainties, exacerbated by the very energetic leadership style of Mr Trump.
As it was the case in February, bond markets led and caused the risk-off episode, with a sharp rise in the 10Y UST yield the week before, backed by strong US data. As some companies additionally warned on the impact of trade tariffs on their margins, investors questioned the sustainability of the current earnings growth, as they could be hurt by a combination of higher funding costs, wages, and expensive tariffs. The correction was brutal on equity indices, triggering the unwinding of positions from some hedge funds (which were long relative to their own standards), some risk-parity funds (who cut an asset when its volatility spikes) and finally the hedging of some derivatives and structured products (even if this time we didn't see the collapse of short-VIX ETF as we saw in February).
Global equities lost 3.8% during the week, with Emerging Markets at -2% outperforming Developed Markets (-4.1%). Within DM the performance expressed in USD was homogeneous between the US, Europe and Japan. Sector-wise, Industrials, Materials and Tech were the worst performers while Utilities, Telecoms and Staples played their defensive role.
Our stance is the following. So far, critical technical levels have held, but we have no guarantee that the episode is over, especially as we are only three weeks away from the crucial US Mid Term elections. The current earnings season will certainly not be of great help as concerns are on the future earnings and guidance rather than on Q3. In essence, the short-term is as always highly uncertain, and the current episode could get worse (February was worse). For the medium term, however, there are three good news. First, rates are rising for the best possible reason, i.e. because the US economy is strong, which in fine supports earnings. Second, equity P/E multiples are now more attractive as they lost around 2 points across the world, and it supports the medium-term potential for returns. Third and finally, the US Dollar has not rallied, and Emerging Markets have been slightly more resilient during this episode, which provides comfort to our positive view for the end of the year. This risk-off episode might not be over in the short-term, but we believe it will not be more structural than the February sell-off.
Fixed income update: long UST 10Y and EM debt
The breakout in the 10-year Treasury yields towards the 3.25% has weighed on risk assets and caused worries for the broader financial markets. That's the signal from measures of volatility embedded in options on interest-rate swaps. While both three-month and one-year options on 10-year interest-rate swaps show a sharp pick-up in the pace of fluctuations, their levels aren't close to peaks reached earlier this year. Treasury yields move closely in line with similar-maturity swap rates. That said, real yields in the US are now above 1 percent and at the highest since 2011, which makes them attractive to investors. We maintain our overweight positioning on the US Treasuries and expect to see a further flattening of the yield curve going forward. The pace of the upward shift in nominal yields YTD is almost 85bps which could be seen as overdone given the macro backdrop (moderating growth, global trade tensions) and the need for risk-free returns from the broader investor community. The Fed hiking in December is in our view already priced-in by markets. Last week's benign inflation report further confirms our view on price pressures. CPI headline increased 0.1% in September, below consensus expectations for a 0.2% rise. This pushed down the year-on-year rate of change to 2.3% from 2.7%. Some deceleration was expected, as consensus projected a 2.4% print due to base effects, stronger CPI readings in the second half of 2017 implied some moderation in the year-over-year comparisons. Moreover, FED's preferred gauge, the core PCE deflator, should likely hover around the 2% in the coming months and should not have material adjustments to our expectations on the path for further hikes and the implications to the current valuations on the Treasury yields.
Within Emerging Markets, some notable gains led by Turkey, Brazil and Argentina on back of recent developments on the trade pact by the US, Mexico and Canada, and the release of US Pastor Andrew Brunson helped investor sentiment. Turkish ten-year hard-currency Sovereign bonds strengthened and rallied 36bp to yield at 7.53 percent while the Turkish Lira closed at 5.87 against the US dollar extending some support for the domestic bonds. India's consumer price inflation registered another downward surprise at 3.8%, remaining below the Reserve Bank of India's medium term target of 4.0%. RBI's unexpected pause to keep policy rate on hold at 6.50% earlier this month should also support bond prices in the near to mid-term. We maintain our positive stance towards the asset class.
The United Arab Emirates passed a long-anticipated law that would allow its federal government to issue Sovereign bonds. The Ministry of Finance highlighted that it would establish a Public Debt Management Office to oversee the new federal-level borrowings. As new debt gets issued at the federal level, it should trigger yield convergence for the outstanding bonds and Sukuks issued by other Emirates. The Dubai Sovereign bonds which are not rated have always traded wider to the rest of the emirates, including Sharjah and Ras-Al Khaimah. The establishment of a UAE yield curve has been long awaited and should support liquidity and provide better funding conditions for governments and corporations going forward.
Equity update: we hold our positions
A US stock market sell-off, with the S&P 500 ending last week 4.1% lower, was mirrored by other developed markets. Emerging markets equities lost 2% in USD, with China the worst contributor (-3.6% for MSCI China in USD) but India (+1.4%) and LatAm (+1%) positive. The US was hit by a combination of rapidly rising US Treasury yields, continued trade tensions, and concerns about earnings and margins. The VIX index rose to a level of 28 but was nowhere near the February level of 50. Trading volumes in the US were at one-third of February levels indicating that markets were not panicking. Friday saw markets recover somewhat, however, we are not calling for a short-term bottom in a backdrop made of China-US confrontation and imminent mid-term elections.
Investors have begun fearing that rising interest rates and government bond yields, could start affecting corporate profits and global growth. Trade tariffs too are feared to have the potential to add to inflation and the cost of goods. 10 Years Treasury yields at 3.2% were inevitable with the current Fed policy, so why the sharp reaction by the US stock market last week? It's more to do with US-China tensions over trade tariffs, intellectual property theft, threats to the US technology sector and cyber hacking. Higher rates generally reflect an improving economy for the longer term and tend to boost stock prices. That has generally held true over the last 30 years, and more recently in the post-crisis period.
Last week's headlines focused on the tech sector as it has the largest weight in indices, but the selloff was broad-based. and all 11 global sectors saw a decline led by industrials and materials. The more defensive sectors i.e. telecom and utilities which have been the worst performers so far in 2018 and have a low weight in global indices, fell the least. Value as a factor had a slight lead over growth but not significant. Going forward this is showing signs of shifting and we could see a rotation into the sectors with lower valuations such as banking and energy especially in the US, where valuations are becoming a focus, as doubts emerge on the sustainability of strong growth.
Equity performance and market cap growth have been aided by the introduction of new industries in the technology sector, which have grown exponentially and accounted for a significant share of the stock market gain. Whille the technology sector still leads returns globally, +8.1% year to date, it has given up 4% of its gains in just one week. Hedge funds lightened positions on the favored group of big U.S. tech names, the FAANGs. The semiconductors sector up 40% in 2017, led the rout in technology stocks as guidance and earning updates indicate slowing demand, which reflects on the industries that use the chips. Annual growth in semiconductor sales has moderated from 21% in March to 8% in August. The sector was one of the biggest losers and -8% quarter to date, though still flat for the year. Large chip users have also begun setting up their facilities to reduce dependence on suppliers. We have been advocating booking partial profits since the beginning of the year on the technology winners. Our conviction remains firm on the continuing growth of cloud services, robotics and data analytics, AI in industrial use, healthcare and financial services.
For most of 2018, the overweight stance on tech and growth stocks has served investors well. Even with the recent pullback, Amazon shares are up 53% this year, Netflix 77% and Apple 31%. The key risk is that these beautiful stories are also popular, widely held, and sometimes part of leveraged or derivatives-based strategies which can trigger brutal position unwinding.
The fundamentals of the US market remain unchanged; in fact the first half 2018 earnings growth of 25% has brought US valuations to reasonable levels at 15.8X the next 12 months expected earnings. It looks like US companies will achieve the 20% earnings growth expected by consensus in Q3. JPMorgan Chase, Citigroup and Wells Fargo have kicked off the Q3 earnings season with above consensus numbers, on account of growth in income from consumer lending and spending. This was a positive surprise as rising interest rates make it more expensive for households to borrow. Default rates too improved in the third quarter, indicating improving disposable income. Despite higher debt loads, U.S. consumers, (excluding mortgages), owe a record $4tn in the form of student loans, auto loans and credit cards, but are paying out just under 10% of their disposable income on interest payments, according to Federal Reserve data. That is down from over 13% in the run-up to the financial crisis.
Will US equity market divergence with emerging markets, which trade below median price to earnings multiples continue? The MSCI EM Index at 10.2X 2019E Price to earnings is at its steepest discount to the S&P 500 Index since 2004. Emerging Markets are undervalued relative to their long-term average (median since 2006 is 11.5X Price to Earnings) and to the US. Earnings momentum will slow down for the US as the boost from the tax cuts fades, and input costs for companies increase along with wage growth. Inflation we feel however will be controlled with the efficiencies of technology. However, while US corporate earnings growth will slow, it is still expected to reach 10% in 2019 by the consensus. We thus hold our US positions. Some of the best quality names, companies with sustainable growth and a high spend on innovation backed by strong cash flow companies are based in the US. We also see potential in some unloved sectors including US financials as rates rise and the energy sector with growing payouts. Emerging markets offer a compelling value trade with growth double that of the developed markets, and we would gradually and selectively invest, even though geopolitical and trade tariff concerns may require patience.
GCC markets performance was in line with global markets. The Saudi Index was the worst performer at -5.8% last week wiping out the year's gains. Geopolitical concerns are adding to Saudi market woes. The UAE indices weathered the world contagion better: the Abu Dhabi Index fell the least at -0.8% along with the Dubai Index which also fell only 1.3% last week. The latter has seen some steep declines led by the real estate sector, however the Index at 7X 2019E Price to Earnings leave little danger of further pullbacks. Oil prices are supportive of GCC equity market performance, however, the breadth of the markets limits the interest of international investors. As more companies list in the region especially in the consumer and healthcare sector, the market will offer a more diversified offering.
Cross-asset considerations: time for gold?
In the past week 10-year US real rates consolidated above the psychologically important 1% mark, after breaching it decisively for the first time in the last seven years. Being one of the primary drivers of the ebb and flow of global liquidity, investors are now wondering whether world economies are in for a tightening of financial conditions, as rates may have further to go. Furthermore, at a level of 1.5%, with nominal rates at 3.5% assuming US inflation at 2%, long-dated Treasuries would start to look compelling versus equities on a risk-adjusted basis.
Before jumping the gun, one should first pragmatically consider that historically, during Fed tightening cycles, US 10-year Treasury yields have tended to peak in line with shorter-term rates. The Fed officials' forecast for Fed funds is at most 3.3% in 2020, hence, if history is anything to go by US 10-year yields should at most be at that level at the end of the cycle.
This is relevant news for gold prices, sensitive to the direction of long-dated yields. Capped US real rates mean gold can be ripe for a bottom and find more favorable conditions in 2019, versus the crushing 'America First' performance of US assets this year. On Friday gold forcefully broke above 1,200, amidst generalized risk-off market sentiment. The emphasis here is on 'generalized', as gold needs risk-reduction across the board to perform as a safe haven asset, something akin to what we witnessed last week, when both DM and EM equities dropped simultaneously, the first time since the February sell-off.
US real rates play a pivotal role for EM hard-currency bonds as well. Lately, EM USD bonds have rebounded with rising US rates, so there could be some residual weakness in store for the asset class shorter term. On a longer-term basis, though, money would start again flowing into EM bonds as their yield becomes increasingly appealing against that of Treasuries.
Written By:
Maurice Gravier
Chief Investment Officer,
Maurice G@EmiratesNBD.com
Anita Gupta
Head of Equity Strategy,
Anitag@EmitatesNBD.com
Yahya Sultan
Head of Fixed Income Strategy,
YahyaS@EmiratesNBD.com
Giorgio Borelli
Head of Asset Allocation,
GiorgioB@EmiratesNBD.com
Disclaimer

Emirates NBD Bank PJSC ("Emirates NBD") is licensed and regulated by the UAE Central Bank and this website aims at providing Internet users with information concerning Emirates NBD Private Banking, its products and activities. Persons having access to information made available by Emirates NBD on this website accept the following rules:

Reliance:
Emirates NBD uses reasonable efforts to obtain information from sources which it believes to be reliable, however Emirates NBD makes no representation that the information or opinions contained in publications on this website are accurate, reliable or complete. Published information may include data/information from stock exchanges and other sources from around the world and Emirates NBD does not guarantee the sequence, accuracy, completeness, or timeliness of information contained on this website provided thereto by unaffiliated third parties. Anyone proposing to rely on or use the information contained on this website should independently verify and check the accuracy, completeness, reliability and suitability of the information and should obtain independent and specific advice from appropriate professionals or experts. Further, references to any financial instrument or investment product are not intended to imply that an actual trading market exists for such instrument or product. Emirates NBD is not acting in the capacity of a fiduciary or financial advisor. Any publications on this website are provided for informational purposes only and are not intended for trading purposes. Data/information provided herein is intended to serve for illustrative purposes and is not designed to initiate or conclude any transaction. The information available on this website is not intended for use by, or distribution to, any person or entity in any jurisdiction or country where such use or distribution would be contrary to law or regulation. This website and anything contained herein, is provided "as is" and "as available," and that Emirates NBD makes no warranty of any kind, express or implied, as to this website, including, but not limited to, merchantability, non-infringement, title, or fitness for a particular purpose or use.

Modifications:
The provision of certain data/information on this website is subject to the terms and conditions of other agreements to which Emirates NBD is a party. Emirates NBD reserves the right to make changes and additions to the information provided at any time without prior notice. The information may be modified or removed without prior notice. No buy or sell orders submitted via the internet or email will be accepted. In addition, the data/information contained on this website is prepared as of a particular date and time and will not reflect subsequent changes in the market or changes in any other factors relevant to the determination of whether a particular investment activity is advisable.

Liability:
Information contained on this website is believed by Emirates NBD to be accurate and true, in all material respects. Emirates NBD accepts no responsibility whatsoever for any loss or damage caused by any act or omission taken as a result of the information contained on this website. Further Emirates NBD accepts no liability for the information and opinions published on the website and is under no obligation to remove outdated information from its website or to mark it clearly as such. The information given on this website may not be distributed or forwarded in whole or in part. Accordingly, anything to the contrary herein set forth notwithstanding, Emirates NBD, its suppliers, agents, directors, officers, employees, representatives, successors, assigns, affiliates or subsidiaries shall not, directly or indirectly, be liable, in any way, to you or any other person for any: (a) inaccuracies or errors in or omissions from the information available on this website including, but not limited to, quotes and financial data; or (b) loss or damage arising from the use of this publication, including, but not limited to any investment decision occasioned thereby. or (c) under no circumstances, including but not limited to negligence, shall Emirates NBD, its suppliers, agents, directors, officers, employees, representatives, successors, assigns, affiliates or subsidiaries be liable to you for direct, indirect, incidental, consequential, special, punitive, or exemplary damages even if Emirates NBD has been advised specifically of the possibility of such damages, arising from the use of the information on this website, including but not limited to, loss of revenue, opportunity, or anticipated profits or lost business. Emirates NBD expressly accepts no liability for losses or damages of any kind arising from using or accessing this website or links to third-party websites or from viewing information on any of its web pages. Furthermore, Emirates NBD accepts no liability for any unauthorized manipulation of users IT systems. Emirates NBD expressly draws user's attention to the risk of viruses and the threat of hacker attacks

Third Party Website:
Users may be aware that Emirates NBD has no control whatsoever over third-party websites linked to or from this website and therefore accepts no liability for the content of such websites being correct, complete and legally valid for the products and services offered on such websites. Emirates NBD's express written permission must always be sought before including a link to this website on a third-party website.

Solicitation:
None of the information on this website in any way constitutes a solicitation, offer, opinion, or recommendation by Emirates NBD to buy or sell any security, or to provide legal, tax, accounting, or investment advice or services regarding the profitability or suitability of any security or investment.

Forward Looking:
The information contained on this website does not purport to contain all matters relevant to any particular investment or financial instrument and all statements as to future matters are not guaranteed to be accurate. Certain matters in this publication on the website are about the future performance of Emirates NBD or members of its group (the Group), including without limitation, future revenues, earnings, strategies, prospects and all other statements that are not purely historical, constitute "forward-looking statements". Such forward-looking statements are based on current expectations or beliefs, as well as assumptions about future events, made from information currently available. Forward-looking statements often use words such as "anticipate", "target", "expect", "estimate", "intend", "plan", "goal", "seek", "believe", "will", "may", "should", "would", "could" or other words of similar meaning. Undue reliance should not be placed on any such statements in making an investment decision, as forward-looking statements, by their nature, are subject to known and unknown risks and uncertainties that could cause actual results, as well as the Group's plans and objectives, to differ materially from those expressed or implied in the forward-looking statements. Past performance is not necessarily a guide to future performance. Estimates of future performance are based on assumptions that may not be realized.

Risk: In addition, before entering into any transaction, the risks should be fully understood and a determination made as to whether a transaction is appropriate given the person's investment objectives, financial and operational resources, experiences and other relevant circumstances. The obligations relating to a particular transaction (and contractual relationship) including, without limitation, the nature and extent of their exposure to risk should be known as well as any regulatory requirements and restrictions applicable thereto. Data included on this website may rely on models that do not reflect or take into account all potentially significant factors such as market risk, liquidity risk, and credit risk. Emirates NBD may use different models, make valuation adjustments, or use different methodologies when determining prices at which Emirates NBD is willing to trade financial instruments and/or when valuing its own inventory positions for its books and records.

Investment in financial instruments involves risks and returns may vary. Before making such an investment, investors should consult their advisers on the legal, regulatory, tax, business, investment, financial and accounting implications of the investment.

Intellectual property:
The information on this website has been developed, compiled, prepared, revised, selected, and arranged by Emirates NBD and others (including certain other information sources) through the application of methods and standards of judgment developed and applied through the expenditure of substantial time, effort, and money and constitutes valuable intellectual property of Emirates NBD and all present and future rights in and to trade secrets, patents, copyrights, trademarks, service marks, know-how, and other proprietary rights of any type under the laws of any governmental authority, domestic or foreign, shall at all times be and remain the sole and exclusive property of Emirates NBD and/or other lawful parties and you acknowledge that you have no ownership rights in and to any of such items. Except as specifically permitted in writing, the information provided in this website shall not be copied or make any use of any information on this website or any portion of the intellectual property rights connected with this website, or the names of any individual participant in, or contributor to, the content of this website, or any variations or derivatives thereof, for any purpose. Further you shall not use any of the trademarks, trade names, service marks, copyrights, or logos of Emirates NBD or its subsidiaries in any manner which creates the impression that such items belong to or are associated with you or, except as otherwise provided with Emirates NBD's prior written consent,

Confidentiality:
The information on this website solely for non-commercial use and benefit and the use of this information is not intended for resale or other transfer or disposition to, or use by or for the benefit of, any other person or entity. Information contained in this website shall not be used, transferred, distributed, reproduced, published, displayed, modified, create derivative works from any data contained on this website or disposed of in any manner that could compete with the business interests of Emirates NBD. Any part of this website may not be offered for sale or distribute it over any medium including but not limited to over-the-air television or radio broadcast, a computer network or hyperlink framing on the internet without the prior written consent of Emirates NBD. The information contained on this website may not be used to construct a database of any kind. The data on this website shall not be used in any way to improve the quality of any data sold or contributed by you to any third party.

Recipient Acknowledgements
In accessing this website, you acknowledge and agree that there are risks associated with investment activities. Moreover, you agree that your use of this publication is at your sole risk and acknowledge that the responsibility to obtain and carefully read and understand the content of documents relating to any investment activity described on this website and to seek separate, independent financial advice if required to assess whether a particular investment activity described herein is suitable, lies exclusively with you.