Take profits in May, but don't "go away"
Chief Investment Officer's team, 12.05.2019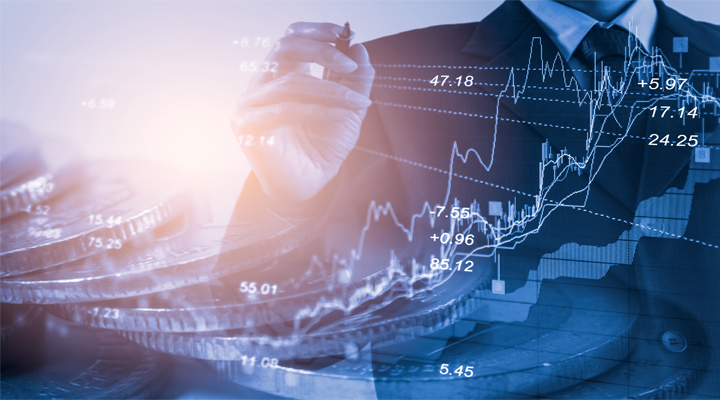 AT A GLANCE
Last week has been all about the re-escalation of the trade conflict between US and China
This event was unexpected, and triggered a sharp "risk-off" episode
We expect volatility ahead and temporarily reduce Emerging Equities to neutral
As we wrote in our latest Year Ahead Outlook, the ability to adapt to changing conditions is paramount. This is why we started the year with a constructive stance, before reducing Developed Market equities while favouring their Emerging Market peers. After President Trump's tweets revived the US-China trade war, we decided to reduce our allocation to Emerging Market equities to neutrality, and keep the proceeds in cash.
This event was not expected, nor was it priced-in by financial markets. EM equities are one of the rare assets to have received positive inflows from global investors in 2019, and are close to our year-end fair value. We thus recommend taking profits on this active position. Our secular conviction for EM remains intact: we are still overweight in EM bonds, and stand ready to overweight equities again when the opportunity arises, should it be a better trade context or a cheaper valuation. A full-blown trade war is not our central scenario, but the rhetoric between the two superpowers is not calming down. China just stated that removing all extra tariffs is a pre-requisite to reach a deal. This won't probably happen overnight, and the uncertainty from negotiations might weigh on business confidence and investors sentiment.
As a result, taking partial profits after a spectacular rally appears to be wise. We are more defensive, but remain invested, as the fundamental backdrop hasn't dramatically deteriorated.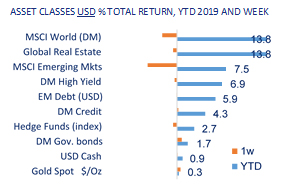 Cross-asset considerations
Lacking positive catalysts in the current quarter, the additional uncertainty caused by the resurging trade war between the US and China will most likely have a bearing on asset performance, not yet reflected in last week's shallow market correction. Equities are down in the low-single digits month-to-date, credit spreads modestly tighter and high-beta currency have on average lost a couple of percentage points, nothing like the more severe losses suffered in different episodes last year.
Following President Trump's announcement of extending higher tariffs to $200bn worth of imports from China, we decided to cut our EM equity overweight to neutral. The decision was dictated by the strong performance of the asset class, approaching our year-end fair value, and its vulnerability in terms of flows, since EM assets in general seem to be no longer under-owned. Barely have supply chains in EM Asia recovered from the shock of the deleveraging administered by Chinese authorities across 2017, when new challenges to global trade arise and risk delaying the recovery in developing countries.
Indeed, even before the deep disagreements between US and Chinese negotiators came to the fore, investors had little to look forward to in the short term. The first four months of the year have seen an indiscriminate rally across the risk spectrum bringing all risk assets to full valuations, alongside a dovish pivot of the Fed which leaves no room for further accommodative surprises. At the same time, the gap between solid labor markets in the developed countries and falling global business confidence has continued to widen. Growth outside of the US had just started to stabilize, with March manufacturing confidence rebounding nicely in China and no longer slumping for the month of April in the Euro Area. The threat of new tariffs on all of Chinese exports to the US would jeopardize the fragile recovery and require larger risk premia on equity and credit.
Although it is hard to tell which turn negotiations will take next, it seems clear that the parties are far from sharing a common framework to be working on and eventually agreeing to. Hence, even though it is in their mutual interest to find a solution to the current predicament, coming to that stage might take longer than expected, and in the interim, uncertainty would most likely cause further disruptions in financial markets.
EM assets, in particular EM Asia equities, and European equities, in particular the German market, have the highest beta to global trade. On the opposite side of the risk spectrum, the US dollar and gold stand to gain the most from the current state of affairs. Global government bonds seem to be already overbought and a palatable asset class only in the case of a recession, which is not our base case in the next twelve months.
Our base case remains that a full-blow trade war will be averted, hence we are ready to deploy our cash to add risk back to portfolios at more favorable valuations.
TACTICAL ASSET ALLOCATION: SIMPLIFIED POSITIONING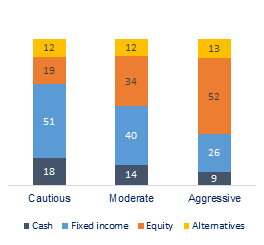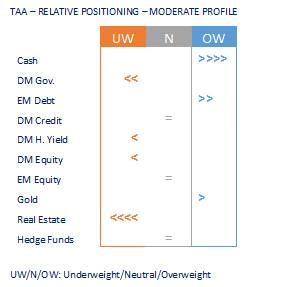 TAA – YTD INDICATIVE PERFORMANCE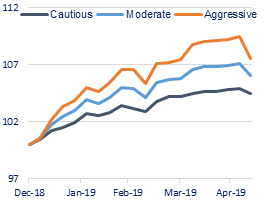 Fixed Income Update
Bond markets YTD returns (chart) have shown a clear resilience in the recent volatile sessions. With so many geopolitical factors taking center stage together with the ongoing saga on US-China trade, it is becoming hard to warrant for the tight valuations on corporate credit spreads. That said, on average, LIBOR has fallen by circa 30bps across 3m, 6m and 12m to 2.52%, 2.58% and 2.69% respectively which also provides some reprieve for bond markets particularly for investors seeking a fixed source of income. The benign inflationary regime and dovish stance by policymakers are providing a sound fundamental rationale for the discerning bond investors.
The latest inflation readings were interesting for bonds. US consumer prices came in below expectations. The core consumer price index, which excludes food and energy, rose 0.1% from the prior month, missing estimates (survey 0.2%), while the broader headline measure rose 0.3%, also short of forecasts (0.4%, flat versus previous month). The difference between the 3-month and 10-year flattened towards zero. Moreover, China's inflation rate rose to the highest in 6 months in April to 2.5%, while producer prices accelerated to 0.9% from the prior reading of 0.4%. Away from the trade dispute, investors have to cope with a rise in Chinese corporate defaults, within their USD 13tn bond market. Corporate defaults totaled close to USD 5.8bn of domestic bond value in the first four months of the year, some 3.4x the total for the same period of 2018 according to Bloomberg. Such nuances have been predicated towards the tight control of liquidity by the regulators which took place during 2016. Last week, PBOC cut reserve requirement ratios (RRRs) to release about Yuan 280bn (USD 41bn) of liquidity for some small and medium-sized banks. The PBOC said the reduction would be implemented in three phases, giving the dates of May 15, June 17 and July 15. "This is aimed at helping small- and medium-sized banks to better serve small and private enterprises, which will, in turn, support the overall economy," PBOC stated.
High-yield debt offerings in the U.S. rose to USD 12bn last week across 16 issuers. The benchmark index yield increased by circa 28bps posting minus 0.51% of returns. The option-adjusted-spreads widened to 382bps over the benchmark US Treasuries from 354bps. The five-year high-yield credit default swaps remained unchanged throughout the week at 107bps while net outflows on the High-yield ETF totaled USD 674.3mn. YTD, the ETFs have seen close to USD 7.5bn of capital inflows.
On central bank monetary policy meetings, the Bank Negara Malaysia and Bangko Sentral ng Pilipinas lowered their key benchmark interest rates 25bps for the first time since 2016 to 3.0% and 4.5% respectively while Central banks from the Brazil, Chile and Peru left their respective policy rates unchanged amid a challenging growth outlook backdrop.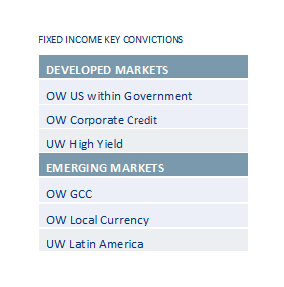 FIXED INCOME VALUATIONS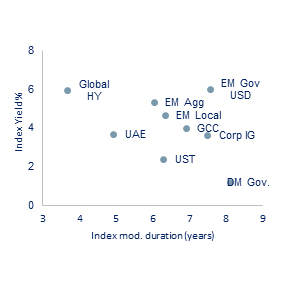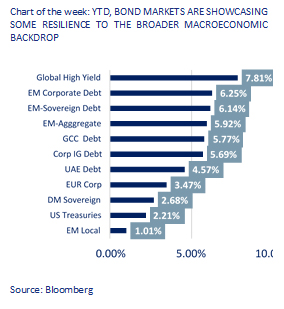 Equity Update
Renewed concerns about the impact of trade protectionism on global growth and corporate earnings led to a selloff in global markets, just as investors had become complacent and begun pricing in a strong probability of a "deal" getting done. The S&P 500 ended the week down 2.1% for its worst week year-to-date. With the S&P 500 near all-time highs, it probably seemed the best time to raise tariffs. However, this will arguably compress margins: the cost of tariffs on over 5,700 different product categories from China will have to be absorbed by American companies or passed onto consumers. Volatility spiked, with the Vix Index briefly touching 23 on Thursday, before ending the week at 16, however nowhere near the December high of 35. So far the dip in sentiment is not comparable.
We continue to be neutral the US within our DM Equity portfolio and the current pullback brings the indices closer to our fair values. Our level of 2825 predicated on a 16X earning multiple and 5% earnings growth rate for 2019, was reached in Q1. Earnings growth in Q1 has beaten expectations by 5% but concerns will be about their trajectory for the second half of the year. US retail/consumer companies could be the most impacted by tariffs, with a potential 5% hit on EPS. However, in the medium term margins will recover as the US will shift its supply chain to other countries. We would continue to remain invested in the US and retain our focus on quality and select tech and healthcare subsectors with higher margins and certainty of growth.
EM equities lost 4.5% last week and are now up only 7.5% year to date with valuations below their median historical forward P/E, thus leaving room for upside potential. The MSCI China closed the week down 6%, but year to date Dollar gains are still a healthy 14.2%. However, this index is not the best representative of China markets as just 2 companies, Alibaba and Tencent cumulate a 30% weighting. China plans supportive measures to support the economy and markets. The larger reforms and supply chain shifts will help keep up the pace of economic growth. We have shifted to a neutral stance on EM on a tactical basis and would add back once the immediate knee jerk volatility subsides.
European and Japanese stocks had a negative week, obviously impacted by both a risk-off mood and the risk of global trade being affected. In the GCC too, falling oil prices and a global risk off mood led to a c.3% drop in the Dubai and Abu Dhabi markets and more so in the KSA which has a higher beta to oil.
It wasn't a good week for IPOs either. The much hyped listing of Uber had a lackluster take off ("Uber in reverse" as one media headline stated) and the stock price dipped by 7% on its 1st day of trading. Uber has broken private financing records with a $ 75 bn valuation, created a gig economy in transportation and is one of the most used apps globally. Quality matters as profitability around these new era tech companies remains a question mark. Uber is losing almost a billion Dollars a quarter.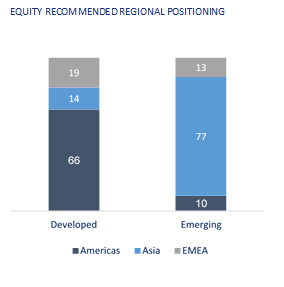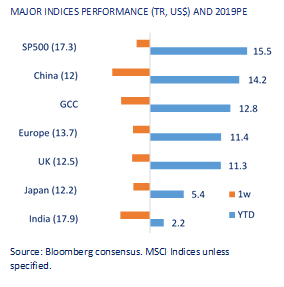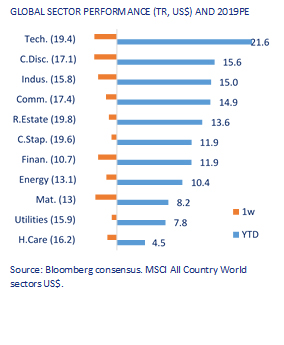 Written By:
Maurice Gravier
Chief Investment Officer,
MauriceG@EmiratesNBD.com
Anita Gupta
Head of Equity Strategy,
Anitag@EmiratesNBD.com
Yahya Sultan
Head of Fixed Income Strategy,
YahyaS@EmiratesNBD.com
Giorgio Borelli
Head of Asset Allocation,
GiorgioB@EmiratesNBD.com
Disclaimer

Emirates NBD Bank PJSC ("Emirates NBD") is licensed and regulated by the UAE Central Bank and this website aims at providing Internet users with information concerning Emirates NBD Private Banking, its products and activities. Persons having access to information made available by Emirates NBD on this website accept the following rules:

Reliance:
Emirates NBD uses reasonable efforts to obtain information from sources which it believes to be reliable, however Emirates NBD makes no representation that the information or opinions contained in publications on this website are accurate, reliable or complete. Published information may include data/information from stock exchanges and other sources from around the world and Emirates NBD does not guarantee the sequence, accuracy, completeness, or timeliness of information contained on this website provided thereto by unaffiliated third parties. Anyone proposing to rely on or use the information contained on this website should independently verify and check the accuracy, completeness, reliability and suitability of the information and should obtain independent and specific advice from appropriate professionals or experts. Further, references to any financial instrument or investment product are not intended to imply that an actual trading market exists for such instrument or product. Emirates NBD is not acting in the capacity of a fiduciary or financial advisor. Any publications on this website are provided for informational purposes only and are not intended for trading purposes. Data/information provided herein is intended to serve for illustrative purposes and is not designed to initiate or conclude any transaction. The information available on this website is not intended for use by, or distribution to, any person or entity in any jurisdiction or country where such use or distribution would be contrary to law or regulation. This website and anything contained herein, is provided "as is" and "as available," and that Emirates NBD makes no warranty of any kind, express or implied, as to this website, including, but not limited to, merchantability, non-infringement, title, or fitness for a particular purpose or use.

Modifications:
The provision of certain data/information on this website is subject to the terms and conditions of other agreements to which Emirates NBD is a party. Emirates NBD reserves the right to make changes and additions to the information provided at any time without prior notice. The information may be modified or removed without prior notice. No buy or sell orders submitted via the internet or email will be accepted. In addition, the data/information contained on this website is prepared as of a particular date and time and will not reflect subsequent changes in the market or changes in any other factors relevant to the determination of whether a particular investment activity is advisable.

Liability:
Information contained on this website is believed by Emirates NBD to be accurate and true, in all material respects. Emirates NBD accepts no responsibility whatsoever for any loss or damage caused by any act or omission taken as a result of the information contained on this website. Further Emirates NBD accepts no liability for the information and opinions published on the website and is under no obligation to remove outdated information from its website or to mark it clearly as such. The information given on this website may not be distributed or forwarded in whole or in part. Accordingly, anything to the contrary herein set forth notwithstanding, Emirates NBD, its suppliers, agents, directors, officers, employees, representatives, successors, assigns, affiliates or subsidiaries shall not, directly or indirectly, be liable, in any way, to you or any other person for any: (a) inaccuracies or errors in or omissions from the information available on this website including, but not limited to, quotes and financial data; or (b) loss or damage arising from the use of this publication, including, but not limited to any investment decision occasioned thereby. or (c) under no circumstances, including but not limited to negligence, shall Emirates NBD, its suppliers, agents, directors, officers, employees, representatives, successors, assigns, affiliates or subsidiaries be liable to you for direct, indirect, incidental, consequential, special, punitive, or exemplary damages even if Emirates NBD has been advised specifically of the possibility of such damages, arising from the use of the information on this website, including but not limited to, loss of revenue, opportunity, or anticipated profits or lost business. Emirates NBD expressly accepts no liability for losses or damages of any kind arising from using or accessing this website or links to third-party websites or from viewing information on any of its web pages. Furthermore, Emirates NBD accepts no liability for any unauthorized manipulation of users IT systems. Emirates NBD expressly draws user's attention to the risk of viruses and the threat of hacker attacks

Third Party Website:
Users may be aware that Emirates NBD has no control whatsoever over third-party websites linked to or from this website and therefore accepts no liability for the content of such websites being correct, complete and legally valid for the products and services offered on such websites. Emirates NBD's express written permission must always be sought before including a link to this website on a third-party website.

Solicitation:
None of the information on this website in any way constitutes a solicitation, offer, opinion, or recommendation by Emirates NBD to buy or sell any security, or to provide legal, tax, accounting, or investment advice or services regarding the profitability or suitability of any security or investment.

Forward Looking:
The information contained on this website does not purport to contain all matters relevant to any particular investment or financial instrument and all statements as to future matters are not guaranteed to be accurate. Certain matters in this publication on the website are about the future performance of Emirates NBD or members of its group (the Group), including without limitation, future revenues, earnings, strategies, prospects and all other statements that are not purely historical, constitute "forward-looking statements". Such forward-looking statements are based on current expectations or beliefs, as well as assumptions about future events, made from information currently available. Forward-looking statements often use words such as "anticipate", "target", "expect", "estimate", "intend", "plan", "goal", "seek", "believe", "will", "may", "should", "would", "could" or other words of similar meaning. Undue reliance should not be placed on any such statements in making an investment decision, as forward-looking statements, by their nature, are subject to known and unknown risks and uncertainties that could cause actual results, as well as the Group's plans and objectives, to differ materially from those expressed or implied in the forward-looking statements. Past performance is not necessarily a guide to future performance. Estimates of future performance are based on assumptions that may not be realized.

Risk: In addition, before entering into any transaction, the risks should be fully understood and a determination made as to whether a transaction is appropriate given the person's investment objectives, financial and operational resources, experiences and other relevant circumstances. The obligations relating to a particular transaction (and contractual relationship) including, without limitation, the nature and extent of their exposure to risk should be known as well as any regulatory requirements and restrictions applicable thereto. Data included on this website may rely on models that do not reflect or take into account all potentially significant factors such as market risk, liquidity risk, and credit risk. Emirates NBD may use different models, make valuation adjustments, or use different methodologies when determining prices at which Emirates NBD is willing to trade financial instruments and/or when valuing its own inventory positions for its books and records.

Investment in financial instruments involves risks and returns may vary. Before making such an investment, investors should consult their advisers on the legal, regulatory, tax, business, investment, financial and accounting implications of the investment.

Intellectual property:
The information on this website has been developed, compiled, prepared, revised, selected, and arranged by Emirates NBD and others (including certain other information sources) through the application of methods and standards of judgment developed and applied through the expenditure of substantial time, effort, and money and constitutes valuable intellectual property of Emirates NBD and all present and future rights in and to trade secrets, patents, copyrights, trademarks, service marks, know-how, and other proprietary rights of any type under the laws of any governmental authority, domestic or foreign, shall at all times be and remain the sole and exclusive property of Emirates NBD and/or other lawful parties and you acknowledge that you have no ownership rights in and to any of such items. Except as specifically permitted in writing, the information provided in this website shall not be copied or make any use of any information on this website or any portion of the intellectual property rights connected with this website, or the names of any individual participant in, or contributor to, the content of this website, or any variations or derivatives thereof, for any purpose. Further you shall not use any of the trademarks, trade names, service marks, copyrights, or logos of Emirates NBD or its subsidiaries in any manner which creates the impression that such items belong to or are associated with you or, except as otherwise provided with Emirates NBD's prior written consent,

Confidentiality:
The information on this website solely for non-commercial use and benefit and the use of this information is not intended for resale or other transfer or disposition to, or use by or for the benefit of, any other person or entity. Information contained in this website shall not be used, transferred, distributed, reproduced, published, displayed, modified, create derivative works from any data contained on this website or disposed of in any manner that could compete with the business interests of Emirates NBD. Any part of this website may not be offered for sale or distribute it over any medium including but not limited to over-the-air television or radio broadcast, a computer network or hyperlink framing on the internet without the prior written consent of Emirates NBD. The information contained on this website may not be used to construct a database of any kind. The data on this website shall not be used in any way to improve the quality of any data sold or contributed by you to any third party.

Recipient Acknowledgements
In accessing this website, you acknowledge and agree that there are risks associated with investment activities. Moreover, you agree that your use of this publication is at your sole risk and acknowledge that the responsibility to obtain and carefully read and understand the content of documents relating to any investment activity described on this website and to seek separate, independent financial advice if required to assess whether a particular investment activity described herein is suitable, lies exclusively with you.