Politics and Policies
Chief Investment Officer's team, 19.11.2018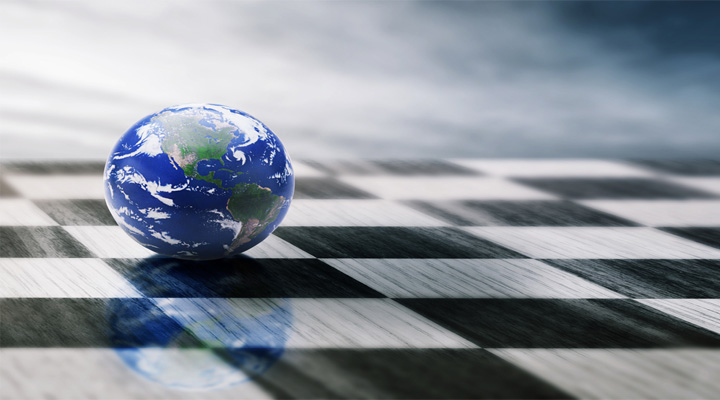 AT A GLANCE
Another negative week for DM risky assets across the board, however better for EM equities
Some slight signs of hope on key US centric issues: Fed policy and tariffs on China
A decisive moment for Brexit
Last week was negative for Developed Market risky assets: MSCI World delivered a -1.5% net return expressed in US Dollars, homogeneous between the US, Europe and Japan. This risk-off mood translated into some support for safe havens such as DM Govies, but logically affected spread-driven bonds, especially High Yield. Another sharp drop in Oil price was an additional reason for corporate bonds to suffer.
By contrast, Emerging Equities were up 1% over the week (MSCI EM in USD), led by China (with hopes on discussions on trade) and India (positively affected by lower energy prices). A softer USD was also supportive.
In Europe, all eyes were on Brexit and we'll elaborate on it below.
Our recommendations for the medium term are unchanged with a positive stance towards equities over bonds (with a preference across asset classes for US and EM), as well as a position in gold.
Cross asset considerations
Investors interested in gauging the effects on financial markets of pronouncements made by high-ranking US officials, should look no further back than to the past week, fraught with declarations made by Federal Reserve board members and the US president. Global stocks retraced more than half of their weekly losses and EM stocks and currencies closed in positive territory, following news that Mr Trump seeks a trade deal with China. The US dollar and 10-year Treasury yields tumbled after Fed vice chair Clarida's dovish statements on policy.
Receding fears related to two major market risks, tighter Fed policy and the US-China escalating trade war, should trigger a year-end rally in oversold risky assets, in line with our base-case scenario outlined in past issues of this publication. Although at the December G-20 meeting President Trump and President Xi are unlikely to reach a compromise deal which could defuse trade tensions, the sheer agreement on a negotiation framework, a net incremental positive, would be enough to support markets.
Gold closed up 1.1% for the week. A string of remarks made by Fed officials suggests that the Federal Reserve will take into account the deteriorating global outlook for policy decisions, and that US growth may have peaked in 2018. The core inflation reading was also soft for October, and inflation trends will be important to support further tightening in H2 2019. Overall, these developments point to limited upside for long-dated Treasury yields, lending comfort to our bullish stance on gold expressed with a tactical overweight on the asset class. Gold's advance was mirrored by a setback in the US dollar, which should halt its upward trending phase if we are proven right in our view that risk-on sentiment should take hold in the next few months.
The yield on US high yield closed for the week at 7.2%, according to a Bloomberg Barclays gauge, the highest level since June 2016. Non-investment grade corporates, which had proven resilient to rising market volatility in Q1 this year, caught up with the reality of sharply lower crude prices and lingering concerns about economic growth.
On our multi-asset portfolios we maintain an underweight stance on the asset class, offset by an overweight on equities, offering in our view a superior risk-reward profile. On average high-yielding bonds have historically peaked one year in advance of a US recession, whose probability one-year out remains relatively low according to most models.
Where are we in the Brexit process?
Last week, the UK finally announced that a deal agreeing the terms of the United Kingdom's exit from the European Union had been agreed with the EU. However, despite a 'collective' agreement by her Cabinet, Prime Minister Theresa May is battling not only to save her Brexit deal, but her position as prime minister as several ministers, including the Brexit Secretary Dominic Raab resign. Whilst the UK Cabinet has approved the Brexit deal, it still requires approval by an EU leaders' summit, the House of Commons and the European Parliament. The deal that has been announced is a 585 page document that is the separation agreement between the UK and the EU, covering several main areas: Britain's financial settlement or divorce bill; the rights of EU citizens in the UK and British citizens in the EU post-Brexit; how to prevent a hard border in Ireland; the transition period; the customs union of the UK/EU; oversight Governance of the withdrawal treaty. The agreement does not go into detail about the future trading relationship between the UK and the EU, although it includes a declaration on the preferred relationship.
It has undoubtedly been the most turbulent few days of Theresa May's premiership, and despite calls for her resignation, she has vowed to "see it through". With the most notable resignation of her second Brexit Minister amongst others, and a growing number of signatures from her party calling for a vote of no confidence, Theresa May is facing her biggest political challenge yet. The treaty may have been collectively approved by her Cabinet, but Theresa May faces significant challenges to get it through parliament.
An immediate reaction to this turmoil on 15 November was a weakening in sterling, with cable falling 2% from 1.2775, and slightly recovering to 1.2840 at the time of writing, but far from the 1.20 that some commentators had warned of. It also sank about 2% versus the euro. A shift to the safety of UK gilts pushed the 2-year yield to 0.72%, below the Bank of England's base rate of 0.75%, whilst ten year yields have fallen to 1.40%, having recently peaked at over 1.70%. Equity markets however, as evidenced by the FTSE100, did not react as badly as sterling, suffering some volatility but ending slightly up on the day. UK equities are supported by a weaker sterling, as it boosts the income of overseas earnings – a major constituent of the FTSE.
While UK inflation has been above the target for a longer period, we expect the Bank of England to tread cautiously, despite obvious inflationary pressures (wages and goods) within the system. Should there be a definitive outcome of Brexit, then a sterling relief rally will ease inflationary pressures as well as the Bank of England's need to raise rates. Indeed, the Brexit chaos reduce market expectations of interest rate hikes next year, as the Bank of England's Governor Mark Carney warned in this month's inflation report that rates could go in "either direction" in response to a no-deal Brexit.
There are a number of possible outcomes, whether it is a deal with an orderly exit, or a no deal, resulting in a renegotiation, a chaotic exit, a general election or indeed a second referendum. It is clear that Theresa May will have to use her considerable skill, not only to convince lawmakers in Parliament to back her deal, but also to prevent a challenge to her premiership, and the coming few days are critical. There will continue to be a period of political turmoil, to which financial markets are inextricably linked. As always, investors should be attuned to the risks of these unchartered territories. Indeed, should the deal be agreed and resolved by the current government, the next steps will for the UK to extricate itself from the transition period, the customs union and all that it entails.
Equity update
We expect markets to be range bound until the multiple tensions of Brexit negotiations and the negotiations between US and China come to a conclusion. The path of Fed hawkishness is clearly spelt out for the short-term. Uncertainty is the markets enemy. Asian countries have found themselves in the center of the increasingly tense US-China spat. At the Asia Pacific Economic Co-operation meeting on Sunday, the leaders failed to issue a joint communiqué for the first time in the summit's 29-year history. The US VP Pence's threat that China needed to change its ways, is seen by some as indicative of the start of a cold war.
All major global indices are now negative year to date. The MSCI World is -4.8%, and the MSCI EM Index though it had a positive week is –14.9% year to date. The S&P 500 had a down week (-1.6%) but has retained November gains and is +0.9% this month and in positive territory year to date. We are seeing a clear defensive positioning with healthcare and consumer stocks gaining and technology stocks, which are more volatile on account of high earnings growth expectations, selling off. There are pockets of outperformance from what we would term as the safer investments, with the cyber security index +15% year to date. We have written earlier about semiconductor demand as a proxy for global growth and Nvidia guiding down next quarter revenue was not well taken. Fundamental data on retail sales remains strong but is not buoying the market. Black Friday at the end of this week, though no longer seen to be as important as China's Single Day, remains an important gauge to assess investor sentiment with one third of the US participating. The US still seems in healthy shape whether it be earnings growth or consumer demand and markets should bounce once the overlaying of global tensions get sorted.
European indices fell in line with the US last week, however remain in deep negative territory year to date. At the moment we see no respite with no catalyst and a lackluster earnings season. The next seven days are important for the UK as Brexit negotiations need Parliament approval.
Fixed income update
A dovish stance by the Fed chair J.Powell helped fueled a rally on US Treasuries pushing yields to 3.06 percent while their UK Counterparts saw Gilts drift higher to 1.40 percent on the back of the Brexit event that unfolded last week. Renewed concerns after a failed attempt at the APAC meeting between US and China could see demand for safe-haven assets, particularly for the US Treasuries. Market expectations for a December policy rate hike are already priced in, and we see a strong case for US Treasury yields to remain range bound.
The sell-off on Investment Grade corporate debt has finally abated, dropping more than 4.5 percent so far this year, and is on track for its worst year since 2008. The market fell by about 1.5 percent last month, its biggest October loss in a decade. Global corporate investment grade bonds had been under pressure as tight valuations have been unable to withstand the ongoing policy tightening by the Fed officials together with some concerns over valuations and corporate balance sheet leverage, and when compared to higher short-term interest rates. That said, our stance on corporate investment grade remains positive, and the average spread offered at 125bp looks appealing on a risk-adjusted basis.
On Emerging Markets, Global investors have shown renewed interest towards India's sovereign bonds after shunning them for most of this year. Whether the interest will sustain depends on the price of oil and the upcoming elections next year together with the feud between RBI and the Government. Overseas holdings have risen 80.1 billion rupees ($1.1 billion) in the previous three weeks, data from the Clearing Corporation of India Ltd. show. The inflows have coincided with a swift drop in crude costs and debt-buying support from the central bank, helping put the benchmark 10-year bonds on course for their first quarterly gain in more than a year. That said, Indian public-sector banks have cut holdings by a net 290 billion rupees ($4 billion) this quarter. The selling has been particularly severe in the benchmark 10-year IGB, which makes up most of the daily volume, causing them to underperform shorter tenor debt. The RBI's open-market purchases of debt have also been concentrated in the shorter segment, generating more replacement demand in the maturities. With real rates now closer to 4.55 percent, and expectations of RBI pausing on the monetary policy front, our conviction remains intact.
Written By:
Maurice Gravier
Chief Investment Officer,
Maurice G@EmiratesNBD.com
Anita Gupta
Head of Equity Strategy,
Anitag@EmitatesNBD.com
Yahya Sultan
Head of Fixed Income Strategy,
YahyaS@EmiratesNBD.com
Giorgio Borelli
Head of Asset Allocation,
GiorgioB@EmiratesNBD.com
Disclaimer

Emirates NBD Bank PJSC ("Emirates NBD") is licensed and regulated by the UAE Central Bank and this website aims at providing Internet users with information concerning Emirates NBD Private Banking, its products and activities. Persons having access to information made available by Emirates NBD on this website accept the following rules:

Reliance:
Emirates NBD uses reasonable efforts to obtain information from sources which it believes to be reliable, however Emirates NBD makes no representation that the information or opinions contained in publications on this website are accurate, reliable or complete. Published information may include data/information from stock exchanges and other sources from around the world and Emirates NBD does not guarantee the sequence, accuracy, completeness, or timeliness of information contained on this website provided thereto by unaffiliated third parties. Anyone proposing to rely on or use the information contained on this website should independently verify and check the accuracy, completeness, reliability and suitability of the information and should obtain independent and specific advice from appropriate professionals or experts. Further, references to any financial instrument or investment product are not intended to imply that an actual trading market exists for such instrument or product. Emirates NBD is not acting in the capacity of a fiduciary or financial advisor. Any publications on this website are provided for informational purposes only and are not intended for trading purposes. Data/information provided herein is intended to serve for illustrative purposes and is not designed to initiate or conclude any transaction. The information available on this website is not intended for use by, or distribution to, any person or entity in any jurisdiction or country where such use or distribution would be contrary to law or regulation. This website and anything contained herein, is provided "as is" and "as available," and that Emirates NBD makes no warranty of any kind, express or implied, as to this website, including, but not limited to, merchantability, non-infringement, title, or fitness for a particular purpose or use.

Modifications:
The provision of certain data/information on this website is subject to the terms and conditions of other agreements to which Emirates NBD is a party. Emirates NBD reserves the right to make changes and additions to the information provided at any time without prior notice. The information may be modified or removed without prior notice. No buy or sell orders submitted via the internet or email will be accepted. In addition, the data/information contained on this website is prepared as of a particular date and time and will not reflect subsequent changes in the market or changes in any other factors relevant to the determination of whether a particular investment activity is advisable.

Liability:
Information contained on this website is believed by Emirates NBD to be accurate and true, in all material respects. Emirates NBD accepts no responsibility whatsoever for any loss or damage caused by any act or omission taken as a result of the information contained on this website. Further Emirates NBD accepts no liability for the information and opinions published on the website and is under no obligation to remove outdated information from its website or to mark it clearly as such. The information given on this website may not be distributed or forwarded in whole or in part. Accordingly, anything to the contrary herein set forth notwithstanding, Emirates NBD, its suppliers, agents, directors, officers, employees, representatives, successors, assigns, affiliates or subsidiaries shall not, directly or indirectly, be liable, in any way, to you or any other person for any: (a) inaccuracies or errors in or omissions from the information available on this website including, but not limited to, quotes and financial data; or (b) loss or damage arising from the use of this publication, including, but not limited to any investment decision occasioned thereby. or (c) under no circumstances, including but not limited to negligence, shall Emirates NBD, its suppliers, agents, directors, officers, employees, representatives, successors, assigns, affiliates or subsidiaries be liable to you for direct, indirect, incidental, consequential, special, punitive, or exemplary damages even if Emirates NBD has been advised specifically of the possibility of such damages, arising from the use of the information on this website, including but not limited to, loss of revenue, opportunity, or anticipated profits or lost business. Emirates NBD expressly accepts no liability for losses or damages of any kind arising from using or accessing this website or links to third-party websites or from viewing information on any of its web pages. Furthermore, Emirates NBD accepts no liability for any unauthorized manipulation of users IT systems. Emirates NBD expressly draws user's attention to the risk of viruses and the threat of hacker attacks

Third Party Website:
Users may be aware that Emirates NBD has no control whatsoever over third-party websites linked to or from this website and therefore accepts no liability for the content of such websites being correct, complete and legally valid for the products and services offered on such websites. Emirates NBD's express written permission must always be sought before including a link to this website on a third-party website.

Solicitation:
None of the information on this website in any way constitutes a solicitation, offer, opinion, or recommendation by Emirates NBD to buy or sell any security, or to provide legal, tax, accounting, or investment advice or services regarding the profitability or suitability of any security or investment.

Forward Looking:
The information contained on this website does not purport to contain all matters relevant to any particular investment or financial instrument and all statements as to future matters are not guaranteed to be accurate. Certain matters in this publication on the website are about the future performance of Emirates NBD or members of its group (the Group), including without limitation, future revenues, earnings, strategies, prospects and all other statements that are not purely historical, constitute "forward-looking statements". Such forward-looking statements are based on current expectations or beliefs, as well as assumptions about future events, made from information currently available. Forward-looking statements often use words such as "anticipate", "target", "expect", "estimate", "intend", "plan", "goal", "seek", "believe", "will", "may", "should", "would", "could" or other words of similar meaning. Undue reliance should not be placed on any such statements in making an investment decision, as forward-looking statements, by their nature, are subject to known and unknown risks and uncertainties that could cause actual results, as well as the Group's plans and objectives, to differ materially from those expressed or implied in the forward-looking statements. Past performance is not necessarily a guide to future performance. Estimates of future performance are based on assumptions that may not be realized.

Risk: In addition, before entering into any transaction, the risks should be fully understood and a determination made as to whether a transaction is appropriate given the person's investment objectives, financial and operational resources, experiences and other relevant circumstances. The obligations relating to a particular transaction (and contractual relationship) including, without limitation, the nature and extent of their exposure to risk should be known as well as any regulatory requirements and restrictions applicable thereto. Data included on this website may rely on models that do not reflect or take into account all potentially significant factors such as market risk, liquidity risk, and credit risk. Emirates NBD may use different models, make valuation adjustments, or use different methodologies when determining prices at which Emirates NBD is willing to trade financial instruments and/or when valuing its own inventory positions for its books and records.

Investment in financial instruments involves risks and returns may vary. Before making such an investment, investors should consult their advisers on the legal, regulatory, tax, business, investment, financial and accounting implications of the investment.

Intellectual property:
The information on this website has been developed, compiled, prepared, revised, selected, and arranged by Emirates NBD and others (including certain other information sources) through the application of methods and standards of judgment developed and applied through the expenditure of substantial time, effort, and money and constitutes valuable intellectual property of Emirates NBD and all present and future rights in and to trade secrets, patents, copyrights, trademarks, service marks, know-how, and other proprietary rights of any type under the laws of any governmental authority, domestic or foreign, shall at all times be and remain the sole and exclusive property of Emirates NBD and/or other lawful parties and you acknowledge that you have no ownership rights in and to any of such items. Except as specifically permitted in writing, the information provided in this website shall not be copied or make any use of any information on this website or any portion of the intellectual property rights connected with this website, or the names of any individual participant in, or contributor to, the content of this website, or any variations or derivatives thereof, for any purpose. Further you shall not use any of the trademarks, trade names, service marks, copyrights, or logos of Emirates NBD or its subsidiaries in any manner which creates the impression that such items belong to or are associated with you or, except as otherwise provided with Emirates NBD's prior written consent,

Confidentiality:
The information on this website solely for non-commercial use and benefit and the use of this information is not intended for resale or other transfer or disposition to, or use by or for the benefit of, any other person or entity. Information contained in this website shall not be used, transferred, distributed, reproduced, published, displayed, modified, create derivative works from any data contained on this website or disposed of in any manner that could compete with the business interests of Emirates NBD. Any part of this website may not be offered for sale or distribute it over any medium including but not limited to over-the-air television or radio broadcast, a computer network or hyperlink framing on the internet without the prior written consent of Emirates NBD. The information contained on this website may not be used to construct a database of any kind. The data on this website shall not be used in any way to improve the quality of any data sold or contributed by you to any third party.

Recipient Acknowledgements
In accessing this website, you acknowledge and agree that there are risks associated with investment activities. Moreover, you agree that your use of this publication is at your sole risk and acknowledge that the responsibility to obtain and carefully read and understand the content of documents relating to any investment activity described on this website and to seek separate, independent financial advice if required to assess whether a particular investment activity described herein is suitable, lies exclusively with you.