Happy New Year
Chief Investment Officer's team, 07.01.2019
AT A GLANCE
After a brilliant 2017, 2018 was a year of no returns, and of considerable volatility
Market undershoot fundamentals, but the end of the year was not the time for action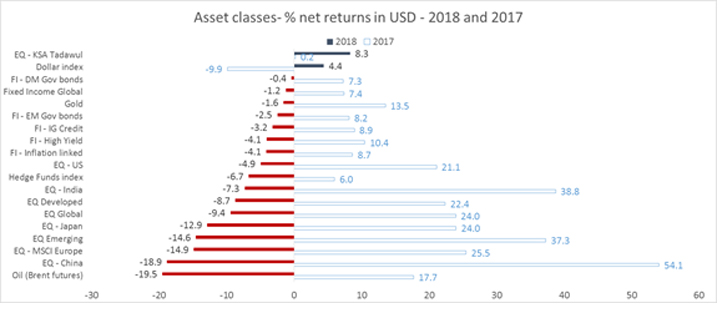 After a brilliant 2017, there was almost no place to hide for investors in 2018. In USD and round numbers, equities were down -9% in developed markets, and -15% in emerging markets, after respectively +22% and +37% in 2017. Fixed income was overall negative, following the risk hierarchy of the sub-segments: DM government bonds were almost flat, while High Yield posted -4%, with EM Govies and Investment Grade credit between the two at respectively -2.5% and -3%.
The key feature of 2018 was however not the performances themselves, giving back part of the extraordinary returns of 2017, but the come-back of volatility. Monthly, weekly, daily price variations were comparable to 2008-09, especially at the end of the year and as we write, at the beginning of 2019. This shouldn't have come as a surprise (cf our 2018 Year Ahead publication titled "Eyes Wide Open") given the combination of tightening liquidity and heightened political risk everywhere, hitting monolithic investors' positioning. We started the year with the hope of a strong and synchronized global growth, and we ended it with doubts everywhere: from the sustainability of US economic growth, to the ravages of trade tensions and strong Dollar on the rest of the world, not to mention a dramatic reversal in Oil prices, an erratic Brexit process, US government shutdown, pressure on the Fed and legal challenges to the President of the USA.
Volatility was not only high but also unpredictable. Hedge Funds performance is one of the worst of the decade, underperforming cash, fixed income and US equities: even with the best process, teams, algorithms and discipline, short-term trading was perilous in 2018.
Fortunately, wealth management is not about short-term. We have strengthened our investment framework to navigate the next decade. Our current positioning is cautious, with a modest allocation to the riskiest assets across profiles. We, however, think that markets undershot fundamentals. We wrote in mid-December that "this period of the year is not appropriate to take new positions", but 2019 might be different as long as the fundamentals hold. We wish you all a healthy, happy - and probably profitable new year.
Cross-asset considerations
We hold the view that the past year marked an important pivot across asset classes and investment styles, alerting investors to the importance of changing their attitude towards cash, once a non-yielding asset, passive investing, the widely-held post-Great Financial Crisis mantra, and absolute return strategies, deemed superfluous in trending markets. Cash is back with a vengeance, at least in dollar terms, offering competitive risk-adjusted returns even against some risk assets; passive investing is not expected to work as nicely in a more volatile environment; institutional investors are adding to absolute return strategies to stabilize portfolio returns amidst rising uncertainty.
This transition is an end-of-cycle hallmark, underlying a higher-volatility backdrop driven by peak global growth and liquidity recorded in 2018. Last year some economies, in particular, the US and Europe, were running unsustainably above trend and are currently slowing down. Also, in the same year the tide of rising liquidity was brought to a halt in the US by Quantitative Tightening and rising Fed rates, alongside the announcement of the end of Quantitative Easing made by the European Central Bank.
The US 3-month Libor rose above the S&P500 dividend yield in 2018 for the first time since the Great Financial Crisis, a sign that the 'new normal' of post-crisis depressed cash rates was drawing to an end. Unbridled passive investing, combined with a paucity of value investors supporting markets, showed its dark side last December. Retail flows show that risk assets were offloaded by means of ETFs when volatility was rising, amplifying the rout in a vicious circle.
Rough markets and less dovish central banks coupled with stretched long-term valuations in traditional asset classes saw demand for hedged funds run at a three-year high in 2018. The fact that the absolute return strategies did not fare well at all last year as a group doesn't mean that all single hedge funds failed – some did very well, and they are the one which survive. We hold the view that absolute-return funds should take up a structural share in client portfolios, as long as a thorough selection process supports this allocation.
Fixed income update
The Fixed Income asset class staged a strong comeback towards the end of 2018 taking cues from policymakers and global trade tensions. The bouts of volatilities and idiosyncratic country-specific risks throughout the year challenged returns across the bond markets. We witnessed how central banks fine-tuned monetary policies to curtail outflows and stabilize their currencies from the strengthening of the US dollar. Argentina and Turkey did provide text-book style economics and set a good example. The ongoing theme, however, was tighter monetary policies and central bank's balance sheet normalization. The Federal Reserve hiked four times in 2018 bringing their fed funds rate to 2.50%, which reflects and are closer to our assumption that FED is now reaching the end of the tightening cycle. Interestingly, the US yield curve has been flirting close to the zero bound throughout the year although certain parts of the curve (Short-end) have inverted. The investor concerns and market gyrations did shape the direction of US bond yields to close the year at levels where it began (2.68%). The big question on every investor's mind remains the interpretation of the inverted yield curve and if a recession is imminent. We do acknowledge a few things on the fundamentals front and sponsor the fact that growth remains intact – although no longer above-trend, benign inflation, and that cost of capital are seemingly getting expensive while cash remains an attractive place to park money from a risk-adjusted basis. Falling real yields in EM and DM reflect a re-pricing of inflation expectations, as spread compression between emerging and developed market economies reduces the relative attractiveness of EM local currency debt. Ten-year real yields have declined across both EM and DM over the past few months, as weaker oil prices cause inflation expectations to consolidate.
n the primary bond sales, EM borrowers fell short of 2017 volumes printing just over half a trillion of new debt as compared to USD670bn in 2017. The total bond issuance was dominated by Asian issuers which stood at $270bn. That said, we expect to see a flurry of issuance this year as almost $312bn of global EM redemptions are due this year. Asian redemptions account for $155bn followed by CEEMEA ($90bn) and LATAM ($68bn)
Equities in 2018
Global market rhetoric in 2018 centered on Pres. Trump and his tweets, protectionism, populism, trade tariff ramifications, global growth, the Fed and interest rate direction, reduction of liquidity by global Central banks, Brexit, growing debt in China and falling oil prices. After very strong returns from all markets globally in 2017, coupled with record low volatility, 2018 began with a rally in January which fizzled into bear market territory, for most global indices by the end of 2018. The MSCI World Index (total returns USD) ended the year down -9.4%. Healthcare and utilities were the only two global sectors that closed positively, however with just 2% of gains for the year. The worst sector performers were material and financial, the former on an expected slowdown of demand from China. The inversion of the 3-5 year yield curve led to a sharp selloff in bank stocks in the US in Q4. European banks, a number of which suffered structural issues throughout 2018, did not have the benefit of higher rates and fared worse, closing 2018 down -34% (SX7E total returns USD).
Amongst the major markets, the US was the outperformer with the S&P 500 total returns for 2018 at -4.4%. Tech outperformed in spite of the selloff in semiconductors (-6%) and the FANG Index, which gave up all its gains to close flat for the year. The Nasdaq Index ended 2018 down -2.8%. Crowded positioning in volatility products led to a market meltdown in the US in early February as volatility short sellers were forced to sell the S&P 500 to unwind short Vix positioning. US markets whilst volatile were up 10% till end Sept and then in Q4 recorded one of the worst quarterly performances in the last decade. The US outperformance vs. the rest of the world can be ascribed to the 24% earnings growth seen in the first three quarters of 2018 of which c. 8 to 10% was on account of tax cuts but the balance was clearly driven by revenue growth of 9% and margins for US companies at record levels. Strong buybacks and dividends too, have aided US company EPS numbers.
Emerging markets followed the US sell off and stabilized only in October. A stronger US Dollar along with a tightening Fed exacerbated by trade tariff escalations led to the MSCI China Index being the worst performer in 2018 –18.9% (total returns USD). The US crackdown on technology patents led to the China tech sector seeing one of its worst years (the MSCI China Tech Index was -27%). The European car industry, tracked China performance and closed the year down -20%. The major European automakers Volkswagen, Daimler and BMW, get over two thirds of their revenue from exports to the US and China. Other emerging markets like India fared better, but forthcoming elections led to outflows from foreign institutional investors.
In the GCC, the KSA which will be included in the FTSE and MSCI EM indices from 2019, was the outperformer with the Tadawul Index closing the year +12%. Saudi banks which benefit from US rate hikes as the SAIBOR is linked to the LIBOR ended the year +38%. M&A activity in the banking sector in the UAE and KSA was a further fillip to banking sector performance.
In the UAE the Abu Dhabi Index which has a high weight of banks ended the year +18%whilst the Dubai Index which is real estate heavy ended the year down -20.5%. Fears of oversupply in the UAE real estate market along with falling rentals led to the UAE developers having a dismal year. A lack of trading liquidity with the UAE bourses averaging less than $ 100mn of trading on a daily basis was not helpful to flows.
The heightened market volatility in 2018 came with a backdrop of strong global and earnings growth, which surprised investors and analysts who had higher expectations on market returns. The 5% rally in US markets on Dec 26th, whether it was algorithm programs placing trades or pension funds rebalancing, was characteristic of the elevated volatility seen throughout 2018. The Vix Index averaged 17 in 2018 compared to 10 for 2017. The few trading days so far in 2019, continue to see sharp swings in markets, with US indices closing down -2.5% one day and up 3% the next day. Dovish direction from the Fed and a resolution of the tiff between the US and China remain critical catalysts for markets. We can already see the onslaught of downgrades with Apple lowering revenue guidance and the estimated 2019 EPS projections for the S&P 500 lowered from $ 179 to $ 174 in the space of a few weeks. We are entering 2019 with global valuations (price to earnings) below historical averages, coupled with earnings growth estimated in 2019 at +8% for the US, and in the mid to high teens for emerging markets, which so far bode well for market returns.
Written By:
Maurice Gravier
Chief Investment Officer,
Maurice G@EmiratesNBD.com
Anita Gupta
Head of Equity Strategy,
Anitag@EmiratesNBD.com
Yahya Sultan
Head of Fixed Income Strategy,
YahyaS@EmiratesNBD.com
Giorgio Borelli
Head of Asset Allocation,
GiorgioB@EmiratesNBD.com
Disclaimer

Emirates NBD Bank PJSC ("Emirates NBD") is licensed and regulated by the UAE Central Bank and this website aims at providing Internet users with information concerning Emirates NBD Private Banking, its products and activities. Persons having access to information made available by Emirates NBD on this website accept the following rules:

Reliance:
Emirates NBD uses reasonable efforts to obtain information from sources which it believes to be reliable, however Emirates NBD makes no representation that the information or opinions contained in publications on this website are accurate, reliable or complete. Published information may include data/information from stock exchanges and other sources from around the world and Emirates NBD does not guarantee the sequence, accuracy, completeness, or timeliness of information contained on this website provided thereto by unaffiliated third parties. Anyone proposing to rely on or use the information contained on this website should independently verify and check the accuracy, completeness, reliability and suitability of the information and should obtain independent and specific advice from appropriate professionals or experts. Further, references to any financial instrument or investment product are not intended to imply that an actual trading market exists for such instrument or product. Emirates NBD is not acting in the capacity of a fiduciary or financial advisor. Any publications on this website are provided for informational purposes only and are not intended for trading purposes. Data/information provided herein is intended to serve for illustrative purposes and is not designed to initiate or conclude any transaction. The information available on this website is not intended for use by, or distribution to, any person or entity in any jurisdiction or country where such use or distribution would be contrary to law or regulation. This website and anything contained herein, is provided "as is" and "as available," and that Emirates NBD makes no warranty of any kind, express or implied, as to this website, including, but not limited to, merchantability, non-infringement, title, or fitness for a particular purpose or use.

Modifications:
The provision of certain data/information on this website is subject to the terms and conditions of other agreements to which Emirates NBD is a party. Emirates NBD reserves the right to make changes and additions to the information provided at any time without prior notice. The information may be modified or removed without prior notice. No buy or sell orders submitted via the internet or email will be accepted. In addition, the data/information contained on this website is prepared as of a particular date and time and will not reflect subsequent changes in the market or changes in any other factors relevant to the determination of whether a particular investment activity is advisable.

Liability:
Information contained on this website is believed by Emirates NBD to be accurate and true, in all material respects. Emirates NBD accepts no responsibility whatsoever for any loss or damage caused by any act or omission taken as a result of the information contained on this website. Further Emirates NBD accepts no liability for the information and opinions published on the website and is under no obligation to remove outdated information from its website or to mark it clearly as such. The information given on this website may not be distributed or forwarded in whole or in part. Accordingly, anything to the contrary herein set forth notwithstanding, Emirates NBD, its suppliers, agents, directors, officers, employees, representatives, successors, assigns, affiliates or subsidiaries shall not, directly or indirectly, be liable, in any way, to you or any other person for any: (a) inaccuracies or errors in or omissions from the information available on this website including, but not limited to, quotes and financial data; or (b) loss or damage arising from the use of this publication, including, but not limited to any investment decision occasioned thereby. or (c) under no circumstances, including but not limited to negligence, shall Emirates NBD, its suppliers, agents, directors, officers, employees, representatives, successors, assigns, affiliates or subsidiaries be liable to you for direct, indirect, incidental, consequential, special, punitive, or exemplary damages even if Emirates NBD has been advised specifically of the possibility of such damages, arising from the use of the information on this website, including but not limited to, loss of revenue, opportunity, or anticipated profits or lost business. Emirates NBD expressly accepts no liability for losses or damages of any kind arising from using or accessing this website or links to third-party websites or from viewing information on any of its web pages. Furthermore, Emirates NBD accepts no liability for any unauthorized manipulation of users IT systems. Emirates NBD expressly draws user's attention to the risk of viruses and the threat of hacker attacks

Third Party Website:
Users may be aware that Emirates NBD has no control whatsoever over third-party websites linked to or from this website and therefore accepts no liability for the content of such websites being correct, complete and legally valid for the products and services offered on such websites. Emirates NBD's express written permission must always be sought before including a link to this website on a third-party website.

Solicitation:
None of the information on this website in any way constitutes a solicitation, offer, opinion, or recommendation by Emirates NBD to buy or sell any security, or to provide legal, tax, accounting, or investment advice or services regarding the profitability or suitability of any security or investment.

Forward Looking:
The information contained on this website does not purport to contain all matters relevant to any particular investment or financial instrument and all statements as to future matters are not guaranteed to be accurate. Certain matters in this publication on the website are about the future performance of Emirates NBD or members of its group (the Group), including without limitation, future revenues, earnings, strategies, prospects and all other statements that are not purely historical, constitute "forward-looking statements". Such forward-looking statements are based on current expectations or beliefs, as well as assumptions about future events, made from information currently available. Forward-looking statements often use words such as "anticipate", "target", "expect", "estimate", "intend", "plan", "goal", "seek", "believe", "will", "may", "should", "would", "could" or other words of similar meaning. Undue reliance should not be placed on any such statements in making an investment decision, as forward-looking statements, by their nature, are subject to known and unknown risks and uncertainties that could cause actual results, as well as the Group's plans and objectives, to differ materially from those expressed or implied in the forward-looking statements. Past performance is not necessarily a guide to future performance. Estimates of future performance are based on assumptions that may not be realized.

Risk: In addition, before entering into any transaction, the risks should be fully understood and a determination made as to whether a transaction is appropriate given the person's investment objectives, financial and operational resources, experiences and other relevant circumstances. The obligations relating to a particular transaction (and contractual relationship) including, without limitation, the nature and extent of their exposure to risk should be known as well as any regulatory requirements and restrictions applicable thereto. Data included on this website may rely on models that do not reflect or take into account all potentially significant factors such as market risk, liquidity risk, and credit risk. Emirates NBD may use different models, make valuation adjustments, or use different methodologies when determining prices at which Emirates NBD is willing to trade financial instruments and/or when valuing its own inventory positions for its books and records.

Investment in financial instruments involves risks and returns may vary. Before making such an investment, investors should consult their advisers on the legal, regulatory, tax, business, investment, financial and accounting implications of the investment.

Intellectual property:
The information on this website has been developed, compiled, prepared, revised, selected, and arranged by Emirates NBD and others (including certain other information sources) through the application of methods and standards of judgment developed and applied through the expenditure of substantial time, effort, and money and constitutes valuable intellectual property of Emirates NBD and all present and future rights in and to trade secrets, patents, copyrights, trademarks, service marks, know-how, and other proprietary rights of any type under the laws of any governmental authority, domestic or foreign, shall at all times be and remain the sole and exclusive property of Emirates NBD and/or other lawful parties and you acknowledge that you have no ownership rights in and to any of such items. Except as specifically permitted in writing, the information provided in this website shall not be copied or make any use of any information on this website or any portion of the intellectual property rights connected with this website, or the names of any individual participant in, or contributor to, the content of this website, or any variations or derivatives thereof, for any purpose. Further you shall not use any of the trademarks, trade names, service marks, copyrights, or logos of Emirates NBD or its subsidiaries in any manner which creates the impression that such items belong to or are associated with you or, except as otherwise provided with Emirates NBD's prior written consent,

Confidentiality:
The information on this website solely for non-commercial use and benefit and the use of this information is not intended for resale or other transfer or disposition to, or use by or for the benefit of, any other person or entity. Information contained in this website shall not be used, transferred, distributed, reproduced, published, displayed, modified, create derivative works from any data contained on this website or disposed of in any manner that could compete with the business interests of Emirates NBD. Any part of this website may not be offered for sale or distribute it over any medium including but not limited to over-the-air television or radio broadcast, a computer network or hyperlink framing on the internet without the prior written consent of Emirates NBD. The information contained on this website may not be used to construct a database of any kind. The data on this website shall not be used in any way to improve the quality of any data sold or contributed by you to any third party.

Recipient Acknowledgements
In accessing this website, you acknowledge and agree that there are risks associated with investment activities. Moreover, you agree that your use of this publication is at your sole risk and acknowledge that the responsibility to obtain and carefully read and understand the content of documents relating to any investment activity described on this website and to seek separate, independent financial advice if required to assess whether a particular investment activity described herein is suitable, lies exclusively with you.