Easy money, uneasy investors
Chief Investment Officer's team, 08.04.2019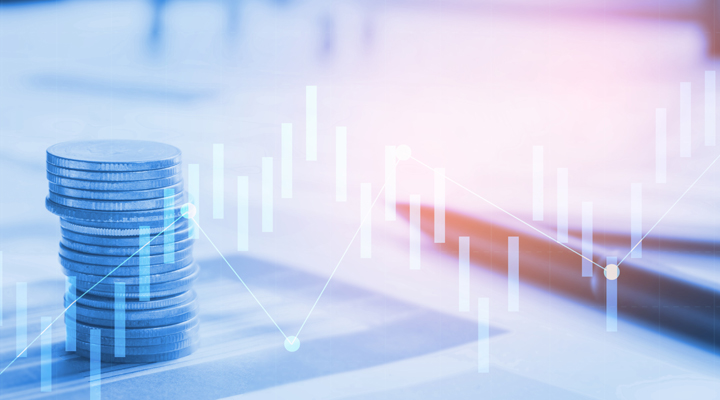 AT A GLANCE
IMF Managing Director calls bottom of global economy "either now or soon"
FOMC minutes will convey insights into Fed-thoughts about the outlook
TIPS and cryptocurrencies react to non-abating flood of stimulus money
Investors must have been pleased by the string of positive economic surprises across countries last week, from retail sales and industrial output in Europe, to business confidence in EM Asia and the labor market report in the United States. It is still a matter of green shoots, first glimpses of improvements which will have to persist for stocks to cling on to their current levels and eventually make new highs for the year.
In this respect the FOMC March minutes to be released this week will play a pivotal role. Market participants, following the Fed's dovish U-turn from restrictive to accommodative in a couple of months, will be eager to know what caused the dramatic shift. The recent inversion of the US yield curve, alongside the circa 60% market-implied probability of a rate cut expected by the end of this year, point to growing concerns about the outlook.
Treasury-inflation-protected securities, or TIPS, are making new historical highs, anticipating that the Fed will be on hold for long, to avoid nipping the fragile growth in the bud. More exotic markets, like cryptocurrencies, are celebrating as well, coming back to life with +20% in a week. They must be sensing as well that central bank money will keep on flowing, boosting the case for alternative currencies versus fiat money. Developed economies in need of perennial monetary support may be throwing the seeds for glorious days ahead for the cryptocurrency markets.
Asset classes USD % total return, YTD 2019 and week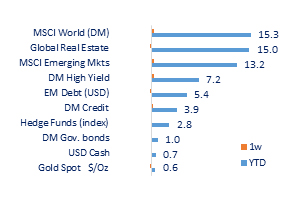 Cross-asset considerations
Global growth is being moderately upgraded and is rebounding from the slump it suffered in the last quarter of 2018. It seems that the economy is starting to stabilize, following the Fed pivot and the policy measures in China. The International Monetary Fund is soon going to issue the spring update to its global outlook and Christine Lagarde, IMF Managing Director, although expressing concerns about the solidity of the business cycle, said that "the bottom for 2019 growth is either now or soon". Investors looking for further signs of improvement will have to watch out for manufacturing data, since the industrial sector remains exceptionally weak outside of the US.
With the aging of the cycle, more and more stimulus money needs to be spent to keep the system going. And commodities, which usually perform very late in the recovery and like plentiful liquidity, have year-to-date responded as per textbook, being the best performing asset class. Commodity benchmarks have been propelled higher by Brent crude (+30.8%), and base metals, in particular nickel (22.3%) and iron ore (+26.3%). Gold (+0.8%) is lagging badly, in spite of central banks coming to the rescue. Investors must be expecting that policy support will spur growth, hence the divergence between industrial commodities and gold seems set to continue.
Buying of gold by Central banks could change the picture, however, looking at least 12 months out. China has expanded its gold reserves for the fourth straight month and governments worldwide in 2018 bought the second-highest amount of gold on record. Should inflows continue at this rate, gold could break above $1,400 and settle at $1,450, according to some estimates.
End of cycle or not, commodities won't be on fire anytime soon. US core inflation is expected to cling to a tepid 2% annualized rate in 2019 and clear the 2% hurdle by a modest margin only by 2020. In Japan deflationary pressures remain a concern, while there is more and more talk of the Japanification of Europe, where stagnation and persistently low yields are the ECB's nightmare.
Continued reflationary efforts on the other hand work well for equity markets, the embodiment of asset inflation against a backdrop of 'missing-flation' everywhere else. Trend growth and lack of price pressures are enough for stocks to be rerated and aiming at new highs for the year. With the Fed expected to remain on hold in the next 12 months and the economy possibly about to bottom out, the outlook for the asset class seems more promising. Yet, in the short term, investors will have to put up with more volatility. Developed market equities are overall trading at about fair value and money has been flocking to emerging stocks, no longer under-owned. Unless fundamentals improve substantially, buying on weakness rather than chasing market momentum would be the better option.
Tactical Asset Allocation: simplified positioning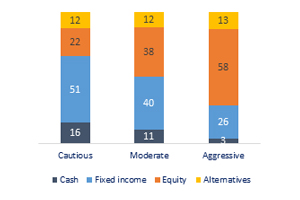 TAA – relative positioning – moderate profile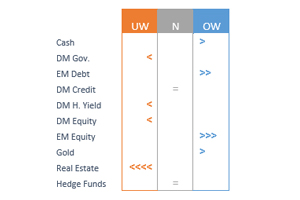 TAA – YTD indicative performance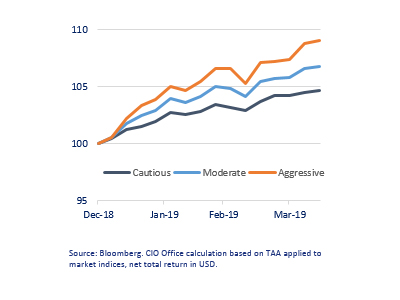 Fixed Income Update
Investor's euphoria drives market performance: Risk-on mood drove risky asset prices higher on the back of a strong U.S. labor report that eased concerns about an economic slowdown, while optimism that a trade deal between the US and China was drawing closer also lifted sentiment. US benchmark yields are holding stronger at 2.49%, while yields on the German bunds and UK Gilts improved to 0.002% and 1.11% respectively. On the US yield curve front, the thirty years minus the five years continued its flattening trend to 59bp, while the difference between the ten-years minus the three-month bills steepened from sub-zero to positive 6bp. President Trump once again expressed dissatisfaction with the current course of monetary policy. "I think they should drop rates and get rid of quantitative tightening," Trump told reporters, referring to the Fed's policy of selling securities to unwind its balance sheet, a stimulus put in place during the financial crisis. "You would see a rocket ship. Despite that we're doing very well."
Emerging markets bonds hold onto gains: Norway's $1 trillion sovereign wealth fund (SWF) is said to cut government and corporate bonds from emerging markets in an overhaul of its $310 billion fixed-income holdings. The decision announced on Friday by the Finance Ministry highlighted that the fund would cut its exposure on bonds from ten emerging market countries in its index, including Mexico, South Korea, Russia and Poland, and will also be limited in its investments in emerging markets outside the index, such as Brazil and Indonesia. However, the SWF will still have some leeway to invest up to 5% of its bond portfolio in emerging markets (about $15 billion). It currently owns about $28 billion in such investments, with the biggest holdings in South Korean and Mexican debt.
RBI policy responses in line with expectations: The Reserve Bank of India cut interest rates by 25bp to 6%. The RBI targets inflation at 4% lowered its forecast for consumer price growth and said underlying pressures could ease given the recent slowdown. The RBI also downgraded its growth projections to 7.2% from 7.4%. "With the inflation outlook remaining benign, the RBI will address the challenges to the sustained growth of the Indian economy, while ensuring price stability on an enduring basis," Governor Shaktikanta Das told reporters. He added that there is the need "to strengthen domestic growth impulses by spurring private investment, which has remained sluggish."
Fixed Income key convictions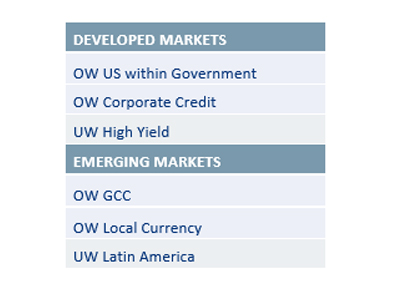 Fixed Income valuations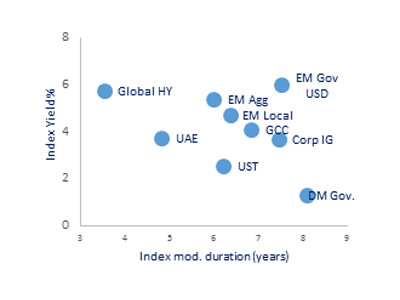 Chart of the week: US Yield Curve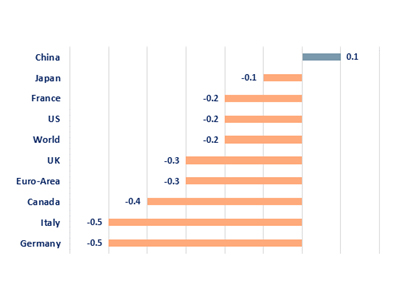 Equity Update
Year to date, the S&P 500 has risen 15%, and the Nasdaq Composite 20%. Friday capped another positive week of trading with a jobs report, which largely met expectations and an upbeat tone by President Trump on the U.S.-China trade talks. Most of the good news now seems to be factored in, hence, this pace of gains cannot continue. The MSCI World ACWI is up 14.5% YTD. US cyclical sectors (Tech +21.5%; Industrials +16.4%) have received a boost from the Fed's decision to end rate hikes in 2019. Our US earnings growth target for 2019 remains unchanged at 5% and price to earnings multiple at 16.5X for 2019 year end. The S&P 500 +2.1 % last week, at 2892, is above our fair value of 2825. Select pockets of outperformance will be driven by Q1 earnings but we wonder what could drive the market higher? The China US trade deal boosts hopes of US companies giving upward guidance. The Energy sector is one that could receive a positive rerating on cost synergies and high earnings growth and as it is lagging the rise in oil prices. In Europe consumer staples remains amongst the top-performing sectors this year. The tone in European industrials however, remains cautious, with continued issues in the auto sector. European stock markets shook off weaker-than-expected German industrial data, with both the STOXX 600 and FTSE 100 ending the week 2.5% higher.
EM equities have underperformed DM markets this year, in spite of a robust performance from Chinese and Indian markets. We are close to an inflection point in markets as the performance gap between the U.S. and the rest of the world is bound to narrow. EM equities are looking for direction, which could come from dollar weakness or a turnaround in the Chinese economy. China's manufacturing sector resumed growth in March, following three consecutive months of contraction. Employment in the sector also grew and new export orders moved back into expansion territory. These are hopeful signs that the Chinese government's fiscal stimulus is becoming effective. India is progressing towards becoming one of the most data-rich countries in the world. Individual data is captured through its JAM trinity (Jan Dhan "bank" accounts, Aadhaar identification cards and smart phone user data). Corporate and small sector data capture has been enhanced with the goods and services tax. This, has the power to become a primary source of wealth generation as it creates new modes of business activity,
For stock investors on the lookout for income, there is nothing more attractive than growing dividends. GCC market performance too, has been strongly driven by companies with high dividend yields as this is seen as a sign of healthy cash flows. Whilst banks, real estate and petrochemical companies have so far been the leaders on yields, Adnoc Distribution's announcement of higher dividends catapults it to the top position. The broadening of the market in the UAE, which has limited consumer companies, is important to provide depth and volume.
Equity recommended regional positioning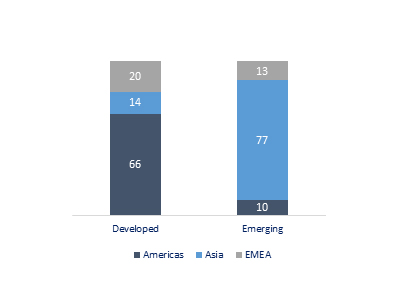 Major indices performance (TR, US$) and 2019PE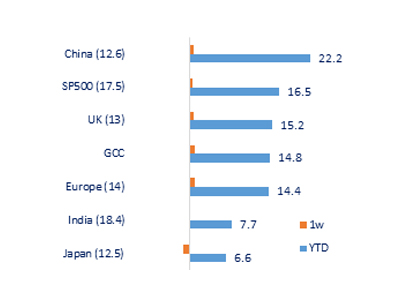 Global sector performance (TR, US$) and 2019PE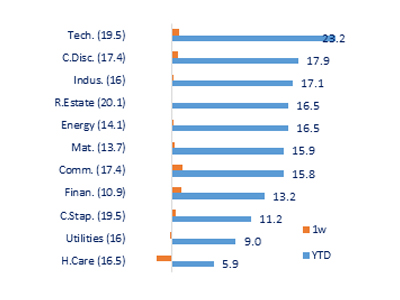 Written By:
Maurice Gravier
Chief Investment Officer,
MauriceG@EmiratesNBD.com
Anita Gupta
Head of Equity Strategy,
Anitag@EmiratesNBD.com
Yahya Sultan
Head of Fixed Income Strategy,
YahyaS@EmiratesNBD.com
Giorgio Borelli
Head of Asset Allocation,
GiorgioB@EmiratesNBD.com
Disclaimer

Emirates NBD Bank PJSC ("Emirates NBD") is licensed and regulated by the UAE Central Bank and this website aims at providing Internet users with information concerning Emirates NBD Private Banking, its products and activities. Persons having access to information made available by Emirates NBD on this website accept the following rules:

Reliance:
Emirates NBD uses reasonable efforts to obtain information from sources which it believes to be reliable, however Emirates NBD makes no representation that the information or opinions contained in publications on this website are accurate, reliable or complete. Published information may include data/information from stock exchanges and other sources from around the world and Emirates NBD does not guarantee the sequence, accuracy, completeness, or timeliness of information contained on this website provided thereto by unaffiliated third parties. Anyone proposing to rely on or use the information contained on this website should independently verify and check the accuracy, completeness, reliability and suitability of the information and should obtain independent and specific advice from appropriate professionals or experts. Further, references to any financial instrument or investment product are not intended to imply that an actual trading market exists for such instrument or product. Emirates NBD is not acting in the capacity of a fiduciary or financial advisor. Any publications on this website are provided for informational purposes only and are not intended for trading purposes. Data/information provided herein is intended to serve for illustrative purposes and is not designed to initiate or conclude any transaction. The information available on this website is not intended for use by, or distribution to, any person or entity in any jurisdiction or country where such use or distribution would be contrary to law or regulation. This website and anything contained herein, is provided "as is" and "as available," and that Emirates NBD makes no warranty of any kind, express or implied, as to this website, including, but not limited to, merchantability, non-infringement, title, or fitness for a particular purpose or use.

Modifications:
The provision of certain data/information on this website is subject to the terms and conditions of other agreements to which Emirates NBD is a party. Emirates NBD reserves the right to make changes and additions to the information provided at any time without prior notice. The information may be modified or removed without prior notice. No buy or sell orders submitted via the internet or email will be accepted. In addition, the data/information contained on this website is prepared as of a particular date and time and will not reflect subsequent changes in the market or changes in any other factors relevant to the determination of whether a particular investment activity is advisable.

Liability:
Information contained on this website is believed by Emirates NBD to be accurate and true, in all material respects. Emirates NBD accepts no responsibility whatsoever for any loss or damage caused by any act or omission taken as a result of the information contained on this website. Further Emirates NBD accepts no liability for the information and opinions published on the website and is under no obligation to remove outdated information from its website or to mark it clearly as such. The information given on this website may not be distributed or forwarded in whole or in part. Accordingly, anything to the contrary herein set forth notwithstanding, Emirates NBD, its suppliers, agents, directors, officers, employees, representatives, successors, assigns, affiliates or subsidiaries shall not, directly or indirectly, be liable, in any way, to you or any other person for any: (a) inaccuracies or errors in or omissions from the information available on this website including, but not limited to, quotes and financial data; or (b) loss or damage arising from the use of this publication, including, but not limited to any investment decision occasioned thereby. or (c) under no circumstances, including but not limited to negligence, shall Emirates NBD, its suppliers, agents, directors, officers, employees, representatives, successors, assigns, affiliates or subsidiaries be liable to you for direct, indirect, incidental, consequential, special, punitive, or exemplary damages even if Emirates NBD has been advised specifically of the possibility of such damages, arising from the use of the information on this website, including but not limited to, loss of revenue, opportunity, or anticipated profits or lost business. Emirates NBD expressly accepts no liability for losses or damages of any kind arising from using or accessing this website or links to third-party websites or from viewing information on any of its web pages. Furthermore, Emirates NBD accepts no liability for any unauthorized manipulation of users IT systems. Emirates NBD expressly draws user's attention to the risk of viruses and the threat of hacker attacks

Third Party Website:
Users may be aware that Emirates NBD has no control whatsoever over third-party websites linked to or from this website and therefore accepts no liability for the content of such websites being correct, complete and legally valid for the products and services offered on such websites. Emirates NBD's express written permission must always be sought before including a link to this website on a third-party website.

Solicitation:
None of the information on this website in any way constitutes a solicitation, offer, opinion, or recommendation by Emirates NBD to buy or sell any security, or to provide legal, tax, accounting, or investment advice or services regarding the profitability or suitability of any security or investment.

Forward Looking:
The information contained on this website does not purport to contain all matters relevant to any particular investment or financial instrument and all statements as to future matters are not guaranteed to be accurate. Certain matters in this publication on the website are about the future performance of Emirates NBD or members of its group (the Group), including without limitation, future revenues, earnings, strategies, prospects and all other statements that are not purely historical, constitute "forward-looking statements". Such forward-looking statements are based on current expectations or beliefs, as well as assumptions about future events, made from information currently available. Forward-looking statements often use words such as "anticipate", "target", "expect", "estimate", "intend", "plan", "goal", "seek", "believe", "will", "may", "should", "would", "could" or other words of similar meaning. Undue reliance should not be placed on any such statements in making an investment decision, as forward-looking statements, by their nature, are subject to known and unknown risks and uncertainties that could cause actual results, as well as the Group's plans and objectives, to differ materially from those expressed or implied in the forward-looking statements. Past performance is not necessarily a guide to future performance. Estimates of future performance are based on assumptions that may not be realized.

Risk: In addition, before entering into any transaction, the risks should be fully understood and a determination made as to whether a transaction is appropriate given the person's investment objectives, financial and operational resources, experiences and other relevant circumstances. The obligations relating to a particular transaction (and contractual relationship) including, without limitation, the nature and extent of their exposure to risk should be known as well as any regulatory requirements and restrictions applicable thereto. Data included on this website may rely on models that do not reflect or take into account all potentially significant factors such as market risk, liquidity risk, and credit risk. Emirates NBD may use different models, make valuation adjustments, or use different methodologies when determining prices at which Emirates NBD is willing to trade financial instruments and/or when valuing its own inventory positions for its books and records.

Investment in financial instruments involves risks and returns may vary. Before making such an investment, investors should consult their advisers on the legal, regulatory, tax, business, investment, financial and accounting implications of the investment.

Intellectual property:
The information on this website has been developed, compiled, prepared, revised, selected, and arranged by Emirates NBD and others (including certain other information sources) through the application of methods and standards of judgment developed and applied through the expenditure of substantial time, effort, and money and constitutes valuable intellectual property of Emirates NBD and all present and future rights in and to trade secrets, patents, copyrights, trademarks, service marks, know-how, and other proprietary rights of any type under the laws of any governmental authority, domestic or foreign, shall at all times be and remain the sole and exclusive property of Emirates NBD and/or other lawful parties and you acknowledge that you have no ownership rights in and to any of such items. Except as specifically permitted in writing, the information provided in this website shall not be copied or make any use of any information on this website or any portion of the intellectual property rights connected with this website, or the names of any individual participant in, or contributor to, the content of this website, or any variations or derivatives thereof, for any purpose. Further you shall not use any of the trademarks, trade names, service marks, copyrights, or logos of Emirates NBD or its subsidiaries in any manner which creates the impression that such items belong to or are associated with you or, except as otherwise provided with Emirates NBD's prior written consent,

Confidentiality:
The information on this website solely for non-commercial use and benefit and the use of this information is not intended for resale or other transfer or disposition to, or use by or for the benefit of, any other person or entity. Information contained in this website shall not be used, transferred, distributed, reproduced, published, displayed, modified, create derivative works from any data contained on this website or disposed of in any manner that could compete with the business interests of Emirates NBD. Any part of this website may not be offered for sale or distribute it over any medium including but not limited to over-the-air television or radio broadcast, a computer network or hyperlink framing on the internet without the prior written consent of Emirates NBD. The information contained on this website may not be used to construct a database of any kind. The data on this website shall not be used in any way to improve the quality of any data sold or contributed by you to any third party.

Recipient Acknowledgements
In accessing this website, you acknowledge and agree that there are risks associated with investment activities. Moreover, you agree that your use of this publication is at your sole risk and acknowledge that the responsibility to obtain and carefully read and understand the content of documents relating to any investment activity described on this website and to seek separate, independent financial advice if required to assess whether a particular investment activity described herein is suitable, lies exclusively with you.