Business as usual
Chief Investment Officer's team, 31.03.2019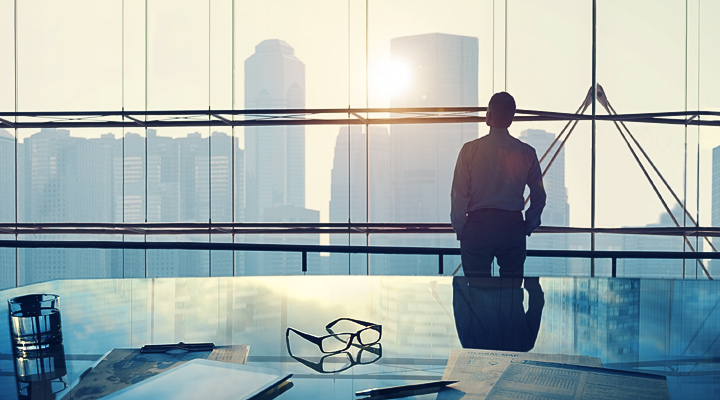 AT A GLANCE
Brexit uncertainty highest as April 12 deadline looms larger
China business confidence release sparks hope amidst global slowdown
Odds of US-China trade agreement slightly better
The past week was business as usual for investors, dealing with the uncertainties related to a chaotic Brexit, the continued slowdown phase of the global economy and ongoing trade negotiations between the US and China.
PM May was defeated for a third time in parliament on her deal agreed with Europe, and she might be considering a fourth vote this week. Monday a round of indicative votes on rival plans will be held. In case a majority is found, legislation would be introduced on Thursday to force the government to accept the new way forward. Odds of early elections to solve the impasse are increasing, even as the clock towards the new April 12 deadline set for the UK exit out of the EU is ticking fast.
The preliminary business confidence readings in the US, Europe and Japan were not encouraging and confirm that the slowdown phase, the second longest since the Great Financial Crisis, is continuing in the current quarter. Bond yields dropped across all DM countries, reflecting accommodative conditions, soft data and tame inflation.
US president Donald Trump said Friday that trade talks with China were going very well and that he wanted a "great deal". The expectation is that some sort of agreement eventually will be reached on specific trade measures, in order to spare financial markets and bring home some much needed success. A narrow and patchy deal will be better than none at all for financial assets.
Asset classes USD % total return, YTD 2019 and week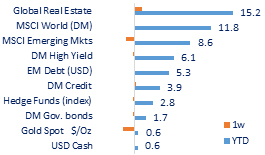 Cross-asset considerations
It is a paradox that an exceptionally strong quarter for risk assets is capped by the inversion of the US yield curve, usually a harbinger of recession further down the road. Global equities have almost entirely retraced the steep losses recorded in the last quarter of 2018, and yet government bond yields have slumped alongside. Investors on both sides of the risk spectrum must be cheered by the market windfall, wondering at the same time which leg of the trade will have to give in. Our conviction remains that bond yields have overshot fundamentals and equities will be eventually rerated higher by central bank stimulus.
One should not rush to conclusions based on statistics related to the yield curve. While it is true that 7 out of the 8 US recessions since the '60s have been correctly predicted by a curve inversion, it is also true that historically equities have rallied after yields of 10-year Treasuries have dropped below the level of 3-month T-Bills. However confusing this may sound, investment horizons do make a difference. In the short term, an inversion means that investors discount lower growth ahead and at least a pause in monetary policy, if not rate cuts outright. The combination of a pausing Fed and lower long bond-yields becomes a strong driver of equity gains, considering that easier credit conditions lead economic improvements. Yet, the cycle-end can be delayed, but not avoided, so on average a couple of years after the curve inverts a recession follows.
Fundamentals are still mixed, as confirmed by the latest disappointing release of business confidence indicators. Manufacturing activity both in Europe and Japan is shrinking, while the first green shoots of a rebound are visible in the March reading of the China Manufacturing Purchasing Manager Index. Persistent Brexit uncertainty is not helping either, while China-US trade talks continue, with slightly higher odds of a positive outcome. The bundle of economic reports coming this week, the most important of which are various business confidence readings and the US jobs report, will be helpful for divining market direction.
The Fed dovish pivot is driving the easing of financial conditions globally and dampening asset volatility. Conditions are again favorable for carry trades across asset classes and investors have piled back in on corporate credit and EM local-currency debt. With long bond yields capped by tame inflation and soft growth, the 'Goldilocks' environment supporting credit should persist throughout 2019.
The US dollar has shown unusual resilience in the face of the dovish shift of the Federal Reserve and the slump in Treasury yields, trading close to the highs of the year against DM peers. As a mid- to high-yielding currency supported by the relative strength of the US economy, it is unlikely to weaken significantly, unless the outlook for the rest of the world takes a marked turn for the better.
Tactical Asset Allocation: simplified positioning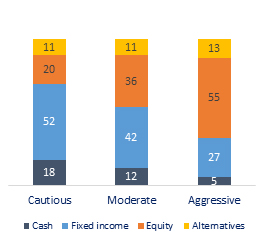 TAA – relative positioning – moderate profile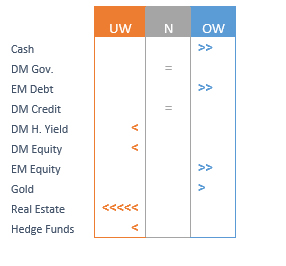 TAA – YTD indicative performance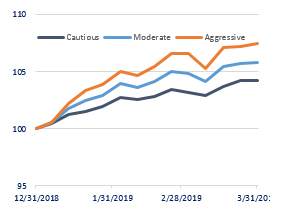 Fixed Income Update
Bond markets are currently more pessimistic about the outlook for the economy than equities. Treasury yields drifted to the lowest levels since December 2017 to 2.33% before retracing to settle at 2.40%. Global bond markets are now pricing in significant future economic weakness, with yields at new lows in Germany, Japan, Australia and New Zealand. The difference on long-dated bond maturities versus the shorter-dated maturities in German Bunds and Canadian bonds has also flattened significantly. The spread on the ten-year bunds over three-month bills has fallen from 100bps at the start of the year to the current reading of 45bps. This week the focus will turn to the US Payrolls report, following the February poor reading of a mere 25,000 job increase. The median survey for March is 175,000 jobs, while the rate of unemployment is widely expected to remain at 3.8%. Moreover, several Fed officials are slated to speak over the week. Fed funds futures imply that policy rates will be cut by about 25bps this year. Last month the median projection of Federal Open Market Committee members was for the rate to remain steady throughout 2019.
Global backdrop supportive for EM debt: The inclusion of Chinese bonds (Sovereign and policy banks) into the global bond indices is set to occur on April 1. Inflows have been dominated by central banks and sovereign wealth funds. Market participants expect to see capital inflows of at least USD100bn for this year. The volatility on Turkey's FX and swap markets has subsided ahead of the March 31 elections. The TRY swung sharply, slumping to an YTD low of 5.75 to settle at 5.57. Yields spiked across domestic bonds and Eurobonds to retrace most of their losses. While near-term volatility is likely to weigh on investor sentiment, our constructive view on the Eurobonds issued by corporates and banks remains unchanged. Although Turkish banks' NPL ratios remain significantly high, we find valuations compelling amongst the senior unsecured bonds, underpinned by a strong capital structure. Also, adequate liquidity and low leverage have been supporting factors in the current, challenging macro backdrop. We would consider any further repricing on the back of socio-political events as a buying opportunity.
Egypt maintains policy rates on hold: The Central Bank of Egypt's Monetary Policy Committee decided to keep the overnight deposit rate, lending rate, and the rate of the CBE's main operation unchanged at 15.75%, 16.75%, and 16.25% respectively, and maintained its stance on targeting inflation at 9% (±3bps). Real GDP growth increased modestly to 5.5%in 4Q18, from 5.3% in 3Q18. T-bill yields on the EGP 9bn six-month tenor dropped by 29bps to 17.11%, while yields on the EGP 9.5bn 12-month tenor declined by 33bps to 16.99%.
Fixed Income key convictions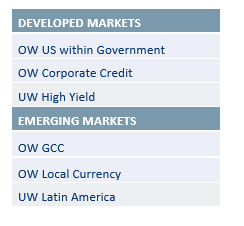 Fixed Income valuations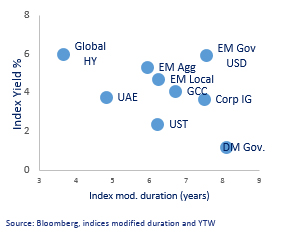 Chart of the week: Foreign investors' holdings of Chinese bonds surge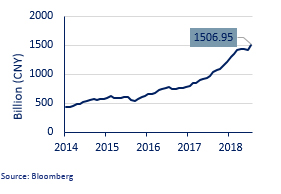 Equity Update
Most major global indices returned in excess of or close to 10% in the last quarter, recouping 4Q18 losses. US Markets scored their biggest quarterly gains in a decade, on the conviction that the Fed would hold interest rates at current levels, as growth slows. The S&P 500 Index (total returns) ended the quarter +13.6%. China leads returns globally this year amongst the major economies +17.7% (MSCI China USD) and technology leads global sector performance. Energy stocks have followed gains in oil prices, making the sector the next best performer. Lower bond yields hurt Financials. Markets were largely positive last week, but oscillated between gains and losses, given the ongoing uncertainty over Brexit, trade talks and the soft Euro flash PMI data. We expect equities to trade sideways as we head into the 1Q earnings season. A number of markets are trading at their fair values (the GCC, Europe and the US) and we need more conviction on earnings growth to raise our fair values. Concerns around global growth, corporate earnings, margins, Central Bank direction and geopolitics remain in the forefront for markets.
The technology sector has rallied this year along with the more cyclical sectors such as Industrials. The MSCI World IT Index closed the quarter +17.7%. The rebound is attributed to the continued adoption of cloud services, a solid IT spending environment and robust demand for AI-based solutions. Balance sheets in the technology sector remain solid with large cash balances and relatively low debt providing room for M&A activity. Lyft Inc., is the first online ridesharing service to go to IPO and popped 8% on its debut, valuing it at USD 22.4bn. The well-established market leader, Uber follows it to the public markets shortly. Uber is rapidly expanding outside the US and recently announced an acquisition of Careem, a MENA based ridesharing service for USD 3.1bn. Lyft is yet to make profits and investors are focused more on its strong revenue growth. The importance of bottom line growth is evident as Snap Inc. closed its first day of trading up 44% in 2017, while Alibaba finished its debut up 38%. Snap now trades at less than two-thirds of its listing price while Alibaba has tripled its market value.
A very positive quarter for the GCC with the KSA Index +13.2% and the Dubai and Abu Dhabi indices +7.4% and 7.7% (total returns). KSA banks still lead with the Index +19.4% last quarter. According to Standard & Poor the KSA is expected to maintain a pace of moderate economic growth and retain strong balance sheets over the next 2 years as it tries to reduce its budgeted expenditure by 2023 and reduce the reliance on oil and imported labor. Saudi Aramco, the world's largest oil producer and the world's most profitable company in 2018, according to an extract of the firm's accounts published by Fitch Ratings will buy a 70% stake in SABIC for USD 69.1bn with the aim of integrating assets to boost growth at SABIC. Further bank consolidation too, is on the cards in the KSA, as the National Commercial Bank, has begun talks of a merger with Riyad Bank – this would create the GCC's third-largest lender with USD 182bn in assets.
Equity recommended regional positioning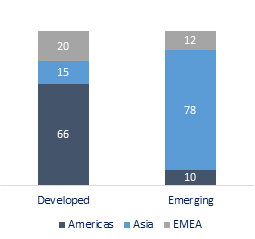 Major indices performance (TR, US$) and 2019PE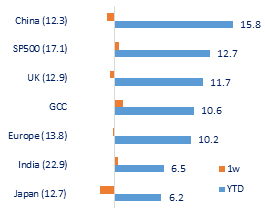 Global sector performance (TR, US$) and 2019PE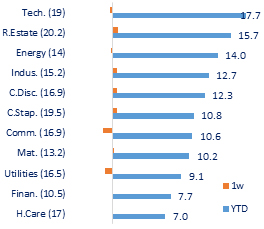 Written By:
Maurice Gravier
Chief Investment Officer,
MauriceG@EmiratesNBD.com
Anita Gupta
Head of Equity Strategy,
Anitag@EmiratesNBD.com
Yahya Sultan
Head of Fixed Income Strategy,
YahyaS@EmiratesNBD.com
Giorgio Borelli
Head of Asset Allocation,
GiorgioB@EmiratesNBD.com
Disclaimer

Emirates NBD Bank PJSC ("Emirates NBD") is licensed and regulated by the UAE Central Bank and this website aims at providing Internet users with information concerning Emirates NBD Private Banking, its products and activities. Persons having access to information made available by Emirates NBD on this website accept the following rules:

Reliance:
Emirates NBD uses reasonable efforts to obtain information from sources which it believes to be reliable, however Emirates NBD makes no representation that the information or opinions contained in publications on this website are accurate, reliable or complete. Published information may include data/information from stock exchanges and other sources from around the world and Emirates NBD does not guarantee the sequence, accuracy, completeness, or timeliness of information contained on this website provided thereto by unaffiliated third parties. Anyone proposing to rely on or use the information contained on this website should independently verify and check the accuracy, completeness, reliability and suitability of the information and should obtain independent and specific advice from appropriate professionals or experts. Further, references to any financial instrument or investment product are not intended to imply that an actual trading market exists for such instrument or product. Emirates NBD is not acting in the capacity of a fiduciary or financial advisor. Any publications on this website are provided for informational purposes only and are not intended for trading purposes. Data/information provided herein is intended to serve for illustrative purposes and is not designed to initiate or conclude any transaction. The information available on this website is not intended for use by, or distribution to, any person or entity in any jurisdiction or country where such use or distribution would be contrary to law or regulation. This website and anything contained herein, is provided "as is" and "as available," and that Emirates NBD makes no warranty of any kind, express or implied, as to this website, including, but not limited to, merchantability, non-infringement, title, or fitness for a particular purpose or use.

Modifications:
The provision of certain data/information on this website is subject to the terms and conditions of other agreements to which Emirates NBD is a party. Emirates NBD reserves the right to make changes and additions to the information provided at any time without prior notice. The information may be modified or removed without prior notice. No buy or sell orders submitted via the internet or email will be accepted. In addition, the data/information contained on this website is prepared as of a particular date and time and will not reflect subsequent changes in the market or changes in any other factors relevant to the determination of whether a particular investment activity is advisable.

Liability:
Information contained on this website is believed by Emirates NBD to be accurate and true, in all material respects. Emirates NBD accepts no responsibility whatsoever for any loss or damage caused by any act or omission taken as a result of the information contained on this website. Further Emirates NBD accepts no liability for the information and opinions published on the website and is under no obligation to remove outdated information from its website or to mark it clearly as such. The information given on this website may not be distributed or forwarded in whole or in part. Accordingly, anything to the contrary herein set forth notwithstanding, Emirates NBD, its suppliers, agents, directors, officers, employees, representatives, successors, assigns, affiliates or subsidiaries shall not, directly or indirectly, be liable, in any way, to you or any other person for any: (a) inaccuracies or errors in or omissions from the information available on this website including, but not limited to, quotes and financial data; or (b) loss or damage arising from the use of this publication, including, but not limited to any investment decision occasioned thereby. or (c) under no circumstances, including but not limited to negligence, shall Emirates NBD, its suppliers, agents, directors, officers, employees, representatives, successors, assigns, affiliates or subsidiaries be liable to you for direct, indirect, incidental, consequential, special, punitive, or exemplary damages even if Emirates NBD has been advised specifically of the possibility of such damages, arising from the use of the information on this website, including but not limited to, loss of revenue, opportunity, or anticipated profits or lost business. Emirates NBD expressly accepts no liability for losses or damages of any kind arising from using or accessing this website or links to third-party websites or from viewing information on any of its web pages. Furthermore, Emirates NBD accepts no liability for any unauthorized manipulation of users IT systems. Emirates NBD expressly draws user's attention to the risk of viruses and the threat of hacker attacks

Third Party Website:
Users may be aware that Emirates NBD has no control whatsoever over third-party websites linked to or from this website and therefore accepts no liability for the content of such websites being correct, complete and legally valid for the products and services offered on such websites. Emirates NBD's express written permission must always be sought before including a link to this website on a third-party website.

Solicitation:
None of the information on this website in any way constitutes a solicitation, offer, opinion, or recommendation by Emirates NBD to buy or sell any security, or to provide legal, tax, accounting, or investment advice or services regarding the profitability or suitability of any security or investment.

Forward Looking:
The information contained on this website does not purport to contain all matters relevant to any particular investment or financial instrument and all statements as to future matters are not guaranteed to be accurate. Certain matters in this publication on the website are about the future performance of Emirates NBD or members of its group (the Group), including without limitation, future revenues, earnings, strategies, prospects and all other statements that are not purely historical, constitute "forward-looking statements". Such forward-looking statements are based on current expectations or beliefs, as well as assumptions about future events, made from information currently available. Forward-looking statements often use words such as "anticipate", "target", "expect", "estimate", "intend", "plan", "goal", "seek", "believe", "will", "may", "should", "would", "could" or other words of similar meaning. Undue reliance should not be placed on any such statements in making an investment decision, as forward-looking statements, by their nature, are subject to known and unknown risks and uncertainties that could cause actual results, as well as the Group's plans and objectives, to differ materially from those expressed or implied in the forward-looking statements. Past performance is not necessarily a guide to future performance. Estimates of future performance are based on assumptions that may not be realized.

Risk: In addition, before entering into any transaction, the risks should be fully understood and a determination made as to whether a transaction is appropriate given the person's investment objectives, financial and operational resources, experiences and other relevant circumstances. The obligations relating to a particular transaction (and contractual relationship) including, without limitation, the nature and extent of their exposure to risk should be known as well as any regulatory requirements and restrictions applicable thereto. Data included on this website may rely on models that do not reflect or take into account all potentially significant factors such as market risk, liquidity risk, and credit risk. Emirates NBD may use different models, make valuation adjustments, or use different methodologies when determining prices at which Emirates NBD is willing to trade financial instruments and/or when valuing its own inventory positions for its books and records.

Investment in financial instruments involves risks and returns may vary. Before making such an investment, investors should consult their advisers on the legal, regulatory, tax, business, investment, financial and accounting implications of the investment.

Intellectual property:
The information on this website has been developed, compiled, prepared, revised, selected, and arranged by Emirates NBD and others (including certain other information sources) through the application of methods and standards of judgment developed and applied through the expenditure of substantial time, effort, and money and constitutes valuable intellectual property of Emirates NBD and all present and future rights in and to trade secrets, patents, copyrights, trademarks, service marks, know-how, and other proprietary rights of any type under the laws of any governmental authority, domestic or foreign, shall at all times be and remain the sole and exclusive property of Emirates NBD and/or other lawful parties and you acknowledge that you have no ownership rights in and to any of such items. Except as specifically permitted in writing, the information provided in this website shall not be copied or make any use of any information on this website or any portion of the intellectual property rights connected with this website, or the names of any individual participant in, or contributor to, the content of this website, or any variations or derivatives thereof, for any purpose. Further you shall not use any of the trademarks, trade names, service marks, copyrights, or logos of Emirates NBD or its subsidiaries in any manner which creates the impression that such items belong to or are associated with you or, except as otherwise provided with Emirates NBD's prior written consent,

Confidentiality:
The information on this website solely for non-commercial use and benefit and the use of this information is not intended for resale or other transfer or disposition to, or use by or for the benefit of, any other person or entity. Information contained in this website shall not be used, transferred, distributed, reproduced, published, displayed, modified, create derivative works from any data contained on this website or disposed of in any manner that could compete with the business interests of Emirates NBD. Any part of this website may not be offered for sale or distribute it over any medium including but not limited to over-the-air television or radio broadcast, a computer network or hyperlink framing on the internet without the prior written consent of Emirates NBD. The information contained on this website may not be used to construct a database of any kind. The data on this website shall not be used in any way to improve the quality of any data sold or contributed by you to any third party.

Recipient Acknowledgements
In accessing this website, you acknowledge and agree that there are risks associated with investment activities. Moreover, you agree that your use of this publication is at your sole risk and acknowledge that the responsibility to obtain and carefully read and understand the content of documents relating to any investment activity described on this website and to seek separate, independent financial advice if required to assess whether a particular investment activity described herein is suitable, lies exclusively with you.