10 years later
Chief Investment Officer's team, 10.09.2018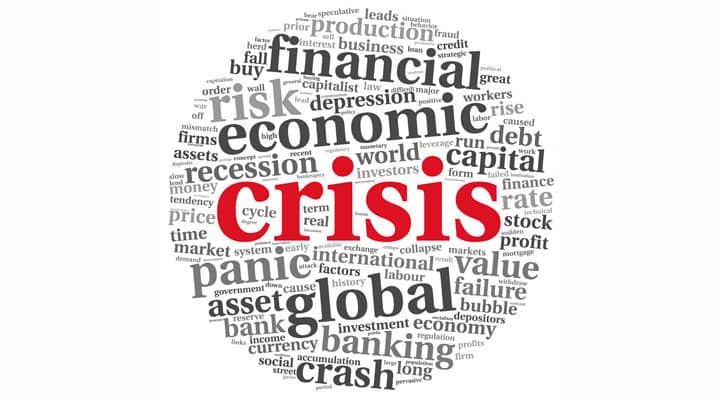 AT A GLANCE
A decade after the bankruptcy of Lehman Brothers
Fixed income update: US, India, GCC
Equity update: Global, UAE, KSA, Tech
Gold may start to shine again, while Oil appears to be range bound
This week will mark the 10th anniversary of the largest bankruptcy in history: on September 15th, 2008, when Lehman Brothers filed for Chapter 11, the bank had over US$ 600 trillions of assets, poisoned by a disproportionate exposure to the US real estate, especially the infamous subprime mortgage segment. This event was decisive in turning a US problem into a devastating global financial crisis. Interestingly enough it took another six months for markets to reach their trough in March 2009, with major equity indices losing around half of their values over this period.
There is an old saying which states that "lightning never strikes the same place twice". Undoubtedly, ten years later, banks all over the world are far better capitalized and ruthlessly regulated, and the US real estate market is arguably not in the same deadly combination of overvaluation and irresponsible lending standards. In the meantime, the unconventional monetary tools built in an emergency to face the crisis have become mainstream globally, and the prices of almost all financial assets have dramatically risen, outperforming by far economic growth and inflation. Symmetrically, global debt has grown to levels never seen before. What has changed for sure is that the financial institutions, targeted by regulations, are not as exposed to risky assets as they were in 2008. This is good news from a systemic point of view, but it means that asset owners will have to deal directly with the next crisis when it happens. They will not be bailed out to save the world, and banks will not provide liquidity or a buffer.
Let us be clear: we are not in the camp of the doomsayers. The past decade has been prolific with incredible new sources of value (technology, EM middle class…), all assets are not indifferently overvalued, and more importantly, the cyclical forces currently at play are not exhausted.
We acknowledge that the next decade will be tougher for investors than the previous one, but firmly believe that selectivity, calibration and discipline will be paramount to protect and grow the capital of our clients.
Last week was negative for the most cyclical assets, equities and commodities, as assets from Emerging Markets were broadly sold-off, starting with currencies. The positive trend for the US Dollar only accelerated on Friday when employment numbers for August were released, showing both above consensus job creations and faster than expected growth for wages. The probability for the Fed to hike rates in September is thus extremely high. At the same time, China's trade surplus rose to a record USD 31.1bn in August. Against such a backdrop, President Trump reacted strongly on Friday, stating that he's willing to slap tariffs on an additional USD 267 billion on Chinese goods, on top of the 200bn he had already preannounced and of the 50bn already in place. This would exceed the total value of all goods sold to the US by China.
This is not good news and to be honest, more than we were expecting. We have little doubt that the Chinese economy can stomach this measure in itself but are not comfortable with the impact it may have on business confidence, supply chain disruptions and, of course, on financial markets. We see value in emerging assets for the long-run and are ready to act, but in this new volatile world, discipline tells us that the timing might not be right yet. The US mid-term elections in early November will be the key event to watch. In the meantime, we expect volatility but are confident and ready to add to EM assets. Ten years after the subprime crisis, the US still exports its problems to the rest of the world – short-term political goals have replaced short-term financial greed.
Fixed income update: US, India, GCC
A strong hiring report for August pushed US Treasury yields higher at 2.93 percent. The total nonfarm payroll employment increased by 201,000 in August, and the unemployment rate was unchanged at 3.9 percent. The payrolls data showed that job gains occurred in professional and business services, healthcare, wholesale trade, transportation and warehousing, and mining. The average hourly earnings were the highest since April 2009 rising to 2.9 percent for the month on an annualized basis. The uptick on wage growth is a closely watched indicator to gauge inflation pressures. Investors seem convinced for further hikes during the September and December FOMC amid the recent market stress towards emerging markets assets.
India's current account deficit widened to $15.8 billion (2.4 per cent of GDP), in the quarter ending June as compared with $15 billion in the same quarter a year before. The weakening streak of the INR against the US dollar and high crude-oil spot prices have swelled the current account deficit during the first quarter. The INR has been Asia's worst performing currency this year, touching a record 72 against the US Dollar last week. The currency, which was around Rs 63.38 on January 1, has depreciated by 13.6 per cent since the start of the year. The trade shortfall of 2.5 per cent of the GDP in Q1 is more than the Jan-March quarter's 1.9 per cent. The widening trade gap on a year-on-year basis was primarily because a higher trade deficit at $45.7 billion as compared with $ 41.9 billion a year ago. The benchmark domestic yields have also followed the rest of the EM peers posting losses across the curve. The ten-year maturities currently yield at 8.02 percent and should recoup its recent losses towards the median consensus of below 7.83 percent, in our view. While real yields in India appear attractive, RBI's inflation outlook during the August review forecasts 4.6 percent in 2Q of fiscal 2019 and 4.8 percent during the second half. That said, we hold the view that inflation remains in check. Favorable base effects on food, housing and gasoline, and a tight fiscal and monetary policy, together with reduced indirect tax rates on goods and services are partially countering the pressures of rising oil prices. Economic growth in India has been steady and amongst the highest in the world today. The recent GDP growth data and estimates provide us with enough conviction to hold on to our long-standing overweight positioning on the domestic debt.
The primary bond activity has picked up with several issuers slated to price in the coming days. Most of the Abu Dhabi based banks have won mandates while some have also successfully priced CNH and CHF transactions. Abu Dhabi Islamic bank is meeting with global investors for a potential tier-1 style hybrid perpetual Sukuk while Al Hilal bank is preparing for a senior unsecured five year Sukuk sale. The recent news on the consolidation of some of the Abu Dhabi based banks (ADCB, Al Hilal and UNB) have been well taken by market participants. Consolidation is generally considered as a positive from a credit perspective.
Equity update: Global, UAE, KSA, Tech
So far in the third quarter, global equities are slightly positive and highlight the glaring divergence between the US and the rest of the world. The S&P 500 has gained +5.6% this quarter-to-date, while markets in Europe, Japan and EM are negative. In EM, indices from Argentina, Turkey and Brazil have led the decline, exacerbated by sharp currency falls. The EM FX index has fallen 6.3% this quarter and 13.2% year to date. Indian equities which have had a stellar run so far (in local currency) seem to have plateaued with the INR at all-time lows. As regards styles, the spread between 'Growth' and 'Value' is still impressive with technology being the best-performing global sector, leading to a weight domination in indices, especially in the US where it cumulates 26% of the SP500.
Technology is however not a calm sea with several waves making headlines. Last week saw a few wobbles in the semiconductor sector with companies such as Micron (highly exposed to China) taking a hit. Social media stocks continue their decoupling from tech gains on regulatory issues. Elon Musk seems to be burning himself out, and Tesla shares have lost 32% from their peak. Tesla, a clear leader in EVs, is facing pressure on production and funding and the pressure seems to be affecting its CEO. At the same time, Jack Ma, China's richest man and the founder of Alibaba, is planning his succession and retirement with a focus on philanthropy on the lines of Bill Gates. To end on a positive note, another great man reached another great achievement as Jeff Bezos's amazing Amazon was the second company ever to reach USD 1 trillion of market cap, a few weeks after Apple.
UAE markets were dominated last week by talks of a potential merger between ADCB, UNB and Al Hilal Bank. This follows the NBAD FGB merger in the UAE in 2017 and the Saudi British Bank with Alawwal in the KSA. Banking sector consolidation in the GCC will likely improve efficiencies. Consolidation is positive for UAE banks from a return generation and cost perspective, given the fragmented nature of the market. The UAE banks sector is large with a market cap in excess of $100bn, assets over $500bn and high dividend yields currently around 6%. In terms of market cap the UAE's banking sector is the 7th largest amongst the major EMs. While there are 21 national and 26 foreign/ GCC banks in the UAE, the top five dominate with a 58% loan market share. The three-way ADCB merger, if concluded, would create the fifth largest bank in the GCC (assets) and the third largest in the UAE.
KSA equities have lost some of their lusters with a still- unexplained 3.2% selloff mid-week – called "Saudi mystery" by Bloomberg. The KSA banking Index is up 21% for the year but down from its July highs when it was up 38% for the year have benefited from the MSCI EM inclusion announcement. The KSA Index is now up only 6.8% year to date having lost 10% in the last month.
The KSA remains a retail-dominated market, and it is possible that part of the recent impressive inflows was not only fundamental and long-term oriented, but also speculative and tied to short-term goals. Of course, the global EM context didn't help, leading short-term investors to book profits in the rare positive EM, especially as there are some uncertainties around the Aramco IPO, and the fall accelerated when the index major support (7800) was broken, reinforcing the idea of short-term technical drivers. Some investors might also have been spooked by the introduction of derivatives to the market next year – which we see as a long-term positive and a decisive step in the institutionalization of the Tadawul. Banks and petrochemicals stocks have been the best performers in the GCC year to date, but we see an uptick in the consumer sector as higher oil prices are leading to a trickle-down effect on spending.
Gold may start to shine again
Some investors must be wondering why in the turbulent times of escalating trade wars, rising EM risk, geopolitical crispation and resurgent populism, gold has put in a dismal -8% year-to-date, rather than act as the safe-haven asset that it is usually held to be. One should argue then, that gold is rather driven by its fundamentals, than by bouts of geopolitical tensions, the cause commonly ascribed to major moves in the yellow metal. Analysis of historical data reveals some surprisingly stable relationships: an inverse one both with US 10-year real rates and the US dollar stands out. From this one can infer that gold acts as a competing safe-haven asset, it delivers higher returns at times of negative dollar performance, and that as a non-yielding asset it tends to be neglected by investors when US real rates, a proxy for long-term US growth, rise sharply. So far in 2018 US long-dated real rates have been rising consistently, and so has the dollar, reflecting a bright outlook for the US economy.
We hold the view that 2019 should see a more supportive macroeconomic backdrop for gold. US economic growth rates are expected to normalize from above-trend levels towards trend, as the effects of tax cuts start to fade and inflation, a late-stage variable, should continue to climb gradually. The combination of lower expansion rates and moderately higher inflation should not keep the Federal Reserve hawkish, providing further reason to warm up to the asset class. In the short term positioning on the yellow metal is at record-bearish levels, raising the odds of a short-squeeze, and extreme readings on other sentiment readings like options skew and momentum suggest that downside is limited. Also, upside potential on the US dollar should be modest, with the bulk of economic growth and monetary policy differential between the United States other DM countries most likely behind us. Overall, the elements for an investment case on gold are starting to fall into place.
We are conjecturing that a bottom should unfold by year end unless our assumptions of moderating US growth and tame inflation do not come to pass.
Range-bound times for the crude market
According to press reports Saudi Arabia aims to keep crude in the $70-$80/bbl band, which would be in keeping with the prevailing macroeconomic conditions of resilient global growth. The upper end of the range would be hard both on the EM-importing countries and global consumers, especially after Mr Trump's repeated recommendations that OPEC keeps prices in check. At the same time, the OPEC would not be keen to see elevated prices bringing about a repeat of the 2014 experience, when crude collapsed after the oil market remained above $100/bbl in the previous three years, making it economically viable for shale producers to ramp up supply to the point of causing a global glut. The run rate of current production is supported both by missing Iranian barrels due to renewed US sanctions and strong demand driven by the stable global economy. It seems that under current conditions the price range invoked by Saudi Arabia has reason to last.
Written By:
Maurice Gravier
Chief Investment Officer,
Maurice G@EmiratesNBD.com
Anita Gupta
Head of Equity Strategy,
Anitag@EmitatesNBD.com
Yahya Sultan
Head of Fixed Income Strategy,
YahyaS@EmiratesNBD.com
Giorgio Borelli
Head of Asset Allocation,
GiorgioB@EmiratesNBD.com
Disclaimer

Emirates NBD Bank PJSC ("Emirates NBD") is licensed and regulated by the UAE Central Bank and this website aims at providing Internet users with information concerning Emirates NBD Private Banking, its products and activities. Persons having access to information made available by Emirates NBD on this website accept the following rules:

Reliance:
Emirates NBD uses reasonable efforts to obtain information from sources which it believes to be reliable, however Emirates NBD makes no representation that the information or opinions contained in publications on this website are accurate, reliable or complete. Published information may include data/information from stock exchanges and other sources from around the world and Emirates NBD does not guarantee the sequence, accuracy, completeness, or timeliness of information contained on this website provided thereto by unaffiliated third parties. Anyone proposing to rely on or use the information contained on this website should independently verify and check the accuracy, completeness, reliability and suitability of the information and should obtain independent and specific advice from appropriate professionals or experts. Further, references to any financial instrument or investment product are not intended to imply that an actual trading market exists for such instrument or product. Emirates NBD is not acting in the capacity of a fiduciary or financial advisor. Any publications on this website are provided for informational purposes only and are not intended for trading purposes. Data/information provided herein is intended to serve for illustrative purposes and is not designed to initiate or conclude any transaction. The information available on this website is not intended for use by, or distribution to, any person or entity in any jurisdiction or country where such use or distribution would be contrary to law or regulation. This website and anything contained herein, is provided "as is" and "as available," and that Emirates NBD makes no warranty of any kind, express or implied, as to this website, including, but not limited to, merchantability, non-infringement, title, or fitness for a particular purpose or use.

Modifications:
The provision of certain data/information on this website is subject to the terms and conditions of other agreements to which Emirates NBD is a party. Emirates NBD reserves the right to make changes and additions to the information provided at any time without prior notice. The information may be modified or removed without prior notice. No buy or sell orders submitted via the internet or email will be accepted. In addition, the data/information contained on this website is prepared as of a particular date and time and will not reflect subsequent changes in the market or changes in any other factors relevant to the determination of whether a particular investment activity is advisable.

Liability:
Information contained on this website is believed by Emirates NBD to be accurate and true, in all material respects. Emirates NBD accepts no responsibility whatsoever for any loss or damage caused by any act or omission taken as a result of the information contained on this website. Further Emirates NBD accepts no liability for the information and opinions published on the website and is under no obligation to remove outdated information from its website or to mark it clearly as such. The information given on this website may not be distributed or forwarded in whole or in part. Accordingly, anything to the contrary herein set forth notwithstanding, Emirates NBD, its suppliers, agents, directors, officers, employees, representatives, successors, assigns, affiliates or subsidiaries shall not, directly or indirectly, be liable, in any way, to you or any other person for any: (a) inaccuracies or errors in or omissions from the information available on this website including, but not limited to, quotes and financial data; or (b) loss or damage arising from the use of this publication, including, but not limited to any investment decision occasioned thereby. or (c) under no circumstances, including but not limited to negligence, shall Emirates NBD, its suppliers, agents, directors, officers, employees, representatives, successors, assigns, affiliates or subsidiaries be liable to you for direct, indirect, incidental, consequential, special, punitive, or exemplary damages even if Emirates NBD has been advised specifically of the possibility of such damages, arising from the use of the information on this website, including but not limited to, loss of revenue, opportunity, or anticipated profits or lost business. Emirates NBD expressly accepts no liability for losses or damages of any kind arising from using or accessing this website or links to third-party websites or from viewing information on any of its web pages. Furthermore, Emirates NBD accepts no liability for any unauthorized manipulation of users IT systems. Emirates NBD expressly draws user's attention to the risk of viruses and the threat of hacker attacks

Third Party Website:
Users may be aware that Emirates NBD has no control whatsoever over third-party websites linked to or from this website and therefore accepts no liability for the content of such websites being correct, complete and legally valid for the products and services offered on such websites. Emirates NBD's express written permission must always be sought before including a link to this website on a third-party website.

Solicitation:
None of the information on this website in any way constitutes a solicitation, offer, opinion, or recommendation by Emirates NBD to buy or sell any security, or to provide legal, tax, accounting, or investment advice or services regarding the profitability or suitability of any security or investment.

Forward Looking:
The information contained on this website does not purport to contain all matters relevant to any particular investment or financial instrument and all statements as to future matters are not guaranteed to be accurate. Certain matters in this publication on the website are about the future performance of Emirates NBD or members of its group (the Group), including without limitation, future revenues, earnings, strategies, prospects and all other statements that are not purely historical, constitute "forward-looking statements". Such forward-looking statements are based on current expectations or beliefs, as well as assumptions about future events, made from information currently available. Forward-looking statements often use words such as "anticipate", "target", "expect", "estimate", "intend", "plan", "goal", "seek", "believe", "will", "may", "should", "would", "could" or other words of similar meaning. Undue reliance should not be placed on any such statements in making an investment decision, as forward-looking statements, by their nature, are subject to known and unknown risks and uncertainties that could cause actual results, as well as the Group's plans and objectives, to differ materially from those expressed or implied in the forward-looking statements. Past performance is not necessarily a guide to future performance. Estimates of future performance are based on assumptions that may not be realized.

Risk: In addition, before entering into any transaction, the risks should be fully understood and a determination made as to whether a transaction is appropriate given the person's investment objectives, financial and operational resources, experiences and other relevant circumstances. The obligations relating to a particular transaction (and contractual relationship) including, without limitation, the nature and extent of their exposure to risk should be known as well as any regulatory requirements and restrictions applicable thereto. Data included on this website may rely on models that do not reflect or take into account all potentially significant factors such as market risk, liquidity risk, and credit risk. Emirates NBD may use different models, make valuation adjustments, or use different methodologies when determining prices at which Emirates NBD is willing to trade financial instruments and/or when valuing its own inventory positions for its books and records.

Investment in financial instruments involves risks and returns may vary. Before making such an investment, investors should consult their advisers on the legal, regulatory, tax, business, investment, financial and accounting implications of the investment.

Intellectual property:
The information on this website has been developed, compiled, prepared, revised, selected, and arranged by Emirates NBD and others (including certain other information sources) through the application of methods and standards of judgment developed and applied through the expenditure of substantial time, effort, and money and constitutes valuable intellectual property of Emirates NBD and all present and future rights in and to trade secrets, patents, copyrights, trademarks, service marks, know-how, and other proprietary rights of any type under the laws of any governmental authority, domestic or foreign, shall at all times be and remain the sole and exclusive property of Emirates NBD and/or other lawful parties and you acknowledge that you have no ownership rights in and to any of such items. Except as specifically permitted in writing, the information provided in this website shall not be copied or make any use of any information on this website or any portion of the intellectual property rights connected with this website, or the names of any individual participant in, or contributor to, the content of this website, or any variations or derivatives thereof, for any purpose. Further you shall not use any of the trademarks, trade names, service marks, copyrights, or logos of Emirates NBD or its subsidiaries in any manner which creates the impression that such items belong to or are associated with you or, except as otherwise provided with Emirates NBD's prior written consent,

Confidentiality:
The information on this website solely for non-commercial use and benefit and the use of this information is not intended for resale or other transfer or disposition to, or use by or for the benefit of, any other person or entity. Information contained in this website shall not be used, transferred, distributed, reproduced, published, displayed, modified, create derivative works from any data contained on this website or disposed of in any manner that could compete with the business interests of Emirates NBD. Any part of this website may not be offered for sale or distribute it over any medium including but not limited to over-the-air television or radio broadcast, a computer network or hyperlink framing on the internet without the prior written consent of Emirates NBD. The information contained on this website may not be used to construct a database of any kind. The data on this website shall not be used in any way to improve the quality of any data sold or contributed by you to any third party.

Recipient Acknowledgements
In accessing this website, you acknowledge and agree that there are risks associated with investment activities. Moreover, you agree that your use of this publication is at your sole risk and acknowledge that the responsibility to obtain and carefully read and understand the content of documents relating to any investment activity described on this website and to seek separate, independent financial advice if required to assess whether a particular investment activity described herein is suitable, lies exclusively with you.